Home > Arts and Crafts Projects for Kids > Animals Crafts > Moose Crafts Arts and Crafts Projects Ideas for your Kids
MOOSE CRAFTS FOR KIDS: Ideas for arts and crafts projects & activities for children, teens, and preschoolers
Hey Rocky.
Yes, Bullwinkle.
I'm Hungry.
What are you hungry for, would you like an apple?
No, I'm hungry for some awesome Mousse.
WHAT?!
Don't get so excited, I just want to eat some delicious Mousse.
Bullwinkle, that is disgusting, I will not endorse Moose cannibalism.
But, Rocky, Mousse tastes wonderful.
Have you eaten Moose before, Bullwinkle?
All the time, Rocky.
I don't think I can be your friend anymore, Bullwinkle.
Fine, I won't have any Mousse, instead lets just make some Moose crafts for kids and have fun together, okay Rocky.
Well, I guess I always have fun making Moose kid's crafts, Bullwinkle. Just don't ever eat Moose again.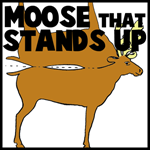 Moose Stand-Up Paper Toy Model to Print Out Craft for Kids - Today, we will show you how to make some stand up paper-figure animals. This one is a standing moose paper figure. You can choose a black and white version to color in, or you can choose the one that is already colorized. Either way … have fun. Today we will show you how to make [...]

Merry Christ-Moose - Christmas moose craft.

Mm-moose Arts and Crafts for Kids - He may look stately, but Mm-moose is a goofball at heart. He loves nothing more than sliding down Gumdrop Mountain's toboggan run (even though it leaves his antlers twisted up like pretzels).

Moose Lodge Bird Feeder - What bird could resist his own moose lodge feeder or birdhouse?

Moose Balloon Animal for Kids - Creating a moose balloon animal takes a little time and practice, but half the fun is in trying. The balloons used for this project can be purchased at toy stores, discount stores, or magic stores. Be sure to read through all the instructions for the project before you begin, and check out the photos, too -- that sometimes makes it easier to learn. When you're ready, pick up your balloons and have fun!

Moose Head Canada Day Wreath - - This is a fun wreath to do by yourself or with a group.

Moose and Sleigh Advent Calendar : Christmas Santa Sleigh Crafts Ideas for Kids - If you like using a scroll saw then maybe you would like to try this project. This wooden Christmas moose decoration has a sleigh full of presents and is made to serve as an Advent calendar, but can be used as a Christmas decoration for the window sill or under the tree as well. The sleigh is a slight challenge to assemble but worth the effort.

Moose Toilet Paper Roll Craft for Kids - This moose can be used for a Forest Animal, a Canada or a Rocky and Bullwinkle theme.

Moose Puppet Crafts for Kids (Scroll Down) - Moose Puppet - This moose puppet is made with a paper cup and brown lunch bag. Children will have fun acting out the story "If You Give a Moose a Muffin" using this puppet.

Muffins for a Mouse Arts and Craft for Kids - How would you make a hungry moose feel at home? Find out what happens If You Give a Moose a Muffin.

How to Sculpt a Moose out of Various Household Materials - Moose make interesting studies for sculpting, owing to their unusual features, which you can make the most of as you create your moose sculpture. This article is a basic starter to help you brainstorm how to sculpt a moose from a variety of household materials. The actual method by which you end up doing this is up to you - although adding future wikiHows on ways to make individual moose sculptures will always be gladly appreciated!

How to Make a Moose Costume - Halloween is just around the corner, and it is time to start thinking about a Halloween costume for your child. If your child likes animals, and you are a crafty parent, here is a simple way to make a moose costume for Halloween. The materials are things you likely have around the house, and others are cheap enough to buy at craft supply stores or discount retail stores. Do give yourself some time to make this costume.
Farm Animals Crafts
Chickens / Hens / Roosters Crafts
Cows Crafts
Goats Crafts
Horses Crafts
Pigs Crafts
Sheep / Lambs Crafts