Home > Arts and Crafts Projects for Kids > Newspaper Crafts for Kids
NEWSPAPER CRAFTS FOR KIDS : Ideas for Arts & Crafts Projects & Activities to Recycle News Papers for Children, Teens, and Preschoolers
Here are newspaper crafts activities and instructions for kids to make beautiful crafts projects with used / recycled newspapers. Find childrens' newspaper crafts below.
Making Trees from Newspaper Rolls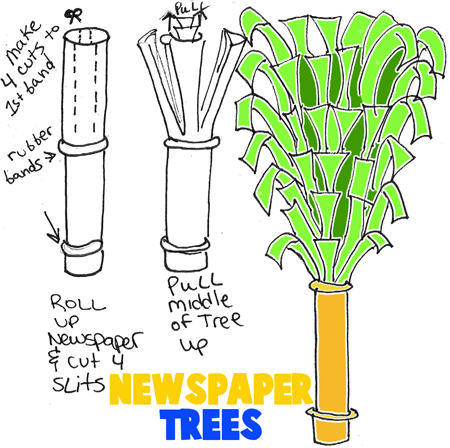 Roll up a newspaper and wrap with rubber bands...one close to the bottom adn the other one close to the middle. Then use a scissor to cut 4 slits down almost to the middle rubber band. Now just pul the middle of the tree up through the bottom tube that is still left. Now you have a Palm Tree looking creation.
Make a Colorful Coat or Vest with Newspaper Sheets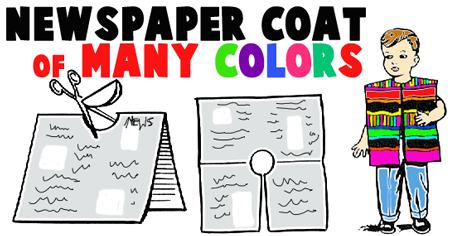 To make this cool costume coat, just take a double sheet of newspaper and fold it in half cross-wise. Now you will need to cut a circle in the center of the fold for the neck to fit through. Now also cut down the front, as seen in the 2nd picture above. Now get some paint, crayons, or markres, and paint many colorful strips and designs all over the coat. You will now have a great vest for your Mexican costume or your Joseph's coat of Many Colors costume.
Even More Crafts with Newspapers

Newspaper Log Cabins Construction - Learn how to make a newspaper rolled log cabin...possibly as a Thanksgiving centerpiece for decorations.

Brown Paper Bag Bunny Rabbit Puppets - Make these adorable bunny puppets with the following simple items : Paper Bag, Newspaper, String or Yarn, Paper, Scissors, Glue, and a Pencil.

Oatmeal Box Elephants - Make an elephant out of oatmeal box cylinders, wallpaper or wrapping paper, newspaper, felt, buttons, and yarn.

How to Make Papier Mache Puppet Heads - For high quality puppets, you need a really good puppet head. Find out how to make one with this tutorial...newspaper is used heavily in this craft.

Papier Mache Bowls & Dishes - In this craft, you use a glass jar as the mold and then papier mache around it with newspaper strips.

African Paper Plate Mask Newspaper Craft for Kids - African tribal masks are worn during religious rituals or are put up on walls to protect their owners. There are a wide variety of masks, most of them depicting tribal ancestors, animal spirits, or gods and deities. Craft your own African mask using a paper plate and colored pasta.

Alligator Craft for Kids - There are only two countries in the world that have alligators. The alligators in China are an endangered species. American alligators are not -- they live from the Carolinas to Florida and along the Gulf Coast.

Awesome Comic-Wrapped Decorative Balls Craft for Kis - This is a fun and easy crafting with kids project. Recycle your favorite comic strip from the newspaper or a comic book and decoupage them on to STYROFOAM™ Brand Foam balls. Kids will love picking out their own design and displaying these in their rooms.

Baggy Fish Creatures Craft Puffy Fish Craft for Kids - Create your own puffy fish-with paper lunch bags! Paint and stuff a whole school of these delightful creatures.

Carnivore Owl Bag with Recycled Newspapers – You will surely give a "hoot" when you get to send some precious time with your children in making this barn owl craft made using old newspaper and some coloring materials.

Crafty Flowers Summer Crafts Activity for Kids - Don't throw those newspapers away until you try this! This flower tutorial is a perfect summer activity to do with the kids!

Dynamite Newspaper Dome Arts & Crafts Activity - Your kids will be amazed when they build a dome out of some old newspapers with this activity. A large one can be a playhouse for children, or make a small one as a playhouse for dolls.

Egyptian Papyrus Paper Newspaper Crafts Activity - Ancient Egyptians made their own paper—and you can, too! Then write a message in hieroglyphics or create a treasure map for more fun with your friends.

Hand-Made Envelope Craft - Make a special envelope out of gift wrapping paper, old maps, pretty wallpaper scraps, catalogs, brochures, newspaper, or magazines. You can even make a tiny envelope to match a gift exactly.

Hot Air Balloon Craft- Create this amazing mini hot air balloon through paper maché using all the newspaper you can find in your basement.

Knight's Shield paper mache craft- Help your kids conquer the Medieval world with this easy to make knight's shield made out of molded recycled newspaper. Let the adventures begin!

Log Cabin Craft Arts & Crafts Activity for Kids - Many pioneers grew up in log cabins way back when, including some of the United States' former presidents!

Maori Bird Kite - Explore the traditional Maori culture of New Zealand. Then create a bird kite that really flies.

Mexican Sombrero Craft – Although this craft takes a bit of assistance from an adult, it actually has a great end result. It's a great fun for dress up!

Newspaper Duster – Whoever said you need a feather duster to take off the dust collecting inside your home? This unique creation is made using recycled materials such as old newspapers cut out into thin strips.

Newspaper Trees - Reducing, recycling, and reusing are important all year and it's a good time to refresh on crafty recycling ideas. There are so many wonderful ideas out there but newspaper material always stands out from the rest.

One Eyed, One Horned Flying Purple People Eater - This craft will make for a great for Halloween display near the window sill.

Origami Wreath – Teach your kids some paper craft techniques from the rich Japanese culture such as this Origami wreath made using newspaper and other materials.

Paper Bag Pumpkin Patch - This Halloween pumpkin patch is in the bag for kids! It's a quick, easy craft for holiday fun.

Paper Mache Bunny Crafts Project Create an adorable bunny sculpture out of paper maché. This procedure can also be used to make other animal and character paper maché sculptures.

Paper Mache Dinosaur Bone Craft You can make your very own dinosaur bone from a big cardboard tube, newspaper and flour.

Paper Mache Frog Craft - This frog's mouth not only opens up wide to catch a juicy insect for its meal, you can put your playthings inside too!

Paper Mache Giraffe – Bring a whiff of safari adventure right into your home with this paper maché giraffe made out of old newspaper, bonding materials and some fun colors.

Paper Maché Tree - Making a paper maché is fun for children. Each one looks different.

Piggy Bank - This is a great way to make a really cute piggy bank out of papier-mâché. This is a craft that you can use for a long time.

Pot o' Gold Craft – Ahh! The luck of the Irish! As folklore goes, there's a pot of gold lying at the end of the rainbow which is guarded by a leprechaun. But in this case, all you need are pennies and dimes to fill up this molded newspaper craft project.

Really BIG and stuffed newspaper Frankenstein - Sometimes, bigger is better. The girls had SO much fun making these larger than life crafts. There's something wonderful about creating a project that requires daddy's help to hold...

Newspaper Basket – The nice thing about this project is that once you're done with the basket, it's painless to recycle it.

Newspaper Snowflake Garland These aren't exactly garlands, more like delicate mobiles. They gently spin and twirl at the slightest breeze. It seems to add to their magic... as if they are spiraling to the ground like real snowflakes.

Shimmering Stacked Trees - This shimmering stacked tree will add a festive -- and eco-friendly -- touch to your home this holiday season.

Stuffed Newspaper Butterfly Craft – Your little girl will surely want one of these hanging around her bedroom ceiling. Help them make one and enjoy the bonding time too!

Stuffed Poppy Finger paint Craft - Even the youngest crafters can make this project. It's great for the children in the baby room or toddler room in a daycare to make and hang from the ceiling. Even the youngest crafters can make this project. It's great for the children in the baby room or toddler room in a daycare to make and hang from the ceiling.

Sturdy Recycled Newspaper Pots - Making pots for seedlings is a great way to recycle newspaper and save money gardening. These recycled newspaper pots are relatively easy to make and make transplanting seedling to the garden very easy. Making pots this ways removes the need for any tape, glue, string, or staples and results in a sturdy recycled newspaper pot.