Home > Arts and Crafts Projects for Kids > Newspaper Crafts for Kids
NEWSPAPER CRAFTS FOR KIDS : Ideas for Arts & Crafts Projects & Activities to Recycle News Papers for Children, Teens, and Preschoolers
Here are newspaper crafts activities and instructions for kids to make beautiful crafts projects with used / recycled newspapers. Find childrens' newspaper crafts below.
Making Trees from Newspaper Rolls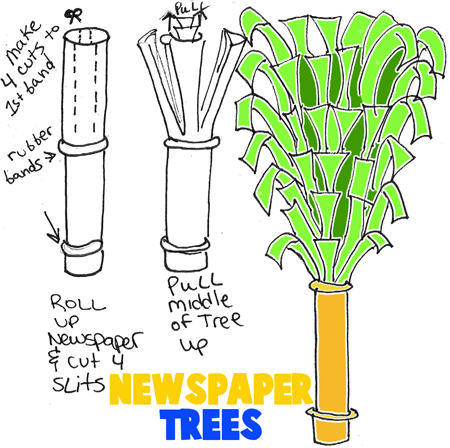 Roll up a newspaper and wrap with rubber bands...one close to the bottom adn the other one close to the middle. Then use a scissor to cut 4 slits down almost to the middle rubber band. Now just pul the middle of the tree up through the bottom tube that is still left. Now you have a Palm Tree looking creation.
Make a Colorful Coat or Vest with Newspaper Sheets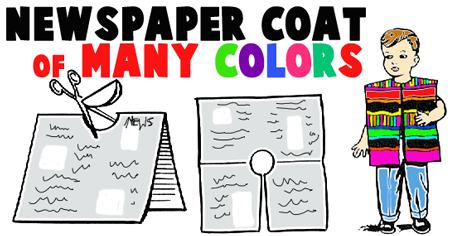 To make this cool costume coat, just take a double sheet of newspaper and fold it in half cross-wise. Now you will need to cut a circle in the center of the fold for the neck to fit through. Now also cut down the front, as seen in the 2nd picture above. Now get some paint, crayons, or markres, and paint many colorful strips and designs all over the coat. You will now have a great vest for your Mexican costume or your Joseph's coat of Many Colors costume.
Even More Crafts with Newspapers

Newspaper Log Cabins Construction - Learn how to make a newspaper rolled log cabin...possibly as a Thanksgiving centerpiece for decorations.

Brown Paper Bag Bunny Rabbit Puppets - Make these adorable bunny puppets with the following simple items : Paper Bag, Newspaper, String or Yarn, Paper, Scissors, Glue, and a Pencil.

Oatmeal Box Elephants - Make an elephant out of oatmeal box cylinders, wallpaper or wrapping paper, newspaper, felt, buttons, and yarn.

How to Make Papier Mache Puppet Heads - For high quality puppets, you need a really good puppet head. Find out how to make one with this tutorial...newspaper is used heavily in this craft.

Papier Mache Bowls & Dishes - In this craft, you use a glass jar as the mold and then papier mache around it with newspaper strips.

60 Second Hats with Newspapers – These are great for kiddy parties especially for those that require costumes to be worn. Great for fun parlor games too! Mad Hatter, anyone?

African Paper Plate Mask Newspaper Craft for Kids - African tribal masks are worn during religious rituals or are put up on walls to protect their owners. There are a wide variety of masks, most of them depicting tribal ancestors, animal spirits, or gods and deities. Craft your own African mask using a paper plate and colored pasta.

Alligator Craft for Kids - There are only two countries in the world that have alligators. The alligators in China are an endangered species. American alligators are not -- they live from the Carolinas to Florida and along the Gulf Coast.

An Apple for a Teacher on Newspapers Craft - Create an apple for the teacher using handprints, non-toxic paint, and good old newspaper!

Animal Masks Crafts Project for Children - Students will create a 3-D animal or mask, paying close attention to details such as; color, shape, size, texture and facial features.

Art-Quarium Crafts Project for Children - With this newspaper craft, children will learn to sculpt/construct with newspaper; identify different underwater creatures; understand the importance of recycling in the community; and explain, illustrate, describe, and apply ideas.

Awesome Comic-Wrapped Decorative Balls Craft for Kis - This is a fun and easy crafting with kids project. Recycle your favorite comic strip from the newspaper or a comic book and decoupage them on to STYROFOAM™ Brand Foam balls. Kids will love picking out their own design and displaying these in their rooms.

Baggy Fish Creatures Craft Puffy Fish Craft for Kids - Create your own puffy fish-with paper lunch bags! Paint and stuff a whole school of these delightful creatures.

Bandana-Rama Color Craft for Children - Wear it on a picnic! Hang it in your room! Choose team colors or your favorite hues. Fill your Bandana-Rama with color!

Butterfly Necklace Crafts Project for Kids – You'll be surprised that this beautiful butterfly necklace doesn't cost too much to make right inside the comfort of your own home!

Camp Bucket Hats with Recycled Newspapers Crafts Idea - Decorate a recycled newspaper bucket hat to wear during camp for protection from too much sun.

Cardboard Tube and Newspaper Christmas Wreaths – Get those old newspaper stash ready for the Holidays in time to help your kids make some good old Christmas wreaths for their craft project.

Carnivore Owl Bag with Recycled Newspapers – You will surely give a "hoot" when you get to send some precious time with your children in making this barn owl craft made using old newspaper and some coloring materials.

Chimmin' Bell Arts & Crafts Activity for Kids Kids ring in the fun with their own hand-painted bell. Your whole family will want to chime in to make this great gift and holiday decorating idea.

City Grown Fireplace Logs Crafts Project for Children - Newspaper logs can be used in place of wood logs in campfires, wood stoves or fireplaces. You also get to teach your kids to be eco-friendly because these craft conserve wood and give a second use to old newspapers, which saves them from entering landfills

Clayheads with Clay and Newspaper Craft - Creating sculptural works with clay and newspaper has never been this much fun!

Craft a Paper Bowl Arts & Crafts Idea Learn about the process of papermaking -- an art that dates back more than 4,000 years -- with this step-by-step project that recycles pieces of ordinary paper into a decorative catchall for your desk or bureau.

Crafty Flowers Summer Crafts Activity for Kids - Don't throw those newspapers away until you try this! This flower tutorial is a perfect summer activity to do with the kids!

Crumple Creatures and Caricatures Crafts Idea - Make funky characters! Or friends' faces! Crumple up newspaper and cover it with Crayola Model Magic® Fusion™! How goofy can you make their expressions?

Darling Doily Kids Crafts Creations Instructions Handmade fabric doilies are splendid gifts for Valentine's Day, Mother's Day, or birthdays. Children take such pride in their beautiful, useful creations

Dragon Hat Kids Craft Project Instructions - Wet newspaper, when molded over something (like a bowl), retains that form after it dries. It sparked us to try a slightly more controlled experiment with water and newspaper, which in turn led to some fairly radical (and less sticky) headgear.

Dynamite Newspaper Dome Arts & Crafts Activity - Your kids will be amazed when they build a dome out of some old newspapers with this activity. A large one can be a playhouse for children, or make a small one as a playhouse for dolls.

Egyptian Papyrus Paper Newspaper Crafts Activity - Ancient Egyptians made their own paper—and you can, too! Then write a message in hieroglyphics or create a treasure map for more fun with your friends.

Faux Choco Cake Made with Recycled Newpsaper Pulp - Here's a faux "chocolate" ckae made using newspaper pulp pressed into molds. Once they were painted chocolate brown, they looked so real....hard to believe they were once newspaper.

Fish Mobile Arts & Crafts Project Instructions - Get into the swim of things by researching fish habitats and food sources and make a mobile.

Flower Power Jewelry Box Crafts Directions - This adorable box is all "girl" with its flower motif and fun fur lining. A little paper maché, glue, and some paint, and your little girl can have her very own jewel box.

Geodesic Dome Arts & Crafts Project with Old Newspapers - Who would ever believe that the Sunday paper and a stapler would be all you need to create a life-size structure big enough to hold a bevy of children? Our dome was, at turns, a fort, a gingerbread house, a cave and a camping tent.

Gargoyle Masks Crafts Project - This project is a sure winner with your class as well as an inexpensive home decorating project.

Ghost Host with Recycled Newspapers for Children - Summon up the Halloween spirit with this spectral sextet made from recycled newspaper.

Halloween Decor Craft Project - Decorating your front porch, yard, or walkway for Halloween can be loads of fun. While there are probably hundreds of ways to spiff up your yard and adorn your door, let's focus on a few simple solutions that your pocket can live with.

Hand-Made Envelope Craft - Make a special envelope out of gift wrapping paper, old maps, pretty wallpaper scraps, catalogs, brochures, newspaper, or magazines. You can even make a tiny envelope to match a gift exactly.

Homemade Easter Basket Craft- Making home-made Easter crafts with recycled materials is one way to celebrate the secular side of Easter with kids.

Hot Air Balloon Craft - Create this amazing mini hot air balloon through paper maché using all the newspaper you can find in your basement.

Ice Cream Sundae with Junk Newspaper Craft - Concoct a real-looking ice cream sundae using salt dough and a paper cup made from junk newspaper.

Knight's Shield paper mache craft - Help your kids conquer the Medieval world with this easy to make knight's shield made out of molded recycled newspaper. Let the adventures begin!

Lightbulb Pinata Craft for Kids - Science Party guests are sure to light up when it comes time to test the strength of this giant candy-filled bulb.

Litter Bug with Old Newspapers - Got some recyclables such as old newspapers lying around the house? Clean them up and make some Litter Bugs with the kids.

Log Cabin Craft Arts & Crafts Activity for Kids - Many pioneers grew up in log cabins way back when, including some of the United States' former presidents!

Magic Tree Rolled up Newspapers Crafts Ideas – Show the kids that you how to make a tree by rolling up pieces of newspaper in a tube shape, cutting slits in the top and pulling the inside of the tube up so that the tree grows!

Make a Piñata Craft Activity for Kids - This project entails creating a donkey sculpture made from old newspaper and coloring materials with a theme which is best for kiddie parties- a donkey piñata!

Maraca piñata - Celebrate Hispanic holidays, birthdays, or any festive event with Maraca Piñatas! Fill them with craft-y treats and bring on the Mariachi bands!

Maori Bird Kite - Explore the traditional Maori culture of New Zealand. Then create a bird kite that really flies.

Mexican Sombrero Craft – Although this craft takes a bit of assistance from an adult, it actually has a great end result. It's a great fun for dress up!

Musical Maracas - Teach your children to learn other cultures starting with this Latin inspired musical instrument called the 'maraca'. Bring some Latin vibe to your home and have some fun!

Newspaper Apron – What's great about this item is that when your newspaper apron gets dirty (as all aprons eventually do), throw it away and just make a new one.

Newspaper Beads – You'll be amazed at the ingenuity of this home-made craft. It's not complex to make thus young girls will have a blast designing their own "fashion accessory".

Newspaper Christmas Wreath – Add a bit of uniqueness to your Holiday trimmings with this easy to make recycled newspaper wreath and get to contribute to the environment as well.

Newspaper Duster – Whoever said you need a feather duster to take off the dust collecting inside your home? This unique creation is made using recycled materials such as old newspapers cut out into thin strips.

Newspaper Dustpan – Now here's something that will help scoop up the mess your little tykes has spread all over the floor. Make this unique recycled newspaper dustpan right in the comfort of your own living room!

Newspaper Fashion Show - A favorite rainy-day camp project, the newspaper fashion show was a hit long before Project Runway. But you don't need a rainy day to play: set it up outside and charge up that video camera to document your family's -- or the neighborhood's -- design prowess.

Newspaper Hat - Your kids might not make headline news with this whimsical hat design, but they're going to have so much fun wearing it.

Newspaper Letter Rack – Save up on your home expenses by making something out of ordinary and discarded items such as newspapers. Your kids will also benefit from the value of thriftiness with this newspaper art craft.

Newspaper Maracas - Musical Instruments that you bang, scrape or shape are called percussion instruments. Some examples of percussion instruments are drums, rain sticks, xylophones and maracas. Maracas were originally made from the dried shells of gourds with beads or beans inside that rattled around and made lots of shuck-a-shuck-a-shuck-a noises. You can make maracas using simple materials from around the home. What follows are two methods ... the first requires a little more time, while the second method is simple enough for the younger grades to tackle in an afternoon art making session.

News Shoes - Read all about it! Roll newspaper sheets into spiffy indoor sandals.

Newspaper Slippers - These fun disposable slippers are ideal for the beach, painting in or yard work.

Newspaper Trees - Reducing, recycling, and reusing are important all year and it's a good time to refresh on crafty recycling ideas. There are so many wonderful ideas out there but newspaper material always stands out from the rest.

Newspaper Wall Art – Since commercial wallpaper tend to be quite prohibitive for your budget, why not try and make your own using recycled newspaper and some fancy coloring materials?

One Eyed, One Horned Flying Purple People Eater - This craft will make for a great for Halloween display near the window sill.

Origami Wreath – Teach your kids some paper craft techniques from the rich Japanese culture such as this Origami wreath made using newspaper and other materials.

Paper Bag & newspaper Lion - This project would make for a great Mardi Gras kids mask or as an adornment for kiddy costume parties.

Paper Bag Pumpkin Patch - This Halloween pumpkin patch is in the bag for kids! It's a quick, easy craft for holiday fun.

Paper Baskets Native Americans used baskets to store seed, gather crops and sift meal. Follow the lead of these resourceful crafters by weaving a basket out of newspaper "reeds."

Paper Garland - This project is so easy to make that its great for all occasions. You can use recycled computer paper for plain garlands or try something different and use painted paper the kids have painted, Wrapping Paper or even newspaper.

Paper Mache Bunny Crafts Project Create an adorable bunny sculpture out of paper maché. This procedure can also be used to make other animal and character paper maché sculptures.

Paper Mache Dinosaur Bone Craft You can make your very own dinosaur bone from a big cardboard tube, newspaper and flour.

Paper-Mâché Eggs – Looking for someone unique for an Easter treat? Then make a jumbo egg with a hidden stash of goodies inside.

Paper Mache Frog Craft - This frog's mouth not only opens up wide to catch a juicy insect for its meal, you can put your playthings inside too!

Paper Mache Giraffe – Bring a whiff of safari adventure right into your home with this paper maché giraffe made out of old newspaper, bonding materials and some fun colors.

Paper Maché Masks (MASKMANIA) - Artistically, masks are among the most remarkable objects created by traditional civilizations. During this 4 week session, students will construct a mask as they begin exploring the imaginative power of this exciting art form.

Paper Mâché Pals Here's an activity in which your child's imagination can truly run wild -- conjuring up a menagerie of one-of-a-kind critters from paper, paste, and paint.

Paper Maché Penguin - Students will learn about penguins - where they live, what they eat. They will also learn about the shape of a penguin. Did you know that there are 17 species of penguins?

Paper Maché Tree Making a paper maché is fun for children. Each one looks different.

Piggy Bank - This is a great way to make a really cute piggy bank out of papier-mâché. This is a craft that you can use for a long time.

Potted Sunflowers - Create three-dimensional potted sunflowers using our printable flower template. A simpler version of the craft is also illustrated for younger kids.

Pot o' Gold Craft – Ahh! The luck of the Irish! As folklore goes, there's a pot of gold lying at the end of the rainbow which is guarded by a leprechaun. But in this case, all you need are pennies and dimes to fill up this molded newspaper craft project.

Pumpkin Seed Mosaic - Mosaics are made of tiny colored pieces of stone, pottery, glass or other materials, arranged together and set in plaster or cement to make patterns and images. They can be used to decorate a floor, a wall or in some cases a ceiling. So make your own mosaic ... Don't throw those pumpkin seeds away! Roast a few and paint the rest for a spectacular work of art.

Really BIG and stuffed newspaper Frankenstein - Sometimes, bigger is better. The girls had SO much fun making these larger than life crafts. There's something wonderful about creating a project that requires daddy's help to hold...

Newspaper Basket – The nice thing about this project is that once you're done with the basket, it's painless to recycle it.

Newspaper Snowflake Garland These aren't exactly garlands, more like delicate mobiles. They gently spin and twirl at the slightest breeze. It seems to add to their magic... as if they are spiraling to the ground like real snowflakes.

Recycled Newspaper Coasters – Put some color and fun to your child's placemat or study table with this easy to make newspaper coasters for their drinks. Now you won't have to wipe down every spill they make.

Recycled Newspaper Pictures - Celebrate Earth Day this year by making these fun recycled newspaper pictures.

Salt Art - You can create some really beautiful effects with this salt art craft. Kids also enjoy coloring the salt with food coloring before painting with it.

Sculpt-a-Planet Crafts Project - The Earth is a planet; the stars are like suns, with streaks of bright light, the Milky Way runs. From the moon to Saturn the big sky unfolds, to let us all in on the secrets it holds. What better way to honor the skies, then to make our own planet that's nice on the eyes.

Sculptured Guitars - Kids will learn to sculpt/construct with newspaper; identify different shapes; understand the importance of recycling in the community; and recognize, understand, and learn the different parts, names, and functions of the parts of the guitar with this newspaper craft project.

Shady Garden Hat - Protect kids-and yourself-from the sun with these home-grown garden hats. Summer fun is made in the shade with practical and creative crafts like this.

Shimmering Stacked Trees - This shimmering stacked tree will add a festive -- and eco-friendly -- touch to your home this holiday season.

Sock Doll - These sock dolls are really fun and easy to make! Sit back and watch your kids amaze you with their creativity.

Spread the News and the Love - Valentine's Day is a wonderful opportunity for kids and parents alike to show their loved ones how much they really care.

Spring Bouquet – Celebrate the month of May or any day with bright flowers that stay fresh. Arrange them in a clever folded-paper basket to hang on a doorknob.

Squished Bugs - They may be silly but they're still yucky! You make the fly swatter, then you glue on your squished bug parts!

Star Fish Paper Mache - Paper maché craft projects are a perfect craft for kids to really use their sense of touch. When putting together their craft they get to experience different touches like the feel of dry paper, wet paper and the slimy feel of the paper maché mix.

Stuffed Newspaper Butterfly Craft – Your little girl will surely want one of these hanging around her bedroom ceiling. Help them make one and enjoy the bonding time too!

Stuffed Poppy Finger paint Craft - Even the youngest crafters can make this project. It's great for the children in the baby room or toddler room in a daycare to make and hang from the ceiling. Even the youngest crafters can make this project. It's great for the children in the baby room or toddler room in a daycare to make and hang from the ceiling.

Sturdy Recycled Newspaper Pots - Making pots for seedlings is a great way to recycle newspaper and save money gardening. These recycled newspaper pots are relatively easy to make and make transplanting seedling to the garden very easy. Making pots this ways removes the need for any tape, glue, string, or staples and results in a sturdy recycled newspaper pot.

Super Skewer Nifty News Kite – Here's a great idea for a fun summer- assemble and fly some kites using old newspaper some lightweight plastic straws to hold it together and an endless supply of nylon string.

The Outer Spacers - Make a fun outer space costume using newspaper bags. Great for Halloween or costume parties…

Treasure Tray – You'll realize that the uses for this easy newspaper-crafted tray are limited only by one's imagination.

Wallpaper Sit-upon – Simply put, these will last and last. It's easy to clean too!

Waste Paper - Keep your old magazines or newspapers from ending up in a landfill by putting them to work as colorful trash receptacles. When you need a change of pace, just tear off a sheet to reveal a new page, a new color, or a new look.

Wet & Wonderful Windsock - Keep cool while you experiment with watercolors! Hang your wet and wonderful windsock indoors to blow in a breeze.