Home > Arts and Crafts Projects for Kids > No-Sewing Arts & Crafts for Kids
NO-SEW FABRIC CRAFTS FOR KIDS : Ideas for Easy No-Sewing Arts & Crafts Projects & Activities with scraps of fabric, cloth, yarn, string, velvet, felt, etc with patterns for children, teens, and preschoolers
Below you will find many Ideas for Easy No-Sewing Arts & Crafts Projects & Activities with scraps of fabric, cloth, yarn, string, velvet, felt, etc with patterns for children, teens, and preschoolers
How to Make No-Sew Wool Fishing Hats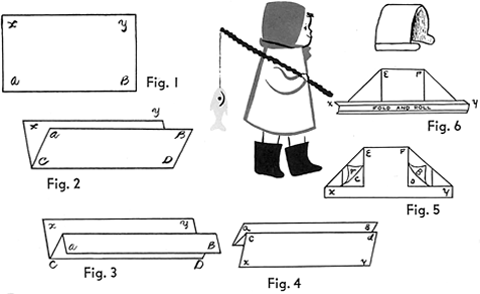 When it is cold up in New England, they used to make these easy-to craft wool fishing hoods. Get about three-quarters of a yard of wool or fabric of some sort. Lay it out and mark the lower corners a and b. You will need to hold the corners a & b until you are done making the hat, so don't let go. Mark the upper corners x and y now. You can see the corners marked x, y, a, b in figure 1. Fold side ab to side xy as pictured in figure 2. Now bring down side AB to meet side CD which is what we are calling the seam that you created in figure 2. Now turn the fabric over onto the other side, and laying it down the other side up...as you can see in figure 4. Now keep holding onto corners a,b,c, and d, and then turn down a triangle towards the center. Now the hat should look like figure 5 . Now with your fingers holding AC and BD, roll XY three or four times as pictured in figure 6. Now while holding onto the corners of the hood, place it onto your head and tie it under your chin. This is a great looking hood and you made it all on your own. Once you get used to it, it is very easy to make this hooded hat over and over again.

Even More No-Sew Cafts

How to Make No-Sew Tote Bag Craft from Recycled Old T-Shirts - These no-sew t-shirt tote bags are so easy to make that you can make tons of them to take with you to the grocery store to use instead of plastic or paper grocery bags. Follow the easy-to-follow, step by step instructions below.

How to Make Easy No-Sew Sock Dolls Crafts Idea for Kids - This craft will probably take less than 10 minutes for you…it is that easy. These are no-sew dolls…that is right…no sewing necessary at all. If you like sock monkeys, but you were too lazy to make them, then this arts and crafts project is for you. Have fun.

How to Make No-Sew Stuffed Puppy Dog Animal Toy with Socks & Rubber Bands - Today we will show you how to make stuffed puppy dogs out of socks and rubber bands. This craft will probably take less than 10 minutes for you…it is that easy. These are no-sew stuffed animals…that is right…no sewing necessary at all. If you like sock monkeys, but you were too lazy to make them, then this arts and crafts project is for you. Have fun.

Make Jeans Travel Tote - Hold all of your vacation stuff inside the pockets and legs of your pants. This hooks on to the seat in front of you...and NO SEWING AT ALL if you hot glue the pants legs instead of sew them (that is what I did)! I did this for my own kids and they carry so much more than any other store-bought totes can hold - and they are great for hiding stuff when you go into a restaurant.

Make No-Sew Water Bottle Holder Craft - Learn how to make this cool water bottle holder with a pair of socks, string, and some beads. No sewing involved and you are upcycling.

Make Handbags without Sewing with Felt, Pipe Cleaners,a nd Ribbon - If your little girl wants to be just like Mommy and the big girls with her own purse, this is a creative way to give in without actually spending money on expensive accessories for a pint-sized clothes horse. It could easily be made as a pouch or satchel for a boy as well.

No-Sew Hopa Mitica Doll - Push it Down it Pops Back Up - Learn how to make a Romanian Doll, called a Hopa Mitica Doll. No Sewing Involved.

Afikomen Bag - - For many children, the afikomen (a piece of Matzah, or unleavened bread, hidden at the start of the Seder and found and eaten at the end of the festive meal), is the highlight of Passover. Make your own beautiful afikomen bag to hold this special piece of Matzah.

Bottle Wraps - - While a bottle of wine is an easy.pngt to give, it's often troublesome to wrap. The three ideas here begin with soft, flexible materials that conform to a bottle's contour.

Book Pillow - - This no-sew craft for kids is great for the reader in your family. Use this book pillow to provide the perfect place to curl up with a favorite story.
Coiled Coasters - - This no-sew craft for kids creates a coiled coaster. Despite their softness, these coiled coasters are remarkably sturdy, which means that you'll get to enjoy your kids' creations for years to come.

Crafty Christmas: A Very Merry Onesie! - - I searched racks and racks of Christmas clothing to find something simple for Noodle to wear in her Christmas photos this year. All those fluffy dresses are cute, but Noodle is so tiny she would be buried in ribbon and tulle if I went that route. The simpler outfits had sayings that wouldn't really be appropriate for our yearly Christmas card. I needed another solution-- FAST!

Denim Pocket Patch - - "We ironed a scrap of Liberty cotton onto the pocket of this no-frills, inexpensive chambray work shirt," says Katie Hatch. With the paper-bag-waisted jeans, "the look could skew tomboy, but pink suede wedge sandals make it undeniably feminine."

Doggie Bones - - These are super easy to make and one of my beagles LOVES them. I've heard other doggies like them too.

Easy No Sew Craft; Make a Winter Hat - - Learn how to make easy no-sew hats. This easy hat craft can be completed in minutes, requires no sewing, and is very rewarding. The easy no-sew hat craft makes two hats. Here is how to make this easy craft.

Easy No Sew Pillow - - This is a very simple project that can be adapted to suit the materials you have on hand.

Embellished Slippers - - Decorated with a dazzling combination of fabric, ribbons, sequins, and beads, store-bought slippers offer a wonderful way to welcome houseguests and make lovely.pngts for virtually any occasion. This technique, inspired by a pair of slippers created by Martha's friend Melissa Neufeld, is designed to yield a pair embellished with toile fabric and velvet ribbon. You can, however, easily adapt this technique to create any of the five versions that follow or to fashion your own design.

Fab '50s Waitress - - No sewing is required for this diner diva's uniform -- all the trimmings are glued in place. And check out our fun idea for an eggs-cellent companion for the waitress.

Fabric Paint And Applique Tee Shirt - - Here's a quick project I did for my four year old. Although with Elmo's popularity my nineteen year old would probably love it too.

Felt Tissue-Box Holder - - A piece of felt in your favorite color makes an ideal cover for a tissue box -- and the material will convey warmth when you need it most.

Fleece Heart Pillow - - Why not celebrate Valentine's Day with a soft cuddly pillow to snuggle up to? This cuddly craft is easy to do and makes a great.pngt for you or your friends. It is also a perfect craft to make at a slumber party!

Fleece Pom-Pom Ball - - This fleece pom-pom makes a perfect toy for younger kids, just make sure to watch carefully with younger kids and make sure it is not given to kids who still put things in their mouths! It is also a great toy for your dog or cat!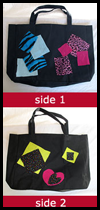 Fun & Funky Tote Bag - Has your daughter outgrown her ribbons and lace and has long since ditched the princess decorations in her bedroom? Make this fun and funky tote bag for her sleepovers, dance class accessories, or even homework!

Funky Pharaoh - - Make history in your family with this instant classic -- no sewing necessary! Just cut a few yards of inexpensive white cotton into a royal robe. A bamboo pole, found at a garden center and wrapped with a fake snake, serves well as the pharaoh's staff.

Greek Statue - - Make history in your family with this instant classic -- no sewing necessary! Just cut a few yards of inexpensive white cotton into a statuesque gown.

Heart-Shaped Button Covers - - The secret to capturing a heart is to use a button -- at least when the heart in question is made of felt. Create this no-sew decoration for Valentine's Day: Cut hearts from pink and red felt based on the size of the shirt's buttons (ours are cut from 1-inch squares). Fold each in half horizontally, and cut a vertical slit, or buttonhole, about the same size as the button. To wear, button up shirt, and then slip hearts over buttons.
Homemade Duster - - Here's a quick and easy project to make something useful out of your Fleece scraps. You may want to remember this one at bazaar time!

How to Make Inexpensive No Sew Curtains - - Do you find the price of curtains completely out of your budget? New curtains are the best way to add new life to your existing decor. This is a quick, simple, and inexpensive no sew solution to the high price of store bought curtains. You really can make your own inexpensive curtains in less than 20 minutes for little more than the cost of 2 top sheets!

How to Make a No Sew Draft Snake - - I love to sew but even I can appreciate simple no-sew craft projects. Since I was running short on time last week I didn't want to lug out the sewing machine to sew up some draft snakes so I decided to get creative, and now I can't see doing these any other way.
How to Make Easy No Sew Bolster Pillow Covers - - Long, round bolster pillows are an attractive accent to your couch, armchair or bed. If you have an old bolster pillow or a purchased pillow form, you can easily make a no sew bolster pillow cover. Bolster pillow covers can be made in a variety of fabrics to suit any decor. You can also take advantage of convenient no sew pillow covers to allow for easy laundering of your bolster pillow.
How to Make a No-sew Baby Wearing Wrap - - Baby wearing is all the rage in parenting now-a-day and with good reason! Baby wearing has been proven to not only make baby happier, but to increase your little one's mental, physical and emotional development all while making life a bit easier for mom and dad. So you want to jump on the baby wearing band wagon, but what device to use? There are several on the market, and all are pretty costly! So why not make your own? It is easy, quick, and best of all cheap!
How to Make No Sew Pillows - - Sewing skills are not required to create a pillow. A little time and creativity are all you need to make a decorative pillow, large or small, as an accent for a chair, sofa or bed to complement any decor. The possibilities extend to a pet bed, a travel pillow or a foot cushion.
How to Make a No Sew Pirate Costume - - Choosing holiday costumes is exciting for both children and adults. Some people want to be hands-on and create a costume of their own. Making a no-sew pirate costume is a wonderful idea for those who aren't handy with needle and thread or for those who want to look like the most unique matey on the ship.
How to Make a No-Sew Pleated Dust Ruffle - - A dust ruffle can be an excellent addition to any bedroom, making the room appear brighter and more put together. A dust ruffle can also help mask storage under the bed. Although making a traditional dust ruffle can be an arduous task, you can get around that by creating a simple no-sew dust ruffle. This is perfect for a child or teenager's room, because you can include them in the project.
How to Make a No-Sew Polar Fleece Throw - - How to make a no-sew polar fleece through with some easy knots.

How to Make Arm Warmers - - Fingerless gloves can turn any outfit into a daring statement. Create a pair of fingerless gloves from a pair of long sleeves.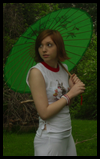 How to Make a T-Shirt into a Tank Top - - Learn how to make a t-shirt into a tank top. We all seem to run into the same problem; T-shirts that have our favorite band, Captain Jack Sparrow, or 'I'm With Stupid' printed on them, but are just too big to wear. Who decided all cool t-shirts should only be worn by guys? Before you surrender your favorite tees to your boyfriend or brother, try this no-sew trick on for size.

How to make a Yarn Bangle Bracelet - - Follow these instructions to make this bangle out of yarn.

How to Make Yarn Pompoms - - Follow these instructions to make these pompoms out of yarn.

How to Make Beaded Fringe Pants - - Get a cute beaded look. Learn how to trim the bottoms of your pants with beaded fringe with these easy step-by-step instructions.

How to Make Your Jeans Look Worn - - Sometimes a pair of jeans just look too perfect to suit your style. Use this easy method to cheat time and make your jeans look fashionably worn.

Jack-O-Lantern Windsock - - This easy to make, no-sew Halloween yarn craft is fun and quick to make. You will need orange yarn, black felt, glue, a 6" or 8" styrofoam ball, needle, and scissors. This is a great Halloween easy to make no-sew craft to make for Brownie Troupes.

Make a T-Shirt Sleeve Headband - - Turn a t-shirt sleeve into a headband, and turn up your good recycling karma. Create this soft and cute headband with these easy steps.

Make Festive Felt Bunting For Chanukah! - - Of all the Chanukah items I've made from felt, I have to say, this bunting is one of my favorites. I just love bunting anytime, and I'm not alone as they have caught on like wild fire amongst the crafters of the world.

Marvelous Matzah Cover - - A Matzah cover is a piece of cloth traditionally used to cover a piece of unleavened bread, called Matzah, before the Passover Seder meal. Add a burst of colour to your Passover Seder table with this easy-to-do Matzah cover.

Merry Mice - - Whether used as.pngt tags or just given as sweet presents all by themselves, these candy Christmas mice are sure to cause a stir.

No Sew Baby Fleece Ball - - For this project you don't need to sew or glue anything making it suitable for beginners and all ages.

No-Sew Baby Rattle - - Rather than toss out single baby booties, turn a mismatched pair into a super-snuggly rattle.

No-Sew Bandana Tote Bag - - No sewing! Just cut and knot. All you'll need is scissors and two bandanas.

No Sew Bunny Tutorial - - Easter is right around the corner. I thought it would be fun to share these cute no sew bunnies. A great craft to do with kids!

No-Sew Buttoned Shawl Tutorial - - Pick up a wide, fringed scarf at the dollar store, and with some quick modifications, you can transform it into a cozy shawl to keep your you warm and toasty. Don't worry, for this project, there's no cutting involved and no machine sewing. And if you're the undecided type of crafter, you can change your mind after this one is done; to return this scarf to normal scarf mode, snip the buttons off, untie some knots, and return your scarf to its original glory.

No-Sew Buttoning Scarflet Tutorial - - Plain fringed scarves are so common and cheap, but what crafter wants to wear a plain scarf like that? By adding some fun vintage buttons from your stash, you can convert a simple scarf into a cool scarflet or buttoning cowl-type accessory—so much better! I'll show you a few different ways of constructing your new neckpiece, but depending on your particular scarf size, you may need to make some changes to make it work. Play around with what you have to work with and feel free to stray from my methods and turn it into your own design!

No Sew Clutch - - I like to sew, but I wondered if this clutch could be made without it. And it was.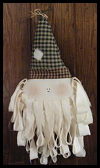 No Sew Country Santa - - This Santa is a great addition to any wall, sitting next to the fireplace, or atop a shelf. He's soft enough to cuddle too!

No Sew Crafts for Holiday.pngt Giving: Personalized Towels - - The Holidays are coming! The Holidays are coming! Each year, birthday and holiday.pngt giving becomes a burden for many families on a budget. At first you think, okay, I'll budget and shop smart, no problem! Then you start to think about exactly how many.pngts you need to buy. Panic!

No-Sew Doll Fashions - - This no-sew craft for kids is perfect for your child's imagination. She'll have hours of fun pretending to be a famous fashion designer while creating a new wardrobe full of no-sew doll fashions for her dolls or stuffed animals.

No-Sew Duct Tape Zipper Pouch - - Take your duct tape skills to the next level with this great zippered pouch.The interior is water-proof, making this bag great for carrying, pens, make-up, whatever you can imagine.

No-Sew Easy to Make Yarn Crafts - Sea Octopus - - This adorable sea creature, the octopus, is an easy to make, no-sew yarn craft. He is great to make for a brownie or girl scout troop, or just to do on a rainy day. Almost 40 years ago, this was my first no-sew craft I ever made at a brownie meeting at age 7. I loved (and still do) making crafts so much that I wanted to share this project with my friends. I came home, gathered up supplies, invited my neighborhood friends over, and taught everyone how to make one !!!

No-Sew Embroidery - - You don't need a seamstress to give linens a makeover. Our simplified approach to couching, which traditionally involves hand-stitching, doesn't require the labor of a needle and thread -- just cording, fabric glue, and a disappearing-ink pen, plus a marker and graph paper to map out a design. Once you learn the basic technique, use it to embellish bed skirts, drapes, and more.

No-Sew Fabric Pet Portrait - - Turn a favorite pet photo into a fabric portrait without using a needle and thread.

No-Sew, Fancy Kids' Pocketbook - - Make this fancy pocketbook for kids.

No-Sew Felt Clutch - - I bought some felt to make some little Valentine's for Lil Man's friends and somehow I ended up with a felt clutch! Luckily, one of his girl friends loves to carry around purses so this became her Felt Clutch/Purse Valentine. It will be the 'wrapping' to her little Valentine's.pngts, but will also be the most useful 'wrapping' she's ever seen!

No Sew Fingerless Gloves With Tutorial - - My mom gave me a bunch of crafting felt and fleece squares that I have been staring at trying to figure out what to do with. I decided to work with the fleece squares because they had slits cut all around them. I think these were from a no sew fleece throw kit.

No-Sew Fleece Blanket - - Follow these directions and make a warm, no-sew blanket using two pieces of fleece.
No Sew Fleece Blanket - - Step by step instructions for making a two-sided fleece blanket.

No Sew Fleece Blanket - - With no sewing needed, this blanket can be made by almost anyone. If you can tie a knot you can make this blanket.

No-Sew Fleece Blanket - - This super-easy, no-sew blanket makes a great.pngt, bedroom accessory, or TV wrap.
No Sew Fleece Blanket - - Not all of us might be skillful enough to make beautiful embroideries for clothing, knit sweaters or stitch blanket. Not adept at the artwork though, we would still want to make something for your family, just for a personal touch. If you are not adept at the sewing skill, then you should look for something that requires less or no needlework, but still gives you the same effect that of a sewed blanket. Making a no-sew fleece blanket is suggested, because it requires less labor and time, as compared to the one that is conventionally stitched in a sewing machine. Moreover, it is easy to make an economical too.

No-Sew Fleece: Delicate Ruffled Scarf - - This scarf is another quick project with great results, and very in keeping with the ruffled trend that seems to be popular in both home decor and fashion! As you can see from the photo, the sides of the scarf do not lie flat when finished, but this is part of the charm!

No-Sew Fleece Pillow - - Making this cuddly pillow is so quick and easy, it's like performing a magic trick. What's the secret? Knots. The pieces are tied together (fleece fabric needs no hemming), which makes this.pngt simple enough to complete in an afternoon, and cute enough to give to a best friend or cousin.

No Sew Fleece Pillow - - For those who liked the fleece scarves so well, I give you yet another no-sew craft project to make with your fleece. These soft and fuzzy fleece throw pillows would be an excellent.pngt to have on hand for those unexpected guests, to make for teacher.pngts or for the kids to make for family members. Kids would even love these for their rooms!

No-Sew Fleece Pillow - - Fleece has become very popular and spring brings a great new selection of bright summery prints that work great for these soft cuddly pillows.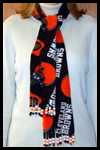 No Sew Fleece Scarf - - This no sew fleece scarf is a super easy craft to make this winter, and they make wonderful.pngts. The wonderful thing about fleece is it comes in so many different patterns. You can find a pattern and color to match your favorite coat, make one for a child with their favorite cartoon character, or make one for your boyfriend with his favorite sports team logo. You only need 1/8 yard to make one scarf, so this is also very inexpensive, especially if you wait for fleece to be on sale at your local fabric shop!
No-Sew Fleece Scarf - - Follow the following instructions and make your own scarf.

No-Sew Fleece: Simple Pom-Pom Hat - - Isn't this hat cute? And guess how long it took me to make it? Oh about ten minutes, really! How's that for a quick last minute.pngt, or even a fun holiday crafting activity. Who wouldn't love a new cozy hat?

No-Sew Holiday Aprons - - When baking holiday cookies, little chefs stir up a merry mess. Let them have fun and keep their clothes tidy with aprons just for the occasion. Attach designs made of washable felt and rickrack to kid-size canvas aprons with fabric glue. An ornament doubles as a pocket (glue bottom and sides), the perfect place to stash a cookie for on-the-job nibbling.

No-Sew Lace Barbie Outfit... from Recycled Lace - We gently removed the lace from a Valentine candy box to make this two-piece outfit. You can also use the lace from old clothes, curtains, or linens.

No-Sew Liner - - Dress up storage baskets -- and make them easier to clean -- with lining cut from oilcloth, a durable and moisture-resistant fabric that requires no hemming.

No-Sew Market Tote Bag - - This no-sew bag can be stowed in your purse for a quick trip to the market and is strong enough to carry fruits and vegetables.

No-Sew Pillowcase Skirt - - Trendsetters won't be able to resist the creative trick of transforming a pillowcase into a sassy skirt (or beach cover-up). Be sure that the case your child chooses won't be see-through, and consider that cases with a decorative edge offer a fabulous instant hem detail. If the case is brand new, preshrink it before you begin.

No-Sew Plump Snowman - - This plump little snowman makes a great centerpiece, is easy to put together and makes a cuddly pal for the kids. With some very simple items you can put this craft together inexpensively and quickly.

No-Sew Ribbon Cuff - - I was looking to whip up a quick and easy accessory but didn't feel like breaking out my jewelry supplies--plus I had some really inspiring ribbon laying around--so I came up with this No-Sew Ribbon Cuff. Read on to find out how to make your own!

No-Sew Sachets - - Even kids who don't sew can help fashion a bunch of these fragrant, colorful sachets. It's a great way to use up all your fabric remnants.

No-Sew Sampler - - Use your computer to create a sampler!

No-Sew Santa Table Runner - - I saw this fun table runner at Hobby Lobby. Not wanting to pay the full price tag, I figured I could easily make a similar runner myself.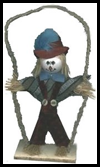 No-Sew Scarecrow Doll on a Swing - - This cute little no-sew scarecrow costs next to nothing to make - just like a real one. This doll stands only 7" high, however, and is made from a miniature 6" corn broom.

No-Sew Slipper Socks - - Padding around the house in warm wool socks is a cozy comfort that can sometimes be slippery -- and socks' feet can get damp and dirty. For more solid footing, add soles.

No-Sew Tote Bags - - Why break the bank for a designer bag when you can easily make your own? These fashionable totes are constructed with two main items: a roll of duct tape and a stapler.

No Sew Tutu - - Just Thought I'd Make A Quick Tutorial. It Looks Like Alot Of Steps But It's Not Really I Was Just Being Thorough.

No-Stitch Pillows - - This no-sew craft is great for kids with a sweet tooth. Your child can create fluffy no-stitch pillows with little supervision.

Pillowcase Skirt - - Recycle a pillowcase to make a sweet skirt. This is the easiest skirt to make because it's practically already made for you. The top of the pillowcase already has a drawstring casing and the sides are already sewn.

Princess Costume - - Turn her party dress into a no-sew princess costume. Easy beaded tiara finishes the look.

Ribbon Flowers - - Fashioned from colorful wire ribbon and floral wire, these whimsical blossoms shape up into an impressive Easter bouquet. And unlike real blooms, they'll last long after the holiday.

Simple Fleece Scarf - - Learn how to make a simple scarf using a scrap piece of fleece. These are great to wear, give as.pngts, or even to show some team spirit.

Skirting the Pants - - Turn your daughter's outgrown jeans into a trendy no-sew denim skirt.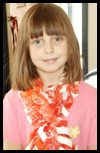 Snow-a-Boa Fleece Scarf - - Happy January! Hit those fleece sales and try this fun, simple project. This beautiful scarf also makes a great.pngt! A special thanks to StorkNet member Debbie (Licagita), who sent us the pictures and directions for this project.

Snow Family Finger Puppets - - This adorable snow family will give your kids hours of puppet time fun! All you need are some inexpensive knit gloves and a few simple supplies to put together this cute project.

Stenciled Love Jeans - - Find out how to create fashionable jeans and other denim masterpieces using Simply Spray fabric stencil paint.

Suede No-Sew Skirt - - If you can sew a button, you can make this skirt," says Blueprint fashion editor Katie Hatch. All the projects are made of cut-and-go microfiber suede (the best known: Ultrasuede). For the scalloped edge, Katie traced an oatmeal canister. "Yes, it's that unscientific," she says.

Summer Handbag - - This no-sew handbag makes a lovely addition to any summer wardrobe.

Sunny Sky Costume - - If you are looking for an easy Halloween costume you can throw together, even the day of Halloween, this little Sunny Sky costume is perfect. If the weather is cool you can use a sweatshirt or long sleeved top instead of a t-shirt.

The Funky No-Sew Fleece Purse - - Looking for something casual, yet funky? Well this no-sew fleece purse is just the ticket! Go from scrap to fabulous in a mere hour to hour and a half.

Tie One On: DIY Swimsuits - - Snip, twist, wrap, and knot. That's all that separates you from a new poolside outfit.

Turkey Gloves - - What a fun project to put together for that festive holiday, Thanksgiving. Help your child make a pair and show off to the whole family!

Turn a Shirt into a Wrap - - Create a wrap from a button-down shirt. The trick to this easy DIY project is choosing the right shirt. For a grungy look, go with something casual. For an upscale wrap, choose a blouse with a classy design, or made of fine materials like satin.

Velvet-Ribbon Belts - - Add a luxurious touch to any winter outfit with a belt of velvet ribbon.
Woven Tie Dye Bandana Purse - Use our recycled punched vinyl and tie dye bandanas to make a no-sew woven purse.
---------------------------------------------------------------------------------------
Fabric Crafts Categories or Find Fabric / Cloth Crafts Above These Categories
Make Stuff Out of Bed Sheets & Linens
Make Stuff Out of Denim Blue Jeans
Make Stuff Out of Mittens / Gloves
Make Crafts Out of Pillowcases
Plastic Canvas Crafts (Easy Sewing Crafts)
Make Crafts with Thread Spools
Make Crafts with Stockings / Pantyhose
Masks and Costumes Making Crafts
-----------------------------------