Home > Arts and Crafts Projects for Kids > No-Sewing Arts & Crafts for Kids
NO-SEW FABRIC CRAFTS FOR KIDS : Ideas for Easy No-Sewing Arts & Crafts Projects & Activities with scraps of fabric, cloth, yarn, string, velvet, felt, etc with patterns for children, teens, and preschoolers
Below you will find many Ideas for Easy No-Sewing Arts & Crafts Projects & Activities with scraps of fabric, cloth, yarn, string, velvet, felt, etc with patterns for children, teens, and preschoolers
How to Make No-Sew Wool Fishing Hats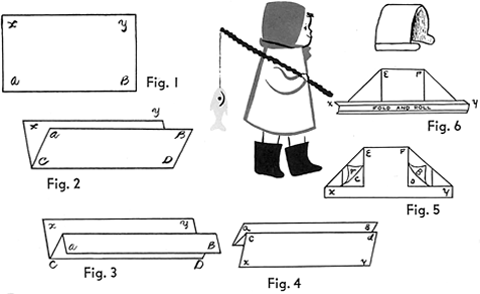 When it is cold up in New England, they used to make these easy-to craft wool fishing hoods. Get about three-quarters of a yard of wool or fabric of some sort. Lay it out and mark the lower corners a and b. You will need to hold the corners a & b until you are done making the hat, so don't let go. Mark the upper corners x and y now. You can see the corners marked x, y, a, b in figure 1. Fold side ab to side xy as pictured in figure 2. Now bring down side AB to meet side CD which is what we are calling the seam that you created in figure 2. Now turn the fabric over onto the other side, and laying it down the other side up...as you can see in figure 4. Now keep holding onto corners a,b,c, and d, and then turn down a triangle towards the center. Now the hat should look like figure 5 . Now with your fingers holding AC and BD, roll XY three or four times as pictured in figure 6. Now while holding onto the corners of the hood, place it onto your head and tie it under your chin. This is a great looking hood and you made it all on your own. Once you get used to it, it is very easy to make this hooded hat over and over again.

Even More No-Sew Cafts

How to Make No-Sew Tote Bag Craft from Recycled Old T-Shirts - These no-sew t-shirt tote bags are so easy to make that you can make tons of them to take with you to the grocery store to use instead of plastic or paper grocery bags. Follow the easy-to-follow, step by step instructions below.

How to Make Easy No-Sew Sock Dolls Crafts Idea for Kids - This craft will probably take less than 10 minutes for you…it is that easy. These are no-sew dolls…that is right…no sewing necessary at all. If you like sock monkeys, but you were too lazy to make them, then this arts and crafts project is for you. Have fun.

How to Make No-Sew Stuffed Puppy Dog Animal Toy with Socks & Rubber Bands - Today we will show you how to make stuffed puppy dogs out of socks and rubber bands. This craft will probably take less than 10 minutes for you…it is that easy. These are no-sew stuffed animals…that is right…no sewing necessary at all. If you like sock monkeys, but you were too lazy to make them, then this arts and crafts project is for you. Have fun.

Make Jeans Travel Tote - Hold all of your vacation stuff inside the pockets and legs of your pants. This hooks on to the seat in front of you...and NO SEWING AT ALL if you hot glue the pants legs instead of sew them (that is what I did)! I did this for my own kids and they carry so much more than any other store-bought totes can hold - and they are great for hiding stuff when you go into a restaurant.

Make No-Sew Water Bottle Holder Craft - Learn how to make this cool water bottle holder with a pair of socks, string, and some beads. No sewing involved and you are upcycling.

Make Handbags without Sewing with Felt, Pipe Cleaners,a nd Ribbon - If your little girl wants to be just like Mommy and the big girls with her own purse, this is a creative way to give in without actually spending money on expensive accessories for a pint-sized clothes horse. It could easily be made as a pouch or satchel for a boy as well.

No-Sew Hopa Mitica Doll - Push it Down it Pops Back Up - Learn how to make a Romanian Doll, called a Hopa Mitica Doll. No Sewing Involved.

Book Pillow - - This no-sew craft for kids is great for the reader in your family. Use this book pillow to provide the perfect place to curl up with a favorite story.
Coiled Coasters - - This no-sew craft for kids creates a coiled coaster. Despite their softness, these coiled coasters are remarkably sturdy, which means that you'll get to enjoy your kids' creations for years to come.

Crafty Christmas: A Very Merry Onesie! - - I searched racks and racks of Christmas clothing to find something simple for Noodle to wear in her Christmas photos this year. All those fluffy dresses are cute, but Noodle is so tiny she would be buried in ribbon and tulle if I went that route. The simpler outfits had sayings that wouldn't really be appropriate for our yearly Christmas card. I needed another solution-- FAST!

Easy No Sew Pillow - - This is a very simple project that can be adapted to suit the materials you have on hand.

Fleece Pom-Pom Ball - - This fleece pom-pom makes a perfect toy for younger kids, just make sure to watch carefully with younger kids and make sure it is not given to kids who still put things in their mouths! It is also a great toy for your dog or cat!

How to Make a No Sew Draft Snake - - I love to sew but even I can appreciate simple no-sew craft projects. Since I was running short on time last week I didn't want to lug out the sewing machine to sew up some draft snakes so I decided to get creative, and now I can't see doing these any other way.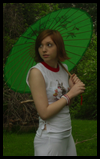 How to Make a T-Shirt into a Tank Top - - Learn how to make a t-shirt into a tank top. We all seem to run into the same problem; T-shirts that have our favorite band, Captain Jack Sparrow, or 'I'm With Stupid' printed on them, but are just too big to wear. Who decided all cool t-shirts should only be worn by guys? Before you surrender your favorite tees to your boyfriend or brother, try this no-sew trick on for size.

How to make a Yarn Bangle Bracelet - - Follow these instructions to make this bangle out of yarn.

How to Make Yarn Pompoms - - Follow these instructions to make these pompoms out of yarn.

Jack-O-Lantern Windsock - - This easy to make, no-sew Halloween yarn craft is fun and quick to make. You will need orange yarn, black felt, glue, a 6" or 8" styrofoam ball, needle, and scissors. This is a great Halloween easy to make no-sew craft to make for Brownie Troupes.

Make Festive Felt Bunting For Chanukah! - - Of all the Chanukah items I've made from felt, I have to say, this bunting is one of my favorites. I just love bunting anytime, and I'm not alone as they have caught on like wild fire amongst the crafters of the world.

No Sew Baby Fleece Ball - - For this project you don't need to sew or glue anything making it suitable for beginners and all ages.

No-Sew Buttoned Shawl Tutorial - - Pick up a wide, fringed scarf at the dollar store, and with some quick modifications, you can transform it into a cozy shawl to keep your you warm and toasty. Don't worry, for this project, there's no cutting involved and no machine sewing. And if you're the undecided type of crafter, you can change your mind after this one is done; to return this scarf to normal scarf mode, snip the buttons off, untie some knots, and return your scarf to its original glory.

No-Sew Buttoning Scarflet Tutorial - - Plain fringed scarves are so common and cheap, but what crafter wants to wear a plain scarf like that? By adding some fun vintage buttons from your stash, you can convert a simple scarf into a cool scarflet or buttoning cowl-type accessory—so much better! I'll show you a few different ways of constructing your new neckpiece, but depending on your particular scarf size, you may need to make some changes to make it work. Play around with what you have to work with and feel free to stray from my methods and turn it into your own design!

No Sew Clutch - - I like to sew, but I wondered if this clutch could be made without it. And it was.

No-Sew Doll Fashions - - This no-sew craft for kids is perfect for your child's imagination. She'll have hours of fun pretending to be a famous fashion designer while creating a new wardrobe full of no-sew doll fashions for her dolls or stuffed animals.

No-Sew Duct Tape Zipper Pouch - - Take your duct tape skills to the next level with this great zippered pouch.The interior is water-proof, making this bag great for carrying, pens, make-up, whatever you can imagine.

No-Sew Easy to Make Yarn Crafts - Sea Octopus - - This adorable sea creature, the octopus, is an easy to make, no-sew yarn craft. He is great to make for a brownie or girl scout troop, or just to do on a rainy day. Almost 40 years ago, this was my first no-sew craft I ever made at a brownie meeting at age 7. I loved (and still do) making crafts so much that I wanted to share this project with my friends. I came home, gathered up supplies, invited my neighborhood friends over, and taught everyone how to make one !!!
No Sew Fleece Blanket - - Step by step instructions for making a two-sided fleece blanket.

No Sew Fleece Blanket - - With no sewing needed, this blanket can be made by almost anyone. If you can tie a knot you can make this blanket.
No Sew Fleece Blanket - - Not all of us might be skillful enough to make beautiful embroideries for clothing, knit sweaters or stitch blanket. Not adept at the artwork though, we would still want to make something for your family, just for a personal touch. If you are not adept at the sewing skill, then you should look for something that requires less or no needlework, but still gives you the same effect that of a sewed blanket. Making a no-sew fleece blanket is suggested, because it requires less labor and time, as compared to the one that is conventionally stitched in a sewing machine. Moreover, it is easy to make an economical too.

No-Sew Fleece: Delicate Ruffled Scarf - - This scarf is another quick project with great results, and very in keeping with the ruffled trend that seems to be popular in both home decor and fashion! As you can see from the photo, the sides of the scarf do not lie flat when finished, but this is part of the charm!

No Sew Fleece Pillow - - For those who liked the fleece scarves so well, I give you yet another no-sew craft project to make with your fleece. These soft and fuzzy fleece throw pillows would be an excellent.pngt to have on hand for those unexpected guests, to make for teacher.pngts or for the kids to make for family members. Kids would even love these for their rooms!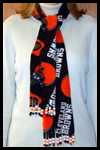 No Sew Fleece Scarf - - This no sew fleece scarf is a super easy craft to make this winter, and they make wonderful.pngts. The wonderful thing about fleece is it comes in so many different patterns. You can find a pattern and color to match your favorite coat, make one for a child with their favorite cartoon character, or make one for your boyfriend with his favorite sports team logo. You only need 1/8 yard to make one scarf, so this is also very inexpensive, especially if you wait for fleece to be on sale at your local fabric shop!

No-Sew Fleece: Simple Pom-Pom Hat - - Isn't this hat cute? And guess how long it took me to make it? Oh about ten minutes, really! How's that for a quick last minute.pngt, or even a fun holiday crafting activity. Who wouldn't love a new cozy hat?

No-Sew Santa Table Runner - - I saw this fun table runner at Hobby Lobby. Not wanting to pay the full price tag, I figured I could easily make a similar runner myself.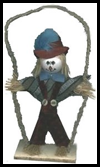 No-Sew Scarecrow Doll on a Swing - - This cute little no-sew scarecrow costs next to nothing to make - just like a real one. This doll stands only 7" high, however, and is made from a miniature 6" corn broom.

No-Sew Slipper Socks - - Padding around the house in warm wool socks is a cozy comfort that can sometimes be slippery -- and socks' feet can get damp and dirty. For more solid footing, add soles.

No Sew Tutu - - Just Thought I'd Make A Quick Tutorial. It Looks Like Alot Of Steps But It's Not Really I Was Just Being Thorough.

No-Stitch Pillows - - This no-sew craft is great for kids with a sweet tooth. Your child can create fluffy no-stitch pillows with little supervision.
---------------------------------------------------------------------------------------
Fabric Crafts Categories or Find Fabric / Cloth Crafts Above These Categories
Make Stuff Out of Bed Sheets & Linens
Make Stuff Out of Denim Blue Jeans
Make Stuff Out of Mittens / Gloves
Make Crafts Out of Pillowcases
Plastic Canvas Crafts (Easy Sewing Crafts)
Make Crafts with Thread Spools
Make Crafts with Stockings / Pantyhose
Masks and Costumes Making Crafts
-----------------------------------