Home > Arts and Crafts Projects for Kids > Photo Crafts for Kids
PHOTO CRAFTS FOR KIDS : Ideas for Arts and Crafts Projects & Activities with Photography & Pictures for Children, Teens, and Preschoolers
Here are photo crafts activities and instructions for kids to make beautiful crafts projects with pictures and phtographs. Find childrens' photograph crafts below.
Skip to Picture Frames / Photo Frames Crafts Activities for Kids
Turn Your Family or Friends into Action Figures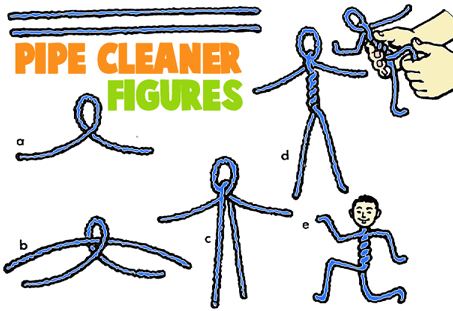 Wouldn't it be fun to have toy action figures for your entire family, your friends, classmates, or your favorite characters? Here is an easy way to make your own characters. Just take out 2 pipe cleaners and twist and turn the pipe cleaners the way that you see in the illustrations above....follow them in alphabetical order. Now ask permission to cut out faces of your family members from photographs. Glue or paste them on the pipe cleaner figures that you made. Like I said earlier, it doesn't have to be family members, it can be characters that you print out or cut from magazines.
More Photo Crafts Below

How to Make Tri-Fold Picture Frame from Cadboard and Felt - Most picture frame crafts are for one photograph, but this one holds 3 photos. This would be perfect to make as a gift for Dad or Mom for family photos…and it would look great on their office desk. If you want to learn how to make a tri-fold picture frame, then look at the directions in this arts and crafts activity for children.

Making a New Years Memory Accordion Pocket Book to Hold Precious Memories - You can use this special fold-up, accordion pocketed book to hold all the memories of this year or next year … and then you can put it away as if it were a time capsule. Then you can try not to look at it for 10 years. You will be surprised at how much you have changed in that amount of time. Have fun.

Make Picture Folder Gift Book with Accordion Fold Out Photo Holder - You can either use real photos or make your own comic book or use pictures from a magazine to make a funny story. This is a great craft to build imagination or to give as a gift to a loved one or friend.

Make a Photograph into a Flower - Learn how to use your favorite photograph to make a beautiful flower.

Photograph Paperweights - No paperweight could be any better than a pictured paperweight.

Bottle Caps Photograph Memory Key Chains - This is a great idea for making keychains that showcase the places you went on vacation. Just add your favorite photographs of memories in these bottle caps.

How to Make a 3D Refridgerator Magnet - Learn how to make 3-dimensional refridgerator magnets with a photograph or illustration of your choice.

Photo Binder Craft for Kids As your kids get older they will start carrying a binder to hold all their homework and assignments. Make their binder a fun keepsake from summer with their friends, time at camp or pictures from last school year.

Bouquet of Photo Flowers Crafts Activity Looking for a bouquet of flowers that will never wilt or die? Make this precious keepsake for Mom or Grandma this Mother's Day and they will cherish it always. Be sure to visit our other great Mother's Day fun including Mother's Day crafts, cards for mom and Mother's Day recipes to spoil mom with on her special day!

Collage or Placemat Photograph Craft for Children Give Mom her breakfast or dinner served on her own special placemat! Make Mom a special collage to show her how much you care.

CD Locker Magnet Photo Craft - What a fun way to decorate the inside of your locker and display your best friends at the same time!

Wooden Scrapbook Photo Arts & Crafts Project - Nature becomes natural storage with this attractive Wooden Scrapbook. Kids can decorate this durable album and store their favorite camp photos.
Felt Photo Albums Craft for Kids - Personalize your photo album covers with this fun Felt Photo Album craft. You and your kids can sift through memories as you decide which photos go into your festive albums

Christmas Photo Ornaments Craft for Kids - Give a personalized Christmas photo ornament to the special people on your list. Kids will enjoy crafting it into the perfect thing for Grandparents, Godparents, Aunts, Uncles, etc.
Custom Photo Coasters Craft - Personalize your drink coasters with this excellent themed craft. Your kids can customize them for special occasions like New Years, Christmas, Thanksgiving, Hanukkah and more.

Mini-Photo Bookmarks Craft for Kids - Strips of tiny photos become cherished keepsakes with this easy Mini-Photo Bookmark craft.

School Picture Magnets Craft for Children - Do something creative with extra school photos by crafting them into School picture magnets. They make great fridge magnets for friends and relatives.

Laminated Art Bookmarks Photograph Craft - Let your child explore their creative side by laminating their own artwork and transforming it into a bookmark. Perfect for back to school, these one of a kind bookmarks are tailored just to your child's tastes.

Decorative Gift Bags Photo Craft - Give inexpensive bags a makeover with this Decorative Gift Bag craft for kids. Add copies of family photos for a personal touch.

Personalized Calendars with Photographs Activity - What better way to greet each new month than with a photo of your loved ones? This personal gift can work as a wall calendar or a weekly planner.

Home Sweet Home Photo Gallery Craft - This adorable three-dimensional house makes a perfect photo memory display. For younger children, use simple designs. Older kids will appreciate more intricate details when decorating their house.
Family History Book Crafts Activity- Kids can fill a woven book cover with your family's history--it's the perfect craft to make as a gift for Kwanzaa, Christmas, Hanukkah, Mother's Day, Father's Day or any occasion.

My First Photo Albums Craft for Kids - For someone who doesn't talk yet, a picture's got to be worth at least a million words, making this flippy little album the perfect gift to create for your baby. It'll satisfy her natural love of faces, especially faces she knows, and it's sturdy enough to handle chewing, dropping, and many repeated "readings."

Festive Photo Personalized Craft - For that extra personalizing touch, use these homemade holiday cards to share a favorite photo.

Golf Ball Photo Mobile Kids Craft - Score a hole in one with this tee-rific gift.

Cut-Up Collages Photograph Kids Craft - Give your photos a silly makeover with this creative cutting and pasting project.

Photo House Card Crafts Activity - Make a picture-perfect frame card that's filled with Mom and Dad's favorite faces.

Moon Shot Photograph Craft Gift - Snap a portrait of each guest peeking through the window of this spiffy rocket. After the party, send the kids copies of their photos as thank-you notes and fun mementos of their voyage into space

Button Photo Bracelet - This sweet and simple craft features well-loved faces all in one place and makes a great gift for Mom on her special day.

Vintage Valentine Photo Hearts - Borrow a Victorian tradition and treat your modern grandparents (or other doting souls) to photos of their favorite kids.

Photo Board Activity for Kids - Here's an activity only for kids brave enough to face a hungry lion -- and be photographed in a tuxedo! With an instant or digital camera, the resulting shots make for a great party favor.

Sunny Smile Photos Childrens' Craft - This photo opportunity is sure to bring on warm smiles -- and provide the kids with some fun party mementos.

Photo-Collage Tissue Box Cover - Make a sniffly friend or relative feel better by sharing a smile -- or, better yet, a tissue box covered with them. Using a craft punch makes simple materials stand out and garners impressive results for even the youngest artists.

Homemade Gift Wrap - Got a special gift for a special someone? Add the ultimate personal touch: handcrafted wrapping paper. The best part? Your kids take care of the designs ... all you have to do is make the photocopies

Personalized Bookplates - Whimsical photo bookplates are a fun way to spark a new reader's interest in her growing library. They make a great gift for family members too; just make a bunch and wrap them up with a classic storybook or new favorite.

Fold-out Photo Gallery - Good things come in small packages.
Three-in-one Fun - It's the year in numbers... a perfect craft to remember the good times with your family.

Make Your Own Bobblehead - Now fans can have their very own bobblehead dolls, just like the players do -- no NFL contract required.

Pilgrim Napkin Rings - Take your guests back to the first Thanksgiving with these fun photo napkin rings that double as place cards.

Photo-card Carousel - What do we love about photo cards? Almost everything -- all those smiling faces dropping through the mail slot from faraway places, all those otherwise-serious friends and relatives throwing propriety to the wind in favor of silly Santa hats. But much as we love them, we've never really been sure what to do with them. This card carousel solves the problem handily, presenting them for view, then folding into an instant archive when the holidays are over.

Family Photo Books - Filled with favorite photos, this is just the present for a relative or special family friend, particularly one your family sees less often than you'd like.

Painted Photo Portraits - With our clever tracing technique, your kids can turn any family photo into a realistic painting, creating a picture-perfect present in the process. We used vellum, which is sturdier and more elegant than tracing paper and is sold by the sheet or the pack at many craft stores.

Decoupage Designs - You don't have to be an artist to create these keepsake eggs. Just cut illustrations or photos from magazines, scrapbooking supplies, or other printed sources, or download them from the Web. (They should be fairly small, so they lie against the egg without too many wrinkles.)

Cameo Necklace - Mom: Want to show off a photo of the very one who makes you an eligible celebrant of this springtime holiday? This necklace works like an open-faced locket: nostalgia and jewelry all in one. Kids: This thoughtful present couldn't be simpler. It's crafted from a metal-rimmed key tag, a pretty ribbon -- and your photo, of course!

Paper Star Frames - Mounted on a ribbon, the frames look good hung on a doorknob, a bedpost or a Christmas tree branch.

Family Tree Ornaments - It's fun to turn your Christmas tree into a family photo album! Select a baby picture of each member of the family to place in little hanging frames. The grandkids can find themselves first, and then try to identify everyone else.

Personalized Memo Pad - Here's a great gift idea for dads, grandmoms, and anyone who needs reminders! With a little help from you, your child can turn a simple photo frame into a made-to-order message center that showcases his artwork or photo. We designed ours for Dad to take to the office, with a variation below for Grandmom to use by her phone.

Personalized Magnets - Display your family's magnetic personalities on your own fridge, or make a giftset for friends and relatives.

Autumn Place Mats - Bring Autumn's beauty indoors with leaf-printed place mats

Our Elfin Family - Assemble your family into a lineup of Santa's little helpers with this festive paper doll project.

Pillow Prints - Instead of keeping prized pictures in an album, display them collage-style on a personalized pillow.

Student's Pet Tee - Take your pet with you to school -- on your shirt!

Treasure Gift Box - Present collectors with handy decorated boxes to house their trinkets.

Photo Frame Postcard - Looking for a unique way to share family pictures, travel photos, or great pet shots? Create your own postcard in a photo frame!

Faces in Flowers Frame - Need a great gift for family or friends? Show off your new school photos in a hand-decorated frame.

Photo Cube With Pizzazz - Decorate a plastic photo cube with Crayola Squeezables™ 3-D Paint and your favorite photos, drawings, and mementoes. A cube means you have six times the fun!

A Garden of Learners - Picture yourself growing right along with your favorite fruits and veggies! Get to know classmates better and showcase pictures of yourself.

Flower-Pot Picture Garden - A garden of your friends, pets, or family will look great "growing" on your windowsill and it never needs watering! What a cool photo display--no green thumb required!

Diploma in Hand - Preserve graduation memories with a handmade photo frame. These are so easy, you can make frames for the whole class of graduates!

My Shining Star - All children deserve the star treatment. This simple, handcrafted photo frame lets kids shine as they create and present a wonderful gift.

Martin Luther King Milestones - Create a time line with colorized copies of photos of Dr. Martin Luther King, Jr.

Bubbling Up Pictures - Have fun with your favorite photos! Let only parts of them show through cut-out bubble letters that sum up your party or vacation fun!

Framed Pet Faces - Have pictures of your pets all over the refrigerator? Make special picture frames so they really stand out!

Silly Faces - Draw silly hair, goofy glasses, and funny clothes on your framed photo. Use Crayola® Washable Window Markers to make this fun gift!

Fold-Out Geography Passport - Remember your travels or take an imaginary trip with your art. Any place on Earth can be your destination when you create this personal passport!

Flight on the Beach - In December 1903, the first controlled airplane flight took place over the dunes near Kitty Hawk, North Carolina. Recreate the Wright brothers' Flyer and the moment that changed transportation.

Versatile Veined Prints - Create an aluminum foil printing plate then design a collage with your printed papers.

Scrapbooks & Cards to Cherish - Measure and cut just the right size opening to mat your photos, art, and mementos! With Total Tools™ Ultimate Cutter, it's fun and easy to make unique scrapbook pages, cards, and personalized gifts!

Shiny Picture Present - Save empty cereal boxes! Recycle them to make super picture frames for yourself or as gifts.

Daffadill Photo Magnet - Get ready to turn your refrigerator into a smiling bouquet with photo magnets made from plastic cups. This is another original FreeKidsCraft project. This is an encore craft where we bring you the best crafts from previous years.

Squared Circle Card - These colorful self contained cards and envelopes are so versatile. You can make them in any size to fit your needs and in any combination of colors, so they're perfect for any occasion. Tuck a photo or special message or design inside the card and bring a smile to someones face.

Tissue Paper School Bus Frame - Decorate your bulletin board with this easy original tissue paper craft. Back to School can be an exciting time for kids when they are happily involved with fun and easy craft projects. Put their busy little hands to work crumpling up tissue paper for this fun school bus or other tissue paper crafts.

Valentine Photo Card - This Valentine spells out a personal message for someone you love.

Scrabble Tile Teacher's Name Plate - Tell your teacher how much you appreciate all they have done for you all year with this name plate designed by the FreeKidsCrafts team. It's a good way to recycle that old Scrabble game that has lost some of its pieces.

Mother's Day Flower Card - You'll be the flower of Mom's eye with this fun and easy Mothers Day Flower Card from the FreeKidsCrafts. team.

Business Card Holder - Made from an empty cassette case! Perfect for Father's Day or birthdays. Lots of possibilities! This one is made with rocks but you can choose anything to match your photo. Makes a great gift for Mom or Dad.

Photo Crafts for the Dorm: A Pencil Cup - Photo crafts are a great way to bring family and friends' images into a dorm room. Take a utilitarian pencil cup, twine a film strip graphic around it, insert photos and voila, a charming reminder of home that doesn't take up any extra space.

Family Reunion Photo Quilt - I used a black and white photo, a log cabin quilt pattern, and tips from this Photo Fun book.

Photo Collage Craft - People of all ages and abilities can enjoy creating collages. If you are looking for some inspiration, why not make a collage using photos.

Photo Thumbtacks & Magnets for the Dorm - Create magnets with pictures of your loved ones for display in you dorm…….

Graduation Centerpiece - Craft to make ones graduation a day to remember……….

Floppy Disk Photo Cube - Terrific for Dad's desk at work or home!

Mini Heart Box with Photo - Fill with candy or a small treasure for someone you love.

Kid Grid - Print your photograph onto sticker-backed photo paper, cut it into squares, attach to blocks, and voila -- homemade baby toys!

Happy Birthday, Baby! - Celebrate with photos of your baby -- everywhere! Print a headshot onto circular labels to add character to cups, napkins, and goody bags.

Valentine Photo Mouse Pad - Easy project that comes out great!

Upward Mobility - This DIY mobile is a fresh way to display your family tree.

Polymer Clay 3D Picture Stands - Here's a neat little craft to make as a gift for mom or dad - miniature 3D pictures of you (and maybe your sisters or brothers?) that are perfect to stand on a shelf or desk.
Picture Frames / Photo Frames Crafts Projects for Kids

Angled Photo Frame Craft for Children - Kids can display their favorite photos or pictures in an unusual way by crafting this quirky angled photo frame. A piece of craft wood and some simple tools will yield a delightful result.

Tri-Fold Frames for Photographs - The Tri-Fold Frame was quick to make. The longest amount of time was drawing and cutting up the corrugated cardboard. Parental supervision is recommended.

Felt Photo Frame Ornaments Craft - Decorate your Christmas tree with pictures of loved ones with these felt photo frame ornaments. Kids enjoy seeing small photos of their friends and relatives framed by a craft they've made.

Mosaic Family Photo Frame Craft - You can have the warmth and charm of mosaic art without the mess, wait time and expensive materials. Try our family frame and display where all can see!

Clay Decorated Picture Frame Craft for Kids - Put cherished photos in something special with this clay decorated picture frame. The added fun is that it's a salt clay craft - you make your own clay out of salt and a few other simple ingredients.

Wallpaper Frames Craft for Kids - We used donated wallpaper books, a cardboard box, cardboard, glue, and a piece of ribbon to make this inexpensive gift. The nice touch is the family portrait drawn by the child and inserted into the frame. Parental supervision is recommended.

Driftwood Photo Holder Craft - Here's a fun way for your child to display his favorite beach snapshot or a collage of your best vacation photos.

Pinecone Photo Holder Craft - Using pinecones collected on a Thanksgiving nature walk (or bought at a craft store), let the kids make a simple photo holder for a family snapshot taken during the gathering -- and send everyone home with a craft that will preserve their memories of a wonderful holiday.

Crafty Computer Frame Craft - We've all seen decorative mouse pads, but what about the computer itself? This monitor frame, made from craft foam and dotted with photos of your family, will turn Dad's home or office computer into a much more colorful -- and endearing – place

Father's Day Frame - Your child can surprise her favorite guy with an easy-to-make stand-up photo frame that reflects his special interests or hobby.

Personalized Photo Holder - Alphabet blocks aren't just for stacking - they can also be used for showing off favorite pictures and artwork.

Childhood Photo Frame - Childhood Photo Frame Activity Page

On the Beach Photo Frame - Remember that exciting day on the beach by saving your favorite photo in a cool, custom picture frame! It's like being there all over again.

Mermaid Photo Holder - Bestow good luck upon your friends when you place their photos in a mermaid holder made from fun-to-shape Crayola Model Magic® Fusion™ modeling compound.

Bee Happy' Picture Frame - Craft a picture frame that will cause a buzz! Make this bee-themed frame to hold your favorite picture.

BFF, Best Friends Forever Picture Frame - Decorate a wooden frame, add a favorite photo, and give it to your BFF, best friend forever.

Flip-Flop Photo Frames - Summer fun for more than one! Create a pair of magnetic flip-flop frames--one for you and one to share!

Leaf-Motif Frame - Capture nature's spirit by creating a leaf-print picture frame. Gold Crayola® Premier™ Tempera creates a dazzling gift to hold a favorite photo or nature collage.

Cool Cut-Ups Picture Frame - Looking for a cool way to jazz up a picture frame? Decorate it with bright bits of Crayola Color Explosion Spinner™ art!

Mini Hat Photo Holder for Mom - Make it for Mother's Day! A little clothespin holds the photo and a magnet keeps it on the refrigerator.