Home > Arts and Crafts Projects for Kids > Shell Crafts for Kids to Make crafts with sea shells, nut shells, and egg shells.
SHELL CRAFTS FOR KIDS (FROM EGGS, NUTS, SEEDS, & SEASHELLS) : arts and crafts decorations, instructions, patterns, and activities for children, preschoolers, and teens.
Next time you visit a beach, be sure to collect as much shells you can, big or small. These shells can be used to make the most beautiful crafts out there. I will give you a few example.
For boys, they can make mini sail boats that actually floats. For these boats you will also need a small piece of plastic bag or cloth, a small thin twig, and modelling clay. Basically you trim the cloth/plastic bag into a small triangle and slide the twig though it then place the modelling clay inside the shell and stick the sail (cloth/plastic bag and twig) into it.
For girls, they can either paint the shells or use them to make beautiful pendants or decorate to a jewelry box (for example, a paper mache box).
Make Farmer Guy and Chickens from Nuts, Acorns, and Twigs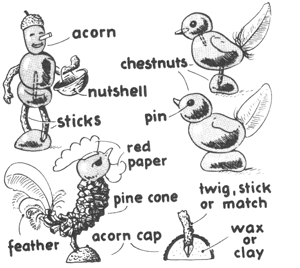 All you need to make a chicken farm are some walnuts, acorns, chestnuts, pine cones, feathers and sticks. You can collect all the material on an autumn walk. Just follow the illustrations to make the farmer and his flock. Twigs, sticks or wooden matches cut to the right size make the farmer's arms, legs and nose. The chickens' beaks and legs are also little sticks. Their eyes are pins. Drill small holes in the nuts so you can insert the sticks. Your figures will stand upright in a lump of wax or clay.
Turn Sea Shells into Bullfrogs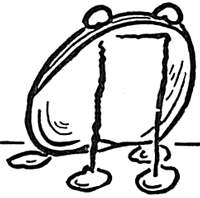 Did you ever look at the shape of a shell...it is very similar to the shape of a bullfrog, isn't it? Yes....look at the picture above and you will have to agree with me. The next time you are on the beach, keep a look out for a shell that is about 2 to 3 inches wide...with a corrugated box-like effect. The bullfrog can be made by getting one of these big shells, keeping it the hinge-side down (where there is a little bit of a lip), with two tiny shells for the eyes and 4 larger shells for the feet. Use pipe cleaners to attach the front feet to the shell...with a square shape. Glue it to the under body of the shell to make sure that it stays standing. Glue the back feet to the back of the shell.
Create Birds with Chestnuts, Feathers, and an Acorn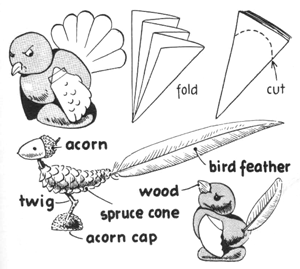 Chestnuts are useful for all kinds of birds. Different sizes and shapes give variety. The turkey's fan-shaped tail and stretched wings are made from folded paper. The perky sparrow also has paper wings, and you can use a real feather for his tail. The pheasant is a slim, proud forest bird. Make his body from a spruce cone and his head from an acorn with the cap. Add a long feather for his tail.
Make Sheep, Bunny, and Farm Animals with Nuts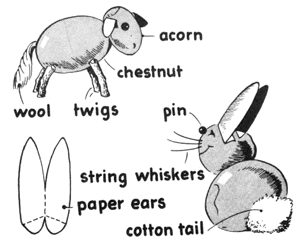 You can add many more animals to your barnyard. Here the sheep's head is an acorn, attached with a match to his chestnut body. His legs are bent twigs, his eyes are pins or nails and his ears are made from paper, put on with paste or tape. And his tail is made of wool. The rabbit also has an acorn head and a chestnut body. His ears are paper, his fluffy tail is cotton, his whiskers are string and his nose is a pin. You can paint his smiling mouth.
Make a Painting on a Mounted Sea Shell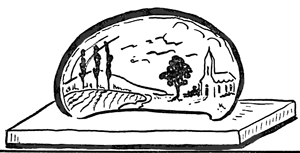 On the inside surface of a large, open-faced shell, pictures of scenery may be painted. Use oil or acrylic colors and paint as you would on a canvas. Mount the shell upright, in a block of Plaster of Paris, plunging the hinge side of the shell into the plaster. To make this block of plaster, place wax paper on the inside of a chalk box and pour the plaster mixture into it. Pour in enough to make a 2" depth, with length and width greater than the shell, but proportionately so. After you have projected the hinge side of the shell into the Plaster of Paris, while the latter is still soft, press the plaster up around the shell to assure its rigidity. Remove the plaster from the box after it has hardened and smooth it off, or leave it in a rough condition. The base may be painted or left plain.
Making Shell Trumpets with Help from Your Parents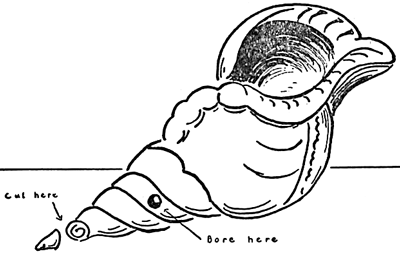 The shell trumpet will appeal particularly to those who go camping, and to young persons who like to play in groups. Take a large, closed shell—this will have to be a sea shell—and have your Mom or Dad cut off the apex (this is the sharp conical point of the shell) . Cut just enough to leave a good hole through which you may blow. In the side of the shell, ask your parents to help and bore a hole. This is necessary to produce and carry a loud tone. It is not necessary to paint the trumpet, though you may if you wish.
Use Sea Shells or Walnut Shells to Make Turtles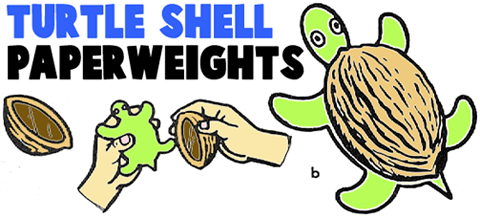 First of all, print the following turtle template. Then pin this to felt and cut it out (or you can use heavy paper or cardstock if you don't have felt). Glue or sew beads or sequins (or just use googly eyes) to the head for eyes. Now mix 1 tablespoon of water to every 3 tablesppons of plaster of Paris or Patching Plaster. Mix it to a thick consistency. Now fill the shell with the plaster and put it in the sun until completely dry. Now glue the shell to the turtle's body and let dry. These make great paper weights.
More Nuts & Shell Crafts Below

Make Earrings with Sea Shells for Mom on Mothers Day - Sea Shell earrings turn out beautifully and they are very simple to make. Below you can find easy instructions for putting together earrings that are made from sea shells and earring clips. These would make a great gift for Mom or your Grandmother on Mother's Day.

How to Make Walnut Mayflowers - Don't throw out those walnut shells...keep 'em. Use them to make a really cool Walnut Mayflower for Thanksgiving.

How to Make Walnut Shell Napkin Rings - Find out how to make these napkin rings for the Thanksgiving table out of walnut shells.

Make a Sailboat with a Nut Shell & Toothpick - Making a Sailboat is a lot of fun, especially when they actually work...find out how to make it here.

Make a Turtle Creature from Wax and a Nut Shell - You can make this adorable turtle too with the easy-to-follow instructions meant for children.

Make Blown Egg Shell Creatures - Here are instructions for making blown egg people and creatures with eggs.

Seashell Bracelets & Earrings - Learn how to make seashell jewelry that turns out beautifully.

Make a Musical Instrument with Walnut Shells - Learn how to make this cool walnut shell musical isntrument.

Sea Shell Turtles - Find out how to make these sea shell turtles with specific shells and pipe cleaners.

Peanut Giraffes with Toothpicks and String - Make a Toothpick Giraffe with Peanuts inside their shells.

Making Chestnut Bubble Pipes- With parental assistance, you can make one of these pipes to blow the best bubbles with. Find out how.

Make a Puppet from Peanuts - If you aren't allergic to peanuts, then this is a pretty easy marionnette to make....and it is so much fun to play with. You can make it do all sorts of crazy things...dance, walk, skip, jump. It is a LOT of fun.

Christmas Walnut Ornaments - Find out how to make fancy walnuts for hanging on Christmas.

Paint Dipped Pinecone & Walnut Ornaments - Find out how to gold or silver dip pinecones & walnuts for decorative Christmas Ornaments.

Baby Chick Arts & Crafts Ideas - They put the chick in the photo in a clean, empty egg shell for decoration. These bird crafts are so cute!

Bed Sheet Shell Craft : Crafts with Old Bed Sheets for Kids - All you'll need is plain (white) sheets, such as these here, some fabric paint, a little sponge, and a handful of perfect clam-shaped shells.

Coconut Shell Bird Feeders . : How to Build Bird Feeders and Houses - Here's how to make a natural bird feeder that will blend in with any garden landscape. You can fill it with a variety of foods for the birds.

Decoupage Surprise Window Eggs Craft - You can use real egg shells to make beautiful decoupage window eggs - without having to blow out the egg before making your breakfast omelette. Just crack the eggs in half, as you normally would, then follow our free craft directions to decoupage them together, incorporating a window opening to show the surprise candy inside or to enclose a special Easter treat.

Decoupaged Eggshell Trinket Box Craft Project Ideas for Children - Decoupaging with broken eggshells is a technique that I've been meaning to try for years. Rather than attempt a collage, I chose this faux mother-of-pearl effect to decorate a small wooden trinket box. The finished box is surprisingly strong, and there are no flaking egg shells after two coats of decoupage and two heavy coats of iridescent pearl paint.

Easy Egg Shell Candles for Easter or Birthdays - This is a simple craft, but you'll find that little egg shell candles look right at home on the Easter breakfast table. They also make interesting birthday candles as well, especially if you can't indulge in calorie-rich birthday cake.

Eggshell Mosaic Picture Craft for Kids - Next time you bake a cake don't throw away the egg shells - use them to create a lovely eggshell mosaic picture! Perfect as an Easter or spring craft.

Eggshell Posy Vase Craft for Kids - How to make a sweet little posy vase from an eggshell - perfect for tiny flower bouquets on Easter, Mother's Day or Valentine's Day -- or just to give someone you love along with breakfast in bed!

Eggshell Mosaic Picture Art - Your children can create works of art by recycling your colored Easter egg shells.

Eggshell Plant Pots Easter Craft Activity - Make and decorate tiny eggshell plant pots for Easter. Then watch your plants grow.

Eggshell or Egg Carton Tulips Craft - Make a bouquet of delicate eggshell tulips for Easter, using eggshells (or foam egg cartons sections) and pipe cleaners. Younger children will find it easier to use the egg carton sections.

Glittery Shell Fish : Crafts Ideas for Kids & Saving Vacations Memories - Compare and contrast various forms of ocean life, identify shellfish by their shell characteristics, and create ocean scenes inside shells.

How to Make a Nutty Bunny - Here's an Easter nutty bunny to make from natural materials, using a walnut and two almonds.

How To Make An Eggshell Vase Crafts Project - This is a very easy to make craft. Hollowed-out eggshells make naturally beautiful vases for tiny flower arrangements. Save that egg shell from breakfast and make a sweet little posy vase for tiny flowers.

Make your own Easter Egg Shell Vase - Learn how to make this vase with easter egg shell.

Native American Rattle Craft from Nature - You can make a simple yet beautiful Native American rattle from a twig, yarn and beads. When you shake it, it makes a rattling sound. Many Native Americans made ceremonial rattles from natural objects (like deer hooves strung on twigs or rib bones). In this craft, we use beads, spools, washers, or shells as noise-makers.

Ocean Mobiles : Hawaiin Crafts Ideas for Children - This is a simple mobile made up of printed ocean shells and fish (you could add real shells with small holes in them as well!).

Seashore Collage Today is going to be a day the children can imagine they are by the seashore collecting shells. After they imagine this, they can make a collage of their "findings."

Shell Photo Frame : Grandparents Day Crafts Activities Ideas - - Take advantage of a trip to the beach to collect shells for this pretty shell photo frame - it makes a sweet gift which the kids can make themselves, too.

Trusty Turtle Walnut Craft for Kids - This is a cute project that takes a little thought. Walnut was used for the body and ash for the fenders.

Walnut Mice - This sleepy trio of Christmas mice is safely tucked in bed and waiting for Santa.