Home > Arts and Crafts Projects for Kids > Sequin Crafts for Children
SEQUIN CRAFTS FOR KIDS: Ideas for Arts & Crafts Projects & Activities with Sequins for Children, Teens, and Preschoolers
Ho hum, ho hum. Why does everything have to look so boring. Life is full of so many whites and grays and blacks and brown. What we really need is a little color to spice things up. That gives me a great idea, we should put little bits of color all over stuff. Nothing is better for adding colors to stuff than fabulous sequins. We can do all kinds of sequin crafts and make our shoes pretty and our books pretty, all kinds of stuff would look good with sequins. What a quick way to add a little zest to all my plain looking stuff, I can't wait.
Below you will find many Ideas for Sequin Arts & Crafts Projects & Activities with Sequins for Children, Teens, and Preschoolers.

Bookworm Sequins Bookmarks - This bookmark would not be anywhere near as adorable without the sequins.

Make Fun Bow Tie with Sequins - Make a bow tie for dad that is covered with sequins...he will be the best dresser at his next big event.

Chicken Book Holder -This chicken book holder has sequin eyes and is absolutely adorable.

Cows with Sequin Eyes - These cows are made with a special type of pipe cleaners. The eyes of the cow are made with sequins.

Decorating Your Bag with Beads & Sequins - Use sequins and beads to sew on your initials or other designs. Find out how here.

3D Mobiles - This is a 3 dimensional mobile with butterflies that are embellished with sequins.

Easter Egg Trees - These eggs are hung on a tree branch to look like a real tree that grows eggs. Embellish the eggs with items such as sequins.

Making Glitzy Easter Egg Cards - Learn how to make these schnazzy glittery and sequin-y Easter Egg cards.

Shiny Winter Snowflakes - Decorate these paper cut-out snowflakes with beautiful glitter and sequins.

3-Dimensional Paper Butterflies - After you make these 3D butterflies, you can make them look even more beautiful by decorating them with sequins.

Styrofoam Ball Xmas Ornaments - Learn how to make Christmas ornaments from styrofoam balls. The are decorated with shiny items such as sequins.

Christmas Angel Tree Topper - This angel would look beautiful on the top of your Xmas tree. Its wings are decorated with shiny sequins.

Back Pack Fleur-de-Lis Sequins Craft for Kids - - Quick and easy project with no mess!

Beaded Butterfly Activity for Children - - Use these sweet little butterflies for embellishments in scrapbooking, cards or add them to wire stems to use as craft picks for flower arranging.

Beaded Halloween Card - - Create a fun and festive Halloween card for a loved one or use this project to make invitations to a Halloween party. It's easy and the sequin embellishments really brighten up the card.

Beads and Sequins Felt Heart Pin Kids Craft- - This lovely heart pin is easy to craft and adds a little sparkle to your wardrobe on Valentine's Day.

Bookworm Bookmark Easy Instructions to Make - - Use cardstock and sequins to design this beautiful bookmark that you can use again and again.

Butterfly Bead Bookmark Making Directions - - These butterflies make lovely teachers and mothers day gifts.

Christmas Door Hanger - Supply your kids with a few basic supplies and watch their creativity take shape with Christmas door hanger decoration.

Christmas Tag Trio - - This tag is a recycling craft and is fun to create using designer scrapbook paper and adding embellishments from scrapbooking and card making. Even if you do not have all of the necessary materials to make this exact tag, use the picture to inspire you to create your own using what you have. Below you will see a picture of the complete tag and also instructions for each of the three sections of this tag.

Clothespin Farm Animals - - Craft these cute clothespin farm animals and build a box corral for them to sleep in.

Colorful Heart Boughs Arts & Crafts Project - - Make a colorful bouquet of Valentine Heart Boughs to decorate your room.
Colorful Suncatchers - - These colorful window hangings are sure to brighten any room, and by changing the colors used in the craft you can enjoy these suncatchers during any season.

Craft Foam Pencil Toppers Craft for Preschoolers and Toddlers - - Add character to your pencils by creating these cute craft foam pencil toppers.

Craft Stick Christmas Tree - - Make a three dimensional Christmas tree by cutting out and gluing four paper Christmas tree shapes around a craft stick.

Craft Stick Christmas Tree Ornament - - Use paint, craft sticks, and a few decorations to make this lovely craft stick Christmas ornament craft to hang on your tree this Christmas! This is a great project for a snowy day.

Dazzling Christmas Centerpiece - - Create this easy and dazzling Christmas craft using styrofoam and glitzy garlands. Take your Christmas party up a notch with these glamorous centerpieces.

Dazzling Christmas Tree - - Keep kids busy for a while with this holiday craft. It is perfect for those icy December afternoons when the weather forces children to stay indoors. This project is really fun and makes a lovely Christmas present for a special person such as a grandmother or aunt. The time required to complete this tree size is about 2 hours. Larger cones can also be created and more time will be needed to finish them.

Easter Egg Mobile - - This wonderful project to do with kids this Easter comes to us from the ever-creative Mama King of 4 Crazy Kings. Have the kids decorate egg shapes cut from clear contact paper to create Easter mobiles that let the sun shine through. Use whatever collage materials you have on hand such as sequins, glitter, paint and more.

Easter Egg Ornaments - - Fill a tree with pretty pastel ornaments for Easter.

Easy Christmas Tree Cones - - This is a great craft for all ages! Christmas tree cones can be simple or extravagant depending upon the skill of the crafter.

Easy Icicle Ornaments for Kids - - These easy beaded icicle ornaments are a fun and easy craft for the kids to do this Christmas. Use colorful sequins and metallic beads to make these easy Christmas ornaments.

Embossed and Jeweled Christmas Trees Christmas Card - - This Christmas card is easy to make and looks very elegant with the colors of red and silver and with the added sequins and beads.

Fabric Heart Pin Cushion - - This fabric craft project is quick and easy to do. It even makes a wonderful sewing craft for an older child who is just learning to hand sew or use a sewing machine. Children can create these to give to their mothers as Mother's Day gifts or even make them to give to their grandmothers for their birthdays.

Felt Snakes - - Curl these slinky felt snakes around your drinking goblets, a place card, or anywhere you want. A fun addition to any kids' party decoration. Combine it with our circly snake craft and celebrate the Chinese New Year with a slithering success.

Felt Clutch or Cosmetic Bag - - Felt is a soft and durable material and is fun to sew on because there is no fraying. This clutch is made with just one piece of felt and decorated with a felt heart jeweled with sequins and beads. Of course, you may decorate it anyway you like or keep it simple. You can use the bag as a clutch or even as a bag to keep your cosmetics in while travelling. If red is not your color, try any other color you like. The step-by-step tutorial will get you through the basic sewing procedure. If you wish, you can also change the size of the material to fit your needs and just follow the same sewing steps.

Felt Heart Decorations - - Make these beautiful felt heart decorations with your children and have a beautiful Christmas tree decoration to hang every year!

Felt Star Softie Craft - - Cut, decorate, stitch and stuff this cute felt star softie - then display it proudly on the tree, or hang from a door-knob for some Christmas cheer!

Festive Ice Skate Ornaments - - Make an easy Christmas craft using felt and paper clips. These festive ice skate ornaments are quick and easy gifts to make and will look great on your Christmas tree. Try this easy homemade Christmas craft with the kids.

Flower Hair Pin - - Not your typical flower. This glittery, glamorous hair accessory will wow everyone. They'll all be bugging you to make them one!

Food Container Carry-All - - Decorate quart-sized food containers to hold your crafts, your foamie fortune cookies, even your thoughts of inspiration

Fun Foam Heart Plant Stick - - Fun foam is great for kids to work with because it is so soft and easy to cut. Kids can make this project to give as a Valentine's Day gift to their mothers. Experienced kids can sew the sequins on the hearts. Otherwise, they can also be glued on.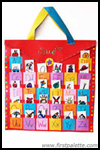 Giant Alphabet Bag - - Give your child's alphabet learning a boost through this alphabet bag craft. Play an alphabet matching game after you've finished the project.

Glitsy Flower Purse - - Glam up, shimmer and shine with this fabulous purse made by Duncan Enterprises. You deserve to shine.

Glitzy Leaf Fan - - This fan is pretty enough for a princess and is in the shape of a leaf found in your own backyard!

Green and Turquoise Blue Felt Star Tree Ornament - - Not everyone decorates their tree in the traditional colors of the season. This combination of green and blue has a tropical feeling to it and looks great on a white tree. The felt star is quickly made and the sequins add a little sparkle to the project

Hair Salon - - Be adventurous in creating characters in this exciting hair styling craft.

Irish Keepsake Box - - It looks like a book but it's really a box! Stash your secrets inside or use it to hold your good luck charms.

Jeweled Christmas Tree Christmas Card - - A simple Christmas tree shape gets decorated with sequins and beads to create a quick yet elegant card to give to your special recipient. The border of the inside of the card is embossed for added detail and gold stars finish off the look. This card is easy enough for kids to create, too. Imagine the look on the grandmother's or aunt's face when she receives a hand-made card from the child!

Jewish Star Decoration - - Use our precut shape to make an 8" star to hang from your window during the holiday.

July 4th Poem Magnet - - Feeling patriotic? We've got a great group project for you. Use the poem provided or use your favorite photo.

Little Teapot - - Create this delightful teapot craft out of paper bowls.

Lucky Pot of Gold - - Are you lucky enough to catch the leprechaun and gain his pot of gold? If he has outsmarted you again, go ahead and make one of your own!

Making Pop Can Tab Owls - You can make these adorable soda tab owls with tabs, sequins, feathers, and coated wire.

Make a Puppet Theatre - - This puppet theatre is another great dollar store craft from the Craftster $10 Challenge from last year. Craftster user nomij constructed it (painstakingly, it appears!) out of tablecloths, a garden stake armature, and electrical tape, among other things. One of my favorite things about the Craftster challenge entries is the extreme creativity of the entrants!

Make Prada-Inspired Leather Earrings - - Chloe at Fashionista posted this DIY project for getting the look of these large dangly leather earrings from Miuccia Prada's Resort 2009 collection. She cleverly saved hundreds (thousands?) of dollars to get this look by making these earrings herself out of leather samples and a variety of shiny embellishments like rhinestones and sequins. You can also find packs of leather scraps at craft stores for $5 or so.

Miniature Bedroom - - Build a cozy bedroom diorama out of big and small boxes.

Musical Magic Slipper Game - - Wear the Magic Slipper and you have the power to disappear! Glitter Glue, sequins, and ribbon all add to this game's fun!

New Year's Eve Ball - - Every year the sparkling New Year's Eve ball is lowered one minute before midnight during the countdown. Make your own New Year's Eve ball to celebrate the changing of the calendar!

Noel Sparkle Jar - - This cute little jar filled with pretty baubles will sparkle and shine next to your Christmas lights.

Paper Angel Chain - - Fold and cut paper to make a chain of angels.

Paper Jewelry Box - - This Earth Day why not recycle an old box to create your own treasure chest? Kids can store trinkets and more with this Paper Jewelry Box craft.

Paper Plate Tambourine - - Jingle away with this easy paper plate tambourine craft.

Paper Tube Christmas Tree Ornament - - Decorate with glitter and beads or with sequins like we did. Easy and economical and lots of fun.

Passover Cup Favor - - Fill one of these silver cups with small candies to make a table favor for each of your Passover guests.

Pasta Box Picture Frame - - Brighten your refrigerator with this great Pasta Box Picture Frame. The plastic protects the photo and your kids create the rest.

Patriotic Keepsake Box - - Traveling to Washington DC, Philadelphia or Boston? Decorate a box to keep your treasures in.

Patriotic Ornaments - - Make them for gifts or add them to your own collection. Recommended for age 12 and up.

Patriotic Jingle Wand - - Wave it at around at your next patriotic celebration and you'll make jingling music all day long.

Pinecone Christmas Tree Craft - - This pinecone Christmas tree craft is a super Christmas craft for children, who will enjoy painting the pinecone and sticking on the decorations! The finished craft makes a very cute miniature tree to display. You could make for each place setting at the Christmas table...

Pipe Cleaner Ornaments - - Use tinsel pipe cleaners to make easy ornaments that sparkle and shine.

Polar Bear Yarn Bug - - This cute little polar bear makes a great winter project!

Polar Coasters - - Economical coasters are pretty and fun to make.

Pop-Out Christmas Tree - - This pop-out Christmas tree craft can be adjusted for younger children by using markers and for older children by using more elaborate decorations.

Purse Card - - Use the image above as a guideline for a template.

Puzzle Piece Christmas Tree - - Recycle those old puzzle pieces in this pretty Christmas Tree designed by the FreeKidsCrafts Team.

Recycled Patriotic Flip Flops - Recycle an ordinary pair of flip flops by adding recycled patriotic ribbon.

Reuse Tea Light Holders for Holiday Decorations - - Sister Diane posted this neat project that reuses those metal cups that come on tea light candles. She made them into cute collars for Christmas mini-lights by cutting and embellishing them.

Ribbon Weave Ornament - - Make this ribbon weave ornament and decorate it with sequins.

Ribbon Wrapped Napkin Rings - - Lend a cheerful touch to your Christmas dinner table with this Ribbon wrapped napkin rings craft. Since it uses paper towel tubes this craft also provides kids with a great introduction to the idea of recycling.

Rocket Bookmark - - This rocket bookmark is a fun craft for kids of all ages. Perhaps you could try it for Bonfire Night, Fourth of July or Canada Day?

Sequin Ball - - Learn to make this sequins ball by following these simple steps.

Sequined Wreath - - This Sequined Wreath Craft For Kids is quick, easy and pretty! Make a bunch of them and hang them on your Christmas tree for lots of sparkle this year!

Sequin Egg - - Children can make their own Sequin Egg as an Easter decoration without having to use pins - and its messy and fun, too!

Sequin Flag Magnet - - This patriotic craft is economical and easy to do with your troop or group.

Shaving Foam Birthday Cake - - Make a pretend birthday cake by decorating a paper bowl or recycled ice cream tub with colored shaving foam, sequins and beads.

Sparkling Spiders - - Having a Halloween party, or just want something fun to adorn your table this season? These friendly spiders are easy to make and fun to look at.

Sequin Disc Ball Ornament - - This is a fun and quick Christmas craft for all ages that is decorative and inexpensive to make.

Sequin Punch Ribbon Angel - - Sequin punch ribbon can be found at craft stores and some discount stores. It is literally the stuff sequins are punched out of. Its very decorative and is great for Christmas crafts.

Snowflake Visors - Hurray for winter! Celebrate the season with festive snowflake headgear.

Sparkly Foam Sequin Ball - - This sparkly foam sequin ball ornament is a perfect craft to keep the older kids busy, or use our tips to simplify this for the younger crowd. It's just as glamorous as the big ball that's dropped every year in Times Square!

Spring Butterflies Tag - - This lovely tag has an ancient yet refreshing look and was created by using just two different 6x6 inch sheets of scrapbook designer paper from Basic Grey and added embellishments. The tag shape used for this was a thick sales tag that was way too nice to throw away.

Stars And Stripes T-Shirt - - Get out the fabric paints and scraps and have a go at creating your own Stars and Stripes t-shirt, perfect for Fourth of July celebrations of perhaps the Olympics!

St. Patrick's Day Pot of Gold - - Here's a project little leprechauns cannot resist.

Terra-cotta Bell Ornament - - Use paint, jewels and a jingle bell to turn a terra-cotta pot into a pretty homemade Christmas ornament. Change the color and it could even become a charm on a necklace or a fun birthday craft for kids.

Tinsel Christmas Tree - - This Tinsel Christmas Tree is a fun Christmas craft for kids of all ages. Use it to make a Christmas card or just a Christmas picture.

Tree Ornament - Bling Bling Snowflake - - This Free Christmas craft Project shows you how to make a quick home-made tree ornament that the kids will have fun sticking together.

Tree Ornament - Snowflake - - This is a quick Christmas crafts the the kids will love.

Valentine Clay Keepsake Box - - Make a charming keepsake box for your loved one on Valentine's Day.

Valentine House Ornament - - Use felt, large sequins and embroidery floss to create a stuffed ornament for Valentine's Day. This house ornament with heart windows would make a cute Valentine to give or decoration for the holiday.

Valentine Mailboxes - - Decorate a box for your desk to hold your classmate's valentines.

Valentine's Day Centerpiece - - The beauty of this centerpiece is you can tailor it however you like. By changing the colors and how you decorate it, you can make yours unique!

Vintage Beaded Flower - - The basic technique for making these petals can be used to make butterfly wings or leaves for larger brooches.

"Winter Snowflake" - - Get into the winter spirit with this snowy artist trading card. The beads and sequins give it a bit of shine and the crisp colors of blue and white are perfect for the season.

Winter Snowflakes Christmas Card - - This card in the colors of blue and white is a combination of different elements to give it the look of a cold winter day.

Wreath Photo Ornament - - This ornament comes out really beautiful. You'll enjoy hanging it on your tree year after year!