Home > Arts and Crafts Projects for Kids > Puppets > Thumb Puppets for Bible Characters
MAKE THUMB PUPPETS for BIBLE STORY CHARACTERS and PUPPET SHOWS
Learn how to make thumb puppets that look like Bible Story Characters. It is easy to make your thumb look like a robed bible character...find out how with the following step by step instructional tutorial.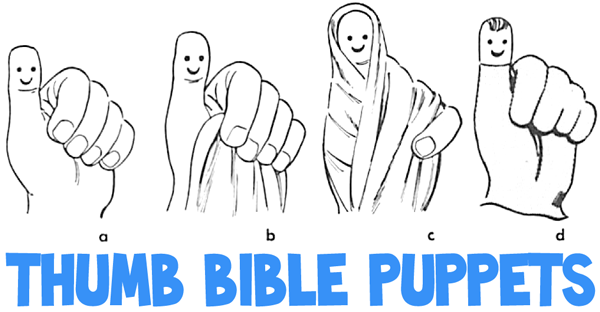 You will need the following crafts materials:

Colored pencils
ball-point or felt-tip pens
one plain handkerchief or a piece of cloth
How to Make Bibly Story Thumb Puppets

To make this, you need to draw the features of the face on the front of your thumb as seen in sketch a. Place one corner of the handkerchief or cloth between your fingers and the palm of your hand as seen in sketch b. Wrap the rest of the handkerchief around the top and back of your thumb as in sketch c and hold in place with your small finger. This puppet is almost an "instant" visual aid, usable for many stories. Make a modern boy puppet named "Tom Thumb" by wearing a dark glove with the end of the thumb cut out (sketch d).