Home > Arts and Crafts Projects for Kids > Animals Crafts > Turtle & Tortoise Crafts Arts and Crafts Projects Ideas for your Kids
TURTLE CRAFTS FOR KIDS: Ideas to make turtles & tortoises with easy arts and crafts decorations, instructions, patterns, and activities for children, preschoolers, and teens
A lot of persons (both adults and children) do not know the differences between a tortoise and a turtle. The both look a like so I can understand the confusion. They are both reptiles from the family of Testudines but the turtles can live on land but mostly found in water (fresh water, ponds, ocean, and marshland), while the tortoises live mostly on land and only use water to drink and clean themselves.
Turtle and tortoise crafts are generally very easy and inexpensive to make. You can make one from construction paper and half a walnut shell or you can make one from stones and green paint or even a bottle cap or a CD/DVD.
Make a Nut Shell Wax Turtle Craft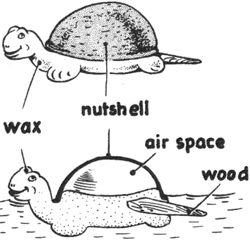 Here is a turtle you can easily make from half a nutshell. The turtle's head and legs are made of soft wax pressed into the nutshell. Leave some air space between the wax and the shell. The tail is a stick. Why not make a turtle pond—a dish of water will do—and put in as many turtles as you like ?
Make Paper Turtle Masks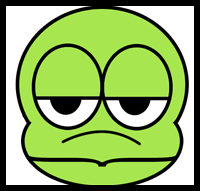 To make the above paper turtle mask, just go and print out this turtle mask template.
Turtle Paper Weights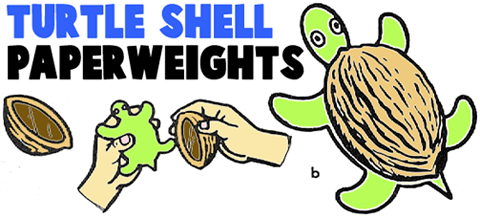 To make this you will need either sea shells or empty walnut half-shells, scraps of heavy colored paper or felt, plaster of Paris or patching plaster, scissors, pencil; glue, 2 beads or sequins for eyes, needle, thread, and a safety pin. Fill walnut shells (or sea shells) with plaster of Paris or patching plaster which has been mixed with water to a thick consistency. (Mix 1 tbs. of water to every 3 tbs. of plaster.) Place in sun to dry. Print out this turtle pattern. Cut turtle bodies from heavy paper or felt. Sew or glue beads or sequins to head for eyes (see sketch b). Glue shells to body when plaster is dry. These turtles may be used for paperweights, in marine gardens, as place cards or ornaments. If you wish to wear the turtle as a lapel pin, attach a safety pin underneath the felt body.
How to Draw Cartoon Turtles
Learn how to draw turtles, step by step, by choosing a turtle tutorial above...just click on one of the turtle icons above.
More Turtle Crafts Below

Tin Turtles - These are made by flattening tin cans out so this requires parental assistance for safety reasons.

Sea Shell Turtles - Find out how to make these sea shell turtles with specific shells and pipe cleaners.

Folded Paper Turtle Craft - Make this paper model toy of a turtle. Print it out, paste it to cardboard, and then fold it up...it stands up on its own.

Make a Turtle Creature from Wax and a Nut Shell - You can make this adorable turtle too with the easy-to-follow instructions meant for children.

Clay Turtles - Here are 4 examples of clay sculptures - clay heads, bodies, mice, and turtles. Learn how to make clay turtles.

Baby Pet Turtles Craft - Have the kids make their very own Baby Pet Turtles! This is a fun and creative turtle craft for school-aged children! Make a whole family in different sizes and colors!

Balloon Turtle Making Paper Mache Craft - - In the first turtle craft, you will learn how to make a balloon turtle using a balloon and papier-mâché.

Beady Foam Turtle Arts & Crafts Project for Children - - If you have a son or daughter who always wanted a pet turtle, but YOU didn't want to take care of a pet turtle, make this cute no-mess version out of foam sheets, beads, and colorful metallic threads. Your kids will love making this easy "pet" that's pocket-sized!

Clay Pot and Saucer Turtle Duo - - Here's a great way to recycle leftover clay pots and saucers - make them into this cute terra cotta turtle duo for your garden or porch step.

Decopatch Paper Maché Turtle - - Isn't this little guy fresh with his bright pink flower embellishing his shell? Decorating items with decopatch paper is lots of fun and a great craft for the summer out on the patio.

Egg Carton Turtle Craft for Preschoolers & Toddlers - - This is another easy craft where you can pick how you want to decorate the carton.

Franklin Toilet Paper Roll Craft Project - - Franklin is made with a toilet paper tube, a printer, a piece of paper, some crayons, scissors, and glue. I always prefer to use a heavy paper (like construction paper), but it isn't necessary.

Hopping Turtle Racing! Printable Paper Toy Craft - Print out a couple of these little turtles, tie a string to a chair leg and let the races begin!

How to Make an Origami Turtle with Paper Folding Diagram - - This "abstract" turtle is easy to make from a standard 8 1/2 x 11" sheet of paper. It's an easy origami project because it doesn't involve any complicated folds.

How to Make a Turtle Rattle - - Do you need something special for a baby shower? Are you looking for something whimsical? Then this little felt turtle rattle may be just the thing you have been looking for. It is simple to make, stitched completely by hand and can be completed in a few short hours. This is a fun project that would also be a great teaching project for a group of young girls. Gather the supplies and introduce this activity at your daughter's next sleepover.

How to Make Origami Tortoises Lessons (PDF)- Tortoise origami model.

How to Make Origami Turtles Directions - Parent and child turtles origami models.

How to Origami a Cute Turtle - - Fold an origami turtle with a design by Joost Langeveld. Yes, there must be turtles in the Netherlands.

Paper Bag Puppets, Owl and Turtle - - Paper bag puppets to keep you busy!

Paper Bowl Turtle - - Make a pull-along pet turtle out of an ordinary paper bowl.
Paper Plate Turtle Craft - - Let your child use the felt tip pen to draw on a nose and mouth and to decorate the "shell" of the turtle, if they wish.

Petunia Turtle Crochet Pattern - - Petunia is the cutest turtle in school! Her floral detail and colorful shell make her the most popular turtle around! Add this free crochet pattern to your collection.

Plushie - Patchwork Turtle - - This project shows you how to sew a plushie sewing pattern to create a toy turtle.

Racing Turtles - - Run your own speedy races with slowpoke Model Magic® critters. What can you do to increase your turtle's speed?

Sea Life Cards - - Alcohol inks help create a colorful background for these two sea life cards by Maria Nerius. Have fun experimenting with color and how colors blend.
Sea Turtle Puppet - - Learn different ways to make a sea turtle puppet.

Sea Turtles - - These creatures frequent the warm water of the coral reef. The sea turtle is often green and has a large, streamlined shell and head and limbs that don't retract into its shell. Our turtle shell is actually a clay pot and a little cuter than most sea turtles you'd see in the wild.

Sea Turtle Soap Saver - - Put your soap in and pull the string tight, knot it, and tie another knot in the end to hang him in your shower with.

Stuffed Paper Sea Turtle Craft - - In this tutorial you will learn how to make a sea turtle from stuffed paper.

Terra Cotta Garden Turtle - - Add this whimsical green turtle to your outdoor decor or garden with terra cotta saucers.

Terrific Turtles - - Turtles have been around since the days when dinosaurs walked the earth -- millions of years ago. In our next turtle activity, you will learn how to make your own terrific turtle.

Timmy the CD Turtle - - Recycle an old CD into a new turtle magnet for your fridge!

Timmy the Terra Cotta Turtle - - Turn a terra cotta clay pot into a cute turtle with pompom feet.

Tortoise or Turtle Craft - - You can use this craft with different sized containers to make different size tortoises. When we did it, I made the "mommy" tortoise with a single serving yogurt container and the girls made "children" tortoises with egg carton cups.

Turtle - Kids will have fun by getting their hands dirty while making this amazing turtle.

Turtle Craft - - I saw this very simple craft for making a turtle in one of my Mailbox magazines.

Turtle Plushie - - Follow these instructions to make this plushie turtle.

Turtle-Shell Patterns - - Students create their own turtle-shell pattern. This fun arts and crafts activity is a great way to teach students about animals.

Turtle Tails - - When you're playing turtle tails, don't pull your head in and hide. Make believe you're a turtle for a box full of fun!
Turtle Themed Cross Stitch Pattern - - One slightly more complex cross stitch pattern for children to make -- you can skip the words at the bottom to make it more simple.

Turtle Three Dimensional Craft - - This is a simple cut and paste turtle craft with a twist -- you end up with a three dimensional turtle to display or play with.