VALENTINE'S DAY COFFEE CAN HEART CARD MAILBOX CRAFT : Kid's Arts & Crafts Ideas & Projects : Valentine's Day Arts and Crafts Ideas for Children
Home > Arts and Crafts Projects for Kids > Valentine's Day Crafts > Valentine's Day Coffee Can Heart Card Mailbox Craft
| | |
| --- | --- |
| | VALENTINE'S DAY COFFEE CAN HEART CARD MAILBOX CRAFT : Valentine's Day Arts and Crafts Ideas for Kids |
CRAFTS MATERIALS NEEDED:
Wrapping Paper
Glue or Paste
Coffee Cans
CRAFT PROJECT INSTRUCTIONS: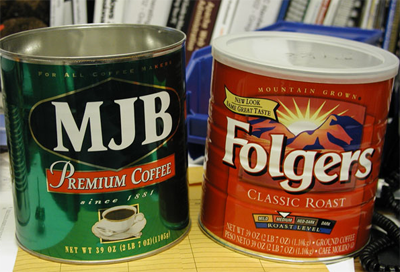 (1) Find some large coffee cans...you will need them for this project.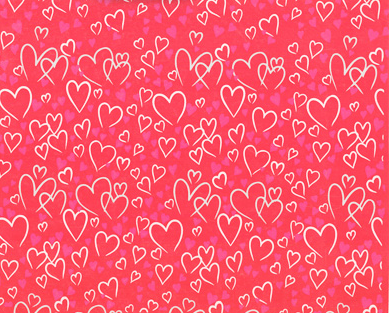 (2) Now find yourself some wrapping paper that is suitable to represent love and Valentine's Day. Put the coffee can on the wrapping paper to find out the right height to start cutting out the paper for.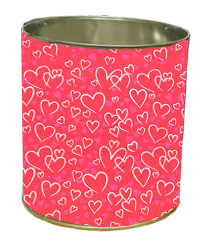 (3) Now put glue all over the outside of the coffee can. Start wrapping the paper along the outside of the can. Cut the paper at the right spot and finish gluing the paper to the can.

(4) Take the coffee can cap and trace it on the wrapping paper. Cut a 1/2 inch out side the traced circle to give enough room to glue around the edges. Put glue on the cap and then glue down the wrapping paper to the cap.

(5) Cut a large slit in the cap to leave enough room for your classmates to place their Valentine's Day Cards in.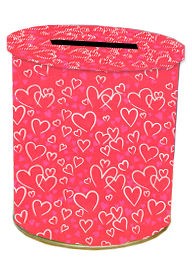 (6) This is what the Valentine's Day Coffee Can Mailbox should look like when completed.
SEE MORE VALENTINE'S DAY CRAFTS PROJECTS FOR KIDS

Valentine's Day Chocolate Bar Wrapper Craft - Give your special friend or loved ones a beautifully wrapped chocolate bar for Valentine's Day.

Valentine's Day Lollipop Flower Craft - Give your special friend or loved one a lollipop shaped like a flower.

Valentine's Day Heart Shaped Fun Guy - Give your loved ones or friends a silly heart-shaped guy to show them that you care.

Valentine's Day Heart-Shaped Petals Flower Craft - Make a beautiful flower out of many cute hearts.

Valentine's Day Card Mailbox (Coffee Can) Craft - Make a Valentine's Day Card Mailbox for your Class's Valentine's Day Party.

Valentine's Day Puffy Card Tissue Paper Craft - Make Puffy looking Valentine's Day Card for your loved ones or special friends.
See More Valentine's Day Crafts for Children