Home > Arts and Crafts Projects for Kids > Animals Crafts > Wolf Crafts Arts and Crafts Projects Ideas for your Kids
WOLF CRAFTS FOR KIDS: Find out how to make wolves with easy arts and crafts projects, instructions, patterns, and activities for children, teens, and preschoolers
The full moon is high in the night sky, and the howl of the pack fills your den "awooooo, awoooo" your little animals are running around wishing to bring out their wild side. Will you hear their desperate calls? Only you an lead the pride with some simple wolf crafts. To get things started why not try a simple wolf craft mask. If that doesn't soothe your savage beasts try some of the other wolf crafts below; but what ever you do, don't go out alone. You just don't what their desperate howls may bring
Below you will find Wolf Crafts Arts and Crafts Projects Ideas for your Kids. Find out how to make your own arts and crafts wolves projects with the following decorations, instructions, patterns, and activities for children who love the wolf
Printable Wolf Mask Craft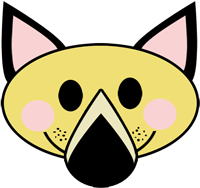 To make a wolf mask, just print out this mask printable here. You will need a colored printer, some card stock (if you don't have any cardstock...print out on normal paper and then paste it to cereal box cardboard or a greeting card to make it more sturdy), string, and scissors. Just print out the wolf mask...then cut out around the outside outline. Then cut out the eyes so you will be able to see. Then cut a hole on both sides of the mask...near the pink circles. Then cut 2 pieces of string. Tie a knot around each hole. Then have somebody help you tie it in the back of your head.
More Wolf Crafts Below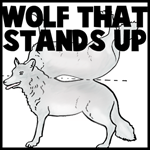 Wolf Stand-Up Paper Toy Model to Print Out Craft for Kids - Today, we will show you how to make some stand up paper-figure animals. This one is a standing wolf paper figure. You can choose a black and white version to color in, or you can choose the one that is already colorized. Either way … have fun.

3 Little Pigs : Printable Three Little Pigs Toy Models - These are free printable paper model toy crafts. More 3 Little Pig Stuff .. Box for 3 Little Pigs .. Big Bad Wolf

Big Bad Wolf Costume : Sock Crafts Ideas for Kids - This furry critter, perfect for a parent accompanying his little piglets while trick-or-treating, is a fairy tale favorite.

How to Draw Vicious Wolves - Learn how to draw cartoon vicious wolves.

Printable Wolf Craft - Print, Cut Out, Paint and piece together this paper wolf craft.

Howling at Harvest Moon - - Werewolf friends will howl at this Harvest Moon on Halloween! Keep the design on your window for a month, and you'll be ready for a Hunters' Moon.

Paper Bag Wolf Mask: A Recycling Craft for Halloween or Theater - Learn how to make this arts and crafts activity to make this paper bag wolf mask.

Paper Bag Wolf Puppet - This is a very interesting craft to make!

Wolf Toilet Paper Roll Craft for Kids - This is a good craft to make for a number of themes, including the Three Little Pigs and Little Red Ridinghood. It is a simple cut and paste craft that uses a toilet paper roll as a base to give it a three dimensional effect.

Big Bad Wolf - Here is a big bad wolf craft (for The 3 Little Pigs).
Wolf And Sheep Tag - Also known as Triangle Tag, this game of chase not only features a hunter and his prey, but faithful sheepdogs for protecting the sheep.
Farm Animals Crafts
Chickens / Hens / Roosters Crafts
Cows Crafts
Goats Crafts
Horses Crafts
Pigs Crafts
Sheep / Lambs Crafts