Home > Arts and Crafts Projects for Kids > Fall & Autumn Crafts
FALL & AUTUMN CRAFTS FOR KIDS : Ideas for Fall Harvest Arts and Crafts Projects for Children, Teens, and Preschoolers
Back to school time is a good indication that it is the Autumn season. Fall starts around August 8th and ends usually about November 7th. Most people think that Fall starts in September, but it doesn't, that is just when it starts feeling like Autumn. Fall is associated with the Harvest...as it used to be very important that there was a good harvest season or everybody would starve.
Don't be sad that Summer is over with and that the colder, damper weather is upon you. Even though you are back at school, there are a lot of fun holidays coming up such as Thanksgiving (in America and Canada) and Halloween. Who doesn't love a great Thanksgiving feast...and there isn't a child around who doesn't love Halloween and all the candy that comes with it.
USE THE NATURE AROUND YOU TO BRING OUT THE BEAUTY OF FALL
The colors of the tree's leaves are so beautiful in Autumn, so taking advantage of nature such as acorns, leaves, twigs, pinecones, and other natural occuring items is a lot of fun in this season. There are so many crafts that you can make with natural items such as table centerpieces, jewelry, figures & dolls, a log cabin, etc. Just get creative and you can think of so many ideas
One great idea for using nature is to bring the texture of natural materials out onto your art. Such as putting leaves under a piece of paper and rubbing crayons over the surface of the paper to get the texture of the leaves etched onto the paper. The ideas are limitless.
Another idea to decorate your house with Fall's natural beauty is to sring up leaves and pinecones onto a string. Hang this string garland from one corner of the room to another to make a beautiful Harvest party decoration.
Another cute idea is to go on a nature hike and discover all sorts of different shaped leaves. Glue each one to a piece of paper and then stare at each leaf until you see a picture that you can draw out of the shape of that leaf. Take colored pencils or markers or paint and draw the turtle's (or whatever creature you saw in the shape) face and head onto the paper to accompany the leaf body. It will turn out so cute.
Nut Shell Boat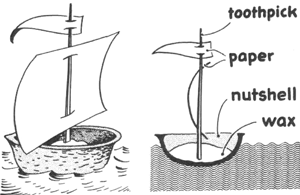 How about collecting some acorns to make some sail boats out of. Get a few acorns, break them in half...and clean out the seed and other mess from the inside of the shell. Then make sure that there are no cracks or holes in the surface of the acorn. Then cut out a triangle from felt, paper, or plastic. Then glue that on to a toothpick or straw to look like a sail. Then glue the sail or put it into putty or wax on to the inside of the acorn. Now you have a sail boat...see if it floats.
Autumn Stringed Necklaces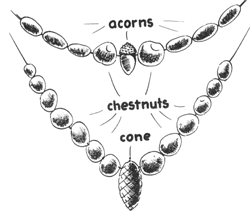 You Might Try to String some Acorns, Pinecones, Chestnuts, etc onto a string to make an Autumn Necklace...these turn out Amazing and all you need are needle, thread, and time for a nature walk in the Fall.
Make Autumn Dolls and Action Figures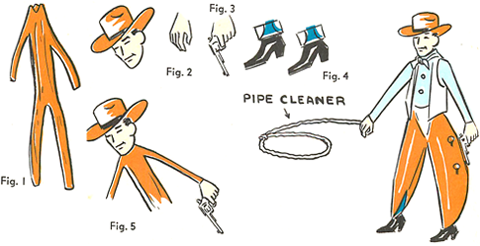 Go out and search for the most perfect natural supplies for your Autumn dolls. Find a stick / twig / branch that resembles the human form, as pictured in figure one. Maybe go out and look for an acorn for the doll's head. You can paint a face on the acorn or glue a magazine / internet printout of a face. You can use pebbles for hands and feet. Bark or leaves for the clothing. Or you can mix cloth / fabric with natural items like sticks, pebbles, and acorns. Use your imagination to make the best action figures possible.

Decorated Dry Weeds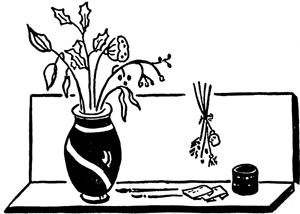 After the first frosts of the season have touched the foliage, you can still preserve twigs, leaves, weeds, and certain flowers, transforming them in new and in a colorful array. The process is very simple, and consists of painting dried weeds, flowers, leaves, or twigs for display in vase bouquets. The colors you use are largely a matter of your own taste and choosing. Take a hike into the woods with your parents or go for a walk along a roadside with your parents and collect dry weeds, leaves, and twigs. Look for prettily shaped ones and keep in mind the appearance they will make in a vase or bowl. To be sure, the specimens will be dry; it is well to wait until after a few frosts have struck your vicinity. Get gold, silver, or bronze colored paints, or if you wish other colors,go on ahead. The effects will be more marked if you use contrasting colors. In decorating a leaf, paint the entire leaf, then daub on some of teh opposite color for contrast. To paint the twigs, cover them with brilliant colors and, at the bud and leaf scars, daub on brilliant orange or silver. Of the weeds, one of the most popular is the milk-weed. It makes a beautiful appearance when painted. Cat-tails also are good in the bouquet. Sun flowers may be attractively decorated, but they are usually too large to be included in the bouquet. You might make a separate display of them, however. Sprinkled in the bouquet, bittersweet, already far too lovely to be painted, would be a perfect addition. These bouquets are nice decorations not only for your own room, but also for school or club rooms.
Even More Autumn and Fall Crafts Ideas

Crepe Paper Flowers - Don't these look real? Find out how to make these with crepe paper and pipe cleaners.

Cornucopia Felt Silverware Holder - Make this Cornucopia silverware holder out of felt. This is a great Autumn / Fall craft

Candy Filled Paper Corn Cob - Make this craft to celebrate Fall / Autumn in a fun way.

Make Leaf Ghosts for Autumn - Use real leaves from a tree, paint them, and use them for Austum and Halloween decorations. They look like adorable cartoon ghosts.

Make Faux Leaf Placecards - Learn how to make these imitation leaf placecards (in other words, they look like leaves, but they aren't really).

Make Musical Maracas and Rattles from Gourds - This is a fun craft for kids, parents, and teachers. Use gourds, amply grown in the Fall, to make musical instruments.

How to Make a Brown Bag Scarecrow Decoration - Here I will show you how to make a brown bag Scarecrow decoration perfect to display this Halloween season…. and why not even the entire fall season!!

Cornucopia Felt Silverware Holder - Make this Cornucopia silverware holder out of felt. This is a great Autumn / Fall craft

How to Make Paper Pumpkins for Halloween - In this post I will show you a creative and easy way to make three dimensional paper pumpkins perfect for Halloween. Why not make a few and let you kids help decorate the house for Halloween. They will love it!!

Characters Made with Stuff from an Autumn Walk - Make characters such as people and birds from pinecones, twigs, acorns, and walnut shells.

Fall Harvest Celebration Glass Jars - Celebrate the Fall harvest by displaying a colorful display of ingredients from your kitchen. You can be as creative as you'd like.

Leaf Prints - Learn how to make these leaf prints...they make beautiful pieces of art.

Candy Filled Paper Corn Cob - Make this craft to celebrate Fall / Autumn in a fun way.

Paint Dipped Pinecone & Walnut Ornaments - Find out how to gold or silver dip pinecones & walnuts for decorative Fall-time Ornaments.

Making Scarecrow Flashlight Covers - You can make this awesome flashlight cover that looks like a scarecrow with just a simple paper bag.

Pumpkin Girl with Clay and Fabric - This is the cutest pumpkin I ever did see...learn how to make this amazing craft with the following step by step crafts instructions.

Making Cornucopias - Today I'm going to show you how to make a Cornucopia Decoration for Thanksgiving. Make a few of these Cornucopias and you will have the perfect place card to put around the Thanksgiving Table.

Haystack Thanksgiving Placeholders - Decorate Your Thanksgiving table with these mini haystacks.

Spinning Milk Carton Windmills - The perfect time to make these is when it tends to be windy outside....so a great time would be in the Fall.


Leaf Garlands Decorations - Here's a beautiful Fall leaves garland to decorate your home with.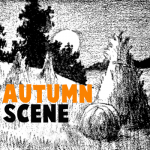 How to Draw an Autumn Landscape Scene with Easy Step by Step Drawing Tutorial - Take out your pencils and learn how to draw a night-time landscape with haystacks and a pumpkin. Learn how to draw an Autumn Scene with the following simple step to step tutorial.

Autumn Leaf Hanging - Autumn is a time to give thanks for the harvest and for everything else in your life.

Autumn Bookends - Autumn is here and it is the perfect time for nature walks. There are so many natural elements that you can find outside, use some of these items to make some plaster bookends.