Home > Arts and Crafts Projects for Kids > Bags, Purse, Totes, and Pouches Making Crafts
BAG MAKING CRAFTS FOR KIDS : Ideas for Arts & Crafts to Make Purses, Bags, Totes, and Pouches with Easy Instructions and Patterns for Children, Teens, and Preschoolers
Why go out and buy bags when you can make your own bags, purses, totes, pouches, or whatever holder you are looking for. Not only that, do you know how many plastic bags we put in land fills every year? Too many to count.
In order to help the environment, why not take an afternoon to make bags out of old t-shirts from around your house? You can find a no-sew tee shirt bag making craft below. All you need are scissors, a t-shirt, and a few minutes of your time. You can go through a pile of old t-shirts to make some nifty tote bags to take with you to the store...and then you don't have to waste any more plastic or paper bags.
How about a felt bag, purse, or pouch? You can take a piece of felt, fold it over, and then punch holes in the sides. You will now take a long piece of ribbon and pull it through the holes as if you were sewing. You can take the ribbon through the back and then through the front and then push it down through the next hole and now pull it through the back...and continue this process. If you want a purse...use the extra ribbon to make a strap. This is a great starter sewing project for little kids, especially girls.
If you need an easy project for little kids, such as Kindergarteners, then this tote crafts project will work for you. Take 2 sturdy, disposable bowls. Cut a circle on the bottom of one of these bowls. Then glue both of these bowls together, rim to rim. The top of the tote is the part with the hole. Paint the tote if you are interested in doing so. Poke a hole on 2 sides of the top bowl. Then feed a ribbon through both holes, tying knots on the inside of the bowl. You now have a handle for your tote.
And don't forget that you don't have to make new bags, you can recycle one of your old, ugly bags. How? Well, how about by using iron-on or sew-on patches and decals (bought at a crafts store). Or you can buy pins and buttons to stick all over your bag. You can paint your bag with a beautiful design with acrylic paints. You can cut out fabric and sew it on to the bag. You can use duct tape to create designs on the bag.
How to Make Wallets or Purses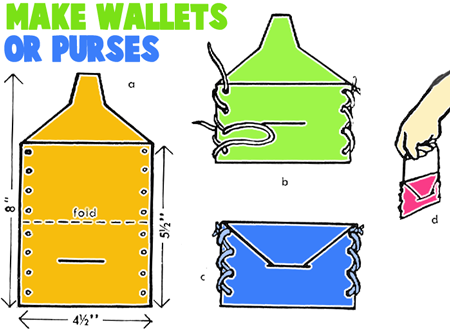 To make this craft, you will need 1 piece felt that is about 8"x4 1/2", scissors, 1 piece of bright-colored yarn, raffia, or string that is about 48" long. Cut the felt and punch holes in it with a hole puncher (sketch a). Be sure to fold felt before punching holes so that holes will coincide. Show younger children how to lace yarn through holes, starting at top of purse. When last hole is reached, crisscross lacing through holes back to top to hold sides together. Tie ends securely. (Sketches b and c.) Boys May carry wallets in their pockets. Girls may tie a double string through the top hole on each side for handle to make a pretty purse (Sketch d.)
Making Arts and Crafts Bags for Classrooms or Home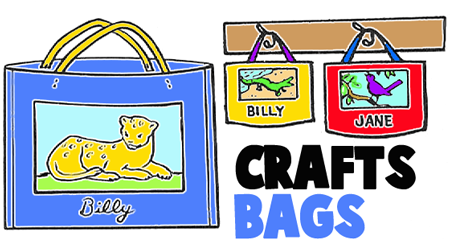 Materials need are ... 1 piece of Poster Board (or if you don't have this Construction paper 12" x 18"), scissors, two 10" strips of ribbon or shoestrings for handles, stapler, Scotch tape, paste, picture, and a pencil or pen. The procedure for making this is to fold the poster board in half crosswise. (See sketch.) Fasten short sides together with colorful duct tape or with packing tape or scotch tape. Staple both ends of each shoelace or ribbon handle to sides of the paper on the top. For school teachers or camp counselors, allow child to select a picture and paste it on his craft case.Write child's name on the case. Hang on low hooks when not in use. For Moms...this is a great way to keep all of your child's crafts together for a year. If you have multiple children, this is a great way to keep crafts for each child separate.
Make Bandana Purses or Drawstring Bags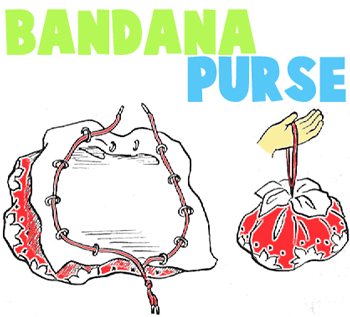 This is SOOOOO easy to make. All you have to do is get one 24" bandana (hair scarves). Then sew metal or bone rings on the wrong side of one bandana in a circle about 5" apart. Start approximately one inch from the sides. You will need about 24 of them. Now from the 2 opposite corners of the banadana, run shoe strings thru the ring loops and then tie. Thats it...yo uare done and you have a handy, beautiful purse or hand bag.
Even More Bags to Make

How to Make No-Sew Tote Bag Craft from Recycled Old T-Shirts - These no-sew t-shirt tote bags are so easy to make that you can make tons of them to take with you to the grocery store to use instead of plastic or paper grocery bags. Follow the easy-to-follow, step by step instructions below.

How to Make Duct Tape Tote Bags with Easy Steps Crafts Tutorial - Today we will show you how to make a very sturdy tote bag out of nothing other than duct tape. This duct tape bag is able to hold about 30 hard covered library books without tearing. You can also make these for grocery shopping so that you don't have to waste plastic and paper bags. Learn how to make this cool duct tape bag with the following steps.

Bag Made from Playing Cards and Duct Tape - This is a great bag that not only looks good but is maade from recycled materials as well. Find out how to make it here.

How to Weave Purses / Handbags for Mom's Gift on Mothers Day - Here is a great Mother's Day crafts project for kids to make for Mom or Grandma. Below, you can find out how to make a cardboard loom to weave beautiful handbags / purses to give as gifts or to keep for yourself. Either way, it is a lot of fun and the results are beautiful. This is a great crafts project for older kids and girls, as well as teens.

Sewing Fabric Pouches - Learn how to make a pull string pouch..a great beginners sewing project for kids.

The Handbag Addiction Starts Early With a Felt Purse - If your little girl wants to be just like Mommy and the big girls with her own purse, this is a creative way to give in without actually spending money on expensive accessories for a pint-sized clothes horse. It could easily be made as a pouch or satchel for a boy as well.

How to Make a Roll-up Bag for Pencils or Tools : Crafts Idea for Older Kids - This is a tutorial well suited for older children. It is not a hard one and is very useful. I always needed a bag like this (for pencils or different tools) and never could find one so, I decided to make one. Today I will share it with you

Fabric Purse Organizers - Here is a quick craft...learn how to sew this personal purse organizer...great for school or just to get everything in one place.

Make Cosmetics Case for Girls or as a Gift for Mom on Mother's Day - This is an easy sewing project with easy illustrated instructions to make a make-up / cosmetics case. Girls and Teens will love making this cosmetics bag / case / wallet – whatever you want to call it. It is also a great project to make for Mom or Grandma on Mother's Day…and it would also be a great group project for Summer Camp or Girl Scouts.

Leather or Vinyl Marbles Bag - Here is a drawstring pouch that will be great to hold your marbles or other small items that you own.

Make Denim Jeans Travel Tote - Hold all of your vacation stuff inside the pockets and legs of your pants. This hooks on to the seat in front of you...and NO SEWING AT ALL if you hot glue the pants legs instead of sew them (that is what I did)! I did this for my own kids and they carry so much more than any other store-bought totes can hold - and they are great for hiding stuff when you go into a restaurant.

Belt Loop & Key Chain Wallets - Put it on your belt loop or put it on your keychain...either way, it is great to keep some money tucked away. Make for Mom or Dad.

Oatmeal Container Sewing Bag & Pin Cushion - Make this sewing box / bag and pin cushion for mom or grandma.

Laced Leather Wallets - Learn how to make these sturdy leather wallets....that are beautifully laced.

Leather Coin Purses - Learn how to make these pouches that fold up night and tight to hold your coins and paper money in.

Oatmeal Box Fabric Bags - Use fabric, oatmeal containers, and some cardboard.
You Might Like Our Other Pages ... Eye Glasses Cases