Home > Arts and Crafts Projects for Kids > Box Making Crafts
BOX MAKING CRAFTS FOR KIDS : How to make gift, jewelry, party favor, treasure, and keepsake boxes with box folding instructions for children, teens, and preschoolers
Why buy expensive gift boxes if you can make your own at home? It is more inexpensive and the recipient is going to throw it away (most times). If your gift is jewelry, then making your gift box from patterned paper using the origami technique is the most efficient way.
Our house is filled with boxes. Our cereal, waffles, and pizza come in cardboard boxes. We shop online and our new items come in boxes too. So why would anybody want to make a box....especially if they are just lying around our house and garage. Well, the reason is because those boxes might not be the right size or the right design. You might want to make a gift box to give your friend or mother a present in. Or you might want to make an extraordinary box that is shaped like a triangle or a diamond. You don't see those every day. Or you might want to make a storage box to store beautiful things in. There are many ideas below and I hope you will find the one that is just right for you.
Gift Box Making Crafts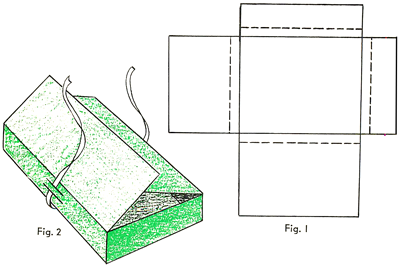 A box folder may be used to hold drawings, pictures, or clippings, or presents. To make this simple box folder select a large sheet of tag or bristol board, such as card stock. Near the center of it draw a rectangle slightly larger than the clippings to be held in the box folder or file. Draw a second line all around the rectangle. Make the distance between the 2 rectangles the amount of thickness you wish for the file, as in figure 1. On 2 sides draw extensions measuring 2 or 3 inches in length (this length will depend on the size of the folder). Then extend the other 2 sides so that they will fold over to make the top. Cut as shown in figure 2. Decorate with pictures cut from magazines, or gift wrapping paper, or the Internet. Then fold on dotted lines. Cut slits as seen in figure 2. Run a ribbon or cord through these slits. Tie in place.
Make Gift Boxes with Covers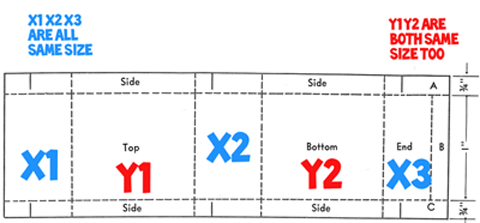 To construct a box with a cover use the diagram given above as the pattern. Be sure to fold on the dotted lines, cut on the heavy lines and put together as shown in figure 1. To make the box, notice that the rectangle x1, x2, and x3 are all the same width...the same goes for Y1 and Y2. As long as you know this...you can easily make boxes of any size.
More Box Making Crafts

The Origami Fox Box for the Beginner Paper Folder Child - This is a very simple paper craft and is excellent for a beginner paper folder. It doesn't require very much skill and only uses simple folding techniques. In addition, the Fox Box is quick to make and you can hide little treasures inside, which are perfect for grab bags.

Make Letter Holders Box from Recycled Greeting Cards - Make this cool letter holder as a gift for Mom, Grandma, Dad, or anybody else. You can make this attractive and useful letter holder box gift in which to hold correspondence letters.

How to Make Hanukkah Dreidel Gift Boxes Step by Step - These Hanukkah dreidel gift boxes are fun to make and they look very beautiful as well.

How to Make Jewelry Storage Box Craft for Mom on Mother's Day - Does your mom love jewelry? Well, Mother's Day is coming up and today we will teach you to how to make a very special jewelry box for your Mom. Make this nice keepsake box for her to store her favorite jewelry. It will be a great gift for mother's day. So find an old box and follow the instructions to make this gift.

How to Make a Valentines Day Hearts Gift or Chocolates Box Craft - Learn how to make this Valentine's day Hearts-covered Treat box. Put treats such as chocolates or candy hearts inside this box to give to somebody sweet. Just find the template that you want below. Then fold box together and paste. Then pull the heart fastening through slit in cover to close box.

Make Sewing Box or Organizational Box with Step by Step Instructions - Sewing boxes make great Mother's Day gifts as well as presents for birthdays and other special occasions. Below you will find easy step by step instructions for putting together a great sewing box.

Making a Valentines Day Pinwheel Sweet Candy Gift Box Craft for Kids - We will show you today how to make a complex looking, but very easy to do, Valentine's Day Candy Gift box with sweets or candies.

Making Decorative Candy Boxes - If you have ribbon and cardboard / card stock lying around the house, how about making handy dandy, beautiful, candy boxes.

Make Jewelry Box for Mom with Egg Carton - Make a jewelry box with an egg carton and foil pan.

Soda Bottle Apple Lunch Box - Learn how to make this cute apple case out of a recycled soda bottle.
Also Visit Gift Box Making Crafts ... Also Visit Crafts with Cardboard Boxes