Home > Arts and Crafts Projects for Kids > Box and Cardboard Crafts
KIDS BOX CRAFTS : Ideas for Arts & Crafts Activities using shoe, check boxes, oatmeal, and pizza boxes Projects for Children, Teens, and Preschoolers
Cardboard is everywhere. We throw away so much cardboard, instead we should try to upcycle it (recycle it by re-purposing it) to make things that are useful and fun. Cardboard can be cut and folded into so many things like toy houses, castles, cars, boats, play mats, mini towns, play people, or anything else you can think of. Cardboard is probably the most versatile item you will be able to use to make crafts. Here you will find boxes and cardboard crafts projects for kids. handmade cardboard box crafts made with shoe boxes, check boxes, cards boxes, pizza boxes, etc
Make a Town or Village with Cardboard Boxes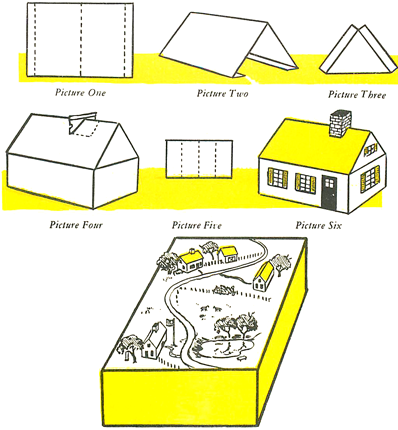 There are few things that are more fun to make than a Tiny Town Box Village. Get a firm corrugated cardboard carton will do. Fill the box with earth up to 1 1/2 inches from the top. Don't level off the earth flat, but pat it into little hills, to make it look like a countryside. Be sure, however, to pack the earth firmly. Spread some moss, real or artificial, over the brown earth. Leave a road not covered with grass. For trees, use leafy twigs and evergreen branches. A pocket mirror makes a wonderful little lake. To make the lake look natural, pat the earth over the edges of the mirror. Plant some trees close to the lake so that they will be reflected in the mirror. Use tiny boxes to make little houses and barns. To make a slanting roof for your tiny house, cut out a piece of cardboard a little larger than the top of the box. Run your razor-blade lightly over the cardboard where you see the dotted lines in Picture One. Do not cut thoroughly—just score the cardboard enough to make it bend easily. Picture Two shows how the cardboard will look when folded. Picture Three shows how to shape two other pieces of cardboard to fill in the two open ends of your slanting roof. Bend these boards along the inside lines. Score them first to insure a neat fold. Smear paste on the bent-over edges before placing these pieces in the roof. Now smear paste along the bent-over edges of the roof and place it on top of the tiny house. To make a chimney, cut a little hole in the peak of the roof with your razor-blade, as shown in Picture Four. Then cut a tiny piece of cardboard into a rectangle shape and fold it into four sections, as shown by the dotted lines in Picture Five. Now place the chimney in the hole you made in the roof, as shown in Picture Six. The tiny house is now ready for windows and doors. A red roof and a green door on a white house always look nice. It is easier to color your house before you put it together; that is, to color the box before you put on the roof, and to color the roof while it is still a flat piece of cardboard. You can make little benches to place on the shore of the lake out of tiny pieces of wood or cardboard. A properly colored piece of paper pasted on a lollypop stick makes a good American flag. With toothpicks, matchsticks and paste you can make fine looking fences. If you happen to have a tiny auto or any tiny toy figures, they will add considerably to the scene. As you go along, you will keep getting new ideas and you will think of many kinds of ways to make your Tiny Town interesting and beautiful.
How to Make Cardboard Box Toss Games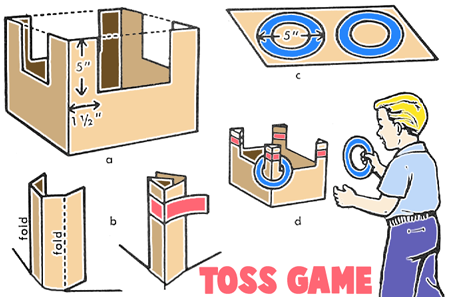 To make this, you will need one cardboard carton (about 9" x 12" x 8 1/2"), a 6" x 11" piece of cardboard from dress box or notebook; scissors; crayons, or tempera paint and brush; scissors, ruler; pencil, and duct tape or masking tape. Firstly, Find a bowl or something round that is about 5" wide and one that is a bit smaller ...this is to trace the circles. Trace circles ... the big bowl is for the outside of the circles and the smaller bowl is for the insides of the circles. Color them in with paint or markers...on both sides. (see sketch c) Cut these circles out. Measure, mark with pencil and cut carton with scissors as shown in sketch a. Posts should be about 5" high and 1 1/2" wide on each side. After posts are cut, reinforce them by folding 3/4" of each side inside the box and over each other. Tape to hold in place (sketch b). If you want to, you can color or paint box after you have cut it. The object of the game is for the child to toss the rings and try to circle one of the posts (sketch d).
Make a Castle from an Unused Cardboard Box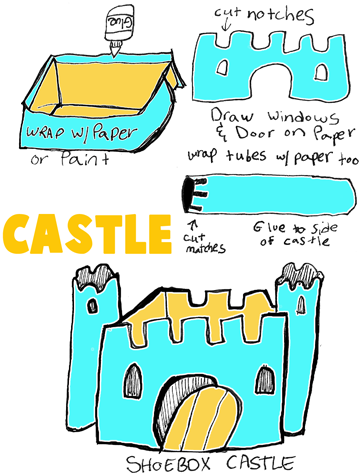 You can use any type of box for this, even though we are calling it a shoe box castle. Just wrap your cardboard box with paper or paint it. Also do the same thing with paper towel rolls. Then when everything is dried, you can start cutting notches at the top of the box and the cardboard tubes. Also cut out windows and the door (making sure to leave a hinge at the bottom of the door...so it can open and close). Attach the cardboard tubes to the side of the castle with glue or by cutting a long slit and sliding it down the side of the box.
Make Personalized Cardboard Laced Waste Baskets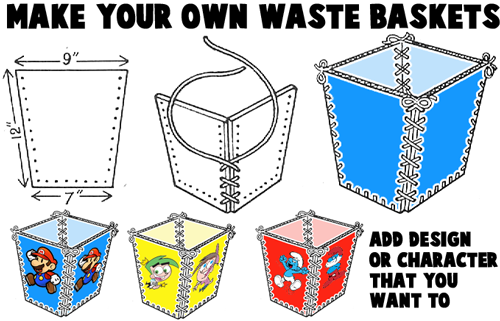 Gather the following items: Corrugated cardboard (enough for four sides 9" x 12" x 7" and 1 bottom 7" square), paper punch, scissor, pictures or paint and brush, 36" of adhesive cloth tape, some sort of sealer or shellac; and 19 feet of plastic lacing. Cut cardboard for bottom of wastebasket. Punch holes around edge 1" apart and 1/4" in from edge. (Start 1/2" from corners.) Cut 4 sides like pattern above. Start 1/2" from corners and punch holes 1" apart along 12" and sides (1/4" from edge). Decorate with pictures from magazines or from the Internet (ask Mom or Dad to help you find images) or paint. Bind 9" sides with adhesive cloth Use Sealer or Shellac to protect the waste basket. Cut four 3 foot 6" strips of lacing to lace sides together. Begin at bottom and lace like a shoe; tie at top. (See sketch.) Use a large needle to lace bottom to sides.
Make a US Mailbox Toy with Boxes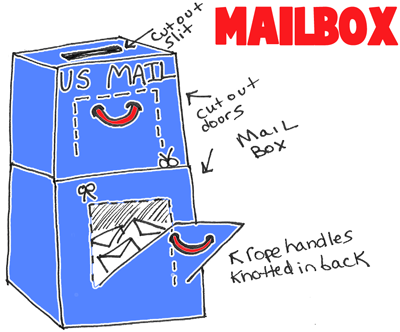 Find 2 boxes that are about the same size. Paint the boxes blue or wrap the boxes with blue paper. On both boxes....cut out a door by cutting out 3 sides, the hinge being at the bottom Cut a slit at the top of one of the boxes. On the door, tie a rope through 2 holes...and tie a knot at the back of each hole. Look at the picture above to see what I mean. Packages can go in the top door. Letters can go in the top slit. The bottom door is for the mailman to collect the letters to deliver. Have fun playing with your US mailbox.
How to Make Cardboard Toy Trains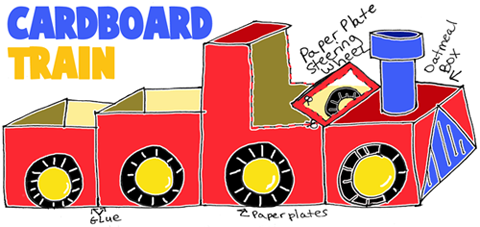 This craft is a lot of fun to make and even more fun to play with. I will give you some basic guidelines to make this, but use your own creativity to make it even better. Connect a few large boxes together, as pictured above. Take notice that the first box needs to be face down so that you can put a smoke stack on top of it. Bring the side flap from the first box up and cut out a rectangle from the inside of it for the window. The 2nd box car needs to be taller so that you can cut an 'L' shape in the front of it. This is the box that you sit in so attach a steering wheel to the front of the box. Either glue it or if you want it to spin use a brass paper fastener. The following boxes should have the tops open so pep ole or toys can sit in them. You can connect all the box cars together. You can connect them with glue...or if you want you can poke holes in each of the boxes and connect them with rope or string by tying knots on both sites of the rope. For wheels, paint or just color paper plates and glue them on. On the top of , attach an oatmeal box with another cylinder box on top of it. You can paint them or glue construction paper around them. The rest is up to you...be creative and have fun.
Make a Toy Cardboard Wagon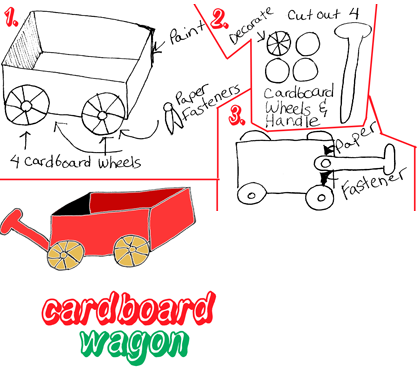 Do you need a toy wagon for your dolls to play with? Why not make a toy wagon with an empty shoe box? Get a shoe box and either cover it with decorative paper or paint it. If you are to paint the shoe box, put a bit of white glue into our paint to help it stick to the waxy covering of the box. When the shoe box is dry, then you can continue to the next step. Cut out 4 cardboard circles (Trace a lid, cup, or cap for a circle), as well as a handle shaped like a letter 'T' as seen in (picture #2). You can also paint these items as well, if you want to.Then attach them to the both sides of the shoe box with paper fasteners as seen in (picture #1). Turn the wagon upside down and attach the handle to the bottom of the shoe box with a paper fastener. Now your cardboard wagon is complete.
How to Make a Toy Cardboard Box Baby Carriage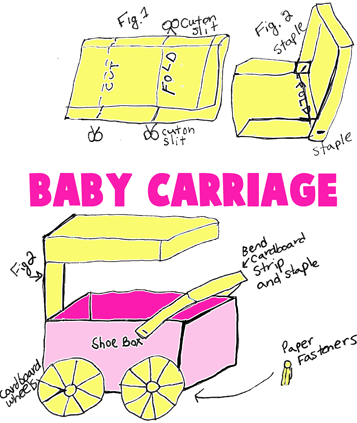 To make a toy baby carriage for your stuffed animals or miniature figure dolls, then first find a shoe box. Then get a jar cap and and trace it on cardboard and then cut it out. You can draw spokes on it if you want to. Connect it to the shoe box with brass paper fasteners. To make the top of the stroller, take the lid of a shoebox and follow the instructions in the illustration above. You will see that you cut one side of it off and then you cut a slit on both sides of where you need to fold...then staple it at a 90 degree angle (in an 'L' shape). Then staple it or glue it to the back of the shoe box. On the other side of the shoe box, you will bend a cardboard strip and staple it as the handle (use the portion of the lid that you discarded). You now have a baby stroller for your baby dolls to use for their dolls.
Make Hidden Storage Box Books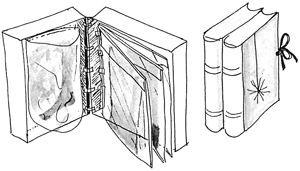 These are fun little storage compartments. For this craft, place 2 same-sized boxes together open side to open side. Tape the spine / hinge so that it will open and close. Open it up and tape the inside spine / hinge too. Now take a lot of clear plastic bags that are about the size of the boxes that you are using, as they have to fit inside the boxes (they can be ziploc or non-ziploc bags depending on what you want). Get about 20 of them. Separate them into 2 sets of 10 bags and and sew each set of 10 together as they are going to be the pages inside your book. After that is done, glue one of the bags, with the seam towards the center / spine of the box to the back of the box. Now do the same with the other set of bags. When it is done, the pages one each side of the book, should open towards the center, like in the picture above. Now cover the boxes with wrapping paper to resemble two books. You can tie the book shut with a ribbon...by putting a hole on both sides of the box and pulling a ribbon through both holes and tying.
Make a Toy Electric Grill with a Box Cover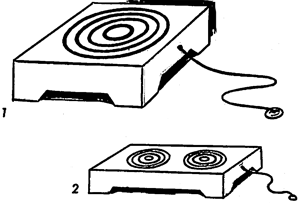 This toy electric grill can be used in your doll house or when you play picnic. With a ruler and pencil, draw the legs of the grill on the box cover. With a pair of scissors, cut out the legs. Paint the grill white or the color of your doll house's kitchen and allow it to dry thoroughly. For the heating unit, cut a circle of white paper that will fit nicely on the box cover. Draw the heating elements on the paper circle with black crayon. For the electric cord and socket, tie the button to the end of a piece of string, about 24 inches long. Attach the other end of the string to one side of the grill, as in illustration 1. If you want to make a larger grill, use an oblong box cover for the stove, and make two heating units on white paper circles, as in illustration 2.
More Box Crafts Ideas

How to Make a Valentines Day Mailbox with Movable Flag from a Cardboard Box- If you are in Elementary School, then you probably need to make a Valentine's Day Card Holder for your Classroom friends to place their cards into. Well, today we will show you how to make this US Mailbox with moving Flag to bring to school with you to share the love with your friends. You can use this later on to Store your special letters and cards in.

How to Make Valentine's Day Suitcase Mailbox with a Cereal Box - Today we will show you how to make a cool Valentine's day Mailbox Suitcase to hold your classmate's Valentines Day Cards. There is a slot to place your friend's cards…and when you want to retrieve your cards, all you have to do is unbutton the suitcase straps and get them out. You can then use this suitcase as a treasure chest or storage container.

Crafts Supply Treasure Box - Not really a treasure box, but a box you hold all your crafts supplies in.

Make Your Own Cardboard Beading Looms - You can make advanced beaded jewely and art with a simple-to-make cardboard loom project. You will love this.

How to Make a Miniature Desk for Your Dolls House Craft for Kids - Do you want to make a desk for your dollhouse so that the dolls can actually open up the drawers and put things int he desk? This is a great craft that actually turns out fantastic. I hope you enjoy this diy dollhouse furniture miniatures tutorial for kids.

How to Make Simple Pinball Machine with Recycled Cardboard - This is a super cool crafts activity that we are going to do today. If you love playing pinball, then you will love making this simple machine…a pinball machine. Just recycle some old stuff from around your house … such as a cardboard box, and let the fun roll in….literally.

Make an Organizational Homework Caddy - This Caddy is great because your child can take it wherever he / she wants to do their homework. The base of this is made with recycled cardboard boxes.

Portable Puppet Stage You Can Wear - This one is perfect for teachers. This is an-easy-to-make craft to create a wearable puppet stage.

Paper - Cardboard Dress Up Doll - With our printable template, you can make a cardboard stand-up doll. Then print out our clothes, hair, and accessories templates, cut them out and stick them on the doll. So much fun.

Make a Robot Costume for Halloween with Cardboard Boxes - Any boy or girl can become a mechanical robot costume for Halloween and Trick-or-Treating with the aid of two packing cases and a little work. There is only one precaution, do your "scaring of friends and family" in a safe place if you can not see properly out of your mask.

Create a City or Town from Cardboard Boxes - You don't need expensive store purchased toy buidings...make your own from recycled boxes.

How to Make Wind-Up Cardboard Carousels - Make a real working carouse/merry-go-round with cardboard boxes, spools, string, and a pencil.

Cardboard Box Lanterns - In this post I will be showing you how to make a Cardboard Box Lantern. That's right…. it is a lantern that you can use outside that it made from a cardboard box. Some other items you need are paper and wire.

Permanent Sand Castles - Save sand from your beach trip and use it to make this permanent sand castle when you get home. You make the structure with cardboard boxes and cylinder tubes. Then you paint on the sand with glue and sand.

How to Make a Shoe Box Doll House Arts and Crafts Project for Kids - Today we will show you how to make a really great toy doll house out of shoe boxes and other materials. This little two-story doll house with its gabled roof can be made in less than a half hour by any handy boy or girl.

Model Ghost Town Craft - This Cardboard standup ghost town also comes with stand alone tepees and cabins.

Get the Bean in the Box Game - Learn how to make this fun box and bean game.

How to Make Valentines Day Mailbox Backpack with a Cereal Box and Ribbons- This is a unique Valentine's Day Mailbox crafts idea, but I think all of your friends will ooh and aah over it. It is made from a cereal box and ribbons, amongst other crafts materials. AND you can really use it as a backpack, it really works. Have fun.

Eskimo Sun Glasses Craft - These are the most unique sun glasses that you will ever see - but also ones that actually work pretty well. Find out how to make these sun glasses with corrugated cardboard.

How to Make Toy Movie Box Craft for Kids on Rainy Day - You can make movies out of your comic books or your own drawing, and have loads of fun showing them in this Peep-hole Movie Theater. Learn how to make this toy movie / cartoon show box out of a cardboard box and creativity. Find out how to make your own toy with the following easy directions.

Making a Window Box Diorama Stage - This is a great project for school diorama projects..made out of a round or oval hat box.

How to Make Cardboard Doll House Furniture with Old Boxes - Today we are going to show you how to make cardboard doll house furniture, decorations, and wall hangings. This is a great activity for a group of girls at a sleepover slumber party, for girl scouts, or for a boring rainy day.

Bird in Tree Box - This is a great Springtime craft - make a bird hanging out in a tree...this craft uses a shoe box, some cotton balls, and a tree branch.

Make Sewing Box or Organizational Box with Step by Step Instructions - Sewing boxes make great Mother's Day gifts as well as presents for birthdays and other special occasions. Below you will find easy step by step instructions for putting together a great sewing box.

Yarn Dispensing Box - You can keep 3 balls of yarn untangled by keeping them in this Knitting / Crocheting Box.

Make a Triangular Diorama - Make a miniature scene in a triangle box diorama.

How to Make a Native American / Indian Headdress Headband Costume from Corrugated Cardboard - This is a really cute idea to make a Native American Indian Headdress for a Costume or to just play dress up. This is easy enough for kids 8 years and older to make themselves.

Indian Long Home Structures - Make this Long Home with Stiff Cardboard, Paper, Clips, and if you want, you can make the roof with real sticks to make it look more authentic.

Shoebox & Spools Doll Bed - Make a bed or crib for a baby doll with a spool and a shoebox.

Mini Bunny Matchbox Landscapes - Make a tiny, miniature, adorable outside scene with bunnies in it. Perfect for Easter.

Make a Moving Picture Theater Stage - Make this theater with cellophane and a shoe box.

Circus or Zoo Animal Cages - Learn how to make animal cages with a cardboard box and some yarn.

How to Make Cardboard Tabletop Billiards Pool Table Craft for Kids - So what if you can't afford a big expensive pool table to play billiards with. Today we will show you how to make a tabletop billiards game that you can make with a recycled cardboard box and some checkers (or bottle caps). If you can flick with your finger, than you will be able to play this game.

How to Make a Message Board Box Organizational Craft Idea for Kids - You can use this as a phone call message organizational center for the rest of the family as well. The box opens up for paper, pens, and pencils. You have the choice to but a clock face on the top of the box or to put a chalkboard on the top of the box.

How to Make a Ring Toss Throwing Game with a Box, Clothespins, and Rubber Jar Rings - Any handy boy or girl can make this game that can be played with one or more friends, either indoors or outside as well. All that you will need to make this game of skill is a few things from around the house. This is a great arts and crafts project for rainy days or for days that there doesn't seem to be anything else to do.

Boomerang Toy Craft - Make a boomerang to celebrate Australia's heritage.

How to Make Cardboard Doll Houses from Boxes for Girls & Boys - This two-story doll's house is extraordinarily easy to make. It takes shape quickly and yet it is so sturdy that you will be playing with it for months. You will have great fun furnishing the rooms with the simple but real-looking furniture.

Mini Yarn Puppet & Theaters - Make this mini yarn puppet in a matches box puppet theater.

How to Make Tri-Fold Picture Frame from Cadboard and Felt - Most picture frame crafts are for one photograph, but this one holds 3 photos. This would be perfect to make as a gift for Dad or Mom for family photos…and it would look great on their office desk. If you want to learn how to make a tri-fold picture frame, then look at the directions in this arts and crafts activity for children.

Miniature Puppet Show Theater - If you have a shoe box and a free afternoon, learn how to make a really cool mini puppet peep show.

Make a Miniature House Viewing Box - Learn how to make this mini house viewing box.

Simple Cardboard Desk Organizer - This is soooo simple to make but turns out so nice. These organizers are just made from recycled cardboard.

3D Box Lid Framed Pictures - Make a shadow box from a shoe box lid (or other type of box lid).

Personal Microphone on Your Back - Make this personal broadcast system with a box, hose, window screen, funnel, a nail, and a few other items.


Cardboard Block Printing - Make block prints that are made with cardboard or pieces of rubber innertube.

Cellophane Dancers - Make a dance studio with paper figures that jump and dance inside a cardboard box covered with cellophane.

Shadow Boxing : How to Make Shadow Boxes from Cardboard Boxes - This is a great crafts project idea for kids and teen who want to display their trophies, nick nacks, pottery, and ornaments in these modern shadow boxes. You can make them from corrugated boxes that you find around your house.

Halloween Masks with Cardboard - Mask Making Instructions, step by step.

Dollhouse Box Furniture - Make furniture for your dolls by using matchboxes and medicine boxes...or any other miniature type of box.

Cardboard and Ribbon Decorative Candy Boxes - If you have ribbon and cardboard / card stock lying around the house, how about making handy dandy, beautiful, candy boxes.

Make a Heart Filled Vase of Heart Flowers - Use Corrugated Cardboard, pipe cleaners, paper, and a few other things to make your honey this cool heart vase.

Corrugated Craft Flower Holder - This nifty holder will hold craft flowers, such as flowers you make with pipecleaners.

Native American Indian Scenic View - Make a peep show box of a Native American Landscape.

Make a Firecracker Toy - To make Firecracker sounds, all you need are rubber bands and a shoe box.

Make Toy Trains from Boxes - Learn how to use simple cardboard boxes to make toy trains. Even More Box Trains Here.

Fabric Box Headed Puppets - For older children and teens who are good at sewing...this is a great puppet craft activity.

Owls Valentines Day Boxes - Make this cute Owl Valentine's Day Box out of a cardboard box.

Shoebox Fencing Toy - Practice fencing and using your toy sword with this aiming toy that you make with a shoebox.

Castle Pencil Holders - Make these castle pencil and pen holders with the top of a cardboard box as well as recycled cardboard tubes (paper towel rolls or toilet paper rolls).

Making Heart Critters for a Valentine's Day Gift -Use straws and cardboard and a lollipop to make this cute craft. Learn how to make a cute Valentine's Day Heart Person that is Holding a piece of Candy.

Toy Figurines Wagon - Toy people figurines also need a wagon to take their stuff places...make this wagon for them with a cardboard box.

Decoupaged Cereal Box School Papers Organizers - This is so easy to make. Just cut up a cereal box and glue on different cut out pictures...this one used Nintendo characters such as Donkey Kong, Mario, Luigi, Link, etc.

Traveling Zoo or Circus Cars - Make a traveling circus with moving circus cages.

Cardboard Box Fishing Pond - Make the fish pond with a cardboard box...fish with your stick and string fishing rod.

Tissue Paper Wooden Spoons Flower Gardens - These are so cute...make a flower bed by cutting slits in an old cardboard box...then push wooden spoons with tissue paper flowers on them into the slits.

Carpenters Pretend-Play Toolbox - Play & pretend to be a carpenter by making a toy tool box with a soft drink carton.

Round 4 Scened Dioramas - These are unique dioramas that are made upon a round hat box lid. This is perfect for making different rooms in a house or for making four seasons of the year.


Mosaic Covered Cardboard Boxes & Tiles - Make mosaic covered cardboard boxes as well as seed covered cardboard tiles...they come out beautifully.

Boxes & Cardboard Tube Puppets - Yup, you can make intricate puppets with found materials from around the house.

Oatmeal Box Fabric Bags - Use fabric, oatmeal containers, and some cardboard.

Pretend Play with Cars - Use a large cardboard box to pretend your driving a car.

Corrugated Cardboard Bobby Pin Holders - This is a roll-up bobby pin holder. The base of it is made with corrugated cardboard...find out how to make them.
OTHER CRAFT PAGES YOU MIGHT LIKE
Valentine's Day Boxes Craft Page
Box Making Crafts Page
Crafts with Oatmeal Boxes
Crafts with Cereal Boxes
Crafts with Soap Boxes
Crafts with Tissue Boxes
Gift Box Making Crafts