Home > Arts and Crafts Projects for Kids > Gift Boxes Making Crafts for Kids
GIFT BOXES TO MAKE : Find out how to make your own free printable paper gift boxes for personalized presents and gifts with the following crafts ideas, instructions, diagrams, models, patterns, and printables for children and teens
Make Your Own Gift Boxes with these free printable, foldable paper models for kids. Find out how to make your own free printable paper gift boxes for personalized presents and gifts with the following crafts ideas, instructions, diagrams, models, patterns, and printables
Also Visit Crafts with Cardboard Boxes Page ... Also Visit Valentine's Day Boxes Craft Page ... Also Visit Box Making Crafts Page ... Also Visit Crafts with Oatmeal Boxes ... Also Visit Crafts with Cereal Boxes ... Also Visit Crafts with Tissue Boxes
Make a Santa Clause Paper Candy Box with Printable Paper Craft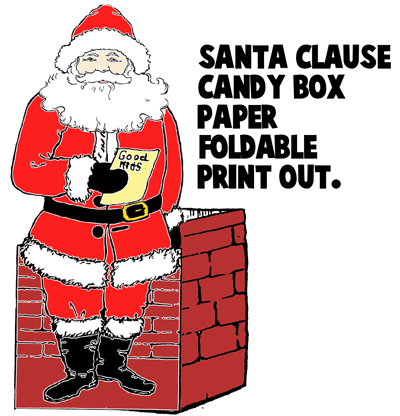 This is a very easy craft because it is mostly already done for you. Basically just print out a color template or a black and white template (if you want to color them in yourself). If you want to make them sturdier, you can glue the print out to cereal box cardboard first, but it isn't necessary to do this. Print out the template, then cut it out. Then fold on the lines and then glue the tabs in place. Let it dry and then use it to display Christmas candy.
Printable and Foldable Santa Clause Candy Boxes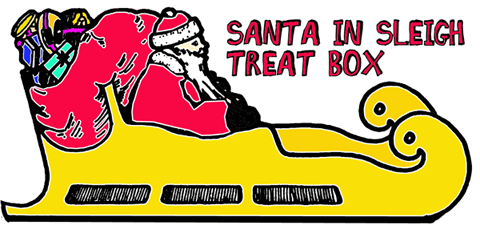 This is an easy Santa Clause craft. This is a printable craft...just print out this Foldable Papercraft and then color it in with markers, crayons, colored pencils, etc. Then just cut on the solid lines and fold on the dotted lines. Fold the paper together to make a Santa sleigh. Then just put treats in it. You can make it more durable by pasting the paper to cereal box cardboard before cutting and folding...but this is an optional step.
Even More Gift Boxes Crafts for Xmas

Making a Valentines Day Pinwheel Sweet Candy Gift Box Craft for Kids - We will show you today how to make a complex looking, but very easy to do, Valentine's Day Candy Gift box with sweets or candies.

Santa Clause Gift Boxes - Learn how to make a Santa Clause Gift Box from a Milk Carton.

Christmas Elf Gift Boxes - Make these Christmas Elf Gift Boxes for Christmas Gift Packaging from a recycled milk carton.

Make Christmas Reindeer Gift Boxes - Make these Christmas Gift Boxes from Old Milk Cartons with the following template.

Fold Origami Boxes - Learn how you can easily make cute gift boxes out of greeting cards.

Gift a Heartwarming Box of Pink Roses - Learn how to make this beautiful heartwarming pink roses gift box. This is perfect for a wedding or birthday gift.

Gift Boxes - This tutorial shows children how they can make cute gift boxes out of inexpensive greeting cards.

Gift Box for CD's - Learn how to make a gift box that is the perfect size for a CD or DVD.

Gift Box Tutorials - Create your own gift box using the printable template and the given instructions.

Gift of Joy Christmas Boxes - Find out how you can make a "Gift of Joy" Christmas box for someone special.

Halloween Gift Boxes - This gift box is easy to make and is perfect for Halloween presents.

Mouse Box for Valentine's Cards - Put all your special Valentine's cards in this adorable mouse box.

Paper Box Crafts - Learn how to make a gift box using your printer, paper, scissors, glue and crayons.

Paper Heart Gift Boxes - Follow this tutorial and learn how to make your Valentine's the best heart gift box.

Valentine's Day Chocolate Boxes Paper Crafts - This is a simple and fun Valentine's Day chocolate box craft for children of all ages.

Vintage looking Santa Box - In this tutorial will show you how to build your very own Santa Claus gift box.
=========================================================
CHRISTMAS CRAFTS PROJECTS & IDEAS
=========================================================