Home > Arts and Crafts Projects for Kids > Butterfly Crafts & Caterpillar Crafts for Kids
BUTTERFLY CRAFTS FOR KIDS : Ideas for Arts and Crafts Projects & Activities with Butterflies & Caterpillars with the following ideas, instructions, patterns for Children, Teens, and Preschoolers
Butterflies are so beautiful with their large colorful wings. They start off as adorable catepillars and then mature in a chrysalis stage in which the caterpillar turns into an adult butterfly. The interesting life cycle and their beauty is what makes butterflies such a great subject for crafts projects. Below you will find butterfly & caterpillar crafts for kids. There are multiple ideas for cool arts and crafts projects with butterflies with with the following crafts ideas, instructions, patterns, and printables for children.
Butterfly Flying Toy Craft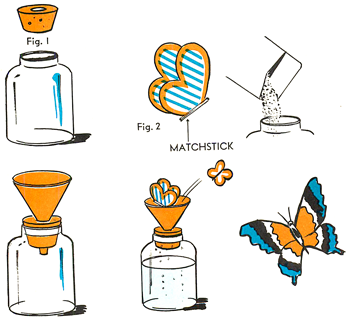 To entertain your friends on a rainy afternoon, get a glass jar and a large cork to fit into its top. Fig. I . Cut a hole in the center of the cork and fit a small funnel securely into it. Cut several butterflies from tissue paper. Fig. 2. Glue a small bit of match stick to the center of each one. Fill the jar about half full of water. Drop a package of Seidlitz powder or Alka-Seltzer into it. Close the jar with the cork. Place the butterflies inside the funnel. When the Seidlitz powder / Alka-Seltzer tablets begins to effervesce, the gas given off by this process will pass through the funnel and send the butterflies winging about the room.
How to Make Butterfly Bookmarks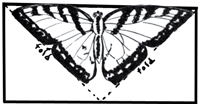 To make this realistic looking butterfly bookmark, just print out our butterfly bookmark template and color it beautifully. It the folds around the page you are looking.
Even More Butterfly Crafts Below

Easter Felt Butterfly Napkin Rings Crafts Table Decoration Ideas for Boys and Girls - Children's art may not always have a place on your Easter table, but these simple felt napkin rings in pretty spring colors will complement your decor perfectly.

How to Make a Flying Butterfly Toy that Flies up to 15 Feet- This is an arts and crafts project to make a butterfly toy that will really fly up to 15 feet up in the air. This is for older kids as it is too difficult for younger kids to master…although they can with some supervised guidance from an adult.

Origami Butterfly Earrings - Learn how to make these beautiful origami butterflies.

How to Make Clothespin Butterflies - Learn how to make these clothespin butterflies.

Make Embroidered Cards with Embroidery Thread Designs on Card Stock – Basics – Part 1 - Do you like to sew? Here's a new way you can use your sewing skills. Make beautiful designs on card and use it to make cards, bookmarks etc. Here is Part 2.

3D Paper Butterflies - Learn how to make these 3-dimensional butterflies - great bulletin board project.

Making Butterfly Headbands - Learn how to make these butterfly headbands with a headband, and transparent foil.

Coffee Filter Butterflies - Find out how to make these adorable clothespin and coffee filter butterflies. Great for preschoolers and younger kids.

Butterfly Puppets - Make a marionette string puppet butterfly with the following tutorial.

How to Draw Cartoon Butterflies for Kids - Learn how to draw a simply cartoon butterfly with easy step by step instructions using simple shapes, letters, and numbers. This tutorial is great for young kids and preschoolers.

Learn How to Draw Easy Butterflies - Learn how to draw 4 different types of butterflies with easy to follow step by step instructions.