Home > Arts and Crafts Projects for Kids > Christmas Crafts > Christmas Tree Ornaments Crafts for Children
CHRISTMAS ORNAMENT CRAFTS FOR KIDS : Make handmade Xmas Tree Ornaments with these easy Arts and Crafts instructions, Activities, & ideas for children, teens, and preschoolers
Christmas time is so much fun...everybody is so happy and it is truly infections. You just want to be joyful right alone with everybody else. One of the reasons everyone is so happy is the obvious reason, because Christmas day is on its way. But another reason is that everything is decorated so beautifully, it is hard not to get cheerful and excited about Christmas time in general.
If you haven't started decorating your tree yet...it is time to get to it. You should start a family tradition in which every year you make a personalized Christmas ornament. This way, every ornament is very meaningful and important to you. In years to come, you can then look back and think about how fantastic that previous Christmas was. It is like scrapbooking, but with ornaments. Find some of our Christmas Ornament making ideas below.
Make Christmas Star Ornaments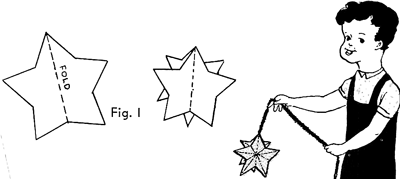 You really couldn't make an easier Christmas ornament if you tried. All you need is to get some shiny wrapping paper. Print Out This Star to trace on to the wrapping paper...3 times for each ornament. Fold these 3 large stars in half. Glue together in the center seam. Attach a loop of narrow yellow ribbon between 2 of them to make a hanger. Now just let it dry and you have your very own Christmas ornaments.
Cranberry People Christmas Ornaments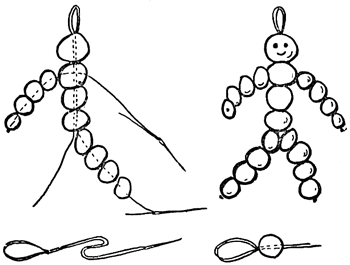 Cranberry Figures Figures may be made with cranberries. To make a doll, thread a fine wire through a large darning needle, knotting the 2 ends, and then tie another knot to make a loop. String a large berry for a head, drawing the doubled strand through as far as the loop, which will be used for hanging the doll. String as many berries as you with for the torso, then cut the wire and draw the separate strands through berries for the legs.Take another wire and thread for single strand work. Knot the end and draw it through as many berries as you need for one arm; then pull the wire through the berry that is below the head, and string the same number of berries for the other arm and knot the wire. To make animals, string the head, neck, body and tail on one wire. Then on another wire, draw enough berries for one leg, send the needle through a berry in the body where you think the rear leg should be appended; then string as many berries for the opposite leg. In the same manner, string the two front legs.
Making Foldable Paper Star Christmas Ornaments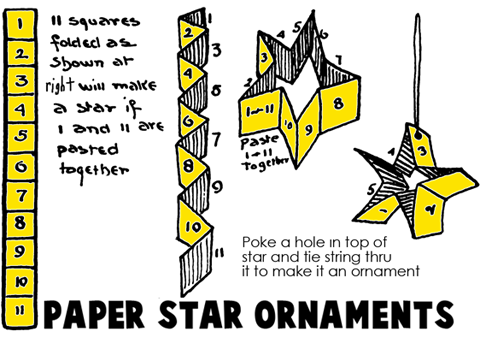 These paper Xmas ornaments are fun to make. Cut a long strip from a piece of paper and fold them like an accordion, backwards and forwards. If you can't make a long enough piece of paper to fold this many times, glue 2 pieces of paper together. You should have 11 squares as seen in the illustrations above. Then just glue the first square (1) to the last square (11) and it will be bent in the shape of a star. Punch a hole in the top of the star and tie a string thru this to hang on your Christmas tree.
Even More Christmas Ornaments

Make Christmas Tree Icicles - Make these realistic looking icicle ornaments for your Christmas trees.

Button Santa Clause Ornaments - Make these adorable Santa Ornaments with buttons and pipe cleaners...and thats it.

Making Santa Clause Clothespin Ornaments - This tutorial shows you how to make a Santa Claus Clothespin Ornament. The craft makes a cute Santa Claus that is perfect to hang on your Christmas Tree.

How to Make a Felt Christmas Angel Ornament - Use a bead for the head and felt for the body of the Christmas Angel Ornament. Use this tutorial to learn how to make this for your Christmas tree.

Making Popsicle Stick Santa Clause Christmas Tree Ornaments Craft for Kids - Make your own Santa Clause Ornaments decoration for your Christmas trees. This is just a sample Christmas Tree Ornament, you can use your creativity to make kings, angels and other Christmas characters using the same technique. Have fun.

Paper Star Ornaments - Learn how to make these beautiful paper stars.

Pony Bead Christmas Tree Ornaments - Learn the pattern for making these pony bead Xmas trees...then hang it on your real tree.

Tin Foil Christmas Stars - These are beautiful stars that can be made with items from around your house.

Santa Clause Perler Bead Ornaments - Create this beautiful ornament with some perler beads and some cording.

How to Make Paper Globe Christmas Ornaments - Find out how to make these symetrical Xmas ornaments.

Christmas Pinecone Ornaments - Make pinecone Xmas ornaments of Elves or Santa Clause.

Santa Clause Hat Ornaments - Learn how to make a cute little Christmas ornament that looks like Santa's hat. Find out how.

Cotton Swab Christmas Tree Ornament - Use a clear glass Christmas Ornament and a Cotton Swab to make a Xmas Tree ornament.

Christmas Fairy Ornaments - Learn how to make these Xmas Fairy ornaments

Popsicle Stick Christmas Ornaments - Learn how to turn a popsicle stick into a beautiful Christmas Ornament.

Paper Circle Ornaments to Make - Here are a few Xmas ornaments to make that start with a simple paper circle.

Pinecone Christmas Decorations - You don't need fancy Xmas Ornaments when you can find beautiful ornaments outside in nature.

Beautiful Paper Christmas Ornaments - Find out how to make these beautiful paper ornaments.

Christmas Walnut Ornaments - Find out how to make fancy walnuts for hanging on Christmas.

Make a Snowman Christmas Ornament - Find out how too mae this ornament, covered with painted snowmen.

Flattened Tube Poinsettia Ornaments - Flatten up some toilet paper rolls, cut them into strips, paint them and paste them together. You then have a beautiful Poinsettia ornament to hang on your Xmas tree.

Making Toothpick Christmas Ornaments - Learn how to use styrofoam ball or clay as the base to stick toothpicks.

Christmas Ornaments Made from Recycled Jar Lids and Cards - Use recycled Xmas greeting cards and jar lids to make Christmas ornaments.

Drinking Straw Chains for Christmas Trees - Wrap these around your Christmas tree to decorate it for that special time of year.

Making Lace Christmas Ornaments - Find out to make lace Xmas ornaments.

Paper Star Ornaments - make thse paper star ornaments for Christmas...find out with the following lesson.

Christmas Snowflakes Ornament - Learn how to cut these snowflakes out of paper and then embellish them for hanging on your tree or windows.

Paint Dipped Pinecone & Walnut Ornaments - Find out how to gold or silver dip pinecones & walnuts for decorative Christmas Ornaments.