Home > Arts and Crafts Projects for Kids > Easter Crafts for Kids > Surprise Easter Egg Opening Card with Seeds Craft Idea for Kids
SURPRISE EASTER EGG CARD CRAFT IDEAS FOR KIDS: Easter Greeting Cards Arts & Crafts Activities, Projects for Young Children, Preschoolers, and Kindergarteners
Here you will find an adorable Surprise Easter Egg Cards craft idea for your kids. Not only is it super fun to create, but there is also a suprise when you open up the egg card - Flower Seeds. Find out more with the instructions that can be found below.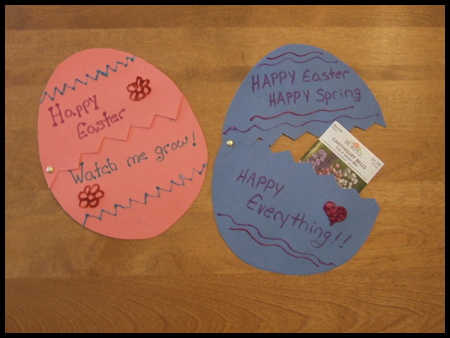 Surprise Easter Egg Card with Flower Seeds Craft for Kids : Easter Crafts for Your Children

If you like the way the above Surprise Easter Egg Card looks, then take a look at the easy instructions below to make one just like this with your child. Celebrating Easter can be a lot of fun when you have the right child-friendly activities. Have fun.
Or go back to the Easter Crafts Page to find a different craft.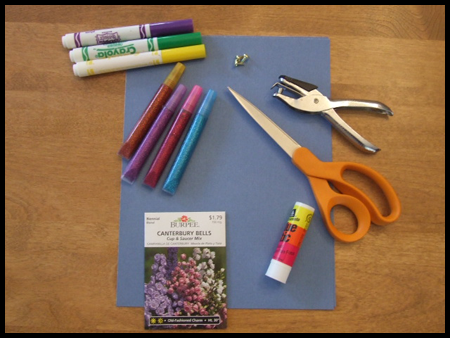 CRAFTS MATERIALS NEEDED
Markers, glitter, etc for decorations
Brad
Scissors
Hole punch
Seed packet
Stick glue
Heavy card stock, 2 pieces



1 – Cut out egg shape from heaving card stock. Tip: cut them together and place wrong sides together.



2 – Glue the wrong sides of the eggs together, only around the outer edge, as you are creating a pocket in the middle.


3 – Cut both the eggs in half with a zig zag shape.



4 – Put the side of the eggs together, overlapping them and punch a hole for the brad.



5 – Insert the bottom of the egg into the top of the egg until you can insert the brad into the hole. Secure the brad. Insert the seed packet into the pocket you created.



6 – Write a message on the back of the card.


7 – Decorate the front of the card, makes a great gift for Grammy!

EVEN MORE EASTER RELATED CRAFTS & ACTIVITIES & IDEAS
Easter Crafts & Activities for Kids Home Page
Easter Coloring Pages & Printouts
Easter Lambs Crafts Ideas for Kids
Easter Hats & Bonnets Crafts Activities for Kids
Easter Eggs & Egg Decoration Crafts Activities for Kids