Home > Arts and Crafts Projects for Kids > Easter Crafts > Easter Bunny Crafts for Kids
EASTER BUNNY CRAFTS FOR KIDS : Ideas to make Bunnies with Easy Arts & Crafts Projects & Activities for Children, Teens, and Preschoolers
Bunnies are so cute, with their fuzzy little bodies and the way that they twitch their little nose. It takes all my will power not to run up to them and hug them. The Easter Bunny is such a great character. He delivers a great Easter basket to every good little Christian boy and girl. And he takes such care with each basket to make sure it is just perfect for each child. He fills them with chocolates, Easter Eggs, jelly beans, Peeps, and so many other goodies. Bunny rabbits are so adorable, they have always been a great project theme idea ...especially when Easter is around the corner. On this page, you will find so many Easter Bunny crafts. I hope you enjoy them.
Easter Bunny Rabbit Table Decoration Craft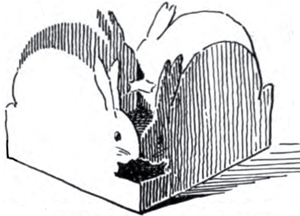 Print either This Black and White version (to color in) or the Colorized Version. Print it out, then just fold it ont he dotted lines. Glue together. If print out black and white version, color it in. Or You can make this Easter Bunny Paper Basket with instructions found on the printouts.

Here is a black and white diagram and here is a color diagram. These are really easy to make and great crafts for big school classes.
How to Make Easter Bunny Treat Bags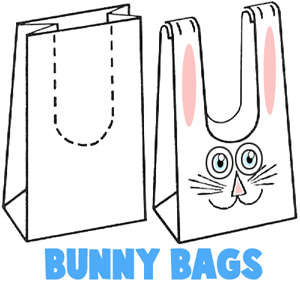 Cut a letter 'U' shape out of the top of a folded paper bag down to about the center of the bag...see the above illustration for reference. Now draw a bunny rabbit's face on the bag by drawing the parts of the face...triangular-ish nose....2 letter 'u' shapes for the mouth. Lines for whiskers, and a circle for each eye. Get a cotton ball and paste it to the back of the bag for a cotton tail. Overlap the ears and staple them together...or paste them together. Draw pink ovals in the ears. Candy and treats can be placed in the bags.
Rabbit Holding a Spring Basket of Flowers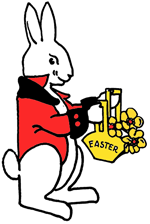 All you have to do is print out this rabbit's body parts, the basket, and make some flowers to fill the basket. The head and neck are pasted in between the legs and the arms. This keeps the body together and makes him able to stand on his own. The follow the instructions in the printable to fold the basket in place and in the rabbit's hands. Then make flowers out of paper and put them in the basket for Easter. Choose how you want to print it - 8x11 black and white - 11x17 black and white - 8x11 color - 11x17 color
Easter Bunny Rabbit Stand-Up Character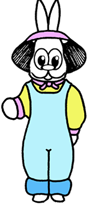 This would make a really cool Easter Party Table Centerpiece Craft or you can use it as an Easter Placeholder...just write the guest's name on the rabbit's body. All you have to do it cut out the bunny rabbit's body and his hat. You Then glue the cat together by reading the directions and then put it over the bunny's ears to keep him together. Click here if you want to print him in color and click here if you want him in black and white (to color in yourself).
3D Paper Craft of a Bunny Rabbit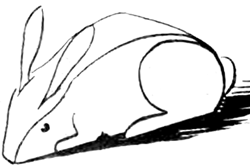 All you need is one piece of paper. Cut out this paper diagram and fold on dotted lines included in the printout sheet. You don't need to glue the pieces together, they will fit within eachother like a puzzle...just fold it to see what I mean. This rabbit stands up on his own and would be a great Easter Dinner Table Decoration. Print out the paper diagram here.
Draw Easy Bunny from Circles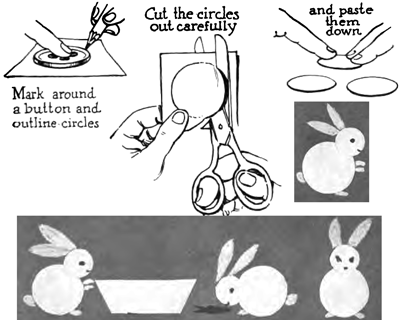 It is so simple to draw cute bunnies. Read the instructions above to help you learn how to draw rabbits easily. Draw circles, cut them out. Paste them down like a number '8' ... one small for the head...one bigger for the body. Now you have the bunny's body. Then draw on the ears as oval shapes. The tail, feet and hands are ovals too. You can use white chalk or cut out white paper for these body parts.
How to Make an Origami Bunny Rabbit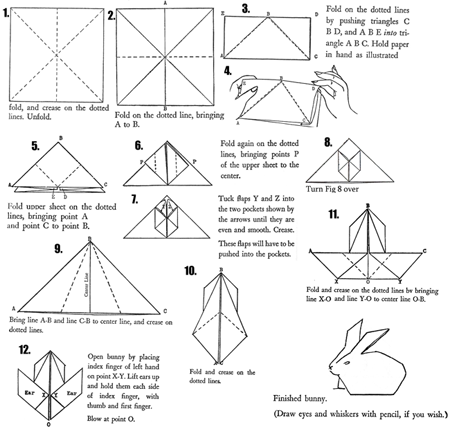 Click on Above Picture to make it bigger...Who doesn't love a good bunny rabbit around Easter time. If you can learn how to make these origami rabbits, then you can make all sorts of crafts with them around Easter time. You can put little paper rabbits all over the Easter Dinner table with the person's name on it to use as Easter Placecards. You can use these to put in Easter Baskets...or use them for something else. Either way, the instructions above are all illustrated and as long as you read them carefully and follow them to a 'T', you will be able to make the cutest little origami bunnies. Have fun.
How to Make Bunny Rabbit Masks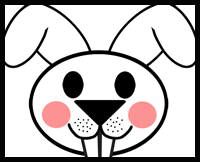 To make the above adorable bunny rabbit mask, just print out the following rabbit mask template and follow the instructions included.
How to Draw Bunny Rabbits
To learn how to draw cartoon bunny rabbits, pick one of the thumbnail pictures above to learn how to draw that lesson.
Even More Easter Bunny Rabbit Crafts

Make a Paper Easter Bunny with Candy in His Mouth - Learn how to make this foldable paper model Easter Bunny who holds candy in his big mouth.

Handprint Easter Bunny Crafts Ideas for Kids - Learn how to make this cute Easter Bunny rabbit with your child's handprint.

How to Make Origami Rabbits Heads Craft for Chinese New Year - On February 3rd is the Chinese New Year celebration. The year of the rabbit begins. Rabbit Years are fourth in the cycle, following Tiger Years, and recur every twelfth year. So, let's celebrate that by making an origami rabbit head :)

Glove Easter Bunny - This is an easy bunny craft that turns out looing amazing. The bunny is made from a glove, some pins, a bottle cap, yarn, stuffing, and a few other items.

No-Sew Sock Bunnies - Use a sock to make this adorable sock bunny...the best part is that no sewing is necessary.

Bunny Straws - Make these adorable bunny straws to decorate everybody's straws on Easter.

Easter Bunny Bag of Candy and Treats - Transform a simple brown bag into an Easter treat bag that looks like a bunny rabbit...find out how.

Mini Bunny Matchbox Landscapes - Make a tiny, miniature, adorable outside scene with bunnies in it. Perfect for Easter.

Making Rabbit Chinese New Year Fan Arts and Crafts Project for Kids - 2011 is the Year of the Rabbit, so today we will be making a Chinese-style fan with rabbits on it. Included is a template with 3 rabbit outlines, but you can also draw your own. Just make sure they aren't too big.

Cork Bunnies - Make a cork bunny with the following easy-to-follow directions.

Felt Plush Bunny Dolls - Learn how to make a felt bunny rabbit with some easy-sewing methods.

Handkerchief Cup Bunny Place Setting - All you need are a handkerchief and a cup...and optionally a bow for around his neck. Then for an Easter Party put a bunny at everyone's place setting.

Easter Bunny Paper Chains - Make Paper Doll Chains, but instead make each figure the Easter Bunny. Find out how here.

How to Make a Stand Up Easter Bunny Card for Young Children & Preschoolers - This crafts project is to make a standing Easter Bunny card which even young kids will be able to draw for themselves. This is a fun, and attractive Easter Bunny craft for preschoolers, Kindergarteners, 1st graders, and other young children.

Brown Paper Bag Bunny Rabbit Puppets - Make these adorable bunny puppets with the following simple items : Paper Bag, Newspaper, String or Yarn, Paper, Scissors, Glue, and a Pencil.

Easter Bunny Treats Jar Crafts Activity for Children - Here you will find an adorable Easter Bunny Treat Jar craft ideas for your kids. Not only is it super fun to create, but it also is a craft with a real use - holding stuff.

Easter Bunny and Baby Chick See-Saw Paper Toy Card Craft - This is an adorable, working see-saw with the Easter bunny on one side and a baby Easter chick on the other. The see-saw goes up and down with the use of a simple fastening clip. All you have to do is print, cut out, and then fasten the 2 parts together.

Easter Bunny with Springish Arms and Legs Craft Project for Children - Here you will find an adorable Easter Bunny with Springy Arms and Legs ideas for your kids.

How to Make Pop Up Easter Bunny Rabbit Cards Crafts Idea - You have the choice of printing out the cards or you can follow the measurements and directions below without printing. Either way, this is a fun, and attractive Easter craft to work through. Good luck and Happy Easter.

Easter Bunny : Peter Cottontail Rabbit Paper Stand Up Dolls Craft - On this page you will find 2 pages to print out of Peter Rabbit story characters and items such as a picnic basket, umbrella, etc. These are all paper-folding dolls that you can play with like toys for Easter time or after you have heard this great story. Have a great time.

Chain of Bunnies & Critters - String bunnies across your window or wall to celebrate the Easter season.

Furry Bunny Rabbits - Here is how you make furry bunny rabbits.

Make Bunny Rabbit with Vegetables - This is a fun Easter Bunny craft using vegetables on hand.

Egg Head Bunny Rabbit Faces - Learn how to make blown egg, decorated animal faces. In these examples includes an Easter bunny rabbit to make.

Easter Bunny Rabbit Treat Cups Crafts Activity Ideas - I did this craft with a 4 year old and an 8 year old and both were delighted with both the process and the end product. It is very easy to do and can make a beautiful little gift or grab bag for the Easter season.

Easter Animal Standups - Print, cut, and color these Easter bunnies and chicks and fold them so that they stand up.
EVEN MORE EASTER RELATED CRAFTS & ACTIVITIES & IDEAS
Easter Crafts & Activities for Kids Home Page
Easter Coloring Pages & Printouts
Easter Lambs Crafts Ideas for Kids
Easter Hats & Bonnets Crafts Activities for Kids
Easter Eggs & Egg Decoration Crafts Activities for Kids