Mikado is a very old pick-up sticks game. It is also a very funny and captivating game that most kids will love. Today we will show you how to make a miniature Mikado Game Set with toothpicks and paint. This is easily transported so it would be great for playing in hotels while traveling. Have fun.
How to Make a Mini Mikado Game with Easy Crafts Activity for Kids
Mini Mikado is made of 31 toothpicks. Every stick have a number of points:
• Mikado, 1 blue stripe, 20 points, 1 stick
• Mandarin, 3 yellow stripes, 10 points, 5 sticks
• Bonzen, 2 orange stripes, 5 points, 5 sticks
• Samurai, 3 green stripes, 3 points, 10 sticks
• Kuli, 2 red stripes, 2 points, 10 sticks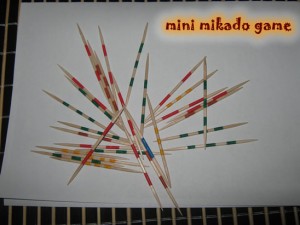 CRAFTS MATERIALS NEEDED :
– 31 toothpicks
– 1 zip-lock sachet
– paints
– paintbrush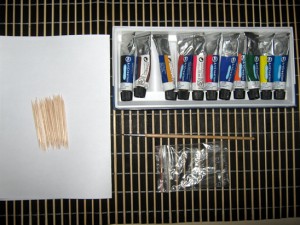 Step 1.
First, we'll make Mikado, the most important stick, so, with blue paint …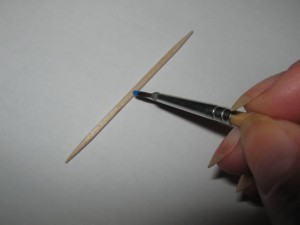 … make 1 blue stripe on the middle of the toothpick. Let it dry.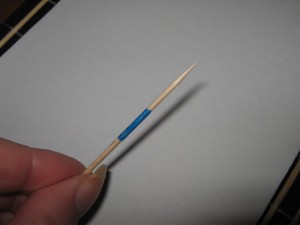 Step 2.
Now is the Mandarins time : with yellow paint make 3 stripes on the middle of the toothpick.
We must have 5 Mandarins so make another 4 toothpicks with yellow markings.
Step 3.
To make the 5 Bonzen sticks make 2 orange stripes on 5 toothpicks.
Step 4.
What's next? Oh, yes, 10 Samurai. With green paint make 3 markings on the middle of 10 toothpicks.
Step 5.
We have 10 Kuli to do so, with red paint make 2 markings on the last 10 toothpicks.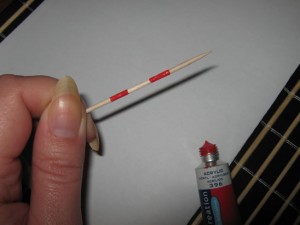 Let them dry well and the game is ready.
How to Play Mini Mikado Game
The sticks are bundled and taken in one hand that touches the table/ground.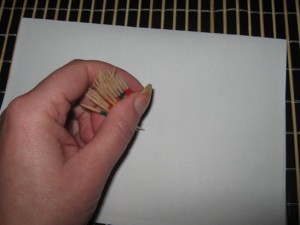 The release creates a circular jumble.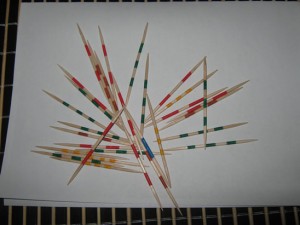 Now one stick after another should be taken up without moving/touching others. The take away could be by hand, possibly through pressing on a stick's tip or if one has already picked up a special stick (Mikado/Mandarin), it could be used as a helper, possibly to throw up another stick.
It is allowed to stand up on but not to leave the own place. A bad throw could be rerun and the rules should be kept strict in respect to moving sticks to enjoy the game.
On a fault the turn ends (the last stick taken is not counted). The next player bundles and drops the sticks again. After several rounds, normally five, the one with the highest score is the winner.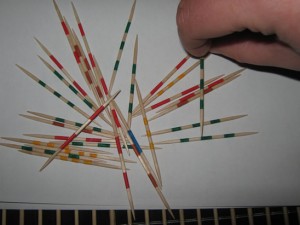 Storing Our Mini Mikado Game
Let's keep the sticks in the zip-lock sachet to be sure we don't lose them.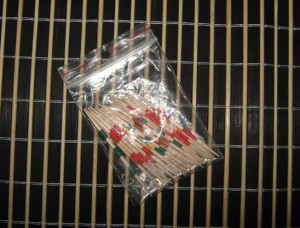 Technorati Tags: mikado, mini mikado, mikado game, making games, make games, how to make games, making toys, make toys, make mikado, making mikado, toothpicks, toothpick crafts