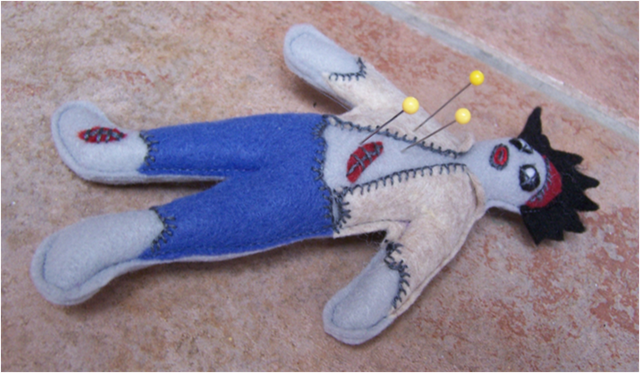 Just like Vampires started to become popular a few years back Zombies are now super popular.  We can thank shows like "The Walking Dead" for that.  Well, being that Halloween is just around the corner I thought that we can celebrate the popularity of zombies by listing some of the best Zombie Crafts I found on the internet.  Some of these zombie crafts are meant for children and others are meant for adults.  But, most of these zombie crafts are best done together…. both adults and kids.  Those are the best kinds of crafts…. the kind that you do together.  Take the time to look at these 10 awesome zombie crafts for Halloween I found while roaming online.  You are sure to find a few you like.
Check out our other Halloween Crafts.
10 Awesome Zombie Crafts for Halloween
(1)  Zombie Knitpocalypse
These dolls are absolutely adorable….. if you are into the zombie kind of dolls.  These are completely hand crafted.  If you are interested in getting the pattern and directions for this zombie craft make sure you check out Joey's House.
(2)  Zombie Pin Cushion
I absolutely love this zombie pin cushion.  And, if you are into zombies then you are going to totally love this Zombie Pin Cushion as well.  I found this zombie craft over at Art Threads and it's a great one.  She shows you tons of detail when explaining this zombie craft.
(3)  Zombie Jack-O-Lantern
I found this zombie craft over at Colt Monday.  I found this Zombie Jack-O-Lantern to be extremely creepy and wonderfully perfect for an outside Halloween decoration.  The site does not have detailed directions, but I thought maybe you could look at the large picture they have and model the cutting of your Jack-O-Lantern from the original picture.
(4)  Undead Pumpkins
Ok, I know what you are thinking…… these pumpkins are just way too cute to be zombies.  But, you would be wrong.  These are the undead pumpkins and you can find this craft over at Martha Stewarts's website.  Check out the site for all the craft details.
(5)  Zombie Eyeballs
Are you having a Halloween Party?  Well, then I have the perfect Zombie Craft for you.  Actually, it is a edible craft…. or rather a recipe.  I found this recipe over at Recipe Tips and I thought it was wonderful!!  The kids might be too scared to actually eat them, but isn't them being scared the whole idea?!
(6)  Zombie Dog Craft
This dog  is no longer alive….. or maybe I should say he is, but he is the undead.  I found this zombie craft over at Sadie Hart.  I loved it enough to include it.  You can find all the zombie details there….. she is very detailed.  It is an excellent step-by-step tutorial.
(7)  Zombie Brain Bowl
This is a great bowl for storing items in….. like jewelry or coins.  Really, it can be used for anything small.  But, I thought this craft was very fitting as we are listing all zombie crafts.  I found this zombie craft over at Cut Out and Keep.  I think it is a creepy little craft…. perfect for Halloween.
(8)  Zombie Arm
I have a great way to hand out candy…. and it continues with our Zombie topic.  Here is a craft that is a Masking Tape Zombie Arm perfect for holding candy.  Yummy!!  Plus, the Trick-or-Treaters will love reaching for their candy into this Zombie Arm.  Check out Hand Make My Day for all the zombie craft details.
(9)  Zombie Barbie
A Zombie Barbie makes perfect sense to me.  After all, if Barbie feels she can lead a glorious and glamorous life…. why couldn't she also  be bitten and become a zombie?  I t could happen.  I found this craft over at Geekologie and there you can find out how you too can take your barbie and make her into a zombie.
(10)  Zombie Marshmallows
Aren't these zombie marshmallow's just absolutely adorable?  What child (or adult for that matter) wouldn't enjoy eating one of these.  They are colorfully morbid…. perfect for Halloween.  These Halloween Zombie Marshmallow's will be perfect for any Halloween party.  Check out The Decorated Cookie for all the fun details.
Technorati Tags: Halloween crafts, halloween activities, zombies, zombie crafts, zombie activities, halloween zombies, halloween decorations