Thanksgiving is coming up pretty quickly.  I mean, it is just a few weeks away.  Now is the time to start working on your preparations for the Thanksgiving Holiday.  Today I will show you how to make Leaf Place Cards for Thanksgiving.  These Place Cards are a simple, but elegant.  Your Thanksgiving guests will love these lovely Thanksgiving Place Cards…. so much so that they will probably take their place card home to remember your beautiful Thanksgiving dinner.  Let's get started.
Check out our other Thanksgiving Crafts.
Laura from  Dacian Moon Handmade will show you how to make these Thanksgiving place cards.
Materials Needed
– cardboard
– red paper
– glue
– scissors
– gold paint
– pencil
– cotton swab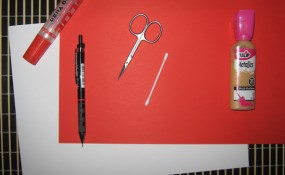 Step 1
Cut a square from the cardboard (with the side about 8 cm).
Fold it in half.
Step 2
Using the pencil …
… draw a leaf on the red paper…
then cut it out.
Step 3
Now we will decorate the leaf to look more real.
Trace a line of gold paint on the middle of it…
… and spread it with the cotton swab…
… like this.  Now, the leaf has the golden tone of an autumn leaf.
Next, we will trace the veins – start with the main one, in the middle…
… then the little ones, on both sides of it…
… like this.
Step 4
With the paint that is still on the swab, make some short, uneven lines on the edges of the folded cardboard…
… like this.
Step 5
Apply a small amount of glue on the right upper part…
… then place the leaf there.
The place card is now ready to decorate your Thanksgiving table.  Make one for each of your guests this Thanksgiving.  It will give your dinner a formal touch.
Technorati Tags: fall crafts, autumn crafts, Thanksgiving activities, thanksgiving activity, thanksgiving crafts, thanksgiving, thanksgiving crafts for kids, thanksgiving activities for kids, place cards, placecards, place card crafts, pilgrims, pilgrim crafts, keepsake crafts, Thanksgiving place cards