Home > Arts and Crafts Projects for Kids > Back to School Crafts > Last Day or School or Camp Crafts for Children
LAST DAY OF SCHOOL AND CAMP CRAFTS FOR KIDS : Here are some great crafts for last days when you want to have everything autographed
Below you will find many Last Day of School or Camp arts and crafts projects for kids who want autographs and other memory keepsakes. You would be suprised at how many cool crafts activities there are for Last Day of School Activities.
Make an Autograph Book for Last Day of School or Camp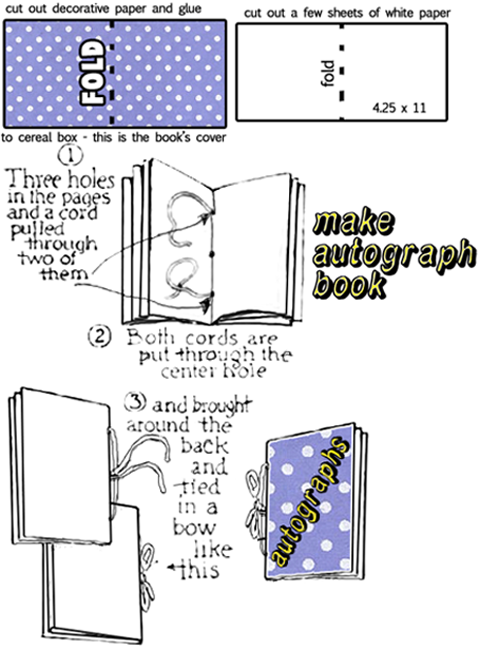 An autograph book is a must for the last day of school. It is really simple to make. Cut some white printer paper in half length-wise so that they paper is about 4.25" x 11". Also find some colored or decorative paper and cut a piece that is a bit bigger than the white paper. Also cut out some cereal box cardboard and glue the decorative paper to the cover. You can glue to both sides or just one side...it is up to you. Fold white paper and cover in half as seen in the picture above. Punch 3 holes in the pages and cover....as pictured above. Then pull string, yarn, or cord thru the center hole as seen in picture #2. Then bring around the back through the center hole and then tie in a bow. Cut out some magazine letters to say autographs...you might want to put the year too. Bring this to the last day or school and camp and have all of your friends sign it. You will be able to look back at this years from now and love the memories.
More Last Day Crafts Below

Autographed Bookmarks of Memories - This is a great bookmark to make at the end of the school year, end of camp, or other groups that have come to an end. Learn how to make these.

How to Make Camp Memory Key Chains - This is a great idea for making keychains that showcases what you did on summer vacation...or remembering camp or school friends, etc.

Mini Book Pendant or Necklace - This would make a great last day of school or camp craft - you can have everyone autograph this and remember that year forever.

T-Shirts and Autographed Handprints Keepsake - This is a great craft to make for last day of school or camp for keepsake memories.

Autograph Covered Log Wagons - Make these log wagons at Summer Camp and have everyone sign it on your last day so you can always remember your friends.

Remember Camp with a Log Wall Hanging - Remember camp forever with this log wall hanging.
OTHER SIMILAR CRAFTS PAGES YOU MIGHT LIKE
------------------------------------------------------------------------------
Decorate Your Binders and Notebooks Crafts
Decorate Your School Book Bags / Backpacks Crafts
Make or Decorate Bulletin Boards / Tack Boards / Cork Boards
School Work Organization and Homework Organizers Crafts
How to Make and Decorate School Book Covers Crafts
-------------------------------------------------------------------------------