Home > Arts and Crafts Projects for Kids > Musical Instruments Crafts for Kids to Make > Make Maracas & Musical Shakers Instruments
MAKE MARACAS & SHAKERS as MUSICAL INSTRUMENT CRAFTS FOR KIDS: Make Your Own Homemade Maracas and Noise Makers for Children, Teens, and Preschoolers
Maracas are musical instruments that are often used in hispanic cultures, such as Latin America. Maracas are often played in pairs and are considered percussion instruments. Often they are made from gourds, plastic, wood, or papier mache filled with lentils, seeds, rice, or beans. Maracas are often used to keep the rhythm and beat of music that is playing. They are great for parties and festivities. We have collected some great Maracas crafts...happy crafting and music making!
Make Your Own Maracas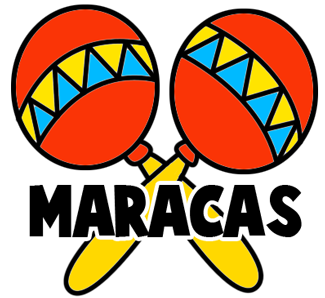 You can make your own maracas. Start off by blowing up a balloon until it is 12-14 inches around. Then tie it shut with a piece of string. Now make a mixture of flour, water, and salt (4 tablespoons flour, 1 cup water, and a teaspoon of salt). Cover your balloon with salad oil. Tear newspaper into 1 inch strips. Do the same thing with 8 paper towels. Now wet the strips into the flour mixture. Now wrap them around the balloon and smooth down with your fingers. Do this again with more strips until baloons are covered. Also cover 1/2 inch of the baloon's neck with newspaper strips. Now repeat the process, covering the baloon and balloon neck with paper towel strips, but in the opposite direction this time. Now do another layer with newspaper strips, again switching directions. Now cover the entire balloon with paste or flour mixture and hang upside down by string for about a day. Take string off balloon and pop the balloon and remove it. Add rice, beans, lentils, or split peas into maracas. Push a pencil or other stick-like item into the maracas. Now add another layer of paper towel strips, but this time also layer it around the pencil or stick. Add another layer of colorful pieces of paper from torn up magazines. Add paste or flour mixture again and let it dry. Now decorate the maracas with paint. Use shellac or Mod Podge after the paint is dry. Let dry completely.
Back to Musical Instruments Making Crafts

Make Musical Maracas and Rattles from Gourds - This is a fun craft for kids, parents, and teachers. Use gourds, amply grown in the Fall, to make musical instruments.

Rhythm Paddles - Find out how to make these from ping pong paddles, bottle caps, and nails.

Making Maracas & Rhythm Shakers - Find out how to make these maracas with a plastic container, a stick, and seeds / beans / rice.

Aluminum Can Musical Shakers for Kids to Make - - These homemade maracas will help your little ones develop a sense of rhythm.

Baraka Maraca Craft for Kids - - Shake Your Baracka! A friend told me that her two-year-old daughter has been referring to her maracas as "barackas". This made me laugh, of course, but it also made me think, "Why not? What a fun project." So now we have something to shake while we watch the Inauguration.

Beaded Maracas Craft for Kids - - Turn any party into a Fiesta with beaded maracas!

Make Child Maracas with Easy Instructions - - Create a maracas with the use of beans and paper plate.

Colourful Musical Shakers Arts & Crafts to Make - - Putting together this easy shaker is a great excuse to color some rice! It's also a sweet token.pngt for a young child to give to a baby or toddler. Keep some of the rice in the craft cupboard when you're finished – it's great for making colorful artwork.

Easter Maracas Making Instructions - - Use Easter stickers and maracas to make music during your Easter celebration. Our maracas look like eggs too!

Easy Maracas to Make for Toddlers & Preschoolers- - Recycle toilet paper rolls to make Maracas

Easy maracas Craft DIY Instructions for Youngsters - - This is a great and easy craft project to make. For very young children this activity can be simplified further by using stickers instead of cutting and sticking your own shapes.

Easy Shaker - - Any container can become a musical instrument simply by filling it with uncooked rice and giving it a good shake. Experiment with combinations of different materials such as barley, beans, lentils, sand, beads or small rocks to get a unique sound.

Egg Maracas - - Making musical instruments cannot get any more fun than maracas. Maracas can be made and played by anyone. By adding maracas to your ensemble, your family band's sound can only get spicier.

Egg Shaker Craft - - Egg shakers are a smaller version of the maracas. Musicians like to use egg shakers because they are small, cheap, and easy to pack around. You can use egg shakers to keep a beat, and to create rhythms as you slide them back and forth. I have created a simple version of an egg shaker that you can make with your kids. Hope you have as much fun as we did making them and shaking them!

Festive Maracas - - Recycle yoghurt cups into a pair of festive maracas.

Festive Mexican Shakers - - Celebrate Cinco de Mayo with these festive music makers.

Flower Shaker Craft - - Find out how to create this unique musical craft that looks like a flower.

Ghastly, Ghostly Noises - - Looking for a fun activity for Halloween, Mardi Gras, or the New Year? Kids can make noisemakers ahead of time to give as party favors.

Homemade maracas - - It's easy to make these rattlers for your kids that are fun to shake to the beat of their favorite music.

Homemade Maracas - - To make some noise and celebrate, here are some easy directions for homemade maracas.

Homemade maracas - - Maracas, also known as rhumba shakers, can be made of plaster, plastic, metal, wood and many other materials. This article will teach you how to make simple maracas with just a few household items.

Independence Day Shaker - - Make some noise this 4th of July with this easy peasy craft project!

Indian Maraca - - A defining characteristic of Latin American music, maracas (or rattles) add a lively percussive touch to any music. Maracas are often made of hollow gourds, leather, wood, plastic or even empty cans. American Indians and shamans use rattles during ceremonial rites. These maracas are usually made from small, hollow gourds. Indian maracas are relatively simple to assemble once you gather the materials.

Instant Noise Maker - - Follow these directions to make a fast and simple noise maker for any occasion. Depending on the treasures you use to fill your bottle, this noise maker can also double as an 'I Spy' game.

Laundry Detergent Cap Shakers - - Many toddlers and kids love to shake things - even toss things over a highchair or table. This is a great shaking instrument to entertain little ones, especially for babysitting excursions.

Maraca - - One of the simpler musical instruments to make are shakers. First, track down a suitable container. Choose something with lids or caps. For example, plastic drinks bottles, empty crisp tubes or cardboard tubs with snap-on plastic lids, like empty hot chocolate or coffee containers.

Maraca - - Maracas are hollow-headed, bead-filled, hand-held percussion instruments used in Latin music to keep the beat and add texture to the rhythm of dances and songs. Maracas, also known as rhumba shakers, can be made of plaster, plastic, metal, wood and many other materials. This article will teach you how to make papier-mâché maracas with a few household items.

Maraca Mania - - Go crazy celebrating Cinco de Mayo with Maraca Mania. Make these easy maracas and get dancing!


Maraca Pinata - - Celebrate Hispanic holidays, birthdays, or any festive event with Maraca Piñatas! Fill them with craft-y treats and bring on the Mariachi bands!

Maracas - - Got rhythm? You can make maracas with kids from many easily acquired materials. Though similar instruments exist all over the world, traditional maracas made of dried gourds originally came from Puerto Rico. The shaking of dried seeds inside the gourd creates the sound. Use any number of hollow containers with small items sealed inside to make your maracas. Decorate the outside in bright colors and get shaking.

Maracas - - Music is the spice of life in many Latin American countries, and live music is always a mainstay at authentic Hispanic celebrations. Many Caribbean residents embrace folk-derived calypso with its conga drums; Puerto Ricans emphasize rhythm with maracas; and Mexicans are proud of the country's tradition of mariachi bands, troupes of musicians that sing and use violins, trumpets, and guitars.

Maracas - - Kids will love to make music with these easy, homemade musical instrument crafts for kids.

Maracas - - Celebrate Cinco de Mayo and the wonderful rhythm of Mexican music by having the kids make their own maracas. It's a simple craft that will give kids hours of entertainment.

Maracas - - This is a great rattle rockin' musical instrument! Shake it, hit it, spin it any way you want to! Maracas are instruments used in South America, North America, and Africa, and are usually made with dried gourds and seeds.

Maracas - - Make your own shakable maracas to celebrate Cinco de Mayo! Use your imagination to create colorful and festive maracas to enjoy with your friends.

Maracas - - The maracas are a percussion instrument usually played in pairs and are made of plastic, wood, or leather (Indians in Columbia made maracas out of clay 1500 years ago). The maracas are originally from Puerto Rico.

Maracas - - Lead your own house band with these fun and festive maracas!

Mardi Gras Cup Shakers - - These Mardi Gras cup shakers are fun to make and produce a satisfyingly loud noise for your Mardi Gras parade!

Mardi Gras Noise Maker - - Instructions for making a festive, Mardi Gras noise maker out of paper plates.

Mardi Gras Shakers - - To make these Mardi Gras shakers you will need to raid the junk cupboard for supplies. Kids can use them in a very noisy Mardi Gras parade!

Merry Maracas - - One of the simpler musical instruments to make are shakers. Learn how to make this colorful one by following our easy instructions on the site.

Mexican Bird Rattle Craft - - In Mexico, paper mache rattles are popular during New Year's celebrations. The rattles are shaken to welcome the generous spirits of the new year and to drive away the unhappy spirits of past years.

Mexican Maracas with Household items - - Making your own Mexican maracas can be a fun and exciting project for you and your children. They are easy to make with things that you probably already have in your household.

Mexican Paper Mache Maracas - - This recyclable project may get your kids thinking of other projects they can make with household items, or better yet, with items from the recycling bin.

Mini-Maracas - - A no-carve craft to get you in the spirit

Mini Music Makers - - Easy to make from empty film canisters and craft sticks.

Mini Pumpkin Maracas - - Shake, shake, shake to the music with these cute little pumpkin themed maracas. A fun fall craft for kids.

Music Shaker - Making these cool little noisemakers is as much fun as using them. Kids 3-years old and older will enjoy this afternoon project.

Musical Macaroni Shaker - - In addition to being delicious with cheese, macaroni is also an excellent addition to many musical crafts. Macaroni makes for a good addition to a homemade musical instrument because it is small, hallow, and one of the less expensive of all the pastas (so you don't feel guilty using in a craft and not eating it).

Musical Maracas - - My first experience with papier-mâché involved a much-younger me, Halloween and a misguided plan to be a bunch of grapes. It wasn't my shining moment, but it did turn me on to the wonderful marriage of paste, newspaper and sticky hands. Twenty-five years later, when I passed this discovery on to my children, we made these maracas, and the kids were grinning to beat the band.

Musical Shaker - - Create a musical shaker similar to a maraca or an African shaker. A shaker makes a pleasant sound and is excellent for setting a rhythm with less emphasis than a drum.

Noise Shaker - - Here are some easy instructions for making a small noise maker using empty film containers.

Noise Shaker - - I came up with this project for a children's New Year celebration program that featured stories, poems, games and this craft. This "noise shaker" is handy for welcoming the new year or for accompanying your favorite song!

Noise Shaker Fourth of July Craft - - Invite your kid to make some noise this Fourth of July with a homemade patriotic noisemaker. Fill an empty paper towel roll with bells, jazz it up with some stickers and glitter, and shake it up!

Paper cup maracas - - Music is key to raising imaginative children. I agree with her 100%. Providing children with the opportunity to explore music, particularly in an experimental, non-structured way, is one of the greatest.pngts you can give your children. Making their own instruments is a great way to encourage this.

Paper Mache Maracas - - Looking for a project that will take your kids a little while to make? Maybe even two or three days worth of fun? Then try these wonderfully festive paper Mache maracas.

Paper mache maracas - - Paper mache is an easy, inexpensive and great way to recycle that old newspaper lying around the house.

Paper plate maracas - - Learn how to recycle and make wonderful noise with this art craft project!

Paper Plate Maraca - - This Paper Plate Maraca is an easy homemade instrument. Fill it with what ever you have around the house and you're ready to make some music! These also make great noise makers for special occasions!

Paper Plate Maracas - - A maraca is a Latin American and Tupi rattle. The original maracas were made from hollow gourds filled with pebbles or seeds. Children make these fun rattles so they can take part in the celebration of Carnaval!

Paper Plate Maracas Craft - - A maraca is a Latin American and Tupi rattle. The original maracas were made from hollow gourds filled with pebbles or seeds. You can make simple maracas from one or two paper plates stapled together, containing dried beans or popcorn. These are fun to make at a party for preschoolers - you can then make a lot of noise!

Paper Plate Noise Maker - - This fun paper plate noise maker craft is a perfect addition to any marching band and makes for a fun craft for a birthday or holiday party.

Paper Plate Rhythmic Shaker - - This craft is a great way to entertain children. It is art, music and rhythm all in one simple project. An enjoyable way to pass a rainy afternoon or to present as a class craft project.

Paper Plate Tamborine/ Maraca - - This craft project may get your kids thinking of other projects they can make with household items, or better yet, with items from the recycling bin.

Pasta Paper Maraca - - This pasta maraca is a fun project that children can make on their own. It is a quick craft that is great for a last minute noise maker.

Plaster Maracas - - Wrap plastic maracas with plaster gauze to make maracas that sound and look and sound like the real ones.

Plastic Cup Maracas - - You can make this inexpensive craft with simple items you already have. I

Rice-A-Raca - - Instructions for making a maraca out of a cardboard toilet tissue roll and rice.

Rice Maracas - - Kids love to make music, and they also love to make crafts. Making rice maracas helps them to do both. After you've made the maracas, put on some great dance music and let them go wild.

Rockin' Maracas - - The paper mache overlay on these maracas muffle an otherwise brassy sound. Kids will love the pleasant wood-like tone. Plan ahead, because you need 24 hours drying time.

Sand Dollar Shaker - - This paper craft uses one of the cheapest items that you probably have around the house in the summertime: paper plates. The best paper plates for this toddler crafts arethe small, dessert plates. White ones are perfect!

Seashell Maracas - - Here's a quick and easy tutorial for the fun project

Shake a Shaker - - Do you want to belt out a song, but need an instrument that will keep the rhythm and add to the effect? Why don't you try making a 'shaker' that will do the trick?

Shakers- - A small instrument with a big sound -- It's a shaker! You can fill it with beads or even pennies! When you make a cool shaker you have a cool sound that equals a cool rhythm! Shakers can be found around the world in many different forms, and are often used in dance and music celebrations.

Shekere - - Shake up your next celebration with our version of a Shekere (pronounced SHAY-ker-ray), an African percussive instrument used today by world music performers all over the globe.

Simple Shakers - - Little kids seem born to shake: rattles, juice in a sippy cup, their own groove thing. You can delight them with this simple homemade shaker crafted from -- because we know you've got no shortage -- a pair of laundry detergent caps.

Smiley Shaker Craft - - These directions are for making a unique shaker craft using candy and a milk jug.

Sound Shaker Instrument - - Create rhythmic sounds and some musical magic with this fun and entertaining craft activity. With the Sound Shaker Instrument, kids can make their own musical instrument.

The Fresh Beat Band Maracas - - Recycle and make music at the same time. These maracas are made from water bottles filled with rice. Get on your feet and shake to the beat!

Tiny Maracas - - Maracas are a fun Mexican "instrument." Maracas are a great activity on a rainy day, or even a family fun event! These are very easy, and unlike drums, won't give you a headache!

Water Bottle Maraca - - Dig through the recycling bin and make this Water Bottle Maraca, a great homemade musical instrument for children of all ages! These also make great noise makers for New Years, birthdays or other special occasions!

Yogurt Bottle Maracas - - Your little bambinos are going to cause a ruckus regardless, so you might as well make it a musical one! The sound of homemade maracas will be a lot more pleasant than that of your wedding china crashing onto the linoleum!

Yogurt-cup Shakers - - Shake, rattle, and roll with a set of these music makers.
Back to Musical Instruments Making Crafts