Home > Arts and Crafts Projects for Kids > Mother's Day Crafts for Kids > How to Make Mother's Day Jewelry Items for Your Moms
MOTHER'S DAY JEWELRY MAKING CRAFTS FOR KIDS : Ideas to Make Jewelry for Your Mom with Easy Arts and Crafts Activities & Projects for Children, Teens, and Preschoolers
Here are Mother's Day jewelry crafts projects for kids to make as gifts for Mom on Mother's Day. The following arts and crafts activities are for making handmade jewelry, necklaces, bracelets, pins, etc for Mom as presents or gifts.
BACK TO MOTHER'S DAY CRAFTS HOME PAGE
Make a Mother's Day Brooches Pin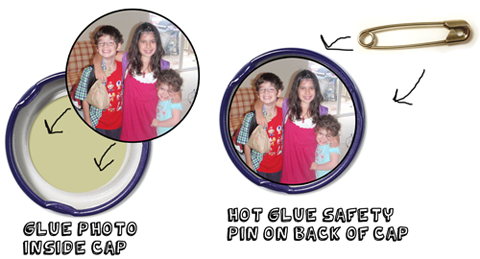 Your Mom will love this thoughtful gift and it isn't hard to make at all. Find a Photo that your Mom will love to look at. Ask your father or other parental figure (other than your Mom) if you are allowed to use it to make a beautiful brooch. If you are allowed to, then you will need to find a cap to use. You may paint the cap if you choose to or just leave it as is. Trace the cap on top of the photo...making sure not to cut off any faces. Then cut out the photo and glue it inside the cap. Cover your photo with clear glue or with a clear glaze. This will protect the photo from every day use. Next have your Dad or other adult help you to hot glue a safety pin or jewelry pin to the back of the cap. And that is all there is to it. Now you have made your Mom a beautiful jewelry brooch to wear every day! She will absolutely love it.
Make Mom Lockets / Photo Necklaces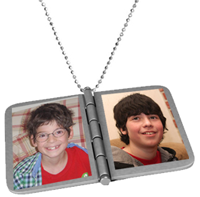 This craft can't be much easier. The only hard part is going to the hardware store to buy a hinge ... the shape and color that you like. You will also need a ball chain with fastener, you can also get this at the hardward store. Find a few photos for the picture locket. Find out which way the hinge folds in...as the inside is the place to glue the photos. Then have an adult help you by gluing the pictures to the inside of the hinge. If your Mom has more than 2 children, glue photos on the outside of the hinge locket too. Thread the chain through the hinge and you've got a pretty beautiful necklace. This looks like a real locket and your Mom will love it because it is not only meaningful and thoughtful but it is also beautiful to look at.
Make Decorative Pins for Your Mom

Decorative pins don't have to be made of gold or silver to be pretty. All the love that you put into this craft will make the shirt pin all the more beautiful to your Mom. Make different decorations and shapes from cardboard that you paint, cover with fabric or felt or decorative paper, or it could already be the color that you are looking for. For example...the flower above is just made from a large red cardboard circle and many smaller yellow circles glued together ... then some beads and a button were added for extra decoration. The 2nd picture above is a red cardboard circle with macoroni noodles as the petals to the flower and a button as the center of the flower. The first decorative pin above is a diamond cardboard cutout, wrapped with decorative paper. the center is a white button. When you have completed the pin, just have your Dad (or other helpful adult) hot glue a safety pin to the back so that your Mom can pin it on her shirt.
Even More Mother's Day Jewelry Crafts Below

Make Mom Jewelry Gift : Necklaces and Bracelets for Mother's Day - This is a cute idea for kids to make jewelry, such as bracelets and necklaces for Mom, Grandma or an Aunt on Mother's Day or a birthday. Girls especially seem to love this arts and crafts project because many girls love to sew with needle and thread and they love making and wearing jewelry. Either way, this is a lot of fun.

Make Mom Jewelry Gift : Necklaces and Bracelets by Making Paper or Fabric Beads - Did you know that you can make beads out of paper and / or fabric material? Well, you can.

Make Earrings with Sea Shells for Mom on Mothers Day - Sea Shell earrings turn out beautifully and they are very simple to make. Below you can find easy instructions for putting together earrings that are made from sea shells and earring clips. These would make a great gift for Mom or your Grandmother on Mother's Day.

Make a Beautiful and Colorful Cork Necklace- Paint corks in beautiful colors and use needle and thread to sew them onto 2 strings to make an elegant design.

Give Mom or Grandma a Chocker Necklace - Your Mom or Grandmother would love to receive this lace choker necklace for Valentine's Day. Learn how to make it here.

Make Mom a Plastic Straw Necklace - It is time to start thinking about making your Mom a gift. How about trying to make this pretty necklace for mother that can be made out of simple plastic straws. All you need is some yarn and some straws and some love for your Mom. The simple instructions follow.

Tissue Paper Flower Bracelets - Find out how to make these beautiful tissue paper flower bracelets with tissue paper and pipe cleaners.

Make a Necklace Gift for Mom or Grandma on Mother's Day - All Moms love jewelry made by hand from their babies (no matter how old you get, you will always be your Mother's baby). Here is a necklace arts and crafts project for kids. This jewelry is made from colorful cardboard, stiff paper, or construction paper. This makes a great, colorful, and thoughtful gift to make for your Grandmother or Mother.

Pendant Booklet That Opens Up Into a Daisy - Your Mom or Grandma will love this thoughtful necklace that holds a book that transforms into a flower. How pretty.
MOTHER'S DAY CARDS CRAFT IDEAS
MOTHER'S DAY FLOWER & GARDEN CRAFT IDEAS
MOTHER'S DAY JEWELRY CRAFT IDEAS