Home > Arts and Crafts Projects for Kids > New Year Crafts > New Years Eve Ball Dropping Making Crafts Arts and Crafts Projects Ideas for your Kids
NEW YEARS RESOLUTION CRAFTS FOR KIDS: Ideas to Make New Years Resolution Projects with Easy Arts and Crafts Activities for teens, children, and preschoolers
Below you will find New Years Resolution Making Arts and Crafts Projects Ideas for your Kids. Ideas to Make New Years Resolution Projects with Easy Arts and Crafts Activities for teens, children, and preschoolers
A Book of Family and Friends Resolutions & Hopes for the Year - Not to Be Opened Until Next Year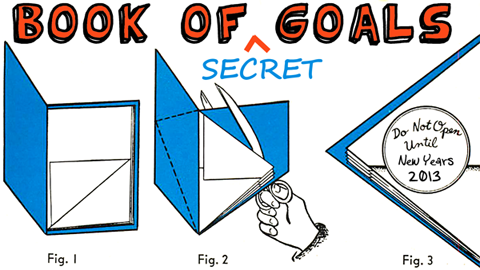 This idea is for a Special New Years Resolutions / Goals / Hopes Book that you keep sealed up until the following New Years. It is fun to look at all of your friends / family goals to see who kept their resolutions and who didn't. You can have fun and more fun with a book of secrets. First of all buy a dollar store notebook. Lay it on a table before you. Lift up the lower edge of the first page and fold it up along the place where the notebook is stitched together as in Fig. I . Do the same with the upper edge of the page. This double folding brings the page to a point. Repeat the folding process with each page in the notebook. When the folding has been completed, cut down the covers of the notebook with a pair of sharp scissors. This will change your rectangular notebook into one of a triangular shape as in Fig. 2. You are now ready to ask your friends and family to write their New Year's goals & hopes in your book of secrets. To do this each one unfolds a page, writes a message inside, refolds the page, seals it with a pretty sticker or seal, and then writes the date on which the sealed message is to be read as in Fig. 3. A book of secrets makes for a fun New Years Craft. You Might Enjoy Our Other New Years Crafts
Making New Year Scrapbooks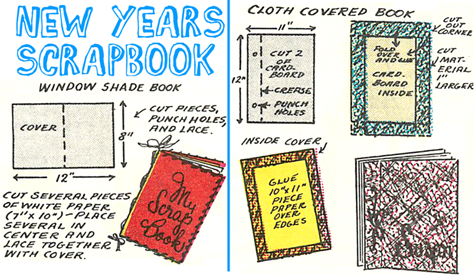 On New Years day, go back over all of your memories of the year gone by. Ask your parents to help you remember everything that happened this year. Maybe they can help you finding pictures from their Facebook account to help you fill up your scrapbook. This is a great way to remember and document your year. TO MAKE THE WINDOW SHADE SCRAPBOOK (1st Book): Cut three or four pieces of window shade material, (or any thick material such as a Barnes and Nobles Bag)to the pattern shown. Stitch at center with two thicknesses of colored yarn. Tie bows in yarn at each end.
CLOTH COVERED BOOK: Cut two pieces of cardboard to pattern shown. Bend about 1" from edge of cardboards to form a crease. Cut two pieces of burlap or cotton material about 1" larger than cardboards all around. Remove corners.
Glue material securely to cardboard pieces as shown. Punch holes 3" from top and bottom in front and back covers. Lace with heavy string, cord, or shoelace.
Draw a beautiful crayon design on paper. Place paper (design side down) on book cover, and ask an adult to press with a hot iron.
New Years Clock Calendars with Resolutions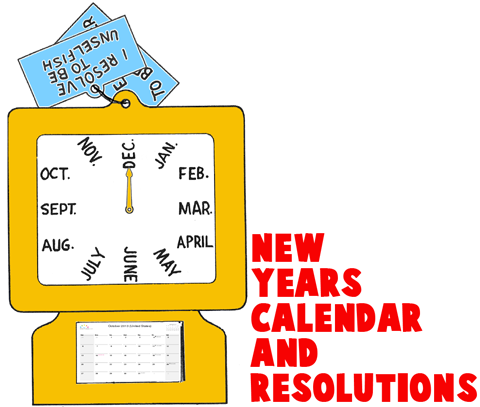 Start off by printing out this New Year Resolution Template 1 and Template 2. Draw clock pattern on any desired color construction paper and cut out. Color clock edge as you like, being sure to keep face plain. Instead of numbers, print in the twelve months. Draw and cut out two clock hands, using any bright color. Fasten in place with a paper fastener. Attach calendar in space below (Here is a place to print calendar sheets ... then click on 'create pdf'. When printing out, click on 'multiple' button and then under 'pages per sheet' choose '16'). On scraps of all colors, print your New Year's resolutions; suggestions are given here. Tie yarn to these and fasten to the back of the clock with cellophane tape. These "reminders" will hang out.
Even More New Years Resolution Crafts

New Years Resolution Reminders - Learn how to make the following New Years Resolution Reminder with cloth, textile paint, needle and thread, scissors, cotton pads, beads, and 9 paper clips.
You Might Also Be Interested in
Make New Year Ball Dropping Crafts
Make New Year Cards & Invitations
Make Noisemakers for New Years Eve