Home > Arts and Crafts Projects for Kids > Noise Maker Making Crafts Arts and Crafts Projects Ideas for your Kids
MAKE NOISE MAKERS WITH ARTS AND CRAFTS IDEAS & PROJECTS FOR KIDS: Make party noisemakers with crafts for children, teens, and preschoolers
A noisemaker is something you use to make a lot of noise...in most cases for fun, like at parties. Noisemakers could be rattles, clappers, horns, drums, and similar items. Below you will find Noise Maker Making Crafts Arts and Crafts Projects Ideas for your Kids. Find out how to make your own party noise makers with easy arts and crafts projects and the following decorations, instructions, patterns, and activities for children, teens, and preschoolers
Making Party Horns for Noise Makers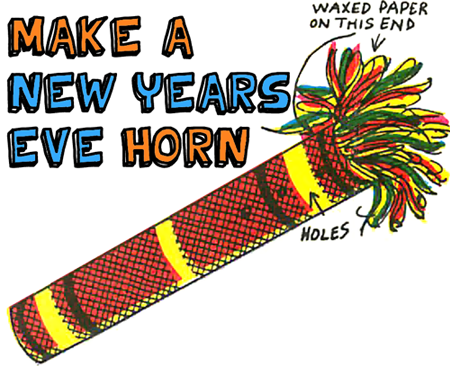 If you plan to party it up on New Years Eve then you will need a party horn to celebrate the coming of 2012 ... the New Year. To make this New Years Eve Party Horn, you will need to find a cardoard paper towel roll (better yet, a sturdier tube from a wax paper roll). Now cover one end of the cardboard tube with waxed paper. Then use a rubber band to hold it in place. Then decorate the sides of the tube with colored paper. Make three holes near to the covered end of the tube. Make these holes about 1.5 inches apart. Cut colorful tissue paper into strips and then glue these tissue paper fringes around covered end. Blown through horn by placing fingers over holes. Have fun and celebrate it up! You Might Enjoy Our Other New Years Crafts
Even More Noisemaker Crafts

Tin Lids Noisemakers for Celebrations - Make these handmade noisemakers that beat on 2 tin lids to make lots of noise on New Years Eve or on other celebratory events.

Halloween Spooky Ghostly Rattle Noise Maker House Decoration Craft - This is a fun arts and crafts project to use to scare Trick-or-Treaters when they get to your house. Hide behind a bush or something and pull the string to make a spooky, ghostly chains type of rattle every time a new visitor comes to your house. This can also be used to announce a new guest arrival to a Halloween party or to a Haunted House Party.

Make a Native American Indian Rattle - Learn how to make this native american noise maker.

Make a Noisemaker Instrument with Walnut Shells - Learn how to make this cool walnut shell musical isntrument.

Make a Firecracker Toy - While you are watching Fireworks, bring along this Firecracker toy to make noise along with the celebrations.
You Might Also Be Interested in