Home > Arts and Crafts Projects for Kids > Placeholder & Table Decoration Ideas Crafts for Kids
PLACEHOLDER & TABLE DECORATION CRAFTS FOR KIDS: Find out how to make your own party table place cards & table decorations with the following activities for children, teens, and preschoolers
If you're going to have a birthday party or a dinner party, you are going to need to have place cards. Otherwise the guest will argue with each other over where to sit. And we don't want that. So the way to fix all these problems is to make some place cards. Now you can just be boring and write everyone's name on a little piece of paper or card stock or you can get really interesting and make some out of the ordinary place cards. On this page you will find some creative ideas for unique place cards and placeholders. Have fun!
Make Cork People Placeholders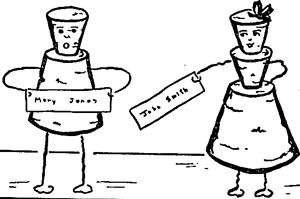 Make these Cork Place Card People Holders from the corks that come into the house on various bottles. You can make odd little girls, boys, women, men, and animals to hold these place card holders. Take a large cork for the body of a human figure. Select a small cork for the head and paint in the features. Hairpins may be used for the legs. Force the ends into the cork body, and bend the closed end of each pin to form the feet. These will make a wonderful addition to any party table. Just write the name of the person who is to sit at that seat.
Fun and Easy Pop Up Table Place Cards for Parties

Cut out a bunch of rectangle pieces of paper...one for each table placeholder card. Fold one of the rectangles in half. Then draw a crown at the top of the fold and cut the crown out (don't cut on the dotted line at all or the crown will fall out. Then draw a face under the crown and draw th person's name on the card. When you put the card up the card has a pop up crown.
More Placeholder Crafts Below

Make Thanksgiving Pilgrim Placeholder Cards - Everyone will know their place at the Thanksgiving table with these printable, foldable Thanksgiving pilgrim placecards.

Napkin Clips Placeholders and Recipe Clips - Learn how to use a clothespin to make recipe clips and napkin holders / placecards.

Canoe Dinner Placeholders - Remember that Native American Indians were at the first Thansgiving dinner...make canoe placeholders to remind you and your family of that.

Rocket Ship Placeholders - You can fill these rocket ships with treats and write a name on each one of these. You can then put it on the table in front of each person's chair.

Personalized Wire Named Placecards - Make these placecards with soft copper wire and some card stock.


Sheet Cork Placemats and Coasters - Use sheet cork for table decorations...find out how.

Paper Towel Roll Napkin Rings - These add a decorative flare to your table design. Add each person's name on them for placeholders.

Handy Placeholders - Forgot what you read last? Pick up right where you left off with this handy placeholder.

Turkey Place Markers - What better way to welcome your guests to the table than with a flock of these big-footed fowls! They are easy for kids to put together and make great holiday favors, perfect for holding notes, recipe cards, or a favorite photo.

Snowman Name Place Holder - This craft is a name place holder to help Christmas dinner guests to find their seat at the table. You can also use the snowman as a decoration or to give as a Gift .

Leprechaun Hat Placeholder - You can make sure everyone is sitting in their assigned seat for your St. Patty's Day party with these cute little leprechaun craft placeholders.

Thanksgiving Placeholder Craft - Here is a placeholder craft that includes making leaves from tissue paper.

Turkey Nut Holder - An egg carton in clever disguise, these individualized cups hold a nutty snack for young gobblers.

DIY Love Place Cards - These are awesome...everyone will love them. These are arrows and hearts for Valentine's Day.

Nested Eggs Placeholder - This is a great placeholder craft for your Easter dinner table...this craft uses nested plastic easter eggs.

Pilgrim Place Cards - Had the pilgrim children made place cards like these for their feast, names like Peregrine, Remember, Love, and Humility would have graced the table.

Study Buddies : Party Favor Placeholder Crafts Ideas for Children - Your kids will know their pens and markers are in good hands with one of these colorful desktop holders: standing guard over the stash is a familiar and friendly face.

Spikey Pompom Namecard Tutorial - Here is an adorable placecard for a girls party.

Cornucopia Place Cards - Make this place older for yourself and friends!

Canoe Place Card and Candy Holder - Set them out around the table to designate seating. Fill them with candy for a special treat.

The Name Card Holder - Make as many name card holders as you need.

Mini Fall Basket of Leaves - These little baskets make great place cards for Thanksgiving.

Thanksgiving Place Holders - These cute and festive place holders are perfect for Thanksgiving. Super easy to make, kids can put these together while dinner is in the oven. This craft provides a great way to get kids involved in the holiday festivities!

Thanksgiving Place Cards - Give your dinner guests a holiday surprise with these cut Thanksgiving place cards that are a great way to decorate your Thanksgiving table!

Angel Place Cards - Children can help decorate the Christmas holiday table with this fun and simple angel place card craft.

Easter Place Name Holder - This lamb craft makes a cute Easter place name holder for your Easter party.

A Simple and Stylish Placeholder - - This idea is so wonderfully simple without giving up an ounce of style.
You might also like ... Placemat Crafts