Home > Arts and Crafts Projects for Kids > Make Placemat Crafts Project for Kids to Make
MAKE PLACEMATS CRAFTS FOR KIDS: Find out how to make placemats with the following arts and crafts decorations, instructions, patterns, and activities for children
Below you will find how to make placemat crafts projects for kids. Find out how to make placemats with the following arts and crafts decorations, instructions, patterns, and activities for children
Make a Winter Placemat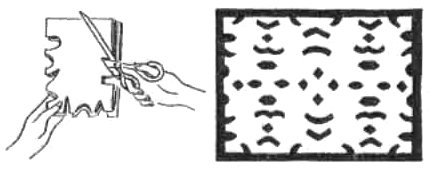 A very easy placemat making craft to make in the Winter time is to take a piece of paper and fold it in half 8 times. Then cut the edges with different shapes such as circles, triangles, squares, rectangles, etc. When you are done, open it up and you will see a beautiful design open up in front of you. Then take a piece of construction paper and glue the design to the construction paper. Then laminate it or cover it with contact paper to make a beautiful Winter placemat.
Weaving a Paper Placemat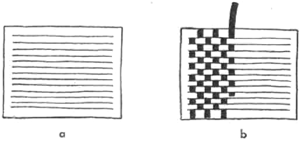 For each placemat two sheets of contrasting construction paper arc needed. If you don't have craft paper, white will do. Use one white sheet and color the other one with crayons. To make the base of the mat—the weaving sheet—take a ruler and draw lines lengthwise 1/2 inch apart, as shown in Figure a. Start the lines 1 inch in from the edge so there will be an even border all around. Fold the paper in half crosswise and cut the marked lines with scissors. Next take the contrasting sheet of paper and draw lines from side to side 1/2 inch apart (like in fig. a, but crosswise). Cut along them with scissors. You will have a number of narrow strips for weaving. Now take one of the strips and start weaving—slide it over, then under the strips of your weaving sheet all the way across. Push it tight against the top of the sheet. Take another strip and weave it exactly opposite to the way you did your first strip—where you went over, now go under. Continue like this, as shown in Figure 3b, until the entire sheet is woven. As you go along, push each strip up close to the one before. When the mat is finished, tape down the ends on the wrong side with clear tape so they will not slide out of place. Cover with Contact Paper or Laminate them. Seven-year-olds and over can make these mats pretty much on their own, with a little supervision when it comes to cutting. But under seven, children will need more assistance.
Picture Cut Out Placemats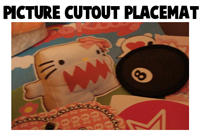 Try these for the next party. The children will have a lot of fun making them. They are so easy to do. All that is needed is a roll of wax paper, some brightly colored pictures cut from magazines, or some greeting cards, and some scissors. For each mat measure off two pieces of wax paper 9 by 12 inches each. Cut all around the edges with pinking shears to give an attractive finish. Then lay one sheet of wax. paper down flat. Arrange the pictures on this sheet, face up, lay the other sheet of wax paper on top, and have an adult go over the entire surface with a hot iron. The sheets will stick together with the pictures in between. If the party is planned around a special theme, choose pictures that will be appropriate to this theme. For a Christmas party, use the gayest of old Christmas cards arranged attractively. For a Valentine party, cut a big red heart from construction paper and place it in the center with four smaller ones near the corners. For a cowboy or Indian theme, cut appropriate pictures from old magazines. Or cut beautiful colored flowers from an old seed catalogue or pictures of birds in color.
Make a placemat of funny comics from the newspaper.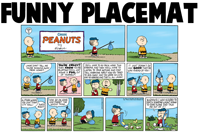 Some of the comic books, such as Donald Duck, have stories that are complete on one page. Tear these out and cut off the white border. Then put the mat together. Each guest at the party will have a complete story on his place mat. Cut your wax paper a little wider-10 by 12 inches—for these comic mats. That width will make it possible to seal the mat on all four sides.
Making Placemats with Wallpaper

Wallpaper can be wiped down easily so naturally they make a perfect surface for placemats. You can also add a morning-to-do list to the surface for remembering pre-school activities that need to get done. Or you can add a quote, prayer, or joke. Just do this by typing it on a slip of paper. Cut a piece of cardboard and piece of wallpaper to the size of 9" x 12". Then glue these together. Then you can glue the piece of paper to the top of the placemat and cover the paper with contact paper or clear tape.
More Placemat Crafts Below

Making Unity Placemats Crafts Activity - This is a great project to do while thinking about Martin Luther King Jr's famous "I Have a Dream" speech. Specifically the quote "I have a dream that my four little children will one day live in a nation where they will not be judged by the color of their skin, but by the content of their character.

Sheet Cork Placemats and Coasters - Use sheet cork for table decorations...find out how.

Autumn Place Mats Craft for Kids - Bring Autumn's beauty indoors with leaf-printed place mats.

Chalk Board Placemats Crafts Project - Give your home a school feeling…..

Placemat Organizer Crafts for Kids - Simple and quick stationary organizer made with one placemat. Keep all your writing materials in one convenient place. Great to use when traveling.

Placemat Backpack Crafts Activity - In easy steps you can have your own backpack!

Placemat Purse 2 Crafts Activity - Make your own creative purse using your very own placemat.
Placemat Hats Craft for Kids - Fine straw placemats make great hats and hat bases.

Placemat Purse 3 - Straw - Find an embroidered straw placemat, some coordinating fabric, a zipper and something for handles, and you are only a few stitches away from making this fun summer purse.
QuiltPox Quilted Squares Placemat Kids Craft - Along with a nice variety of other quilting patterns, learn how to make a placemat using 6 Churndash quilt blocks. Included are two different variations on finishing off your placemat and several ideas for block placement.

Christmas Card Placemat Craft for Children - Recycle last year's Christmas cards to make a placemat that will decorate your table this year.

"My Favorite Things" - Homemade Placemat Craft for Kids - How to create a homemade placemat, that's as unique as your child!

Kwanzaa Place mat Craft for Kids- Make a place mat to decorate your Kwanzaa celebration table. These simple-to-make woven construction paper place mats represent a straw place mat (called mkeka in Swahili).

Leaf Placemats - Collect Autumn leaves on a nature walk this fall, right on your door…

Personalized Placemats - Be imaginative and make a placemat from the things you like.

Christmas crafts - snowflake placemats - Are you looking for easy Christmas crafts to do with your little ones? Here is one that is sure to please.

Thanksgiving Placemat Craft for Kids - Thinking of hosting a thanksgiving party, then give this a try.

Valentine Placemats Crafts Project - Make your own Valentine Hearts Placematsand impress your loved ones

Winter Placemat Crafts Activity - This winter placemat in chilly winter colors is a paper weaving craft activity which kids of all ages will enjoy. It is fun to do and very effective, and of course you can add decorations and embellishments if you wish.

Springtime or Anytime Place Mat - Design your own springtime or anytime place mat. They are great for any occasion and will brighten your home.

Football Team Placemat - Create a placemat using your team's colors.
Autumn Placemat Craft for Children - Use real leaves and clear contact paper to make this easy placemat.
Greeting Cards Placemat Craft for Kids - From your Guide, make this special placemat by recycling old greeting cards.
Easter Placemat Arts & Crafts Activity - Make personalized placemats for your Easter dinner table.
Easter Time Tablecloth Arts and Crafts Project - Use these easy suggestions to make a fancy, home-made tablecloth.
Football Team Placemat - Create a placemat using your team's colors.

Ice Cream Cone Placemat - An easy craft using construction paper and clear contact paper that is sure to please you..

Kwanzaa Placemat - A colorful placemat to create and decorate your house.

Picnic Placemat - See a full color photo of this fun craft!
Thanksgiving Design Tablecloth - Use your creativity and these ideas to make a fancy tablecloth.

Thanksgiving Placemats - From your About.com guide, a personalized placemat.

Flower Placemats - Use real flowers and contact paper to make this great craft.
Mother's Placemat - Serve mom breakfast in bed using this special Mother's Day placemat.

Placemats and Neckties to Backpack - We are apparently obsessed with using placemats for purposes other than setting plates on! Earlier this year, we fashioned purses out of placemats, and recently, a craftygal pal Michelle Rogers turned a bunch of placemats into a backpack

Advent Wreath Placemat - The season of Advent is a time to prepare for Christmas. Kids can use this placemat as they count down the days!

Spooky Cats on Your Table - Liven up your family's meals with Halloween placemats and napkin holders. Kids' cat-creativity shines through as they design each one!

Heart-y Place Setting - Celebrate Valentine's Day, anniversaries, and other loving holidays in style. Design placemats and napkin rings with colorful hearts!

Dancing Dreidels Table Settings - Decorate for the festive celebration of Chanukah with these delightful, Dancing Dreidels placemats and napkin holders.

Wish Upon a Star Placemat - Set a special place at the table with this Crayola® Factory™ wishing star placemat. Sharing meals and dreams with each other can make everyone's wishes come true.

Pollock Placemats - You're a modern artist when you create these Jackson Pollock-inspired placemats.

Community Service Placemats - Put a smile on someone's face with your art work. Decorate placemats for soup kitchens and similar programs as a community service.

Mother's Day Mat - Children leave their own distinct mark on Mother's Day, or any holiday, with a thumb-print flowerpot placemat. Thumbs up to this creative, hand-made gift!

Brighten-Your-Day Placemats - Place others first and you'll make someone smile! Show you care by creating a placemat to donate to an agency that provides meals to people who are homeless, elderly, or disabled.

Holly Berry Place Settings - Need a winter holiday gift for a loved one, friend, or teacher? Make these decorative, personalized placemats and napkins rings.

Giving Thanks Placemats - What are you thankful for? Find out how gratitude played a role in historic Thanksgiving celebrations. Make your own placemat with historic images and your own message of thanks.

Women's History on the Table - Honor women who helped to shape our world. Create a place for great leaders at history's table.

Set Up Your Own Restaurant - Do you like going out to eat? Here's your chance to set up a play restaurant, decorate it in your own style, and serve your favorite food!

Shamrock Place Setting - Shamrocks bring families the luck of the Irish on St. Patrick's Day or any day. Serve shepherd's pie and other Irish delicacies with this festive table setting!

Wiggly Weavings - Multiply the wavy excitement of this easy wiggly weaving. Draw dramatic curls and swirls to top it off.

Wavy Weaving - Make your own wavy placemat, decoration for your room, or mat for framing a picture with this fun activity.

Mola Mural - Explore colorful fiber arts of the Kuna Indians. Work with classmates to create a vibrant Mola Mural to showcase contemporary and traditional motifs.

Umoja Mat - Weave a decorative placemat to demonstrate the Kwanzaa principle of umoja or unity among people. Celebrate this modern holiday by reaching out to others.

Fall Leafs Placemat - Proudly display your fall leaf placemats on your Thanksgiving table!

Crochet Christmas Holly Placemat - This crochet Christmas placemat is fairly easy to make. Go with the holly or replace it with some other accent, like flowers. And just by changing the colors, you can change the seasonal or holiday feel.

Dog Place Mat - Gift your dog a placemat for him alone

Woven placemat - wove your own mat and attach a picture to it to make it eye-catchy

Dream Place Mat - Make a place mat that shows your imagination, dreams and wishes.

Easter Egg Placemat - Set the table for Easter with your own Easter egg placemat creations.

Patriotic Weaving Place Mat Craft - Create a patriotic placemat for your Memorial Day barbeque picnic. Add a splash of red, white and blue to your holiday weekend.

How to make a YOYO placemat - Create these charming placemats for your dining room or kitchen table using handmade Yo-Yos.

Spring Place Mats - These Spring Place Mats make great gifts for grandparents and people in nursing homes, or use them yourself at mealtime. This craft project is great for Easter time.

Fun Placemat Purses - Decorative placemats can be turned into stylish purses in less than onu hour with easy-to-use handles and loops. Invite your friends for a purse-making party!

Recycled Placemat Purse - Tts's great. to try making their own recycled placemat bag.

Playdough Placemats - This placemat can be used for many other things too, like using markers or crayons to save your table, or even for dinner.

Rainbow Placemats - Make these paper placemats for birthday parties, a special dinner or just for fun. If you want to keep these longer, simply laminate them so they last forever and bring them out for many occasions.

Passover Seder Placemat - Make your very own Seder plate and laminate it for a fun and festive placemat. It's a great way to teach kids about the traditional Passover feast.

Make a Take-Along Placemat - Take your placemat along to the office, or to school with you, or make one for everyone in the family and keep them in the car for impromptu picnics

Spring Break Crafts: Pretty Placemats - Today you can make a pretty placemat as part of the Spring Break Table Top craft program. There will be a different project each day this week!

Cartoon Placemats - Kids will love to eat at meal time when they see their own name on their very own placemat.

Fashion Some Place Mats! - It's Friday so we're getting crafty! A Super Simple Way to Fashion Some Place Mats

Bejeweled Placemat Notebook - Young pirates and princesses will love their very own bejeweled notebook.

Chopstick Placemat - A simple but elegant idea—a placemat made of chopsticks! Find them at Asian supply stores, some party favor stores, or online. It's perfect for stir-fry meals or as a coaster.

Craft Project: Denim Placemats - These placemats could be given for gifts at any holiday or a housewarming present. Great for picnics! Enjoy!

Quilted Funky Place Mats - Quilt together a place mat sure to impress your guests.
Turkey Placemats - Make these turkey placemats for the kids to use during their special Thanksgiving meal. If you have time and energy, make enough for each family member!

Reindeer Placemat - This is an easy and fun craft that turns into a beautiful placemat to use for a long time. Using glitter glue dabbed onto your printed reindeer scene, this makes a classy gift that kids can make or you can give.