Home > Arts and Crafts Projects for Kids > Popsicle Stick Crafts
POPSICLE STICK CRAFTS FOR KIDS : make your own arts and crafts activities with craft sticks for children, preschoolers, and teens
I don't know why they even sell crafts sticks..it doesn't seem fair. Now when I want to build a house out of Popsicle sticks, my Mom will buy a big box of crafts sticks. That isn't how I like to do things around here. I like to eat an entire box of Fudgesicles or Creamsicles. It isn't fair. Well, now that I have an entire box of craft sticks, I might as well make some crafts with them. Where can I get some ideas? Look no further, this page is dedicated to crafts with Popsicle sticks & crafts sticks. Happy crafting!
How to Make Popsicle Stick Hot Pads or Trivets

To make this craft, you will need 20 popsicle sticks, glue, varnish (for hot pad) or shellac or White Glue watered down a bit, and brush. Lay 10 sticks closely side by side in an even row. Coat with glue. Lay the other 10 sticks going the opposite direction across the first row. Lay the first stick in the second row 1/4" away from the scalloped edge of the first row. This will leave .a scalloped effect around the plaque or pad. Let the glue dry thoroughly and then decorate by coloring a picture on it, painting it, or gluing a heavily colored picture or magazine picture in place. Varnish or shellac it (you can do this with several coats of glue watered down).
Wagon Wheel Craft Stick Hot Pads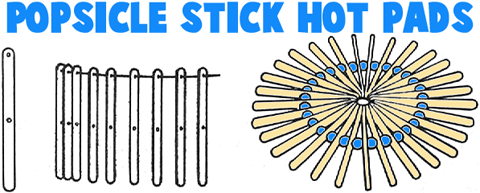 This craft is for older children and teens...or with a little parental help, younger children can do the 2nd part of this craft. You will need 29 ice cream sticks or wooden coffee stirrers, 3/32" twist drill, ruler, pencil, 29 wooden beads or round corks 3/8" diameter, long-nosed pliers, shellac, brush, and 24" wire. A parent should drill a hole 3/16" from end and another hole 2" from the first. (See sketch.) Be sure holes in each stick are exactly the same distance apart. Run wire through the end hole of all 29 sticks keeping them upright. Pull wire tight and fasten securely with long-nosed pliers. String beads between remaining holes. (See sketch.) Fasten wire and clip ends. Hot pads may be shellacked.
Popsicle Stick Picture Frames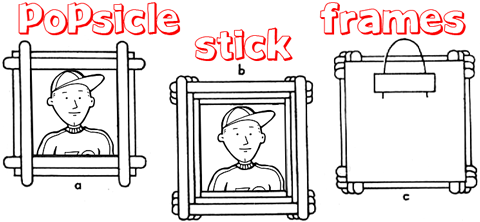 These frames are super cute and really easy to make. First glue a picture that is about 4 inches square (4 inches in both directions) onto a 4 inches square piece of cardboard. Let dry completely. Glue a stick on the right and left side of the picture. Then glue a stick to the top and bottom. Now glue a popsicle stick to the left and right again...and then to the top and bottom. Do this as many times as you want...the finished frame should look like the illustration b above. Shellac the crafts stick frame. When the frame is completely dry, tape a short piece of yarn on the back for the hanger (illustration c).
Craft Stick Wall Hanging Plaques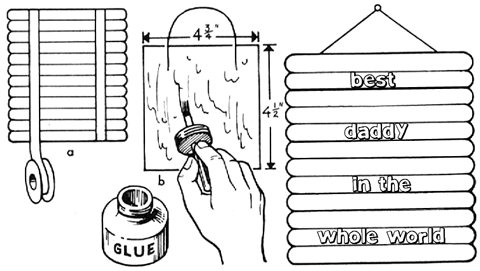 Lay 12 crafts sticks side by side and then attach them to eachother with rows of Scotch tape. Cut out a piece of cardboard that is the same size as the rows of popsicle sticks. Then cover one side of the cardboard with glue...then place both ends of the yarn onto the cardboard (as seen in illustration b above). Place the popsicle sticks, tape down, on top of the glued cardboard. Put something heavy on top of the popsicle sticks. Wait until completely dry. Then use macaroni letters or craft letters (such as foam) to spell something out on front of crafts sticks. Then shellac and let completely dry.
Even More Crafts with Popsicle Sticks

Thanksgiving Popsicle Sticks Decorational Centerpiece or Place Setting Card Craft for Kids - Popsicle sticks (aka crafts sticks or ice cream sticks) are easy to find. You can either save them up after eating popsicles or buy some from a craft store. Popsicle sticks are great for different crafts. Today we are going to share an idea for making a 'Happy Thanksgiving' Dinner Table Centerpiece or to use for each guest's place setting card.

Detailed Popsicle Stick Crafts - Who would think that with simple crafts sticks, you can make such a beautiful piece of art - this intricate basket.

Make an Egg Head Planter - This egg head planter has feet made of popsicle sticks. Find out how to make it by following the above link.

Popsicle Stick Flower Garden - Learn how to make this really neat flower garden with just popsicle sticks, an egg carton, scissors, paper, clay / play dough, and glue.

Use Forever Calendar with Printable Paper Foldable Boxes - This is an awesome craft ... print out the templates, then fold up. The base is made up from popsicle sticks.

How to Make a Valentines Day Mailbox with Popsicle Stick Flag - If you are in Elementary School, then you probably need to make a Valentine's Day Card Holder for your Classroom friends to place their cards into. Well, today we will show you how to make this US Mailbox with moving Flag to bring to school with you to share the love with your friends. You can use this later on to Store your special letters and cards in.

Popsicle Stick Trinket Box - You can make this popsicle stick trinket box for holding little things - called trinkets This trinket box makes for a great gift for someone special or keep it for yourself.

Making Popsicle Stick Santa Clause Christmas Tree Ornaments Craft for Kids - Make your own Santa Clause Ornaments decoration for your Christmas trees. This is just a sample Christmas Tree Ornament, you can use your creativity to make kings, angels and other Christmas characters using the same technique. Have fun.

Peeping Groundhogs Craft Activity with Popsicle Stick - Make this cute craft which shows the groundhog peeping out of his burrow as you celebrate ground hog day. The groundhog pops out of his burrow when you slide the Popsicle stick upwards, and it goes into hiding when you pull the stick down. The simple steps to make this craft follow.

How to Make Hanukkah Decorations Star Ornaments - Make this adorable Hanukkah star with some Popsicle sticks and glitter glue. They're so easy to make that you can make lots of them and hang them all over the house as you celebrate Hanukkah this year. Enjoy and have fun tonight and for the next week.

Turkey Plant Poke Garden Popsicle Sticks Thanksgiving Crafts - Plant pokes are a great way to brighten up and decorate plants in your house and gardens in your backyard. Now that Thanksgiving is getting closer, how about we make a Thanksgiving Turkey Plant Poke to decorate your garden. This turkey plant poke is easy to make and lots of fun to look at. Easy directions for this crafts project follow below.

Making Miniature Gardens - These miniature faux gardens are so cute...you will need an Ice cube tray, popsicle sticks, twigs, craft paper, crepe paper, green cellophane paper/ transparent plastic, scissors, and tape.

Popsicle Stick Christmas Ornaments - Learn how to turn a popsicle stick into a beautiful Christmas Ornament.

Viking Ships with Popsicle Stick Prow- Learn how to make this viking ship out of real wood, toothpick oars, cork shields, and popsicle stick prow.

Popsicle Stick Rudolph - Learn how to make the Rudolph the Red Nosed Reindeer out of crafts sticks.

3x5" Recipe Card Holder Craft with Wooden Craft Sticks - My son made this for me in Kindergarten, and here years later it is still the most used gift I have ever received! Also check out the 4 x 6" Recipe Card Holder Craft.

Bean Bag Animal Bed Crafts Project - Make a bed for your bean bag animal, Miniature figures, or other small stuffed animal with crafts sticks or popsicle sticks.

Birds of a Feather Bookmark Crafts Ideas - Instructions to make a bookmark that looks like a bird with crafts sticks / popsicle sticks.

Business Card Holder Craft Project for Children - Kids can decorate these charming Wooden Popsicle stick business card holders with stars, other Woodsie shapes, markers, felt, paint or construction paper.

Butterfly Valentine Craft for Kids - Make a Valentine's Day card that looks like a butterfly with crafts sticks / popsicle sticks.

Butterfly Wand Crafts Ideas for Kids - This is a great craft to do at a children's party. Before the party, glue all the pipe cleaners to popsicle sticks.

Candy Flowers Plant Clay Pot Crafts Idea- Create candy flowers in a terra cotta clay pot with popsicle sticks, a clay pot and more.

Candy Box Wooden Craft Sticks Craft for Kids - This is a box built up by stacking layers of craft sticks. Ask your kids what else they could make with this technique. A house with rooms? Could they make other shapes? How about a hexagon box? What about a triangle? The possiblities are endless.

Car or Train Tunnel Craft for Kids - Your child can add tunnels to their train setup for a fraction of the cost of store-bought tunnels. Craft foam trim adds a colorful rainbow effect.

Chenille Winter Kids Arts & Crafts Project - Wrap wireless chenille around jumbo craft sticks / popsicle sticks to make dolls with personality.

Classic Sled Crafts Activity Project for Kids - Create the perfect little ornament that your kids can make in a jiffy with crafts sticks or popsicle sticks.

Craft Stick Lantern Arts & Crafts Activity - You won't believe how nice these lanterns come out! Thanks go to my nephew Tyler for showing me this project. This is made with crafts sticks or popsicle sticks, oval woodsies, wax paper, etc.

Craft Stick Jewelry Box Arts & Crafts Project - Want to give Mom or Grandma a thoughtful gift she'll always cherish? Well, grab some craft sticks and glue because we're putting you to work at making this fun jewelry box that doubles as a cherished keepsake.

Crayon Sticky Note Holder Craft for Kids - This Crayon sticky note holder craft is not only practical, but it makes a great gift for your parent or teacher!

Craft Stick Snowflakes Arts & Crafts Ideas - Hang these pretty little snowflakes all around the house or classroom this winter. Follow these patterns or design your own using craft sticks or popsicle sticks and different shapes woodsies.

Craft Stick Christmas Tree Ornament - Here's a simple little craft that everyone will love to make and give.

Craft Stick Mummy Crafts Activity for Kids - Party guests are sure to get wrapped up in this activity: crafting mini mummies to take home as favors when the festivities are over ... made with craft sticks or popsicle sticks.

Craft Stick Kitty Refrigerator Magnet - This is an adorable kitty cat made from craft sticks and chenille stems.

Craft Stick American Flag Craft - This is a simple-to-make US flag made from craft sticks / popsicle sticks.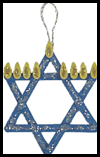 Craft Stick Star of David Arts & Crafts Project for Kids - It's a Star of David and a Menorah made from from a few simple craft supplies

Craft Stick Angel Craft Ideas for Kids - Make a cute little angel from craft activity sticks / popsicle sticks, buttons, and more.

Craft Stick Treasure Box Crafts Ideas for Kids - Treasure boxes are a terrific party or camp craft that is made with craft sticks or popsicle sticks.

Craft Stick Trinket Box Arts & Crafts Ideas for Children - Turn craft sticks into a log- cabin-style container for jewelry, hair ties, or small collectibles.

Cross Necklace with Wooden Popcicle Sticks - Our church has Easter crafts each year for the younger children. This craft was very popular with the children. I have typed up the directions to help groups set this craft up. The project requires the use of a drill. Once the project is assembled, it is easy for young children to make.

Crossover Bridge Craft Idea for Kids - This decorative Popsicle stick / craft stick craft isn't just ideal for scouting crossovers. Your kids can start creating their own town with this recycling project.

Crossover Cub and Boy Scout Friends Decorations - Personalize your Crossover Cub and Boy Scout decorations with this fabulous two-step Popsicle stick craft or craft sticks craft.

DragonFly Craft Stick Craft Ideas for Kids - Make yourself a dragonfly using a popsicle sticks / craft sticks.

Ghoulish Stick Figures - If you are looking for last minute Halloween crafts, you've come to the right place! These adorable little monsters have personality of their own. Made from simple items such as ice cream sticks and tempura paint, they're sure to be a hit with your kids.

God's Eye Craft Activity for Religious Christian Kids - A craft from the Huichol tribe of Mexico, kids can easily create many of these colorful God's Eyes with Popsicle sticks and yarn.

Haunted House Centerpiece Crafts Project for Kids - So spooky! Just what you need for your Halloween party. Make this Halloween House with Craft Sticks or Popsicle sticks.

Here Comes The Sun Mask Craft Activity for Children - Welcome the warm weather with this easy to make mask. Its as good as gold with popsicle sticks / craft sticks.

Holiday Picture Frame Craft Activity for Kids - Make a Picture Frame with Popsicle sticks; craft glue or hot glue gun and glue sticks; Creative Hands® Mini Forms (assorted holiday pack); green and red markers or paint.

Hop On In Frog Doorhanger- Make a cute doorhanger from popsicle sticks / craft sticks.

How to Make a Cool Catapult Crafts Activity Toy - This shows how to make a neat catapult.It is fun to build/play with on a rainy or boring day.If you want a game to play launch marshmallows into someones mouth.Sorry I only have one picture.My sister(she has the camera) doesn't understand the concept of a good instructable.She suggested that I make an instructable without pictures! I convinced her to take at least one.You are saving a bottle cap from the waste stream so it is somewhat green.I am kinda trying to win a contest here,so vote if you like it!

Kitchen Utensil Holder Craft Ideas for Kids- Make a Kitchen Utensil Holder out of Craft Sticks / Popsicle Sticks. This make a great gift for Grandma or Mom.

Lincoln Sticks: Popsicle Stick Log Cabins Activity - This instructable will show you how to make the Lincoln stick pieces and then detail the designs of two "log cabin" structures that I built out of them. I welcome any and all comments or suggestions!

Mardi Gras Noise Maker Craft Activity for Kids- Instructions for making a festive, Mardi Gras noise maker out of paper plates, craft sticks or popsicle sticks..

Model Sailboat Craft with Wooden Craft Sticks - This ship-shape little sailboat is a snap to make. Kids will love how fast it comes together and how sturdy the finished product is.

Posable Action Figure or Doll Craft for Children - This little buddy stands, sits, and bends every which way. Kids can twist it around a desk lamp, hang it from a doorknob, and make it hold up pencils or markers. How will your child use it? Make with Wooden Craft Sticks.

Patriotic Jingle Wand Craft Ideas Activity - Wave it at around at your next patriotic celebration and you'll jingle all day long. Make this wand with craft sticks or popsicle sticks.

Pencil Holder Crafts Ideas for Children- Make a cute pencil holder with popsicle sticks or craft sticks with a cool crafts activity for kids.

Peek-a-Book Groundhog Crafts Activities - Instructions for making a Peek-A-Boo Groundhog puppet with crafts sticks / popsicle sticks.

Peppermint Candy Frame Craft Activity Ideas- Make a Peppermint Candy Frame from Peppermint Candies, jumbo craft sticks, tacky glue, card board, and a photograph or drawing to put in the picture, clear acrylic spray.

Plant Pals Craft Activity Ideas- Make these cute little plant pals out of popsicle sticks or craft sticks.

Polar Coasters Crafts Idea - Economical coasters are pretty and fun to make with popsicle sticks or craft sticks.

Popsicle Stick Basket Crafts Activity - One time a long long time ago, at a summercamp I learned to make a basket out of popsicle sticks. While it may look time consuming it only takes about 45 min for a first timer and less than 30 minutes if you made a few. Once completely dry it is surprisingly strong.

Pumpkin Head Mask Craft for Kids - Make a Pumpkin Head Mask- Playful or Fearsome- You decide

Lincoln Log Cabin Craft Ideas for Children - A simple-to-make Lincoln Log Cabin with popsicle craft sticks or popsicle sticks to celebrate President's Day.

Popsicle Stick Star of David Craft Activity for Jewish Kids - Add a light touch to your Hanukkah celebrations and get kids involved with this popsicle stick Star of David. This craft is fun, easy and quick to make.

Skinny Chicks and Bunnies Arts & Crafts Activities for Kids - Use Easter stickers and craft sticks to make chick and bunnies. They make great bookmarks! This is made with craft sticks or popsicle sticks.

Shamrock Trinket Box Arts & Crafts Project for Kids - Make a craft stick box to hold all your good luck charms. Make this Trinkets Box with craft sticks or popsicle sticks.

Snapping Alligator Craft for Kids - By making this alligator, kids will have a chance to measure and cut wood, sand, paint and add finishing details. They will learn to make a joint that springs open, and joints that flop around when they shake their alligator. See if they want to try to use these techniques to make other animals they design themselves.

Snowmen Fence Craft for Kids - If one snowman ornament just isn't enough, try this snowmen fence. This Popsicle stick craft is a fun winter or Christmas activity for kids.

Star of David with Popsicle Sticks - Make a beautiful Star of David with Popsicle Sticks / craft sticks.

Tiny Easel Arts & Crafts Ideas for Kids - Give small-scale art a fitting gallery treatment with this craft-stick easel, made with crafts sticks or popsicle sticks.

Waste Not Picture Frame - Have an old puzzle that is missing some pieces? How about some photographs that need framing? If you said yes, then you and the kids have a fun project ahead of you! These easy and personalized frames make wonderful gifts for relatives.

Wishing Well Crafts Activity for Kids - Instructions for making a miniature wishing well using a tin can and popsicle sticks.
CRAFTS WITH STICKS, TWIGS, & TREE BRANCHES FROM NATURE