Home > Arts and Crafts Projects for Kids > Wood Crafts, Crafts with Wood and Woodworking
WOOD CRAFTS for KIDS : Ideas for Woodworking Activities, Projects, & Arts & Crafts Instructions for Children, Teens, and Preschoolers
Below you will find many wood crafts for kids. These crafts made with wood, such as woodsies, toothpicks, blocks of wood, craft sticks (popcicle sticks), and other types of wood are a great way for kids to learn about safe woodworking. You might want to start with our Woodworking Techniques Guide.
Make Wooden Spoon Horses or Mules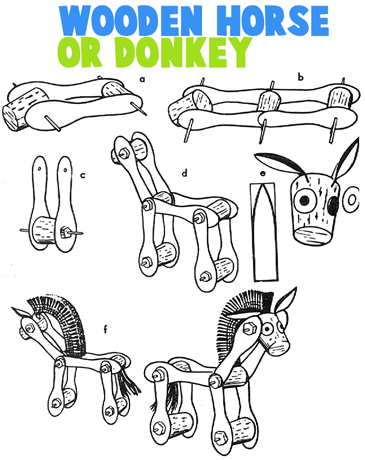 (PARENTAL HELP NEEDED) If you are younger than a teen, then you will need an adult to help you with this project. 8 small 3" wooden spoons like those used with ice cream cups; 5 round toothpicks; 1 cork 1" in diameter; 4 corks 3/4" in diameter and 1" to 1 1/4" long; 5 very small corks (1/4" to 3/8" diameter) or 1 large cork from which 10 smaller pieces 1/4" thick can be cut; 2 red thumbtacks; 2 gummed reinforcements; 1" square black construction paper; 3 1/2" length of black fringe; 1 pin; 1/2 yd. black yarn; knife; small drill; glue. Drill carefully (to avoid splitting) a hole in both ends of each spoon : 1/2" from wide end and 34" from handle end. To make head and neck of mule, push a toothpick through large end of largest cork, then attach a spoon (wide end) on each side. Cut smallest corks in half (or cut small pieces from large cork) and fasten a piece on each end of toothpick. Cut off toothpicks so they extend about 1/16" beyond cork pieces. Place medium-size cork between narrow ends of spoons and insert toothpick (sketch a). Push toothpick through cork from top to bottom. To make body, attach narrow ends of 2 spoons to neck spoons (sketch b). Place cork between opposite ends of spoons and insert toothpick. Make legs by fastening 2 remaining corks between wide ends of spoons (sketch c). Add small cork pieces and trim toothpicks as when making head. Attach legs to body (sketch d), adding cork washers and trimming off toothpicks. Fasten the red thumbtacks in head cork for eyes and paste a gummed reinforcement over each. Cut 2 slits in cork above eyes and insert ears cut from pattern given in sketch e. Cut yarn in 4" lengths and loop over cork for tail (sketch f). Attach piece of fringe to head with pin, then glue other end to shoulder cork. If necessary, trim fringe for suitable mane.
More Crafts with Wood Below

Woodworking Techniques - Some basics that you should know about woodworking such as hammering, making a bench fork, and cutting inside shapes.

How to Whittle Wood - Now this is a dangerous craft so you have to know the right way and the wrong way to do it. Safety is very important so you ALWAYS need to have ADULT SUPERVISION for whittling wood.

Make Your Own Wooden Upholstered Dollhouse Furniture - Make your dollhouse furniture with wooden blocks, cotton balls, and fabric or felt.

How to Make a Wooden Ring the Stick Game - Make this fun game with a wooden stick and a cardboard tube.

Wooden Tin Can Bird Houses - Learn how to combine a tin can with wood to make an amazing birdhouse. This is a great project to do with Mom or Dad, at woodshop, or at Summer Camp. Bird will love their new home.

Wooden Sailboats - This is a great first-time woodworking project to make with your child...easy enough for first-timers. The sail can be made out of wrapping paper or sheet cork.

Square Weaving Looms - Find out how to make a square wooden loom with nails...then learn how to weave on it.

Mini Chinese Checkers Game - Here is another woodworking project - find out how to make this child-size Chinese Checkers game.

Autograph Covered Log Wagons - Make these log wagons at Summer Camp and have everyone sign it on your last day so you can always remember your friends.

Wood Pocket Checkers - Have your parents help you with this woodworking project to make a pocket set of checkers.

Toss The Ring Game Making - Make this fun toss the ring game with spools and a block of wood.

How to Make a Wood Cup Catching Game - This is a fun boredom-buster type game...find out how to make it with the following instructions.

Viking Ships - Learn how to make this viking ship out of real wood, toothpick oars, cork shields, and popsicle stick prow.

Making Wooden Hole-in-One Game - A great first-time woodworking project for kids. Use a cork, bead, or ball as the object to catch.

Wood Pocket Tic-Tac-Toe Game - Learn how to make this fun woodworking project.

Wooden Poodles - Taking a block of wood and cutting a poodle shape out of it...and then whittling it down to look 3-dimensional is difficult to do. Find out the techniques with this step by step tutorial.

Make a Stern Wheeler That Has Working Paddles - This boat really runs on a motorized paddle ... that works with a rubber band. This is a woodworking project and requires parental assistance.

Paper Twirler - Make this fun paper twirler with some wood blocks and some paper. It can be made in minutes but you can play with it for hours.

Dog Tags & Zipper Pulls - Find out how to make zipper pulls and dog tags out of wood...great for a Summer Camp Craft.

Wood & Plastic Tube Thermometer Banks - Make a unique thermometer-looking bank using wood & a plastic tube.

Make Wood Rings - This is a terrific craft idea for woodworking class at school or for Summer Camps.

Multiple Candleholder Crafts - Learn how to make a few different types of candle holders.

Wooden Christmas Trees - Here is a christmas tree to make in wood shop or with one of your parents.

Tin Can Bookends - These bookends are made out of plywood and flattened tin cans. This is a craft hat requires parental supervision.

Remember Camp with a Log Wall Hanging - Remember camp forever with this log wall hanging.

Block Buildings Craft Activities - Help your kids create their own miniature city with block buildings that look just like the ones in your town.

Candy Box Wooden Craft Sticks Easy Directions - This is a box built up by stacking layers of craft sticks. Ask your kids what else they could make with this technique. A house with rooms? Could they make other shapes? How about a hexagon box? What about a triangle? The possiblities are endless.

Car or Train Tunnel to Make Tutorial - Your child can add tunnels to their train setup for a fraction of the cost of store-bought tunnels. Craft foam trim adds a colorful rainbow effect.

Marionette Puppet Toy for Kids - With a little practice, your kids can perform their very own puppet show with these marionette puppets.

How to Make a Yo-Yo Woodworking Plans for Children - Here is a great example of the power of doing it yourself. Despite also owning a few high-tech yo-yos, this homemade yo-yo is the one I use most often. The size and shape are all custom fit to my hand. Most importantly, the fact that I made it incorporates a level of satisfaction to yo-yoing that a manufactured yo-yo cannot match. This is a simple and classic project that also makes a great gift, and you won't believe the functionality that you can create.

Model Sailboat Craft with Wooden Craft Sticks - This ship-shape little sailboat is a snap to make. Kids will love how fast it comes together and how sturdy the finished product is.

Posable Action Figure or Doll Project for Children - This little buddy stands, sits, and bends every which way. Kids can twist it around a desk lamp, hang it from a doorknob, and make it hold up pencils or markers. How will your child use it? Make with Wooden Craft Sticks.

Snapping Alligator Activity for Preschoolers & Toddlers- By making this alligator, kids will have a chance to measure and cut wood, sand, paint and add finishing details. They will learn to make a joint that springs open, and joints that flop around when they shake their alligator. See if they want to try to use these techniques to make other animals they design themselves.

The Free Catapult Plan (Parental Supervision) - this plan shows the layout and design of the Table Top Troll Catapult. It is an easy to make catapult that is powered by rubber bands and has a base that is twelve inches (12") in length.

Toothpick Shark Sculpture - You need patience and a steady hand to create this toothpick shark sculpture, but your kids' amazement is well worth the effort.

Toy Boat Woodworking Easy Guide - Toy boat, toy boat, toy boat! How'd you do? This week we have a wood project for the kids that will need an adult's assistance. We made these toy paddlewheel boats as kids and played with them in the big pond we had at the back of our property. You can have that same kind of fun with this easy to build paddlewheel boat. Make these with your friends and have boat races.

Toothpick Architecture Easy Guide - With toothpick architecture, you and your kids can create a tiny city, geometric shapes, or a circus tent with clowns. This art craft lets you build whatever your imagination dreams up!

Toothpick Dolls - These tiny toothpick dolls can keep your kids company wherever they go. Slip them into your kids' pockets, notebooks, or schoolbags for a friendly hello during the day.

Toothpick Treasure Box - Learn how to make a Toothpick Treasure Box.

Wooden Traffic Signs Ideas - These traffic signs are fun art crafts to make for toy cars. They're also a great way to teach kids all their road signs.
CRAFTS WITH WOOD & WOODWORKING FOR KIDS CRAFTS - VARIOUS CRAFTS FOR CHILDREN
Make a Pinwheel Craft - Learn how to make a pinwheel craft with your children with a pencil or wooden dowel.
Make a Sundial Craft with Wood Craft for Kids - An ancient way to tell time was to use the sun and the shadows it casts.
Measure Me Strip Craft for Children - A Measure Me Strip takes only a short time to make, but it gives your kids years and years of measuring fun.
Nail Board Craft for Kids - Hammer nails into a piece of board. Allow your child to create a design by wrapping string or colored elastic bands around the nails.
Sandpaper Play Craft for Kids - Teach your child about sculpture by letting him create art out of wood scraps.
Totem Poles Craft for Kids - Native American tribes carved totem poles to record their family histories and legends. Your family might enjoy creating this totem pole that depicts your own legends and accomplishments.
Wheels from Waste Craft for Kids - Your little NASCAR fans will enjoy making these specially designed race cars from dish-detergent bottles, wooden wheels, and wooden dowels. You might want to try making more than one and racing them to see whose car is the fastest.
WOODWORKING FOR KIDS - ARTICLES FOR PARENTS
Wooden Play Furniture Craft for Kids - Your kids can create their very own home with play furniture made from blocks of wood. Work with them to craft a couch, chair, table, television, and clock.
Woodworking for Kids - A seasoned woodworker and teacher explains the importance of setting up woodworking programs in schools
::::::::::::::::::::::::::::::::::::::::::::::::::::::::::::::::::::::::::::::::::::::::::::::::::::::::::::::::::::::::::::::::::::::::::::::::::::::::::::::::::::::::::::::
CRAFTS WITH STICKS, TWIGS, & TREE BRANCHES FROM NATURE
CRAFTS WITH POPSICLE STICKS / CRAFTS STICKS