Artists Helping Children's Professionally Painted Murals - Donated to Children's Hospitals, Shelters, Sick Children's Rooms, Foster Homes, etc.

Here You will find professionally painted murals that we had painted in Children's Hospitals, Shelters and Sick Children's Rooms.
Home > Professionally Painted Murals Donated by Artists Helping Children
Below you will find pictures of some of the professionally painted murals that we donated to various Children's Hospitals, Homeless Shelters, Ill Children's Rooms, etc.
NOTE!!! Artists Helping Children is No Longer Acting as a Nonprofit Due to the New Provisions of The Pension Protection Act of 2006 Passed on August 03, 2006. We Are No Longer Accepting Donations of Any Kind.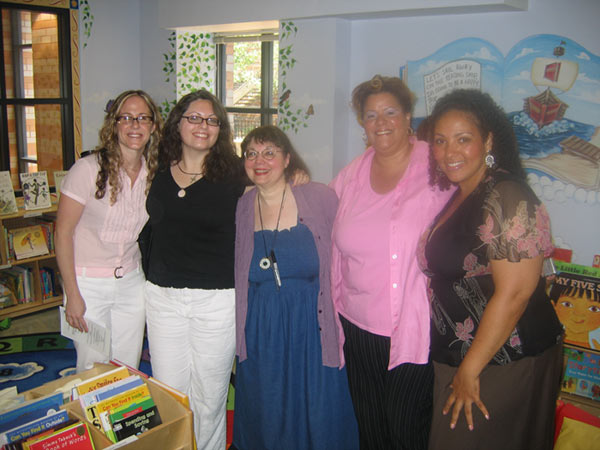 Bank Street Head Start Library's Children's Room Used for Head Start. This mural is a story book themed room and is gorgeous. The very talented and big-hearted artists who completed this mural are Lauren Rudolph, Tara Macolino, Didi D'Errico (Artists and Project Coordinator), Nereida Martinez, and Azariah Solomon.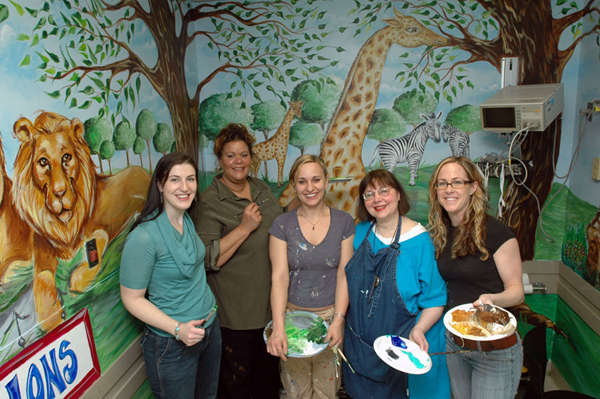 Thanks to Talented Photographer: Frances M. Roberts

(From Left to Right) Anna Eckhardt (Mt. Sinai's wonderful Child Life Specialist ), Nereida Martinez, Tania Corse, Didi D'Errico, & Lauren Rudolph. With the leadership and creativity of Artist and Head Organizer, Didi D'Errico, This Zoo-Themed mural at Mt. Sinai has become a complete success. The beauty of this mural has transcended all that we have done so far, and we can't thank these artists enough.

Click Here for More Details About the Mural.

AND

Page Number 2 of the Mt. Sinai Zoo Mural.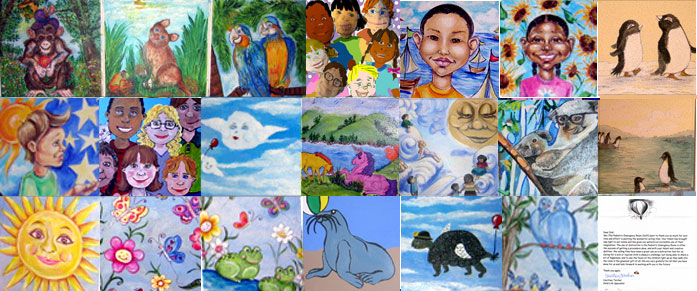 Didi D'Errico (Artist and Coordinator) organized this very special project to paint ceiling tiles for the New York Presbyterian-Weill Cornell Medical Center's Pediatric Emergency Room. These beautiful ceiling tiles have converted a sterile, intimidating Pediatric Emergency Room into a Fascinating and attention-grabbing Emergency Room. Meet the Artists Behind this Very Special Project. (Note: The above image is a montage of all of the ceiling tiles that were painted...this isn't an actual photograph of a ceiling.). Click through to Find out More about these wondeful artists and about the NY Presbyterian Ceiling Tiles Project.
| | |
| --- | --- |
| | |
Didi D'Errico with her husband and her beautiful healing mural. Miraculously enough, Didi was never trained to paint, the love just pours out of her onto the canvas. She calls this her 'healing mural'. Didi was recently noted in a few Chinese Newspapers for donating this Panda mural to P.S. 124. Read about the Panda's long journey by clicking through to the next page.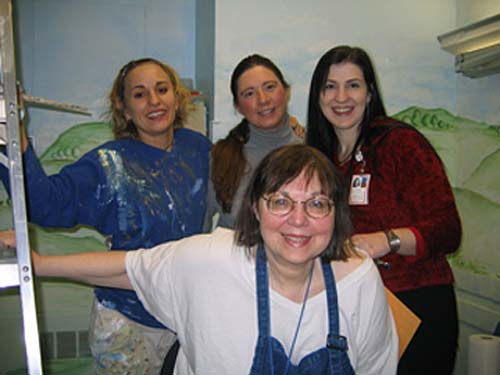 Meet The Wonderful People Behind this New Beautiful Mural in Mt. Sinai. In Front is Didi D'Errico (Artist and Coordinator), and in the back from left to right is Tania Corse (Artist), Nicole McClue (Artist), and Anna Eckhardt (Mt. Sinai's wonderful Child Life Specialist).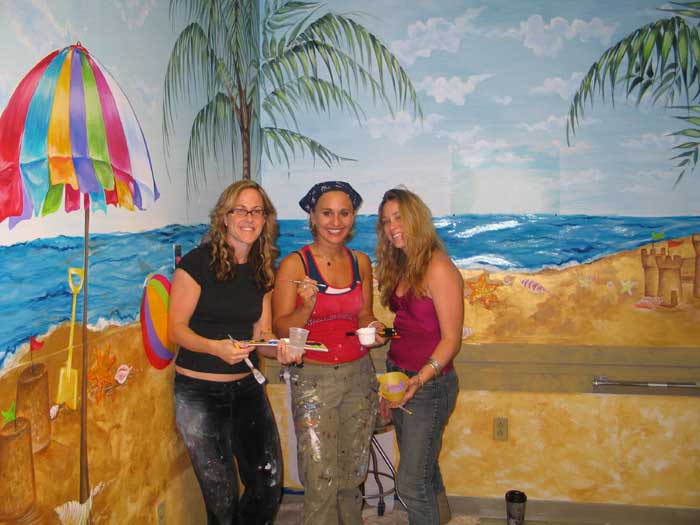 Mt. Sinai Hospital in New York - These 4 wonderful artists - Lauren Rudolf, Tania Corse, and Emilie Trice- organized and painted by artist Didi D'Errico (pictured below) - painted this pediatric treatment room in a Summer beach theme. Click Here to See More Pictures of this wonderful mural.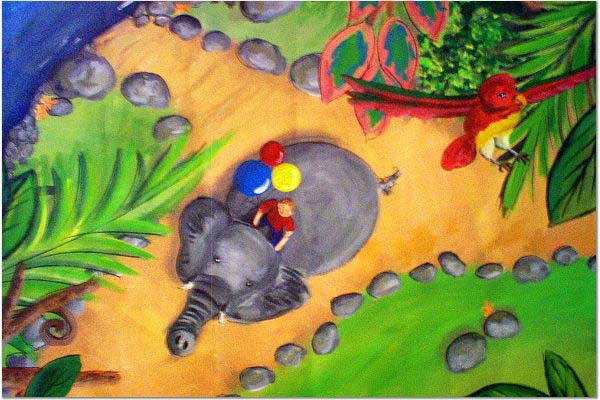 Emily Ashman (a wonderful artist as you can see) painted 2 murals for terminally ill brothers. She painted them on canvas and shipped them off to these 2 boys. For brothers who can't leave their rooms much, these murals meant the world to them.See More Pictures of these 2 wonderful murals.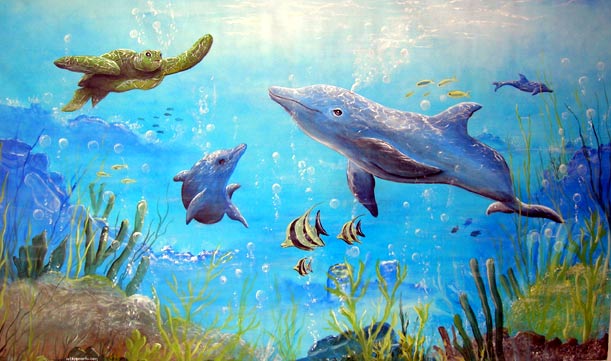 Agape Inn - Gerardo Deleon, a very talented artist painted this mural on canvas and shipped it off to Agape Inn to be enjoyed by children who have behavioral and medical issues such as mental retardation.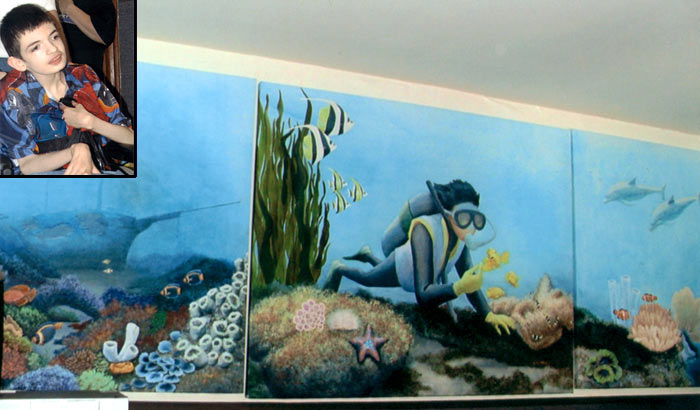 A mural painted by Pamela St. Onge for a boy called Skeeter for a Make-a-Wish Foundation wish. Skeeter, who has autism he rarely looks at anyone or anything for long, esp. if they are above his eye sight and the picture of him above is of him looking up and gazing at the mural for quite some time!.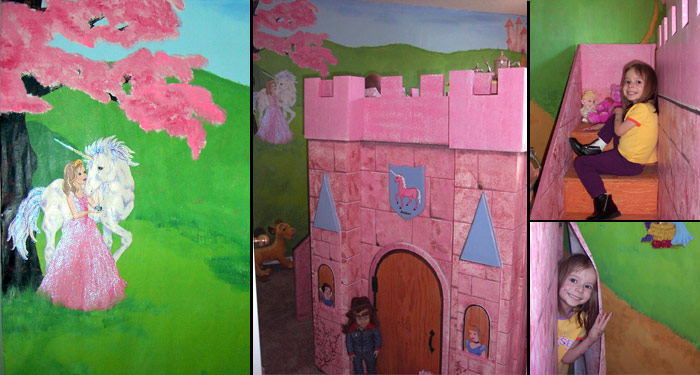 Trista Curtiss Painted this beautiful princess mural on canvas for a sick little girl in Idaho. This little girl had just went to Disney World for a Wish and fell in love with the Disney Princesses. She hasn't slept in her own room for years because she wanted to be with her mother because of the pain she experiences. She has decided to sleep in her own room again now that she has her own castle bed and castle mural. Thank you Trista!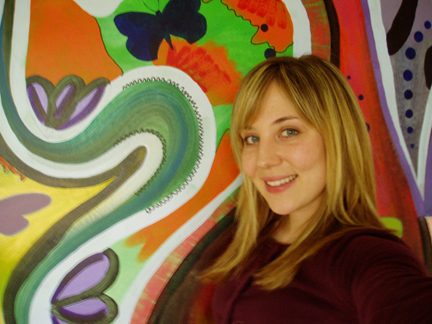 Allison Wise with her Beautiful Butterfly Mural (probably to be donated to Michigan's Childrens Hospital). Thanks Allison!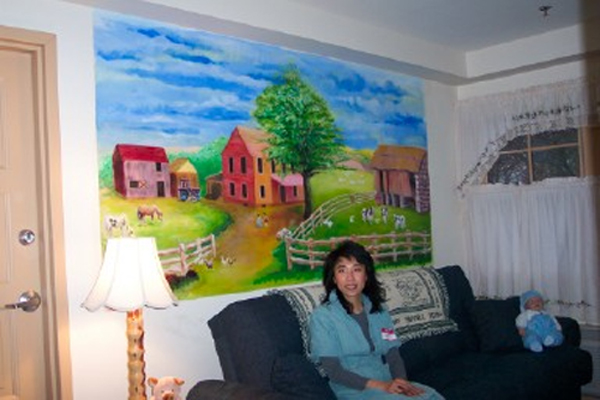 A mural painted at the Ronald McDonald House in New Brunswick. The mural was painted by King-Yan "Fina" Yeung (pictured in the above photo). You can visit her site at veryfinaart.com. Thanks Fina!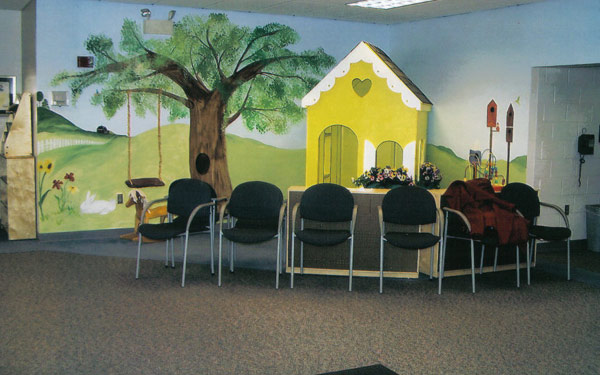 Mural donated to St. Vincents. Completed by Stacie Harvey! Thank you Stacie!!!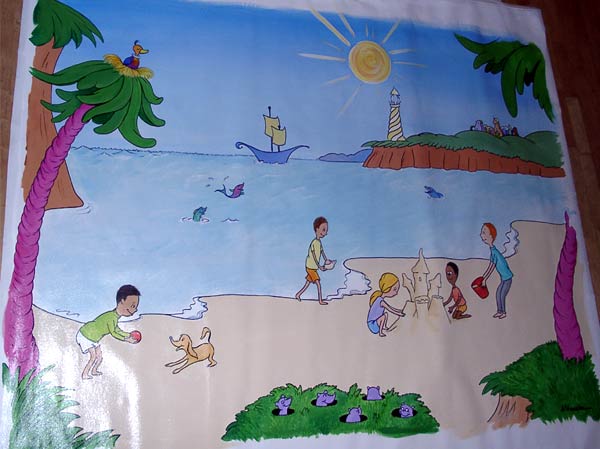 Designed and Painted by Mary Headlee and Donated to Calm Waters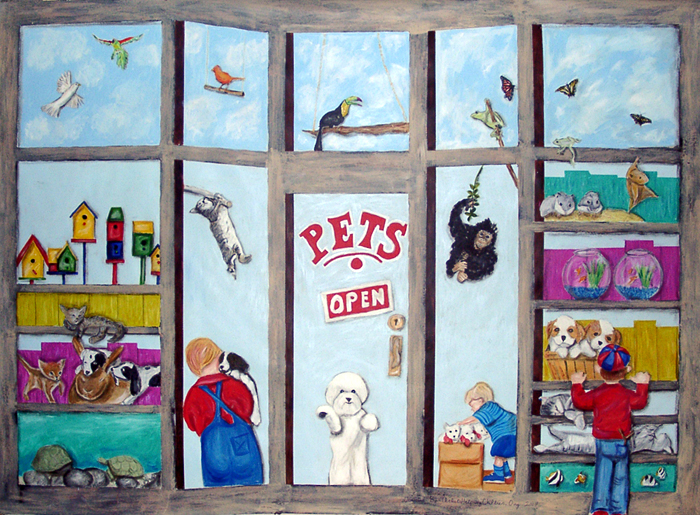 Designed and Painted by Rachel Goldstein and Donated to Easton's Childrens Home.