Home > Arts and Crafts Projects for Kids > Summer & Beach Crafts
SUMMER CRAFTS FOR KIDS : Ideas for Summer & Beach Arts and Crafts Projects with the following ideas, activities, instructions, patterns, and printables for Children, Teens, and Preschoolers
Yeah for Summer! School is out and it is time to play outside in the sun. The sun beating down in 100 degree heat. Whoo, someone get me a glass of water I need to sit down in the shade or inside in the air conditioning. Time to find some Summer crafts for kids to have fun with while I'm cooling off. Maybe I can make a Summer bracelet craft for one of my new friends, she'll love it. Then off to the pool to splash and swim
Below you will find Summer and Beach Crafts for Kids. Here are Ideas for Cool Summer & Beach Arts and Crafts Projects with with the following crafts ideas, instructions, patterns, and printables for Children
Make Your Own Summer Water Toy - Like a Slip 'n Slide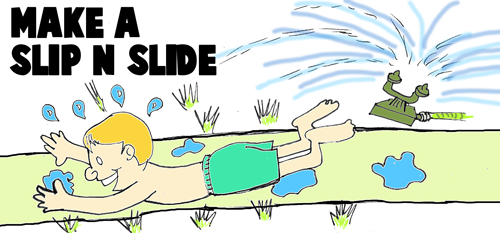 This is a very easy Summer project that will take you only minutes to make. Just go out to the hardware store with your parents and get about 15 to 20 feet of plastic sheeting ... probably only costs a dollar or two. Then pick an area in your backyard that is pretty flat. Next...all of you and your friends should pick up any rocks or other objects in the way. Then lay down the plastic sheeting and then keep it in placy by placing a heavy rock on all 4 corners of the plastic sheeting. Wet down the plastic and then turn on your water sprinkler(s) to keep a constant stream of water pouring onto the plastic. Then just throw yourself down the plastic as if it were a slide....making sure to watch out for the 4 outer rocks. Have fun!
How to Make Travel Totes for Summer Vacation Travelling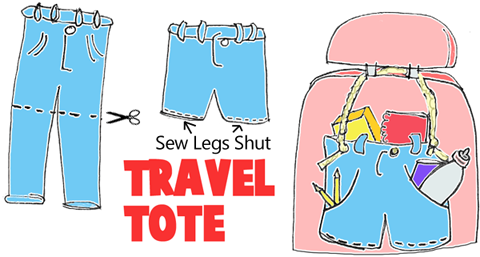 If you are taking a Summer vacation and you are traveling in your car to get to your destination....then how about making this travel tote bag for carrying all your books, arts and crafts supplies, food, water bottle, paper, pencils, etc. This is pretty simple to make. Just find a worn-out pair of jeans or pants with belt buckles at the top (a jean skirt could be used as well). Cut off the pants above the knees. Then sew the bottom of the shorts' legs together...as seen in the picture above. Then all you have to do is to connect rop to two of the belt buckles...just long enough to hang from the seat in front of you. Have fun on your Summer vacations.
Corrugated Cardboard Eskimo Sun Glasses for Bright Summers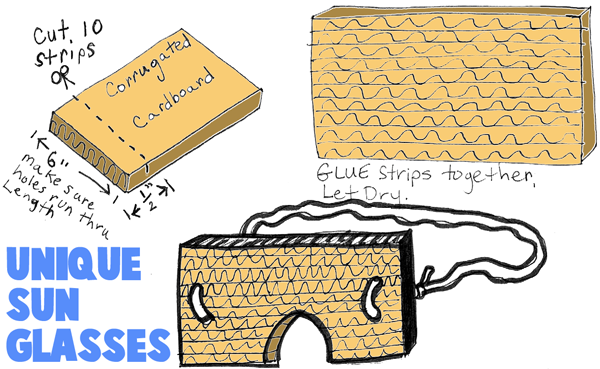 Believe it or not, Eskimos have been using sun glasses without any lenses for hundreds of years. All they would do is use narrow slits to keep most of the sun out. Try it out for yourself with the above unique sunglasses craft. Corrugated cardboard is the type of cardboard that has two flat cardboard boards with curvy paper in between both boards. Most cardboard IS corugated....just look at how to cardboard is put together to see if it corrugated - it would look like tiny letter 'u' shapes in between the boards...also corrugated cardboard tends to be springier. Okay...so cut out about 10 strips of 6" x 1/2" strips of cardboard cardboard. Then glue the strips together like you see in the 2nd picture above. Then thread string, cord, or yarn in between the holes of the corrugated cardboard to make the strap. There you have it... a nice pair of Eskimo sunglasses. (be careful that little kids don't hurt themselves with the string around their neck...make sure that it stays around the child's head)
More Summer Crafts Below

Make No-Sew Water Bottle Holder Craft - Learn how to make this cool water bottle holder with a pair of socks, string, and some beads. No sewing involved and you are upcycling.

Seashell Bracelets & Earrings - Learn how to make seashell jewelry that turns out beautifully.

Make Earrings with Sea Shells for Mom on Mothers Day - Sea Shell earrings turn out beautifully and they are very simple to make. Below you can find easy instructions for putting together earrings that are made from sea shells and earring clips. These would make a great gift for Mom or your Grandmother on Mother's Day.

Making Personalized Summer Journals - Learn how to make your very own personalized journals.

Beach Sculptures Arts and Crafts Idea - - Next time you visit the beach, comb the shores with your children to gather supplies for your own spectacular beach sculptures! Please note that very strong glue is needed to make these sculptures, which, for safety, should only be handled by adults.

Beach Welcome Sign to Make for Summer - - This cute beach welcome sign will look great hanging near an entryway... a summery way to welcome guests. This is an easy craft to make, using seashells and sand you may have collected when you visited the beach. Perfect to sell at summer craft fairs or to make as a gift for someone with a beach home!

Bubble Blower Craft for Summer - - Have bubbles but no bubble blower? Try this easy kids craft and make your own wand! Once you dip into bubble solution and blow you'll see a whole bunch of tiny bubbles appear!

Bubble Stamping - - This Bubble Stamping is so easy and so much fun! This can make some great artwork, it would also be a cute idea to make your own homemade gift wrap! A great craft for preschoolers!

Butterfly Wings - - These butterfly wings are an easy kids craft for the summer or anytime you are studying butterflies - and they are fun to wear, too!

Campfire Craft - - Our Campfire Craft provides a campfire which is perfectly safe for children of all ages - and, even better, you can bring it indoors if the weather lets you down! When you have made it. why not gather around and sing some campfire songs!

Chinese Fan Craft - - This cute Chinese fan makes a good craft for a China theme or perhaps during the summer. Choose a pretty design like our butterflies, or perhaps decorate with Chinese characters for something a little more dramatic!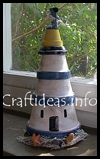 Clay Pot Lighthouse - - Let the kids bring summer in your home with this easy to do craft. With a few clay pots and some paint, they can create a lighthouse to decorate a window sill or shelf in any room of the house. The small decorations used at the bottom of the lighthouse are only suggestions. Children can also use seashells that they found on the beach instead to decorate theirs.

Coconut Tree Paper Craft - - A simple cut and paste craft for young children.

Colorful Fish Window Decoration - - This fish has the look of stained glass and will transform your child's window into an aquarium of color when the sun shines through. These fish look most attractive in a group and make a great project for decorating a school classroom window.

Design Your Own Flip Flops Craft - - You could use these flip flops to decorate your house, your fridge, or the front of an invitation or birthday card. A particularly nice pair can even be framed (leave out the glass) to make a cute picture for your child's bedroom wall.

Fireflies - - Have the kids make their very own Fireflies. This is an easy and fun summer craft, suitable for toddlers on up!

Flower Face Mask - - This Flower Face mask can be adapted with different colours, different sized petals, different materials - you could even change it into a "sun" mask.

Giant Ice Cream Cone - - This Giant Ice Cream Cone is a fun way to celebrate the summer season. Choose your own ice cream flavors to scoop on top of the giant cone!

Handprint Strawberry - - Summer is the strawberry season - yum! If you can't celebrate by getting out to pick some strawberries, why not try making a handprint strawberry!

Hold A Boat Race - - Take advantage of a glorious summer day to combine a craft and outdoor activity in one! And if the sun isn't shining, you could always use the bath tub!

Homemade Bug Collecting Jug - If you have a bug enthusiast in the house try 'The Bug Jug' kids craft. It's a homemade bug collecting jug that is a perfect fun summer kids craft!

KITE CRAFT - - Although this kite won't actually fly, it is a happy reminder of the times you and the kids did get to fly one.

Lemonade for Sale - - Get your Lemonade! Lemonade for Sale! This kids will love to make their own paper lemonade table, complete with lemon slices! A great summer craft!

Make A Garden Plaque - - Here is a clever craft idea for summer. Kids can make this garden plaque extra special with all their treasures and display it in the garden to admire - or give it as a very special gift!

Make An Indoor Garden - We used bits and pieces from our junk cupboard as well as scraps of fabric and found objects from the garden to make this miniature indoor garden - a great project for a rainy afternoon, to being the outdoors inside!

Marble Painting - - Kids will love Marble Painting! It's fun to watch the marble smear different colors of paint around the 'canvas' and make a beautiful masterpiece!

Paper Beads Bracelet - - Creating paper beaded jewelry is so easy and depending on the color or type of paper chosen, kids can create bracelets and even necklaces in many types of new looks. What a fun and inexpensive way for children to create their own jewelry for play as well. Girls can create and wear the jewelry and pretend to be glamorous Hollywood stars, and boys can create and use the jewelry to hide in their hidden pirate's chests.

Paper Graduation Cap - - This paper graduation cap is a clever craft made from folded construction paper. There are many way this little cap can be used, with some imagination. The graduation cap can be used on top of a wrapped gift package for the graduate. It is also a cute gift for teachers to give out to their children who are "graduating" from preschool! Be sure to use school colors! However you choose to use the hat, you will definitely enjoy how simple this craft is to put together.

Paper Lighthouse - Add a touch of summer at the beach to your home with this paper lighthouse. Kids can create these to hang in their windows or on their walls. Parents should help kids print out the template (print out to fit the printer paper) and create permanent templates that can be easily traced onto the appropriate colored cardstock. Remember to finish both sides so that the lighthouse can hang freely.

Paper Pear Suncatcher - Fruit is not only healthy for you but makes great motifs for colorful window decorations. Kids will have fun crafting this project in the summer. This craft is easy for kids to make and requires just a minimal amount of materials.

Paper Plate Summer Wreath - - This is good scissor skills practice for kindergarten children. Don't worry if the flowers aren't cut out perfectly. There's an easier version that has little flower "coins" (circular) that is simpler for younger children to cut out.

Paper Punch Lady Bug - - Why not make this easy Paper Punch Lady bug? Hole punches can be the most intriguing craft tools, especially to preschoolers - and the space in the hole punch is too small to get little fingers caught in so it's easier than scissors!

Parachute Guy - - This Parachute Guy is a super fun craft for kids, and it's just as fun to play with him after you've made him! There are two options for this craft: print out Parachute Guy already colored, or color him yourself!

Popsicle Paints - - These popsicle paints are a fun summer crafts for kids. Just make sure you make a lot because they may melt before you've finished having fun with them! Just make sure the children you are doing this craft with know that these 'popsicles' don't go in the mouth!

Sandcastle Collage - - Next time you visit the beach, bring home the supplies to make this Sandcastle Collage with your kids! Collect a little sand in a resealable bag or a small plastic food container or tub, and find some small, flat shells too.

Sand Foot Prints - - Make your own Sand Foot Prints from dirt from the beach or from your very own back yard!

Sandscape - - Kids can spend some time at the beach by making their own Sandscape, complete with real sand, shells, starfish and seagulls!

Seashell Centerpiece - - This simple seashell centerpiece is very easy to make, and will look beautiful for your next summer dinner party. It can also be used as a summer decoration, and looks great placed on the mantle, the bathroom, or a shelf.

Seashell Napkin Rings - - These seashell napkin rings are perfect for entertaining in the summer and your guests will love that you made them yourself! Why buy napkin rings when you can make them yourself? This is a very easy craft to do and with careful storage they will last the rest of your life! Pair these along with the seashell centerpiece and you have a perfect summer theme for your next dinner party! These really are unique and classy, and will get your guests talking.

Seashell Wreath - - This seashell wreath is the perfect front door decoration for the summertime. This is a wonderful craft to use all the seashells you may have collected on your last vacation. If you don't get to go shell collecting very often, you can also buy seashells at the craft store, but they may only carry them in stock during the summer months. This craft is very simple to put together, and all the directions follow.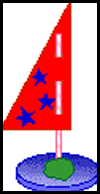 Simple Sailboat Craft - - You can make these cute little toy boats in just a few minutes. They are great for preschoolers and kindergartners to practice cutting with scissors, drawing, and molding clay.

Slimey the Snail - - This snail is a simple idea to keep young crafters busy for a while. The pieces are easily cut out and glued together. And when they are finished, they can be proud of their accomplishment and have a nice new addition to decorate their room or window. Decorate both sides equally so it may be hung in a window or free in a room, and looks good on both sides.

Strawberry Mobile - - Here's an unusual strawberry craft which gives the kids an excuse to sprinkle on some glitter. Make one or a whole punnet!

Strawberry Pincushion - Our strawberry pincushion is a cute - and useful - summer craft for kids to make! And of course it is good sewing practice, too, although even beginners will be able to manage the simple running stitch required.

Styrofoam Bumble Bee - - This is a cute little bee that is guaranteed not to sting! Kids can create this craft for the summer and can either hang it freely in a room or make a plant poke out of it and decorating summer flowers. Hot glue is quick drying and perfect for such projects. But to prevent injuries, children should only use hot glue under parental supervision. Otherwise, thick tacky glue should be used.

Summer Bunny Paper Craft - - This is a simple cut and paste craft that make a nice decoration for the refrigerator or bulletin board.

Summer Flip Flops - - These Summer Flip Flops are a creative summer craft for kids. Decorate your flip flops in what ever embellishments you have around the house.

Summer Mobile Craft - - This is a simple paper craft that children can make to decorate their bedrooms or play areas. You can string the pieces up to make a mobile in many different ways (my favorite is using a paper towel roll that I've painted or covered in paper).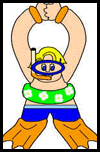 Summer Swimmer Doorknob Hanger - - Young children can easily make this cut and paste craft, but even pre-teens through adults will enjoy creating this cute doorknob hanger.

Summer Tree Paper Craft - - I think this simple little craft turned out very cute! Thanks to Sally, one of the viewers, for suggesting/requesting it. The craft is simple enough for young kids to contribute but still fun for even mom to make (I like doing the tissue paper version but it's tough for preschoolers to make -- the templates are more appropriate for them).

Sun Paper Plate Craft - - This is a simple craft made from a paper plate and a child's handprint cutouts.

Sunshine Handprint Craft - - This is a fun and simple handprint craft that makes a great rainy day project during the summer (come out Mr. Sun!!) You can sing the Mr. Sun song or the You Are My Sunshine song while making the craft. That is what Patricia did with her class while making this craft for their bulletin board.

Sunshine Plant Stick - Let this cheerful paper sunshine brighten up any plant in the room. The bright yellow color really stands out and looks lively. Kids will have fun making this project and it is easy. Parents or supervisors can speed up the time by using a glue gun to attach the sun to the shishkabob stick.

Sunshine Mask Craft - - This is a cute but very simple craft. I think it would be a nice one for younger kids to make for Halloween if they're not really into wearing a big fancy costume (both my girls were like that at age 2).

The Bubble Factory - - The Bubble Factory is our homemade bubble blower, kids love this craft! All you need is an old margarine tub, straw, hole punch and dish soap and you've got instant summer fun! You will need to make sure the child doing this craft knows how to blow into a straw and will not drink the soapy water (yuk!).

Vacation Ted - - Don't leave your favourite soft toy at home this year! The kids will enjoy getting Ted ready for his vacation, too!

Watermelon Earrings - - These watermelon earrings are perfect for summer! In hues of pink and red, they will go with many outfits. The watermelon earrings are made out of polymer clay. A polymer clay watermelon cane is made, and slices from this cane become the watermelon slices. You can make several sets of these earrings at one time, perfect for summer craft bazaars or to give away as gifts.

Willy Watermellon Craft for Kids - - Materials you will need are a printer, paper (I prefer construction paper or another heavier paper), scissors, glue, and something to colour with.

Window Clings - Flowers - Window clings are easy to create and make a really fun craft for kids. It is like coloring with paint. These flowers will beautifully decorate your windows this summer or you may choose to create a room mobile using them. Let the finished project then dry overnight and on the next day, the clings can be adhered to windows, tiles and mirrors.

Window Clings - Sunshine - This sunshine motif will brighten up any child's room in the summer months. Window clings are easy to create and make a really fun craft for kids. It is like coloring with paint. Let the finished project then dry overnight and on the next day, the clings can be adhered to windows, tiles and mirrors. Parents or supervisors can trace the outlines if the kids are too young to do so themselves.

Window Clings - Watermelon Slice - - This watermelon design is simple and perfect for the summer months. Window clings are easy to create and make a really fun craft for kids. It is like coloring with paint. Let them then dry overnight and on the next day, the clings can be adhered to windows,

Window Pictures - These colourful Window Pictures will brighten up any view, and bring some of the sunshine in this summer! A super summer craft for kids.
You Might Also Like Beach Crafts ... Sand Crafts ... SeaShell Crafts ... Vacation Memory Crafts ... Oceanlife, Fish, Critters Crafts ... Make Suncatchers ... Summer Solstice Crafts ... Summer Camp Crafts