Home > Arts and Crafts Projects for Kids > Summer Solstice Crafts
SUMMER SOLSTICE CRAFTS FOR KIDS : Ideas for Summer Solstice Arts and Crafts Projects with the following ideas, activities, instructions, patterns, and printables for Children, Teens, and Preschoolers
The word solstice is from the Latin language and means "sun stands still". Basically summer solstice is the beginning of summer in the Northern Hemisphere. It is also the longest day and shortest night of the year.
The summer solstice is the perfect time for making crafts with children too. It's a great way to celebrate the first day of summer with them! A few craft ideas include beach themed crafts such as crafts with sand and seashells, kite crafts, and sun crafts.

20-Minute Kite to Make Directions - This stunningly simple kite design comes from Jonathan Socher of Molokai, Hawaii, who regularly builds these diminutive flyers with local school groups. Jonathan prides himself on being able to get 20 kids to make 20 kites in 20 minutes, though we're suggesting you make only enough for your household!

A Creative Alternative to Sand Pails for Summer Solstice - If your kids love building sand castles at the beach, then here's a cool summer craft idea for you! Take empty plastic pop bottles, cut them in half and you've got a new tool for shoveling sand. Everything you need is right at home and this summer craft for kids has an extra perk--it's made from recyclable materials. No waste, no bother!

Amber Rose Bracelet - With colors of "Aztec Gold" and "Summer Russet," the homemade beads in this DIY bracelet really shine. Making clay jewelry is easier than you might think.

Arizona Summers Necklace - Unique "picture jasper" beads and a "donut" copper bail pendant with swirls create a chunky necklace in warm tones in this jewelry craft project. The look is perfect for summer vacations with light layers.

Beach Door Hanger Craft - Check out this fun beach craft. This beach door hanger makes for a great kids summer craft. This isn't for young kids, but slightly older kids will enjoy painting the various pieces and putting it together for the finished product. When complete, kids can hang it on the front door or their bedroom door and celebrate the fun of the summer season!

Beach Flag Art and Craft Project for Kids - Finding your way around a crowded beach can be confusing. Make this family flag art and craft project to "mark" your location on the sea shore.

Beach Frame Craft - Need a good way to display your favorite beach photo? Try making our beach frame craft! This frame is simple to make but looks fantastic on a mantel. This craft is also a great way to save and display special shells you found on your trip to the beach. With real sand and real seashells this beach frame craft is a great way to capture your summertime memories.

Beach Mat and Tote Bag - Crochet a lovely mat for sitting on the ground at the beach or park with a matching tote bag. The tote bag will hold on your beach or park essentials. This beach mat and tote bag crochet pattern is great for summer.

Beaded Book Totes - Need a summer craft project for kids or teenagers? This fun craft will have the kids transforming plain totes into personalized expressions. Decorate them to match a theme—like summer vacation—or personality.

Beaded Daisy Frame - Here's a fun mixed-media craft that will put a spring in your step. Add a child's picture or a summer photo for year-round cheer.

Bleach-Pen Drawing - Here, the stain-removing power of bleach is used to create a negative-image design that subtracts color and adds fun. Bleach is strong stuff, so while working on this project, wear old clothes and rubber gloves, follow safety precautions on the label, supervise kids closely, and work in a well-ventilated area.

Bright Gerbera Wreath - Fresh and festive, this playful, paper-wrapped wreath brings a dash of summer sunshine to any room. Make it yourself in just a few easy steps!

Build a Sand Castle in Your Own Backyard - We found an easy sand craft that lets you bring the fun of the beach into your own backyard (without all the "sandy" mess)! If your kids love to build in the sand, then this summer craft idea is for you.

Cardboard Boomerang - It's hard to watch a boomerang soar off through the air and return to the thrower without imagining that some kind of magic is at work. In fact, it's not magic at all -- just physics taking flight.

Charm Bags - These rustic-looking pouches are inspired by those used by Native Americans to carry good-luck trinkets. (They make great carriers for portable music players too!)

Chime Bracelets - Made with shells or lightweight trinkets, these bracelets are fun to wear because they jingle when you move.

Cockleshell Critters - Perched on their driftwood stand, these salty characters really dress up a child's night table or desktop.

Cool Summer Crafts for Kids - Popsicle stick crafts offer tons of creative challenges and possibilities for kids of all ages. The collection at easy-child-crafts.com includes (to date) a pencil holder (great for a Dad's Day gift), and some neat book marks that are sure to please your favorite bookworm.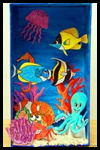 Coral Reef Diorama - Learn all about coral reefs and ocean life in this fun Coral Reef Diorama craft. It's a great summer craft to make especially after a trip to the beach or to an ocean theme park.

Craft Foam Beach Scene - This beach craft will work with toddlers and older kids. Kids that can use scissors can cut out all the pieces using our template. Parents can do this beach scene craft with toddlers by cutting out the pieces and letting them do the gluing. We did this craft with our toddler and it was a big hit!

Cute Cover-Up - With a towel and a few trimmings, you and your kids can craft these cool beach and pool cover-ups.

Dazzling Sun - Kids welcome the summer season with a colorful sun they make themselves!

Face the Sun - The sun shines every day with this folk art sun face reproduction. Energize this solar-powered project that celebrates summer fun and ancient cultures.

Friend Visors - Aren't these adorable? What a great way to decorate visors for summer camp.

Fun Foam Flip Flips - Using inexpensive craft foam, add a frog or lizard to boring sandals or flip-flops for kid-approved summer shoes. Kids can help create these cute flops.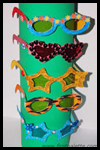 Fun Glasses - Print, cut out and decorate these fun-shaped eye glasses. This versatile craft would be a great project for summer, Valentine's Day, Halloween, or when you simply want to make a fun and easy wearable craft.

Fun Tie-Dye Flip Flops - Show off these flip flops at your next summer excursion! Have fun decorating your own pair to match your swimsuit.

Glimmer Paints - Here's a good example of the whole exceeding the sum of its parts: Add food coloring to a simple mixture of flour, salt, and water, and you get puffy, glossy paints that sparkle with salt crystals when dry.

Glow-in-the-Dark Comet - While you wait for the stars to appear on a summer night, play catch with this homemade Glow-in-the-Dark Comet.

Golden Summer Anklet to Make for Summer Solstice - A perfect piece of jewelry to show off during the summer.

Golden Sunburst Summer Solstice Craft for Kids - Make a decorative replica that's beautiful enough to display in the Palace of Versailles, where the Sun King lived and reigned.

Handprint Sun - Our printable face makes this a super cute project.

How to Make a Princess Crown Out of Felt - Little girls love to pretend that they are princesses and fairies. What better way to encourage imaginative creativity than to make a felt princess crown? A felt princess crown can be created in minutes and can be worn for Halloween, Easter, summer solstice, or even just for fun. Here is a helpful guide for this easy craft project.

How to Make a Wavy Toilet Paper Roll Craft Sun - This is a follow up to, "How to Make a Toilet Paper Tube Sun Decoration". This is another design I came up with while playing around with that previous project. This one is a little trickier to cut out, but simpler. Because it's hard to cut curvy lines down the tube with scissors, I wouldn't recommend this craft project for younger children.

Human Sundial Crafts Activity to Celebrate Summer Solstice - What does the shadow know? If it's a shadow across a sundial, it knows the time of day. Experiment with shadows and timekeeping with Crayola Giant Sidewalk Chalk.
Hydro Bracelets to Make for Summer Solstice - Hydro means water, and that's just what makes the beads and glitter in these bracelets float and sparkle. If you're looking for a great summer birthday party favor, this is it. Just buy extra supplies (the ones listed here will make three bracelets).

Ice Cream Cone Cozies - Summer brings long days, picnics, and sticky little hands! Skip the drip with these fun little, washable Ice Cream Cone Cozies!

"I Dig Dinosaur" Visors - Digging for bones in the hot sun? Protect you eyes with a decorated visors.

Juice Bottle Bug Catcher - This craft is a great way to reuse a juice bottle while safely learning about the insects in our world. After your observations, be sure to return the critters where you found them!

Kiddie Bug Box - Your kids will love playing outside and catching bugs this summer with their Kiddie Bug Box! Put your child's name on the front and it will be a keepsake they will love!

Kids Sun Mask - This is an easy way to make a Sun Mask using: paper and a printer (colored card-stock works very well).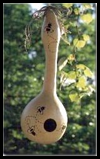 Litha Summer Solstice Crafts Idea for Kids - Here are some craft ideas you might like to try, and some traditional Litha activies. I am going to do a series of blogs early this year which will include lots of recipes for the Solstice feast ( lots of new, and some old favorites) crafts, and Litha lore.

Microspun Crochet Fantabulous Flip-Flops - Dress up your old flip-flops with this fun and easy summer crochet craft! Use scrap yarn to cover your flip-flop straps with soft and comfy crochet.

Mini Pinwheel Charm - Put a fanciful spin on your summer style with a paper pinwheel that can be donned as a twirling ring, a ponytail charm, a pin, or even a shoelace decoration.

Name Visors - Who needs name tag? These visor are great for your first craft of the season.
Natural Cards - Bring summer into fall with this easy project.

Nature Mobile - Give all those treasures you find on your hikes a proper showcase.

Ocean Flower Pot Craft - This whimsical ocean flower pot makes a great summer decoration. Kids will love working with the different materials and textures that go into making this unique craft. Let them use their imaginations to decorate the pot however they would like!

Ocean in a Bottle - Not going to the ocean this summer? Make your own!
Paint Yourself a Beach Bag - Here's a cool craft idea for kids that will keep them organized for every beach outing.

Paper Lantern with Sailboat Motif - This paper lantern is inexpensive to make and adds a maritime touch to your home or your outdoor summer party. The light shining through the fiber paper is subtle yet looks great when it is dark.

Paper Mache Box with Maritime Seashell Motif - This paper maché trinket box is perfect for holding those small collected seashells from the beach or any other small items. The look of the box is kept natural to give it a vintage and antique look
.

Paper Plate Sun Craft - Kids will have fun making this paper plate sun craft during the summer season. If you are looking for a fun and simple summer craft for kids, then this is a good one. Kids get to paint the paper plate and then cut out the rays of sunshine and sunglasses (follow our template) from different colored construction paper. Then put it all together for one happy sun! We made this craft more toddler friendly by gluing the sun's rays on before painting which means toddlers don't have to wait for the paint to dry to finish the craft.

Pearly Soda Clay - Inspired by "The Incredible Secret Formula Book" by Shar Levine and Leslie Johnstone, this is gorgeous stuff. Smooth and silky in your hands, it has a porcelainlike finish and a soft, eye-catching shimmer when dry.

Personalized Beach Bag - Have fun doing this craft with your kids and end up with a very functional beach bag that you and your kids can use all summer long! Kids will enjoy working with the stamps and the paints and they will really get a kick out of toting their own bag around to and from the beach (or other day trips).

Pierced Sun Catcher - These colorful, perforated window decorations can really brighten up a room when sunlight shows through all the pinholes.

Pretty Marbled Paper - With this project, not only do you end up with beautiful marbled paper, but you get to play around with copious amounts of shaving cream. We have to admit, our finished paper was extra soft and smooth!

Rain or Shine Weather Mobile - What's the forecast-raindrops or sunbeams? Display your predictions on this weather mobile.

Sand Masks - Make your beach-going experience a memorable one by creating decorative, plaster-cast masks using beachcombed objects. Each mask, formed face down in the sand, hides its identity until unmolded and washed in the sea. No matter what style you end up with -- be it surreal or straightforward -- your mask will be a personal memento of your seashore visit, one that shows off the personalities of both beach and beachgoer. It'll also last much longer than a tan.

Sandy Hand Mosaic - On your next trip to the shore, add plaster of paris to your beach bag so that your kids can preserve their sandy treasures in a handy display.

Seashell Sailboat - This mini craft takes only a minute or two to assemble, and it's just right for launching in a kiddie pool or bathtub.

Seashell Wreath - When spending holiday at the beach, you cannot resist collecting a couple of seashells as souvenirs. Often more gets collected than you know what to do with. This is an easy and decorative way to display some of those excess shells. Add a couple of other self made embellishments if you like to your wreath to finish off the summer look.

Sea Urchin Balls - Strips of carpet padding make these balls soft, safe — and cheap.

Seaweed Still Life - On your next trip to the shore, gather some seaweed to transform into an undersea still life at home.

Seed Beads - Next time you slice open a summer melon, use the seeds to make this back-to-nature necklace.

Self-Portrait Dream Sheet - Your child will have sweet dreams -- about being a soccer star, a fairy princess, a knight, a mermaid, or anything else he or she wants to be -- under this life-size self-portrait bedspread.

Shady Garden Hat - Protect kids-and yourself-from the sun with these home-grown garden hats. Summer fun is made in the shade with practical and creative crafts like this.

Sizzling Sun - Make every day an Aztec-sunny one with this bright and beautiful decoration. Your days will glow!

Smiling in the Sun - Sun science is the focus as you explore the Earth's rotation and revolution, the seasons, and night and day.

Spaghetti Yarn Bowl - This loopy bowl is big on groovy color and style, if short on soup-containing ability. It's made by simply laying pieces of glue-soaked yarn onto a ball.

Sponge Ball Square Arms - Here's a reusable alternative to a summer favorite, the water balloon: colorful, multi-tentacled sponge balls.

Summer Breeze Card - Don't limit yourself to just seaside stickers, use any motif you'd like! The technique of this card is using chalks to create a background so your imagination can take you in many directions.

Summer Flip Flop Box - With a simple painting project, create a colorful flip-flop box to store summer essentials such as sunglasses or sunscreen. This also makes a great gift box for summer gifts.

Summer Fun Painted Visor - Shield your face from the summer sun with a cute painted visor adorned with little flip-flops and sunglasses. Colorful foam paints makes this project a snap.

Summer Glamour Gear - Little girls will love to dress up in glamour gear this summer.
Summer Hats Made to Shade - Looking for cool craft ideas for kids? Here's an idea that's made for the shade on the hottest of summer days.
Summer Memories - Remember those hot sunny days when you're running around the pool, catching the butterflies and playing with your friends. Create a great layout page with bright colors and dragonflies. Remember the best days of your lives.

Summer Shades - These fashionable sun visors are quick to make with paper plates. Match your designs to your favorite clothes!

Summer Shirt Door Hanger - A papier-mache t-shirt form becomes a cute door hanger for summer with this quick and easy painting project.

Summer Solstice - Rune Tiles and Beads - I love Runes. I like the way they feel and look and it brings me back to an ancient time. I like pieces of polymer clay that look like they have been dug out of the ground or are replicas of a time gone way by. My pieces have been a reflection of that. I used to call my creations "Ancient Myth with a Modern twist".

Sun and Moon Myth Fan - Ready for hot days and sticky nights? Discover a fiery Mexican myth while you cool you off with a colorful fan.
Sun Handprint Wreath - Beat the heat this summer with some "cool" summer preschool crafts.

Sunny Faces - Explore the rich culture of Mexico! Create this sunny sculpture of one of Mexico's most delightful images.

The Foamerator! - Create wacky foam snakes by blowing air through this simple, homemade bubble-making device.

Tropical Memories Scrapbook Cover - This Tropical Memories Scrapbook Cover is perfect for your summer photos or to commemorate your last beach vacation. This will be a keepsake you will want to save forever!

Under the Aztec Sun - Use paper plates and colorful Crayola® Paint and Markers to design your own sun.

Watermelon Platter - Give your meals the refreshing look of a favorite summer treat with a platter decorated as a watermelon slice.

Watermelon Slice Visor - Head into summer fashionably with this visor done up as a cool, watermelon slice with foam paint.

Water Purse - This poolside purse, crafted from an onion bag, is a cinch to make and thoroughly waterproof.

Wiggly Sun Rays - Here comes the sun! Use fun lines and designs to create a sun that shines with the bold and bright colors of Crayola Neon Color Explosion Paper and Markers!

Yellow Handprint Sun - Make a bright and shiny yellow sun with your handprints.
You Might Also Like Beach Crafts ... Sand Crafts ... SeaShell Crafts ... Vacation Memory Crafts ... Oceanlife, Fish, Critters Crafts ... Make Suncatchers ... Summer Solstice Crafts ... Summer Camp Crafts ... Summer Crafts