Home > Arts and Crafts Projects for Kids > Summer Solstice Crafts
SUMMER SOLSTICE CRAFTS FOR KIDS : Ideas for Summer Solstice Arts and Crafts Projects with the following ideas, activities, instructions, patterns, and printables for Children, Teens, and Preschoolers
The word solstice is from the Latin language and means "sun stands still". Basically summer solstice is the beginning of summer in the Northern Hemisphere. It is also the longest day and shortest night of the year.
The summer solstice is the perfect time for making crafts with children too. It's a great way to celebrate the first day of summer with them! A few craft ideas include beach themed crafts such as crafts with sand and seashells, kite crafts, and sun crafts.

Amber Rose Bracelet - With colors of "Aztec Gold" and "Summer Russet," the homemade beads in this DIY bracelet really shine. Making clay jewelry is easier than you might think.

Arizona Summers Necklace - Unique "picture jasper" beads and a "donut" copper bail pendant with swirls create a chunky necklace in warm tones in this jewelry craft project. The look is perfect for summer vacations with light layers.

Beach Door Hanger Craft - Check out this fun beach craft. This beach door hanger makes for a great kids summer craft. This isn't for young kids, but slightly older kids will enjoy painting the various pieces and putting it together for the finished product. When complete, kids can hang it on the front door or their bedroom door and celebrate the fun of the summer season!

Beach Frame Craft - Need a good way to display your favorite beach photo? Try making our beach frame craft! This frame is simple to make but looks fantastic on a mantel. This craft is also a great way to save and display special shells you found on your trip to the beach. With real sand and real seashells this beach frame craft is a great way to capture your summertime memories.

Beach Mat and Tote Bag - Crochet a lovely mat for sitting on the ground at the beach or park with a matching tote bag. The tote bag will hold on your beach or park essentials. This beach mat and tote bag crochet pattern is great for summer.

Beaded Book Totes - Need a summer craft project for kids or teenagers? This fun craft will have the kids transforming plain totes into personalized expressions. Decorate them to match a theme—like summer vacation—or personality.

Beaded Daisy Frame - Here's a fun mixed-media craft that will put a spring in your step. Add a child's picture or a summer photo for year-round cheer.

Bright Gerbera Wreath - Fresh and festive, this playful, paper-wrapped wreath brings a dash of summer sunshine to any room. Make it yourself in just a few easy steps!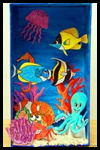 Coral Reef Diorama - Learn all about coral reefs and ocean life in this fun Coral Reef Diorama craft. It's a great summer craft to make especially after a trip to the beach or to an ocean theme park.

Craft Foam Beach Scene - This beach craft will work with toddlers and older kids. Kids that can use scissors can cut out all the pieces using our template. Parents can do this beach scene craft with toddlers by cutting out the pieces and letting them do the gluing. We did this craft with our toddler and it was a big hit!

Fun Foam Flip Flips - Using inexpensive craft foam, add a frog or lizard to boring sandals or flip-flops for kid-approved summer shoes. Kids can help create these cute flops.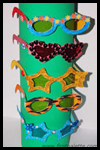 Fun Glasses - Print, cut out and decorate these fun-shaped eye glasses. This versatile craft would be a great project for summer, Valentine's Day, Halloween, or when you simply want to make a fun and easy wearable craft.

Fun Tie-Dye Flip Flops - Show off these flip flops at your next summer excursion! Have fun decorating your own pair to match your swimsuit.

Golden Summer Anklet to Make for Summer Solstice - A perfect piece of jewelry to show off during the summer.

Golden Sunburst Summer Solstice Craft for Kids - Make a decorative replica that's beautiful enough to display in the Palace of Versailles, where the Sun King lived and reigned.

Human Sundial Crafts Activity to Celebrate Summer Solstice - What does the shadow know? If it's a shadow across a sundial, it knows the time of day. Experiment with shadows and timekeeping with Crayola Giant Sidewalk Chalk.

Ice Cream Cone Cozies - Summer brings long days, picnics, and sticky little hands! Skip the drip with these fun little, washable Ice Cream Cone Cozies!

Kiddie Bug Box - Your kids will love playing outside and catching bugs this summer with their Kiddie Bug Box! Put your child's name on the front and it will be a keepsake they will love!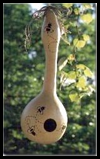 Litha Summer Solstice Crafts Idea for Kids - Here are some craft ideas you might like to try, and some traditional Litha activies. I am going to do a series of blogs early this year which will include lots of recipes for the Solstice feast ( lots of new, and some old favorites) crafts, and Litha lore.

Microspun Crochet Fantabulous Flip-Flops - Dress up your old flip-flops with this fun and easy summer crochet craft! Use scrap yarn to cover your flip-flop straps with soft and comfy crochet.
Natural Cards - Bring summer into fall with this easy project.

Ocean Flower Pot Craft - This whimsical ocean flower pot makes a great summer decoration. Kids will love working with the different materials and textures that go into making this unique craft. Let them use their imaginations to decorate the pot however they would like!

Paper Lantern with Sailboat Motif - This paper lantern is inexpensive to make and adds a maritime touch to your home or your outdoor summer party. The light shining through the fiber paper is subtle yet looks great when it is dark.

Paper Mache Box with Maritime Seashell Motif - This paper maché trinket box is perfect for holding those small collected seashells from the beach or any other small items. The look of the box is kept natural to give it a vintage and antique look

Paper Plate Sun Craft - Kids will have fun making this paper plate sun craft during the summer season. If you are looking for a fun and simple summer craft for kids, then this is a good one. Kids get to paint the paper plate and then cut out the rays of sunshine and sunglasses (follow our template) from different colored construction paper. Then put it all together for one happy sun! We made this craft more toddler friendly by gluing the sun's rays on before painting which means toddlers don't have to wait for the paint to dry to finish the craft.

Personalized Beach Bag - Have fun doing this craft with your kids and end up with a very functional beach bag that you and your kids can use all summer long! Kids will enjoy working with the stamps and the paints and they will really get a kick out of toting their own bag around to and from the beach (or other day trips).

Seashell Wreath - When spending holiday at the beach, you cannot resist collecting a couple of seashells as souvenirs. Often more gets collected than you know what to do with. This is an easy and decorative way to display some of those excess shells. Add a couple of other self made embellishments if you like to your wreath to finish off the summer look.

Smiling in the Sun - Sun science is the focus as you explore the Earth's rotation and revolution, the seasons, and night and day.

Summer Breeze Card - Don't limit yourself to just seaside stickers, use any motif you'd like! The technique of this card is using chalks to create a background so your imagination can take you in many directions.

Summer Flip Flop Box - With a simple painting project, create a colorful flip-flop box to store summer essentials such as sunglasses or sunscreen. This also makes a great gift box for summer gifts.

Summer Fun Painted Visor - Shield your face from the summer sun with a cute painted visor adorned with little flip-flops and sunglasses. Colorful foam paints makes this project a snap.
Summer Memories - Remember those hot sunny days when you're running around the pool, catching the butterflies and playing with your friends. Create a great layout page with bright colors and dragonflies. Remember the best days of your lives.

Summer Shirt Door Hanger - A papier-mache t-shirt form becomes a cute door hanger for summer with this quick and easy painting project.

Summer Solstice - Rune Tiles and Beads - I love Runes. I like the way they feel and look and it brings me back to an ancient time. I like pieces of polymer clay that look like they have been dug out of the ground or are replicas of a time gone way by. My pieces have been a reflection of that. I used to call my creations "Ancient Myth with a Modern twist".

Tropical Memories Scrapbook Cover - This Tropical Memories Scrapbook Cover is perfect for your summer photos or to commemorate your last beach vacation. This will be a keepsake you will want to save forever!

Under the Aztec Sun - Use paper plates and colorful Crayola® Paint and Markers to design your own sun.

Watermelon Platter - Give your meals the refreshing look of a favorite summer treat with a platter decorated as a watermelon slice.

Watermelon Slice Visor - Head into summer fashionably with this visor done up as a cool, watermelon slice with foam paint.
You Might Also Like Beach Crafts ... Sand Crafts ... SeaShell Crafts ... Vacation Memory Crafts ... Oceanlife, Fish, Critters Crafts ... Make Suncatchers ... Summer Solstice Crafts ... Summer Camp Crafts ... Summer Crafts