Home > Arts and Crafts Projects for Kids > Summer Camps Crafts
SUMMER CRAFTS FOR KIDS : Ideas for Summer & Beach Arts and Crafts Projects with the following ideas, activities, instructions, patterns, and printables for Children, Teens, and Preschoolers
Below you will find great arts and crafts activities for campers at Summer Camps with the following Crafts for Kids. Here are Ideas for Cool Summer Camp Crafts Projects with with the following ideas, instructions, patterns, and printables for Children

Western Ties & Neckerchief Slides - Here are some leather western ties that you will just love. Find out how to make these with some adult supervision.

Leather Heart Key Chains - This craft calls for leather or a faux leather material. It is to make a Valentine's Day Key Chain...great to give to a friend or somebody that you love.

How to Make Friendship Bracelets Easy Step by Step Tutorial for Kids - Friendship bracelets are very popular again and all you need to make them is yarn or string, scissors, and tape. Give one to your best friends and they are supposed to return the favor. It is fun to see how many bracelets you can get back from your friends.

Mini Book Pendant or Necklace - Make this little book on a cord as a stylish necklace. This would make a great Summer camp craft...as you can all autograph eachother's books to remember them forever.

Leather Japanese Beanbags - Learn how to sew these beanbags up out of leather.

Leather or Vinyl Marbles Bag - Here is a drawstring pouch that will be great to hold your marbles or other small items that you own.

How to Make Easy No-Sew Sock Dolls Crafts Idea for Kids - This craft will probably take less than 10 minutes for you…it is that easy. These are no-sew dolls…that is right…no sewing necessary at all. If you like sock monkeys, but you were too lazy to make them, then this arts and crafts project is for you. Have fun.

Make Your Own Cardboard Beading Looms - You can make advanced beaded jewely and art with a simple-to-make cardboard loom project. You will love this.

Pendant Booklet That Opens Up Into a Daisy - Your Mom or Grandma will love this thoughtful necklace that holds a book that transforms into a flower. How pretty.

Make a Musical Instrument with Walnut Shells - Learn how to make this cool walnut shell musical isntrument.

Easy to Make Sock Baby Dolls - This is a great first-time-sewing baby doll project. You will of course need a sock, stuffing, needle & thread, scissors, and a black marker.

Paper Strips Woven Belts or Bracelets - Learn how to wave little paper strips together to make woven belts and bracelets.

Make Leather Decorative Pins - Learn how to make these leather decorative pins with parental supervision.

Use Fallen Branches to Make a Toy Raft - Now you can find out how to make miniature rafts for your figurines...it really floats.

Dog Tags & Zipper Pulls - Find out how to make zipper pulls and dog tags out of wood...great for a Summer Camp Craft.


How to Make V Shaped Arrows Friendship Bracelets Illustrated Instructions - I will show you how to make this amazing friendship bracelet that has a letter 'v' pattern within it. This bracelet pattern is a bit more difficult than normal friendship bracelet instructions, so you will need a free afternoon to make this one. If you are still interested, find the illustrated instructions on the following page.

Hearts Friendship Bracelets - Learn how to make these difficult friendship bracelets - with a heart pattern.

Remember Camp with a Log Wall Hanging - Remember camp forever with this log wall hanging.

Make a Camp Newspaper to Talk About Your Bunk - This is a great crafts idea that will produce a keepsake to cherish in years to come.

Making Chestnut Bubble Pipes- With parental assistance, you can make one of these pipes to blow the best bubbles with. Find out how.

How to Make an Autograph Book - Is it the last day of school or camp, then how about making an autograph book..here are instructions.

Leather Comb Cases - Learn how to make leather laced comb cases to carry your comb in. Great gift for Fathers Day.


How to Make No-Sew Stuffed Puppy Dog Animal Toy with Socks & Rubber Bands - Today we will show you how to make stuffed puppy dogs out of socks and rubber bands. This craft will probably take less than 10 minutes for you…it is that easy. These are no-sew stuffed animals…that is right…no sewing necessary at all. If you like sock monkeys, but you were too lazy to make them, then this arts and crafts project is for you. Have fun.

Wooden Sailboats - This is a great first-time woodworking project to make with your child...easy enough for first-timers. The sail can be made out of wrapping paper or sheet cork.

Making Paper Bead Bracelets - Learn how to make these beautiful paper bead bracelets.

How to Make Twist Tie Doll Figures with Moving Arms and Legs Crafts Idea for Kids - If you want to make your very own play dolls out of recycled twist ties, then find out how to. They come out really cool, with hug-gable & twist-able arms and legs … especially cool for Mom dolls that hug baby dolls. Find out how to make these from unused items around your house. Have fun.

How to Make Charm Bracelets - Learn how to make these charm bracelets for yourself or for a special friend or loved one.

Altoids Tin Emergency Kits - Make a pocket kit for your dad on Father's Day. It can be an emergency kit, a a camping kit, a fishing kit, a sewing kit, or whatever type of kit you want.

Make Leather Key Tags - Key Tags are Key Chains for only one key - they are monogrammed and look really nice. Find out how to make one.


Make Wood Rings - This is a terrific craft idea for woodworking class at school or for Summer Camps.

Leather Rings - Learn how to make leather rings.

Multiple Candleholder Crafts - Learn how to make a few different types of candle holders.

Belt Loop & Key Chain Wallets - Put it on your belt loop or put it on your keychain...either way, it is great to keep some money tucked away. Make for Mom or Dad.

Tin Can Lanterns - With adult supervision, you can make some cool tin can lanterns for camping outdoors.

Wooden Tin Can Bird Houses - Learn how to combine a tin can with wood to make an amazing birdhouse. This is a great project to do with Mom or Dad, at woodshop, or at Summer Camp. Bird will love their new home.


Backpack Buddies - - For good luck this school year, clip a buddy to your back pack and bring it with you on your first day of school.

DIY Projects : Camp Crafts - Learn how to make lanyard keychain and a Gods Eye craft.

Bag Tags Summer Camp Crafts Activity for Kids - - Whether it's back to college or on vacation, it will be easy to find your bags in a crowd of look-alikes when you attach these colorful tags.

Beat-a-Leaf Journal Summer Camp Arts and Crafts Project - - This project combines your kids' most primal gathering instincts with another activity they love: banging rocks. Although the name sounds decidedly un-eco-friendly, leaf-beating is a favorite with the thousands of kids who take part in the naturalist programs run by the Appalachian Mountain Club in New Hampshire's White Mountains. Put the finished print on the cover of a blank notebook, and your kids have a journal for recording their juiciest summer adventures.

Camp Banners - Learn how to make these hung button banners for camp.

Birch Bark Canoe - - Your kids can recycle nature and have fun doing it by making your own birch bark canoe that really floats. A great summer activity or fun camp craft.

Bird Biscuit - - I saw this project on the Discovery Channel show called Start to Finish. It's a great idea for the birds now that they are becoming less scarce with the warming weather.

Make a Walking Stick for Hikes - These is a great craft for camping or for going off to camp.

Braided Bookmarks Camp Activity for Kids - - Here are four simple braiding techniques to make personal bookmarks for you and your friends.

Butterfly Pencil Toppers - - This craft foam project is easy enough, and pretty enough, that you'll want to make more than one!

Camp Bucket Hats Crafts Idea for Campers to Make - Decorate a bucket hat to wear during camp for protection from too much sun.

Name Plate with Sticks and Noodles - Learn how to make your very own name plate with sticks and noodles.

Campfire Caps Summer Camp Crafts Project - - My four- and five-year-old day campers got a big kick out of these hot headbands. When setting up your cap-making station, be sure to include at least twice as many marshmallows as the hats call for, as they tend to quickly disappear.

Campfire Sing A Long - - Sometimes you just can't be outside sitting around a real campfire, so here's a substitute that will make everyone smile. This was a church project for primary age children, but can work for children of all ages.

Camping Buckets - - These recycled multipurpose buckets are great for Cub scouts or campers. You can personalize them, store your rain gear inside and even use them as a stool.

Tin Can Totem Pole - This would be great for a summer camp project - every child can work on one can and then put them all together on a totem pole. Cute.

Camping Mat - - Craft yourself a soft place to sit with this Camping mat. It's the perfect thing for kids or grown-ups tired of that numb feeling that comes from sitting on cold, hard surfaces.

Camp Journal - - Make a journal to keep track of your days at camp.

Camp Key Rings - - This great project can be customized with the name of your camp, your group, your troop, your school... anything you want. You choose the letters, you choose the colors.

Camp Name Necklaces - - Easy to make from precut pieces of wood rescued from the scrap pile.

Camp Pennant - - Paint a camp pennant to keep as a keepsake for your summer adventure.

Camp Signs - - Use small pieces of nature to make a personal sign to commemorate your days at camp.

Candy Wrapper Bracelet - - Don't throw away those candy and gum wrappers. Turn them into fun and funky bracelets.
City Grown Fireplace Logs - - Instructions for making your own logs out of newspaper, shared by Jerry Buerge.
Crystal Rock Garden - - Kids love magic: watching things appear out of thin air. When your child makes crystals form on ordinary rocks and pebbles, she'll feel just like a magician!

Eggs & Bacon Candy - - Make this fun treat while on your next camping trip or any old time. It's cute, it's tasty and the kids will love it! This is a fun project for 4H, Scouts or just for a lazy summer day.

Fancy Boa - - A fancy boa is a glamorous accessory that can make anyone look sophisticated. Here's one you and a child can make to throw around her neck the next time she plays dress up.

Felt Puppets - - Kids will surprise you when you give them the chance to put on a skit with these felt puppets. Choose a theme and watch the hilarity ensue. Perfect for camping trips and scout troops.

Finger Weave Jump Rope - - Pick your favorite colors and make your own jump rope out of weaving loops! Both boys and girls love to finger weave. Kids as young as 8 can learn to do this. Teens enjoy it too!

Friendship Quilt - - A great way to begin or finish summer camp or any other gathering.

Friendship Sticks - - These vibrant sticks are banded with six colors, one for each letter in the word friend. At a recent camp for seven- to 13-year-old girls, the campers made these trinkets for one another and wore them around their necks as a token of their camp-forged bonds.

"Get Wild" Door Hangers - - What are you wild about? These door hangers are perfect for camp and special interest groups.
Glowing Bug Necklace - - Have your child make this easy craft while you are waiting to leave for a camping trip or even on the way to your destination. After dark, they can activate the glow stick with your help and add some fun colors around the camp fire.

Glow-in-the-Dark Caps - - A little glow-in-the-dark paint turns an ordinary cap into a great camp accessory. Kids will think it's out-of-this-world.

Gluten-Free Play Clay Beads - - Working with kids, I need to have a lot of tricks up my sleeve for those "I'm bored" moments. One of the best remedies for boredom is whipping up a batch of homemade play dough. I have oodles of recipes kicking about in my head; this one is gluten-free and easy to make. The best part is its capacity to be shaped into an awesome assortment of beads and baubles. Let's get to it!

God's Eyes - - I think that making a God's Eye was one of the very first crafts I ever remember making as a kid. And since it was in the early '70's at that time, they were totally in vogue along with macrame and owls. I knew the 70's were good for something!

God's-Eye Memory Keeper - - Kids love this traditional Mexican yarn craft because of its fun weaving technique, and this framed variation is perfect for displaying your family's summer vacation mementos.

High Seas Water Bottle - - This is a must-have camp accessory.

Home-Made Binoculars Craft - - Follow these directions and find out how to make pretend binoculars using bathroom tissue rolls.

Homemade Stationery - - This week we actually have 3 mini projects: postcards, cards, and a rubber stamp - all related and all in the name of building connection, which, if you know us at all, you know that's a recurring theme of ours. We love connection and we love finding ways to create more of it, so let's get started!

Hot Dog Roaster - - No fire? No problem! No flames are needed for kids to cook hot dogs this summer once they've created this fun and easy aluminum foil Hot Dog Roaster.

How To Make a Leaf Rubbing - - Making your own leaf rubbing is a great fall craft project that allows you to preserve memories of your fall trip to New England.

Kids' Camp Luggage Tag - - When you send your children off to summer camp, it's important not only to label their clothes and possessions, but also to affix identification tags to the luggage itself. Many pieces of luggage come with small tags already attached, but with a few simple steps, you can create a far more attractive and noticeable way to indicate the bag's owner, as well as his or her address and phone number.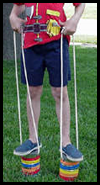 Kids Can Stilts - - Walk tall with this juice can stilt craft that provides hours of fun and physical activity for kids.

Leaf T-shirt - - This is a wonderful T-shirt project for camping trips and outdoor youth group activities. Older kids can handle doing much of this on their own, but preteens will need the help of an adult.

Macramé Bracelets - - he groovy macramé I remember from 20 years ago is back in force, and I must admit I prefer this reincarnation. Woven from sleek hemp twine, rather than jute, it looks earthy and cool. And, when strung with beads (either store-bought or made from seeds and shells), it also makes a perfect bracelet for a best pal.

Make a Basic Gourd Drum - - Please read through all instructions carefully before starting your drum!

Make A Compass - - Teach young people how to make their own compass. This craft is illustrated with animated instructions on Things2Make.

Make a Diving Ring - - So, as our bodies hit the water, our crafty thoughts turn to pool toys. Could we? Should we? Can you really craft up water toys? You bet your sweet Speedo we can.

Nature Fairy - - Take a nature walk and pick up leaves, stones and sticks to make these cute Nature Fairies.

Newspaper Fashion Show - - A favorite rainy-day camp project, the newspaper fashion show was a hit long before Project Runway. But you don't need a rainy day to play: set it up outside and charge up that video camera to document your family's -- or the neighborhood's -- design prowess.

Newspaper Hat - - Kids might not make headline news with this whimsical hat design, but they'll be wearing it.

Paper Bead Bangle - - 'm a self-proclaimed paper pack rat. Big pieces, little pieces, nothing gets thrown away. One day I sat staring at a huge stack of paper strips, all the same size. They were leftover remnants from a workshop I had prepped months earlier. "What the heck am I going to do with these?" I thought. And the challenge was made, albeit to myself. I needed to design a project that used up these last bits of paper, which others might have thrown away. What resulted was a fresh spin on a craft project familiar to many, but never seen like this.

Personalized Nature Pals - - This take on a classic camp craft inspires your family members to create versions of themselves with natural treasures from your own backyard.

Sand Art - - While away long summer afternoons with sand art. Also called sand painting, this is a simple but satisfying craft that's good for Earth Day in the springtime or any dry summer day that follows.

Sand Casting - - Dig through a whole range of fun shapes and your kids will enjoy the results of their sand casting work-of-art.

Sand Sculpture - - Every beachside sculptor knows the frustration of seeing a masterpiece swept away by the waves. Now kids can craft a permanent sand sculpture just by using sand, water and cornstarch.

Stick Art - - To make a winsome window decoration, take up a collection of natural beauties -- leaves, grass, flower petals, and ferns work well -- and help your child arrange them on the sticky side of a piece of clear Con-Tact paper.

Wooden Scrapbook - - Nature becomes natural storage with this attractive Wooden Scrapbook. Kids can decorate this durable album and store their favorite camp photos.

Woven Wall Hanging - - Start with a paper plate to make this a woven wall hanging. Then jazz it up with yarn and all sorts of trim -- some rough, some smooth, some shiny, and even some unexpected, such as wire.

Yarn Octopus - - Spin a yarn as you settle down to create this yarn octopus. The finished craft makes a great source of inspiration for young imaginations to make up stories about their particular octopus.

Yarn Tassels - - Yarn tassels are easy to make and can add color to everything from pillows to backpacks. Look around for objects that need a splash of color, and then decorate them with tassels.
You Might Also Like Beach Crafts ... Sand Crafts ... SeaShell Crafts ... Vacation Memory Crafts ... Oceanlife, Fish, Critters Crafts ... Make Suncatchers ... Summer Solstice Crafts ... Summer Camp Crafts ... Summer Crafts