Home > Arts and Crafts Projects for Kids > Valentine's Day Crafts > Valentine's Day CardS
VALENTINE'S DAY CARD CRAFT FOR KIDS : Ideas to Make Valentines Cards for Classmates, Friends & Loved Ones
Valentine's Day is a day dedicated to love and is celebrated around the world on February 14 every year. Valentine's Day is the perfect time to express your love to your significant over, your family and your friends. You can bring smiles and happy tears to their eyes by making home made Valentine's Day cards from your heart.
The most beautiful Valentine's Day cards I ever came across are those which are heart shaped or of puppies (puppy love). We at Artists Helping Children would love to help you make your perfect card by following one of our amazing tutorials below.
A Purr-fect Valentine's Day Card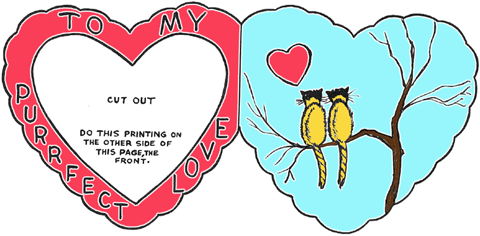 Draw and cut these double hearts from red construction paper. On outside, after folding, print "To My Purrfect Love" with marker and gold crayon. Cut out center of cover, that the inside may show two pussy willow kittens sitting on a branch under a gold-paper moon. You can make the kittens' bodies with a thumbprint body and a pinky print head. Draw in triangle ears and whiskers. You can then paste on yarn tails. Emphasize the giving of valentines to parents and friends.

Making Winged Hearts Valentines Day Cards with Paper Folding and Cutting - I made this heart with wings accidentally today so I thought that I would share with you how I made it. You start out doing a bit of paper folding and origami and then you start cutting a bit….what you turn up with is a valentines day card heart with wings. You can give this to somebody that you love on Valentines day.

How to Make Magically Appearing Name Valentines Day Cards Craft - Today, we will show you how to make this really cool Valentine's Day Card craft for kids. This is a really cool card that will show the name of your friend's name or loved one's name when moving the heart's arrow. Learn how to make it on the following tutorial page.

How to Make Valentines Day Pop Up Card of Girl Hugging Heart Crafts Idea for Kids - Today, we will show you how to make this really cool Valentine's Day Pop Up Card craft for kids. Learn how to fold and cut paper to make a pop-up card with a girl hugging a Valentine's Day heart. People will love receiving this card…so learn how to make it.

Making Cute US Mailbox with Heart Letter Valentines Day Cards - Learn how to make this adorable mailbox with inserted Valentine's Day heart and tag. Your friends and family members will think you are so sweet and creative to give this to them. The printable paper template can be found below, a well as directions. Have fun and send the love.

Valentine's Day Puffy Card Tissue Paper Craft - Make Puffy looking Valentine's Day Card for your loved ones or special friends.

Making Valentine's Day Hearts Candy Doggy Card Project - If you want to make a special Valentine's Day Card Treat to give out to your friends and classmates this year at school, then here is a tasty and inexpensive project to make. It is a Tootsie Roll, Standing Hearts Doggy Card. The easy to follow, illustrated steps can be found below.

Hand Me a LolliPop Card - This is a great card to make because it has your child's image on the card. You then cut out a hole on either side of the hand and put a lollipop thru. It looks 3D, like your child's hand is sticking out with a lolly in her/his hand.

Valentine's Day Lollipop Flower Making Instructions - Give your special friend or loved one a lollipop shaped like a flower.

Valentine's Day Chocolate Bar Wrapper Making Ideas - Give your special friend or loved ones a beautifully wrapped chocolate bar for Valentine's Day.

Foldable Valentine's Day Hearts - Use this printable heart to fold up a very cute card for those you love.

Valentine's Day Heart Shaped Fun Guy - Give your loved ones or friends a silly heart-shaped guy to show them that you care.

Be My Valentine Card Idea - Learn how to make this cute little Heart tipping his hat ...make it into a card.
A Fantasy Dragon Card Idea - For people who like fantasy and dragons, here is a Valentines Day Card Idea for them.

How to Make Valentines Day Cut Out as a Card- Learn how to make this paper cutout of a Valentine's heart snowflake with four hearts and a diamond in the center. This would be great to give to someone you love for Valentine's Day…it would also be great to hang up around your classroom.

Making Dried and Pressed Flower Cards - Learn how to make these beautiful dried and pressed flowers card.

Hearts Friendship Bracelets - Learn how to make these difficult friendship bracelets - with a heart pattern.

Laced Valentine's Day Cards - Learn how to make Laced Valentine's Day Cards and Hearts.

Make a Lollipop Holder Card - If your sweetie pie likes Lollipops, you can make them this Lollipop holder, and put a special message on the front as the card.

Valentine's Day Peas and Toothpick Heart and Arrow Craft - Instead of making the normal lace-paper valentine, with its hears and arrows and doves and cupids for Valentines Day…how about making a unique Valentine's Day craft with peas and toothpicks. It actually turns out quite pretty. Find the easy instructions

Ideas for Valentines Day Candy Cards - Learn how to make Valentines Day Candy Cards Ideas.

Brown Paper Bag Valentine Card for Preschoolers & Toddlers - Make this brown paper Valentine's Day Card with ribbons, little hands and some creativity.

Curved-Flap Valentine Card Craft - Learn how to make an unusual folded Valentine's Day Card.

Fingerprint Flower Cards Activity for Preschoolers - This card is fun and messy for kids to make for someone special on Valentine's Day.

Fimo Hearts Card Making - This is a beautiful and creative card to make for this Valentine's Day!

Glittery Heart Card - This heart card is very easy for the kids to make for Valentine's Day.

Lollipop Valentine Card for Preschoolers & Kindergarteners - These Lollipop Valentines Cards are cute and simple to make. They make the best Valentine's Day crafts for young children do to in the classroom.

Lovebug Card Arts & Crafts Activity - Create this cute love bug card with your kids using different size hearts.

Love Notes Card/Booklets - Make a little notepad for the special little girl in your life and leave a hidden message.

Making Valentine Cards With Beads - Learn how to make Valentine's Day cards with construction paper and beads.

Pop-up Heart Garden Card for Valentine's Day - This heart flower pop-up garden card makes a beautiful Valentine's Day card.

Pop-up Flower Vase Card More Activities - For Valentine's Day, make this pop-up flower vase card for your love ones.

Shiny Heart Valentine Card - Create a beautiful and simple Valentine's day card from paper and aluminum foil.

Stripy Heart Card Lessons - This is a simple stripy Valentine's Day heart card that would put a smile on any child.

Valentine Pop-up Card - Learn to make this special pop-up card for that special person in your life.
BACK TO VALENTINES DAY CRAFTS MAIN PAGE