Home > Arts and Crafts Projects for Kids > Wires Crafts for Children
CRAFT WIRE CRAFTS FOR KIDS: Ideas for Arts & Crafts Projects & Activities with Crafts Wires for Children, Teens, and Preschoolers
A wire is a thin and flexible strand of metal. Although they are uses for electronics, it can be used to make the coolest crafts. Children can use wire (or craft wire) to make earrings, bracelets, necklaces, napkin rings, dream catchers, ornaments and even crowns. Wires are also useful for hanging wreaths and other wall hangings.
You can make a bead wreath for any time of year using craft wire. To make this, you need to cut the craft wire to your length of your choosing to make a large loop. Then curl one of the wire end to keep the beads from sliding while putting them on. Use the color beads that will reflect the holiday or time of year, for example, green and red for Christmas or black and orange for Halloween. Twist the craft wire ends together to close the loop. Finally tie a ribbon (bow). You can use the bow to hang the wreath.
Making Wire Spool Clowns and Dogs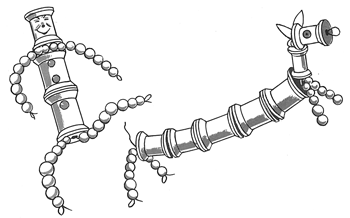 It is easy to make a clown doll and a dog from spools, wire, and beads. Notice that the legs are beads. For the ears, you can use felt. You can just experiment with how you do it. Always knot wire at ends to prevent the toys from falling apart. Paint, varnish, or shellac the spools.
Make a Wire Hanging Ivy Pot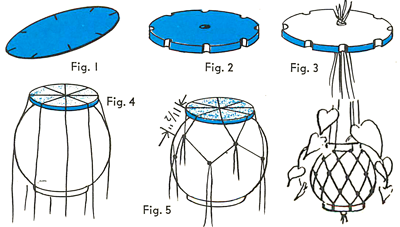 Select a flower pot or a glass jar in which you wish to place an ivy. Then cut 8 pieces of spool wire, raffia, or heavy string to measure in length 3 times the height of the jar or pot. On a piece of cardboard trace the shape of the bottom of the receptacle. Cut the circle enlarging it a little more than the glass. Fold as seen in figure 1. Notch at each fold. Use this notched circle for a pattern. Place it on a thin piece of wood. Trace and cut out, as pictured in figure 2. Make a small hole in the center. Thread one end of the 8 strands of wire or raffia or cord through the hole. Twist these ends together into a knot that will not slip through the hole. Turn pot upside down. Place notched piece of wood on the bottom with knotted ends of thread against the pot, as seen in Fig. 3. With a 11/2 inch piece of cardboard measure down from bottom of glass and tie 2 neighboring threads together as in figure 5. Then with a 3 inch piece of cardboard measure the strands tie as in figure 5. Note diamond-shaped spaces created by this tying. Continue weaving in this manner to top of pot. Straighten the 8 strands and knot together at free ends. Hang vase from a hook. Fill pot with water and ivy.
Personalized Plaques and Pins

Use soft copper wire (about 12" for a four-letter name), pointed pliers, scissors or pinking shears, needle, thread, colored felt scraps, cork or wood, a small safety pin, and a pencil. Bend wire to form name (use pliers for sharp bends). Cut felt into any desired shape large enough to be used as a background for the name. (Edges may be pinked for a more decorative effect.) Sew the name on the felt background and attach small safety pin to back. Pupil may make extra pins for gifts. You can also mount their names on cork or wood and attach them to your personal belongings. These wire names also may be used for original and unusual place cards for a dinner or party.
More Crafts with Wires

Magic Heart Trick Making Craft for Friends on Valentines Day - This is a really cool idea for a Valentines Day gift to your friends. This is a Wire Heart and Horseshoe Puzzle Trick … your friend or loved one will need to try to figure out how to get the heart off of the horseshoe. It is a LOT of fun.

Make Clothespin Wire Barrel - Make a mini-barrel with clothespins, a can, and wires. You can use this as a plant holder, pencil holder, or just make it to hold odds and ends.

Spider Web and Spider Magnet Craft - Learn how to make this really neat spider web and spider hanging craft with soft wire and some other supplies.

Make a Pioneer's Well from a Spool, Tac, Wire & Milk Carton - Learn how to make a working water well with a recycled milk carton, spool, string, and a tac.

Wire and Rubberband Slingshot Craft - Boys love slingshots. This one is meant to shoot paper.

Making Fairy Crowns - This is a perfect fairy crown and it will look beautiful on your little fairy. You make this crown with wire and ribbon. Beautiful.

Create Your Own Mini Water Well with Branch, String, Wire & Can - Learn how to make a miniature, working, water well to play with.

Wire Sculptures - How to make basic wire sculptures.

Make Fairy Wings - Learn how to make these fairy wings with strong wire, soft wire, some lace, and a few other things.

Whales that Float - With the help of a cork, wire, and fishing weights, this whale can float pretty well.

Copper Wire Wrapped Stone Necklaces - You can make beautiful jewelry with medium copper wire. Just wrap it around a beautiful stone and wear it around your neck.

Cardboard Box Lanterns - In this post I will be showing you how to make a Cardboard Box Lantern. That's right…. it is a lantern that you can use outside that it made from a cardboard box. Some other items you need are paper and wire.

Floating Seal Toys - Make these floating seals with a cork and fishing weights. Play with these in the bathtub.

Ancient Spirit Journal Cover - - Clay embellishments really make this ancient spirit journal your own. Try it for yourself or create your own patterns and design. This handmade clay project also makes a great scrapbook cover.

Adjustable Copper Multi-Strand Bracelet - - Swarovski crystals and copper wire make this bracelet perfect for transitioning from business attire to evening wear.

Amazing Acrobats - - Pull up on the string to make this performer zip along.

Artsy Lamp Shade - - Shed some light on your child's artwork with a lamp shade made from past pictures.

Banana Bunch Necklace - - Use seed beads and Beadalon wire to create a tropical looking pendant necklace.

Basket of Apples - - The scent of cooking apples is a treat for the nose in the fall. Imagine the aroma of a fresh apple pie in the oven or cooked apples and cinnamon on the stove top. What better place in the autumn than the kitchen for a sign with apples as the motive?

Bead Buddies - - Your child will love having these colorful creations hanging around. And with countless design possibilities, she can easily craft an entire collection of one-of-a-kind jewelry pieces.

Beaded Bunny Napkin Rings - - Make cute little bunny napkin rings to dress up your family dinner table for Easter.

Beaded CD Ornaments - - Recycle old CD's into colorful trendy ornaments. With a little paint, wire and beads, you can add a new look to the holiday season.

Beaded Heart Dreamcatcher - - This heart decoration is quickly made and makes a nice.pngt for a loved one for Valentine's Day or anniversary. Hang it in the window. When the sun shines, the faceted beads reflect the sunrays and sparkle in the room. If you change the ribbon color to white, it can be used as a decoration for a wedding.

Beaded Spiderweb - - Spiders are a valuable presence in any garden, keeping harmful insects at bay. Welcome eight-legged friends with this bead-adorned tribute, which will catch the sun (and your eye!) when hung from an eave or a low-hanging branch.

Bead Wreath - - The wreath can symbolize the circle of friendship, which makes this decorative sun catcher just the.pngt for almost anyone on your family's list.

Beautiful Butterfly - - Let your little one choose craft foam, fabrics, and boa trim in her favorite colors, then use our printable templates for the wings to make this costume take flight.

Be Mine Valentine Wall Hanging - - You'd never guess this darling heart was once a boring brown paper grocery bag! Make one yourself to give to a friend or to hang in your entryway.

Black Cat and Pumpkin Chain - - Why not saw a couple of typical Halloween figures out of wood and use them for autumn decorations. This is a quick and easy weekend project for those with less time. Follow the instructions below for the sawing, painting and assembly.

Bloomin' Buttons - - If spring has yet to blossom, your kids can create a preview of the season's colors by livening up your houseplants with vibrant button flowers.

Bobbleheads - - Now fans can have their very own bobblehead dolls, just like the players do -- no NFL contract required.

Broomstick Witch - - This adorably spooky clay pot witch comes bearing a special treat... an air freshener for your home. All you need to create this do it yourself Halloween craft is some STYROFOAM Brand Foam, a clay pot and craft wire.

Brown Bag Turkey - - This whimsical turkey is a perfect addition to your entryway, or even your dining room wall! Dinner guests may even feel a bit guilty when you cut into your golden brown bird.

Brown Bear - - Here's a friendly critter you can make from clay and wire.

Burnt Bag Butterfly Plant Stake - - Use inexpensive brown grocery bags, florist wire and glue to create surprisingly elegant garden or plant stakes. This unique technique gives an antique metal look at a fraction of the cost.

Butterfly Garden Stake - - Your garden will sparkle with this beautiful butterfly garden stake. Make this fun and easy craft to dress up your garden. Make several for your own garden or give some as.pngts!

Butterfly Pocket Pal - - Make this beautiful Butterfly to pop up out of your pocket.

Butterfly Polka Dots - - This happy little butterfly will brighten a young girls room and make it smell good too.

Button Man - - Button , button, who's got the button? You'll hope you have lots of them when you see this craft. This prize winning project was made by Marianne Kirby who is a writer and artist living in Orlando, Florida.

Captive Heart - - Show Grandma you care with this keepsake. The red wire is very flexible, so she can extract the note and treat while keeping the ornament to remind her of her sweetheart.

Celestial Clay Mobile - - Create a colorful mobile of heavenly bodies using self-hardening clay.

Cheery Easter Chick - - This delightful Easter chick is happy to welcome spring. From her curly wire head feathers to the sparkling eggs at her feet, she's just as sweet as can be.

Chef's Skillet - - Be a chef for today. Transform a paper bowl into a skillet and use your imagination to sculpt your menu for the day out of clay or dough.

Chenille Easter Bunny on a Stick - - This soft and fuzzy bunny will be fun for young hands to create for Easter. It is not complicated to make and only requires only up to 30 minutes time to complete.

Christmas Lanterns - - Hang a beautiful lantern by the window or set it on your table to make a festive holiday decoration. Add a glow stick inside to make Christmas Eve an enchanted night.

Class Act Apple - - Here's a fun and easy Teacher Appreciation.pngt to make with your child. Their teacher will hang this.pngt in their classroom with pride!

Clay Charms - - These clay creations can be used as key chain charms or bag charms, or can even be worn as a pendant. Make them for your mom on Mother's Day or for your friends on Valentine's Day.

Clay Charm with Photo - - Create a clay charm with photo that you can use as a key chain charm or bag charm, or even wear as a pendant.

Clown Paper Decoration - - This brightly colored circus clown will add cheer and delight to any room he is hanging in. It is a perfect decoration especially for a child's play room. Assembly is a bit fun because it is like dressing a paper doll.

Copper Personal Box - - Decorate a personal box with metal embossing, acrylic paint and fun wire.

Cork Christmas Tree Ornament - - This tree is quick and easy to make and looks decorative as an ornament on the Christmas tree or even as a topper on a Christmas present.

Cork Gingerbread Decoration - - Cork has a texture that is perfect for making ornaments that look like baked cookies. This is a second example of how you can decorate a gingerbread man out of cork.

Cornhusk Napkin Rings and Place Cards - - In fall, the blossoms of summertime are little more than a distant memory. But you can bring some of their delicate beauty to your fall decorating by fashioning flowers from the husks of dried Indian corn -- a farm-stand staple at this time of year. Inspired by the early American craft tradition of making dolls from cornhusks, our cornhusk flowers -- mimicking apple blossoms -- are both elegant and simple to create.

Curly wire bulb ornament - - Spring into the Christmas spirit with this curly wire bulb ornament. This craft is quick and easy for kids since it mainly involves wrapping gold wire around a ready-made ornament. How to Make this great curly wire bulb ornament with crafts wire craft.

Decoupage Country Can - - This charming country accent will look perfect on your shelf or near the entryway. The design possibilities for this project are limited only by your imagination!

Delicate Snowflake Ornament - - Create a delicate snowflake ornament with colorful "cocktail" beads. A snowflake wire form makes this project a snap. Cover your tree with these beaded snowflake ornaments or hang from windows.

Dragonfly Dreams - - Ad a bit of sparkle to your room with this Dragonfly. Make This great dragonfly with Crafts Wire.

Embossed Glue Sun Burst - - Bring some southwest decor into your home with this embossed glue sun burst project, compliments of Heidi Borchers of Inspired at Home. The rays of the sun are accented with beaded wire. This makes a very unique home decor accent.

English Rose And Ivy Wreath - - This beautiful heart shaped wreath, fashioned from dried lemon leaves and freeze-dried white English roses, makes a spectacular accent for a special event, such as a wedding or an anniversary.

Fancy Twisties Crafts Idea - - With a pipe cleaner and some decorative materials, you can creatively embellish your flip-flops, hair accessories, bracelets, bags, hats, or even your pencils!

Floating Ghost - - Give this spirited specter a little push to get it moving, and let partygoers conjure up guesses as to what keeps it floating eerily just above the floor.

Floral Address Plaque - - Not a painter? Can't draw those lovely details you would like to? This project is for you!

Flutterbyes - - It's a treat to catch even a glimpse of a butterfly, and with this colorful mobile, you'll have a bevy of beautiful creatures hanging around.

Foam Caterpillar - - Here's a critter you'll actually enjoy seeing in your garden or planter. Our cheerful, cheeky caterpillar is constructed out of -- surprise! -- foam practice golf balls.

Friendship Card with Flowers - - Maybe you have a special friend and feel like sending her/him special wishes... just so, or even for a birthday. Even though it is very easy to send electronic messages, it is still fun for someone to receive "real mail". Why not surprise a friend by creating a handmade personal card and sending it off. Imagine how happy that person will be after going to the mail box and finding your personal greetings instead of just bills and junk mail.

Friendship Locket Making Craft - - Celebrate beloved friends by wearing their photos with yours in this lovely paper cup locket craft.

Frightened Fly - - Here's a scared insect you can make from clay and wire.

Funky Copper Heart Valentine's Card - - The recipient of this clever card will be sure to twist and shout with delight at your creativity.

Ghostly Halloween Bag - - Beware of the little ghost waiting to "spook" you as you pass by its brown bag hiding spot. The ghost will also keep your room freshly scented as it is made from a Renuzit® air freshener.

Gold Heart ATC - - This artist trading card is kept in shades of red, orange and gold. An embossed gold metal heart gives this project a shiny final touch.

Halloween Ghost Magnet - - This friendly ghost will be "frightfully" glad to hold your notes on Mom's refrigerator.

Heart Wire Pins - - Just a few twists and you have a beautiful pin from wire and beads.

Hooked on Earrings - - Do you love funky jewelry? Why not make your own accessories to match your wardrobe?! These earrings make great.pngts, too!

How to make a Pinwheel - - Learn to make a professional looking pinwheel.

Hula-Hoop Wreath - - Don't let that Hula-Hoop go to "waist" all winter! It makes a natural base for a green garland wreath that runs circles around the store-bought variety.

Indian Corn Pin - - Adults and children alike will enjoy making this festive and adorable pin. Wear to celebrate the season, or give as a.pngt! This idea can also be adapted to make a colorful magnet.

Insects! Recycled Robots - - Here come the robot insects!! Make your own invasion hordes with recycled items and Crayola Model Magic® Fusion™ modeling compound!

Lacy Gold Paper Star Tree Ornament - - Create these delicate and lacy stars to give your Christmas tree an elegant look. These stars are easier to craft than they look and one is completed within a half an hour. You can also enlarge the pattern and use heavier cardstock to create window decorations with these stars as well.

Ladybug Wall Hanging - - You'd never guess this charming little ladybug was once a boring brown paper grocery bag! Make one yourself to give to a friend or to hang in your entryway to welcome spring!

Lovely Ladybug - - Here's a pretty critter you can make from clay and wire.

Make Your Own Wire Wrapped Votives - - Lovely accents you can make from plain glass votives and a little craft wire. Easy instructions help create these pretty candle holders!

Metal-Accented Photo Journal - - A photo journal accented with wire and metal sheets becomes a great display piece for the coffee table.

Mini Tea SWAPs - - Tiny little cups of tea are only 1" big! The perfect size for SWAPping.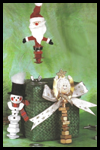 Nuts and Bolts Christmas Ornaments - - Use spare bolts, washers and other hardware to create a snowman, angel or Santa ornament for Christmas. Kids can help thread the hardware onto beading wire to create the ornament bodies.

Number Necklace - - A delightful big bead necklace craft perfect for learning counting and numbers.

Our Friendly Ghost - - This lovable little ghost can't wait to greet trick-or-treaters. A whimsical addition to your Halloween decor, she's wearing her best bow and perching patiently in her rustic wooden basket. Her body is fashioned from easy to use loopy chenille, which gives her an appealing, cuddly softness.

Paper Christmas Tree or Evergreen Tree - - This craft project is fun for both young and old alike and looks great plain and decorated. A whole forest of trees can be created which also looks really great.

Patriotic Bubble Wands - - Kids can safely show their patriotic spirit with these adorable star shaped bubble wands. Instead of sparklers this year, opt for bubbles and all the wonder they bring with them!

Personalized Photo Holder - - Alphabet blocks aren't just for stacking - they can also be used for showing off favorite pictures and artwork.

Poinsetta Pin - - This beautiful pin is a perfect.pngt for your holiday hostess. When you arrive for dinner, have this beautiful.pngt from your heart ready to attach to her lapel. Makes a wonderful teacher.pngt, present for Mom, or any special lady on your shopping list!

Recycled Robot - - What boy(and lots of girls too) isn't interested in futuristic fantasies? Here's a fun project that will be just the ticket for a rainy day or to illustrate your favorite robot story. When you're done give him/her a name and make it a part of the family.

Rose Brooch - - Make a rose or other three-dimensional flower brooches out of felt sheets. They're a perfect handmade present for mom on Mother's Day or for Grandma on her special day.

Scented Apple Wreath - - Apples and spice dried slice by slice, that's what this wreath is made of. And the wreath is wonderfully easy to assemble, even for kids. You simply fold pliable apple slices - dried in the oven or microwave - and thread them onto a wire frame. Hang the wreath with a colorful looped bow.

Shamrock Wall Hanging - - The luck of the Irish will be in your home this year with this friendly and welcoming paper bag wall hanging.

Snowman PileUp - - It's a pile up! These three snowmen cleverly decorate a Renuzit® Adjustable Air Freshener for great scents all winter long.

Snowman "Waiting for Winter" Wall Decoration - - If you like crafting with wood, you can create this project for the winter months. This snowman ist waiting for winter and waiting to catch snowflakes as they fall. This project takes some time to craft but makes a wonderful winter decoration for your wall or door.

Sparkling Sun Catcher - - A bit gray outside? No worries. Hung in a window, this bejeweled, dancing sun catcher will coax the sun back in no time.

Spring Bouquet - - Make this fun craft project and add some spring to your home. This will make a lovely.pngt for mom, perfect for the kitchen counter, bedroom side table or even a nice addition to a working mom's desk!

Twisted Paper Witch - - This adorable witch will make a wonderful addition to any windowsill, front porch, entry way, or tabletop. She's easy to make and fun to show off!

Valentine Heart Pin - - This beautiful Valentine Heart Pin will be treasured for years to come.

Wacky Wire Tiara - - Just twist some wire and add some beads to make a wild and crazy tiara.

Whimsical Lilly Pulitzer Inspired Hair Stick and Hair Combs - - Create unique wire hair combs and hair sticks. These easy and quick projects will dazzle in your hair and impress your friends.

Wire Bracelets - - Just cut and twist to make really pretty wire jewelry. Credit for this project goes to Linda Hesselbach of Kings Park. Thanks Linda!

Wired Star - - Although cookie cutters are best known for their work in the kitchen, these fun-shaped baking utensils can also play a role in decorating your family's Christmas tree.

Wire Heart Valentine's Day Card - - Why not give a very sophisticated and modern Valentine's Day card to someone this V-Day?

Wire Wrapped Bracelet - - Create this funky and colorful bracelet from craft wire and glass beads.

Wire Wrap Necklace - - Here's a way for your kid to show off that lucky pebble or one-of-a-kind beach find he picked up during a recent adventure.

Wizard Wand - - Make an accessory essential to any young apprentice -- a wizard wand. Fun to make and use, this craft is a favorite with kids.

Wobbling Santa - - Using different colored felt, some wire, paints and a few other materials you can have this fun wobbling santa moving around in your home. It's a great Christmas craft that the kids will love having in the house.

Wooden Flower Girl - - This wooden girl with her flowers is an easy scroll saw project and makes a really cute decoration for the summer.

Wool Snowflake Card - - It looks freshly fallen snow landed on top of this card! This wooly snowflake will certainly make your Christmas card one-of-a-kind.
You Might Also Like... Friendship Bracelets Crafts ... Macrame Crafts & Instructions... Crafts with String ... Crafts with Cords ... Crafts with Elastic ... Crafts with Pipe Cleaners ... Crafts with Shoe Laces ... Crafts with Yarn