Home > Arts and Crafts Projects for Kids > Wires Crafts for Children
CRAFT WIRE CRAFTS FOR KIDS: Ideas for Arts & Crafts Projects & Activities with Crafts Wires for Children, Teens, and Preschoolers
A wire is a thin and flexible strand of metal. Although they are uses for electronics, it can be used to make the coolest crafts. Children can use wire (or craft wire) to make earrings, bracelets, necklaces, napkin rings, dream catchers, ornaments and even crowns. Wires are also useful for hanging wreaths and other wall hangings.
You can make a bead wreath for any time of year using craft wire. To make this, you need to cut the craft wire to your length of your choosing to make a large loop. Then curl one of the wire end to keep the beads from sliding while putting them on. Use the color beads that will reflect the holiday or time of year, for example, green and red for Christmas or black and orange for Halloween. Twist the craft wire ends together to close the loop. Finally tie a ribbon (bow). You can use the bow to hang the wreath.
Making Wire Spool Clowns and Dogs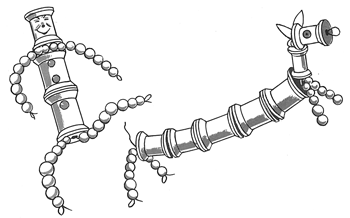 It is easy to make a clown doll and a dog from spools, wire, and beads. Notice that the legs are beads. For the ears, you can use felt. You can just experiment with how you do it. Always knot wire at ends to prevent the toys from falling apart. Paint, varnish, or shellac the spools.
Make a Wire Hanging Ivy Pot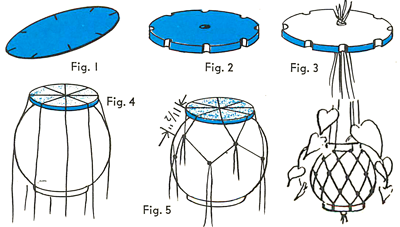 Select a flower pot or a glass jar in which you wish to place an ivy. Then cut 8 pieces of spool wire, raffia, or heavy string to measure in length 3 times the height of the jar or pot. On a piece of cardboard trace the shape of the bottom of the receptacle. Cut the circle enlarging it a little more than the glass. Fold as seen in figure 1. Notch at each fold. Use this notched circle for a pattern. Place it on a thin piece of wood. Trace and cut out, as pictured in figure 2. Make a small hole in the center. Thread one end of the 8 strands of wire or raffia or cord through the hole. Twist these ends together into a knot that will not slip through the hole. Turn pot upside down. Place notched piece of wood on the bottom with knotted ends of thread against the pot, as seen in Fig. 3. With a 11/2 inch piece of cardboard measure down from bottom of glass and tie 2 neighboring threads together as in figure 5. Then with a 3 inch piece of cardboard measure the strands tie as in figure 5. Note diamond-shaped spaces created by this tying. Continue weaving in this manner to top of pot. Straighten the 8 strands and knot together at free ends. Hang vase from a hook. Fill pot with water and ivy.
Personalized Plaques and Pins

Use soft copper wire (about 12" for a four-letter name), pointed pliers, scissors or pinking shears, needle, thread, colored felt scraps, cork or wood, a small safety pin, and a pencil. Bend wire to form name (use pliers for sharp bends). Cut felt into any desired shape large enough to be used as a background for the name. (Edges may be pinked for a more decorative effect.) Sew the name on the felt background and attach small safety pin to back. Pupil may make extra pins for gifts. You can also mount their names on cork or wood and attach them to your personal belongings. These wire names also may be used for original and unusual place cards for a dinner or party.
More Crafts with Wires

Magic Heart Trick Making Craft for Friends on Valentines Day - This is a really cool idea for a Valentines Day gift to your friends. This is a Wire Heart and Horseshoe Puzzle Trick … your friend or loved one will need to try to figure out how to get the heart off of the horseshoe. It is a LOT of fun.

Make Clothespin Wire Barrel - Make a mini-barrel with clothespins, a can, and wires. You can use this as a plant holder, pencil holder, or just make it to hold odds and ends.

Spider Web and Spider Magnet Craft - Learn how to make this really neat spider web and spider hanging craft with soft wire and some other supplies.

Make a Pioneer's Well from a Spool, Tac, Wire & Milk Carton - Learn how to make a working water well with a recycled milk carton, spool, string, and a tac.

Wire and Rubberband Slingshot Craft - Boys love slingshots. This one is meant to shoot paper.

Making Fairy Crowns - This is a perfect fairy crown and it will look beautiful on your little fairy. You make this crown with wire and ribbon. Beautiful.

Create Your Own Mini Water Well with Branch, String, Wire & Can - Learn how to make a miniature, working, water well to play with.

Wire Sculptures - How to make basic wire sculptures.

Make Fairy Wings - Learn how to make these fairy wings with strong wire, soft wire, some lace, and a few other things.

Whales that Float - With the help of a cork, wire, and fishing weights, this whale can float pretty well.

Copper Wire Wrapped Stone Necklaces - You can make beautiful jewelry with medium copper wire. Just wrap it around a beautiful stone and wear it around your neck.

Cardboard Box Lanterns - In this post I will be showing you how to make a Cardboard Box Lantern. That's right…. it is a lantern that you can use outside that it made from a cardboard box. Some other items you need are paper and wire.

Floating Seal Toys - Make these floating seals with a cork and fishing weights. Play with these in the bathtub.

Ancient Spirit Journal Cover - Clay embellishments really make this ancient spirit journal your own. Try it for yourself or create your own patterns and design. This handmade clay project also makes a great scrapbook cover.

Adjustable Copper Multi-Strand Bracelet - Swarovski crystals and copper wire make this bracelet perfect for transitioning from business attire to evening wear.

Banana Bunch Necklace - Use seed beads and Beadalon wire to create a tropical looking pendant necklace.

Basket of Apples - The scent of cooking apples is a treat for the nose in the fall. Imagine the aroma of a fresh apple pie in the oven or cooked apples and cinnamon on the stove top. What better place in the autumn than the kitchen for a sign with apples as the motive?

Beaded CD Ornaments - Recycle old CD's into colorful trendy ornaments. With a little paint, wire and beads, you can add a new look to the holiday season.

Beaded Heart Dreamcatcher - This heart decoration is quickly made and makes a nice.pngt for a loved one for Valentine's Day or anniversary. Hang it in the window. When the sun shines, the faceted beads reflect the sunrays and sparkle in the room. If you change the ribbon color to white, it can be used as a decoration for a wedding.

Black Cat and Pumpkin Chain - Why not saw a couple of typical Halloween figures out of wood and use them for autumn decorations. This is a quick and easy weekend project for those with less time. Follow the instructions below for the sawing, painting and assembly.

Broomstick Witch - This adorably spooky clay pot witch comes bearing a special treat... an air freshener for your home. All you need to create this do it yourself Halloween craft is some STYROFOAM Brand Foam, a clay pot and craft wire.

Burnt Bag Butterfly Plant Stake - Use inexpensive brown grocery bags, florist wire and glue to create surprisingly elegant garden or plant stakes. This unique technique gives an antique metal look at a fraction of the cost.

Celestial Clay Mobile - Create a colorful mobile of heavenly bodies using self-hardening clay.

Cheery Easter Chick - This delightful Easter chick is happy to welcome spring. From her curly wire head feathers to the sparkling eggs at her feet, she's just as sweet as can be.

Chenille Easter Bunny on a Stick - This soft and fuzzy bunny will be fun for young hands to create for Easter. It is not complicated to make and only requires only up to 30 minutes time to complete.

Clay Charms - These clay creations can be used as key chain charms or bag charms, or can even be worn as a pendant. Make them for your mom on Mother's Day or for your friends on Valentine's Day.

Clown Paper Decoration - This brightly colored circus clown will add cheer and delight to any room he is hanging in. It is a perfect decoration especially for a child's play room. Assembly is a bit fun because it is like dressing a paper doll.

Copper Personal Box - Decorate a personal box with metal embossing, acrylic paint and fun wire.

Cork Gingerbread Decoration - Cork has a texture that is perfect for making ornaments that look like baked cookies. This is a second example of how you can decorate a gingerbread man out of cork.

Delicate Snowflake Ornament - Create a delicate snowflake ornament with colorful "cocktail" beads. A snowflake wire form makes this project a snap. Cover your tree with these beaded snowflake ornaments or hang from windows.

Embossed Glue Sun Burst - Bring some southwest decor into your home with this embossed glue sun burst project, compliments of Heidi Borchers of Inspired at Home. The rays of the sun are accented with beaded wire. This makes a very unique home decor accent.

Friendship Card with Flowers - Maybe you have a special friend and feel like sending her/him special wishes... just so, or even for a birthday. Even though it is very easy to send electronic messages, it is still fun for someone to receive "real mail". Why not surprise a friend by creating a handmade personal card and sending it off. Imagine how happy that person will be after going to the mail box and finding your personal greetings instead of just bills and junk mail.

Gold Heart ATC - This artist trading card is kept in shades of red, orange and gold. An embossed gold metal heart gives this project a shiny final touch.

How to Make a Pinwheel - Learn to make a professional looking pinwheel.

Lacy Gold Paper Star Tree Ornament - Create these delicate and lacy stars to give your Christmas tree an elegant look. These stars are easier to craft than they look and one is completed within a half an hour. You can also enlarge the pattern and use heavier cardstock to create window decorations with these stars as well.

Metal-Accented Photo Journal - A photo journal accented with wire and metal sheets becomes a great display piece for the coffee table.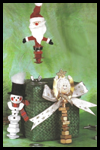 Nuts and Bolts Christmas Ornaments - Use spare bolts, washers and other hardware to create a snowman, angel or Santa ornament for Christmas. Kids can help thread the hardware onto beading wire to create the ornament bodies.

Paper Christmas Tree or Evergreen Tree - This craft project is fun for both young and old alike and looks great plain and decorated. A whole forest of trees can be created which also looks really great.

Snowman "Waiting for Winter" Wall Decoration - If you like crafting with wood, you can create this project for the winter months. This snowman ist waiting for winter and waiting to catch snowflakes as they fall. This project takes some time to craft but makes a wonderful winter decoration for your wall or door.

Whimsical Lilly Pulitzer Inspired Hair Stick and Hair Combs - Create unique wire hair combs and hair sticks. These easy and quick projects will dazzle in your hair and impress your friends.

Wire Wrapped Bracelet - Create this funky and colorful bracelet from craft wire and glass beads.

Wobbling Santa - Using different colored felt, some wire, paints and a few other materials you can have this fun wobbling santa moving around in your home. It's a great Christmas craft that the kids will love having in the house.

Wooden Flower Girl - This wooden girl with her flowers is an easy scroll saw project and makes a really cute decoration for the summer.
You Might Also Like... Friendship Bracelets Crafts ... Macrame Crafts & Instructions... Crafts with String ... Crafts with Cords ... Crafts with Elastic ... Crafts with Pipe Cleaners ... Crafts with Shoe Laces ... Crafts with Yarn