Home > Arts and Crafts Projects for Kids > Animals Crafts > Cat Crafts Arts and Crafts Projects Ideas for your Kids
CAT CRAFTS FOR KIDS: Ideas for Kitty Cats arts and crafts projects & activities for children, teens, and preschoolers
Meow Meow! Purr Purr! Cats are a woman's best friend...or at least they are a great family pet to have around. Our family has 2 wonderful cats and we all love them very much. Although most of the time they aren't as much fun as our dog, they are so affectionate and loving. They are also very stubborn ...which is normal with cats. If you have a favorite pet cat, then you might want to make a cat-themed craft and hang it up to remind you of him or her.
Or maybe it is Halloween time and you want to make a black cat to scare some people. Although, I must say that black cats are just as sweet as gray, white, and orange cats. Black cats are said to give you bad luck if they cross your path...but I don't believe it. Poor black cats get a bad reputation! But if you are still interested in making scary black cats, you can find some ideas below.
Make Pussy Cats with Pussy Willows or Cotton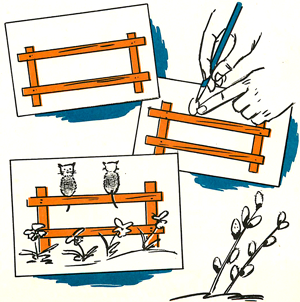 Large fluffy pussy willows make fine pussy cats if they are pressed very lightly and pasted to paper. To make a pussy willow picture paint a scene with a fence or the branch of a tree upon which the cats can sit. Place the pussy willows in place (if you don't have them, then you can use cotton balls). Mark this place. Then paint the heads and tails of the cats. When the paint is dry, paste the pussy willows on the paper to make the bodies of the cats. Flowers cut from paper may be added to give more color to the picture.
How to Make Sock Kitty Cat Puppets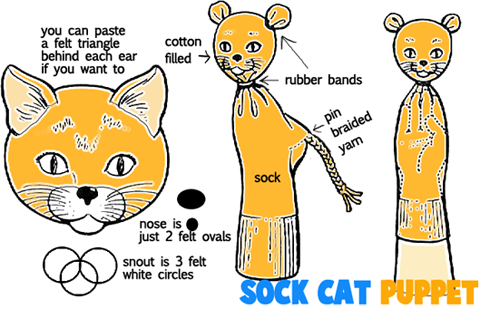 Firstly, find an adult-sized stretchy sock, some filler or cotton, 3 rubber bands (2 very small ones and 1 medium-size), 18" piece of string or yarn, some permanent markers OR glue and felt, and a small safety pin. Make 2 ears for the kitten by putting small rubber bands around 2 portions of the toe of the sock (see sketch). If you want to use a marker, instead of glue and felt, then use a Sharpie black marker to draw a kitten's face on portion just below ears. If you want to use felt, then use 3 white felt circles to make the snout and either a black button for the nose or 2 black felt ovals. To make the eyes, cut out white pointy oval-like shapes. For the inner eye, cut out a black oval-like shape. Put wad of cotton in toe of sock for head and put larger rubber band around this. Braid 3 strands of yarn to a 3" length. Attach this to heel of sock with a pin (from wrong side of sock) for kitten's tail. If you want the ears triangle-ish, then cut triangle felt ears and glue it behind the rubber banded ears. Child may put sock puppet on hand and play with kitty cat puppet.
Make Cotton Kitty Cats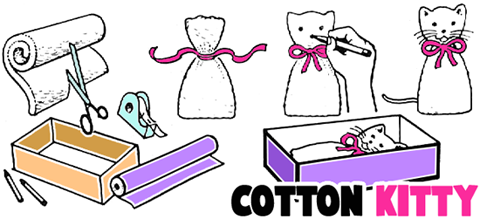 Get a 3 1/2"x5" piece of cotton (from roll) and fashion body and head of kitten by tying 12" length of yarn around cotton to make neck. Shape head and twist two wisps of cotton for ears. Make eyes and mouth with a Sharpie Marker, felt, buttons, or crayons. Break straw from a broom in to four pieces and stick in head for whiskers. Tape 4" piece of yarn in place for tail. Spread cotton to make kitty stand. Cover box with wallpaper to make a bed for the kitty. Have fun playing with your kitty cat doll.
How to Make Kitty Cat Money Banks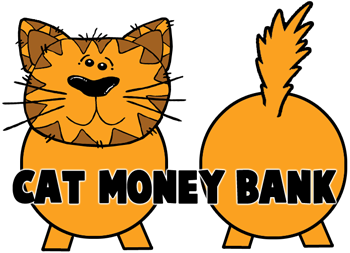 This craft is to make a kitty money bank and it is made out of an empty frozen juice can. Just empty it and wash it out and let dry. Then just color the sizes oranges or cover with orange-ish paper with glue. Print and cut out cat pattern. Now glue the cat's head and body to the front of the juice can and the tail end to the other side of the juice can. Just make sure that the legs are all in lined up with each other so that it will stand correctly when dry. Set the bank on the tail end until dry.
How to Make Paper Kitty Cat Masks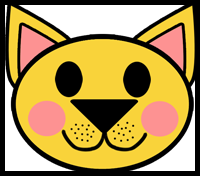 To make this kitty cat mask, just print out the cat mask template and follow the directions that are with it.
Learn How to Draw Cats with the Following Drawing Tutorials
Learn how to draw cats or cartoon cats with the following lessons above. Click on the image that you want to learn how to draw.
More Cats Crafts

Cat Boxes Made with Chocolate Heart Boxes - This is a great craft to make if you love kitty cats....make it look like your pet cat by using different colors than we did.

Foldable Paper Black Cat Toy Figure - This is easy to make - just print, fold, and paste together.

How to Make a St. Patrick's Day Kitty Cat - Learn how to sew this fabric stuffed animal cat with shamrocks all over it.

Ghosts and Black Cat Decorated Glasses - Decorate Your Glasses with Spooky Characters to Celebrate Halloween.

Cat Puppets - Here is a cat marionette-like craft for you to make with cardboard, cardboard tubes, string, and a few decorative items.

Pussy Willow Kitties Valentines Day Card - Make a Purrfect Valentines Day card with the following instructions.

Cats Made with Bumps Chenille Stems - These craft cats are made out of a unique type of pipe cleaner called Bumps. Find out how to make them here.

Make a Cat Mask Out of Vinyl or Leather - Learn how to make this cat mask from leather with the following step by step crafts activity.

Making Cat Ears Out of Lace - Learn how to make Cat ears out of lace.

Almost No Sewing Black Cat - Make this sock doll black cat...there is virtually no sewing involved...and if you would rather glue the ears on...there is no sewing.

Furry Cats - Find out how to make some cute furry kitty cats.