Celebrate Hanukkah by hanging these easy-to-make Hanukkah ornaments in your home…the best part is that they only take five minutes to make. Yay! You don't have to have a Christmas tree to have fun, you and your children can decorate your home for Hanukkah and have just as much fun. These Hanukkah ornaments  are easy and fun to make and look very beautiful as well. If you have any ideas for other Hanukkah ornaments, please let us know (in the comments below) and we will post them and give credit to you as well.
You Might Also Like Our Star of David Hanukkah Ornament Craft for Kids
Easy to Make Hanukkah Ornaments with Push Pins : Arts and Crafts Activities for Kids for Kids, Teens, Preschoolers
Craft materials required:
Push pins- blue colored ( star shaped ones would be great)
White satin ribbon
Thin Paper
Tape
Scissors
Step 1
Crunch up a piece of thin paper to make a ball
Step 2
Use long pieces of tape to go around the ball and hold it together in the shape of a ball
Step 3
Tape one end of the ribbon to the ball
Step 4
Start wrapping up the ball as shown.
Step 5
Pin down the end of the ribbon after the whole ball is covered.
Step 6
Push in more pins all over the ball to decorate it.
Step 7
Take another piece of white ribbon and put it through one of the loops as shown.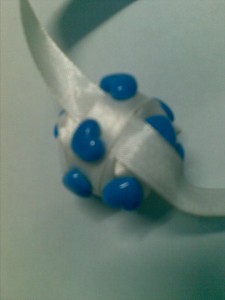 Step 8
Hang it up in your house for everyone to enjoy!!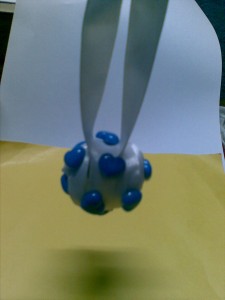 You Might Also Like Our Star of David Hanukkah Ornaments Crafts Idea for Kids
HANUKKAH CRAFTS ACTIVITIES & IDEAS FOR KIDS
It is almost Christmas time so check out Our Mega List of Hanukkah Crafts for Kids … Mega List of Crafts for Jewish Kids
Technorati Tags: hanukkah ornaments, hanukkah ornament crafts, make hanukkah ornaments, make ornaments, making ornaments, star of david crafts, star of david arts and crafts, star of david, jewish crafts, hanukkah crafts, hanukkah crafts for kids, hanukkah arts and crafts, crafts for jewish kids, crafts for jews, crafts for jewish children, chanukah crafts, channukah crafts, chanukkah crafts