No Christmas tree is complete without a beautiful angel placed on top.  This craft gives your children the opportunity to make their own Christmas angel ornament / Christmas tree topper.
Easy Angel Christmas Tree Topper to Make : Arts & Crafts Ideas for Kids, Teens, Preschoolers
Craft materials required:
1 large clothespin
1 toilet roll
Wrapping paper or material
White cardboard
Magic Markers
Glitter, sequins, etc (for decoration)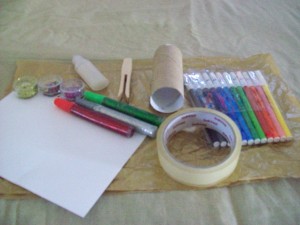 1.  Cut vertical slits (a couple of inches long) along the bottom of your toilet roll.  This will help the angel to stay in place once you've put her on the tree.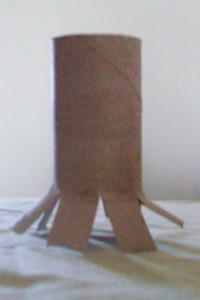 2.  Using the toilet roll as a guide, cut a rectangle from your wrapping paper or material that is a little longer than the roll, and that will wrap around it easily.  This will be the angels dress. Then, spread glue along the inside of the top of the toilet roll (the end that hasn't been cut) and attach the paper or material.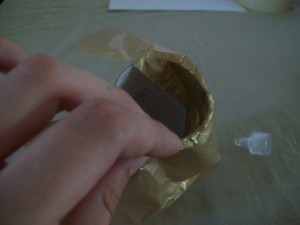 You may need to leave a gap at the back (otherwise, the 'dress' will not sit right.)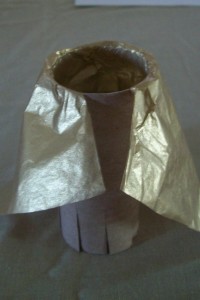 3.  Next, we will make the angels body. Use your Magic Markers to draw a face and hair on the top part of the clothespin (everything from the split down will be hidden, as you will soon see.) I've given mine long brown hair and bangs, just like me!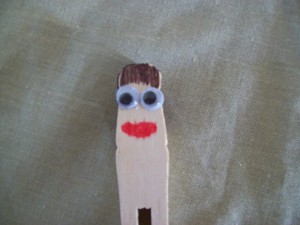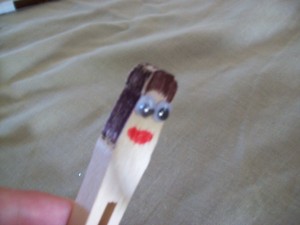 4. Attach the clothespin to the inside of your toilet roll.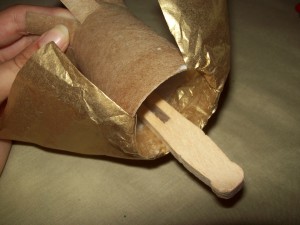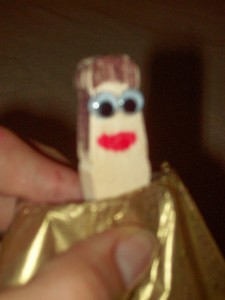 5. The only thing missing now are her wings. If you're planning on using a lot of glue or paint, it's usually a good idea to do this part first and work on the rest of the angel while the wings dry.
Fold your cardboard in half and draw one half of the wings (a quick Google search will bring up templates for this if you're not much of a drawer!)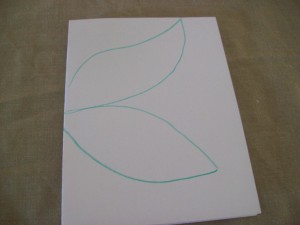 6.  Cut out, unfold and decorate.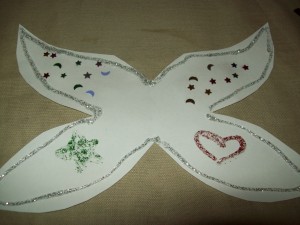 (That green blob is supposed to be a star – it's been awhile since I've used glitter glue!)
7. Attach your wings to the angel's body and voila! A beautiful angel for your Christmas tree: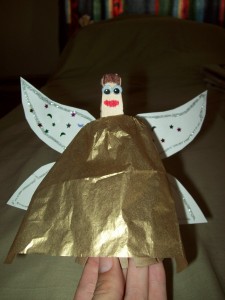 CHRISTMAS CRAFTS ACTIVITIES & IDEAS FOR KIDS
It is almost Christmas time so check out our Christmas Coloring Pages & Christmas Crafts for Kids Page to find some great Christmas crafts project ideas for kids to celebrate Xmas such as .. Advent Calendar Crafts ..Candy Cane Crafts ..Christmas Angel Crafts ..Christmas Cards Crafts ..Christmas Bells Crafts ..Christmas Coloring Pages .. Santa Coloring Pages .. Christmas Elf Crafts .. Christmas Gift Bags Crafts ..Christmas Gift Tags Crafts .. Christmas Games & Activities .. Christmas Nativity Scenes .. Christmas Soda Can Crafts .. Christmas Placemat Crafts ..Christmas Poinsettias Crafts .. Christmas Sewing Patterns .. Christmas Tree Crafts ..Christmas Tree Ornament Crafts ..Christmas Wreath Crafts ..Gingerbread House Crafts ..Gingerbread Man Crafts .. Mittens and Gloves Crafts ..Recycle Christmas Cards to Make Other Crafts ..Reindeer Crafts .. Winter Penguin Crafts .. Winter Snow Crafts .. Winter Solstice / Yule Crafts ..Santa Clause Crafts .. Santa Hats Crafts .. Santa's Sleigh Crafts ..Snowflake Crafts ..Snowman Crafts .. Stocking Crafts .. Wrapping Paper Craft
Technorati Tags: christmas tree crafts, christmas tree topper crafts, make christmas tree toppers, making christmas tree toppers, christmas angel crafts, angel crafts for kids, angel crafts, angels, angel tree toppers, christmas crafts for kids, christmas activities for kids, easy angel crafts, easy christmas crafts, christmas decoration crafts, tree decoration crafts, christmas tree decoration crafts, christmas tree toppers, crafts for kids, crafts ideas, christmas crafts, christmas arts and crafts, christmas, christmas activities, christmas crafts projects, christmas projects, christmas ornaments, christmas ornament crafts, make christmas ornaments