Martin Luther King Day is coming up fast and you might be looking for a fun, yet educational crafts activity to work on with your kids or school students. Here's a poster to remind you to live Martin Luther King's dream. Lets be friends with every one no matter what their race, creed, religion, color, etc. You can hang this poster up on your wall. The simple steps to make it are as follows.
You Might Also Like Our Next Article : How to Make a Martin Luther King Day Poster Craft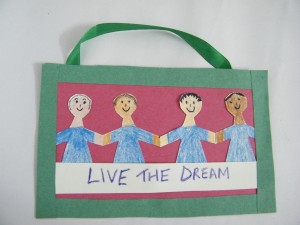 Martin Luther King Day Poster Arts & Crafts Project Idea : Arts and Crafts Activities for Kids for Kids, Teens, Preschoolers
Craft materials required:
Thick card paper- colored- 2 colors
White paper
Markers and crayons
scissors
glue
ribbon
ruler
Step 1
Take a piece of white paper about 8 in x 4 in and fold one end 2 inches from the edge of the longer side as shown.
Step 2
Fold in a zig zag manner like a paper fan. Each fold will be 2 inches wide and there will be four folds.
Step 3
Draw a picture of a child on the top of the folded paper as shown.
Step 4
Cut it out in the shape of the child as shown.
Step 5
Open it out to find a string of children. Draw Faces and color the faces, necks and hands in different colors as shown.
Color their dresses.
Step 6
Glue the children on to a piece of colored card about 8 in x 6 in in size.
Step 7
On a strip of white paper write the words Live The Dream
Step 8
Glue the paper strip on the picture as shown.
Step 9
Cut out strips of paper of a contrasting color as shown.
Step 10
Glue them to make a frame as shown.
Step 11
Tape some ribbon to the back like below,
Your poster is ready. Hang it on your wall and Live the Dream!!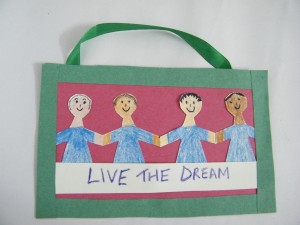 You Might Also Like Our Next Article : How to Make a Martin Luther King Day Poster Craft
HERE ARE EVEN MORE MARTIN LUTHER KING JR. CRAFTS
Technorati Tags: martin luther king day, martin luther king jr day, martin luther king crafts, martin luther king arts & crafts, martin luther king jr day crafts, crafts for kids, crafts for children, arts and crafts, crafts projects, poster crafts