As we celebrate Martin Luther King Day this year, lets remember to Love all and Accept all, no matter what they look like and where they're from. Here is a sweet decoration you can hang on your doorknob , or window to show everyone that you too believe in Martin Luther King's dream. The hearts symbolize people from all different places. The simple steps to make this craft are as follows.
You Might Also Like Our Previous Article : How to Make a Martin Luther King Day Poster Craft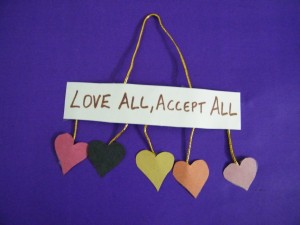 Martin Luther King Day Decoration Making Craft Instructions for Kids
Craft materials required:
Thick  card paper-white, red, browns, yellows, black, pink
Scissors
Tape
decorative twine
marker
Step 1
on a piece of white card, write the words "LOVE  ALL ACCEPT ALL" as shown.
Step 2
Cut out small hearts in different colors
Step 3
Tape a small piece of twine to the back of the heart and the back of the cars as shown.
Step 4
Repeat the process for all the hearts.
Step 5
Tape some twine on the top of the card as shown.
Step 6
Your craft is ready. So hang it up in your home and celebrate Martin Luther King Day.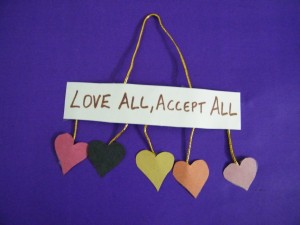 You Might Also Like Our Previous Article : How to Make a Martin Luther King Day Poster Craft
HERE ARE EVEN MORE MARTIN LUTHER KING JR. CRAFTS
Technorati Tags: martin luther king day, martin luther king jr day, martin luther king crafts, martin luther king arts & crafts, martin luther king jr day crafts, crafts for kids, crafts for children, arts and crafts, crafts projects, poster crafts, door hanging crafts