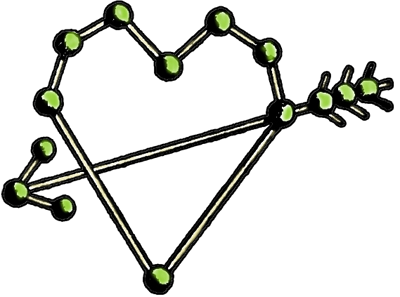 Valentine's Day Peas and Toothpick Heart and Arrow Craft for Kids
Instead of making the normal lace-paper valentine, with its hears and arrows and doves and cupids for Valentines Day…how about making a unique Valentine's Day craft with peas and toothpicks. It actually turns out quite pretty. Find the easy instructions below.
This is the way. Take them out of the water about an hour before you need it.
First soak dried peas over night to soften them. You will need to break apart toothpicks so that you have  six short sticks, two longer sticks, and eight peas. Put them all together for the heart, as in the picture above. Next, take a long stick for the arrow. Put a pea on one end for the head, and into this pea thrus two very short sticks, with small peas on the ends, for the arrow's barbs. Then thrust the other end of the arrow-stick through one of the side peas of the heart, so it will slant across the heart as in the picture. On this end of the arrow-stick slip three small peas, close together, and into these peas stick 6 very short sticks for feathers.
When you are done, lay your hearts-and-arrows creations aside and let them dry so that they hold together properly.
You can make this very special heart-and-arrow craft creation before Valentine's Day, if you like, and put it in a tiny box, and give it to a friend, relative, or other loved-one  for a special Valentine's Day gift.
HERE ARE EVEN MORE VALENTINES DAY CRAFTS ACTIVITIES FOR CHILDREN
Technorati Tags: valentines heart, make valentines, making valentines, valentines day crafts, valentines day arts and crafts, peas and toothpicks, peas and toothpicks crafts, crafts for kids