Mother's Day is a special day for Moms and all Moms want to be treated special on that day (and all days actually). Make this beautiful card for mother's day with the following easy directions for the following arts and crafts activity for kids. Its something new, unique and different and I'm sure mom will love it!!
Make Mom a Mother's Day Flower Card Crafts Activity for Kids
Craft materials required:
Thick colored paper
Scissors
Glue
Step 1
Fold a piece of paper the size of a card into two
Step 2
Cut a few strips of colored paper about 1/4th of an inch wide.
Step 3
Roll it into a ball as shown.
Step 4
Leave it loose to get the effect shown below. Glue the end of the roll, so that it cannot unravel further.
Step 5
Now press one edge between your fingers so that it looks like a petal
Step 6
Make a few petals like this and glue them together as shown.
Step 7
Cut a strip of green paper of the same width
Step 8
Roll it around a crayon
Step 9
cut out a piece about 3 inches long
Step 10
Fold the edge as shown
Step 11
Glue the other end to the folded part to make a leaf.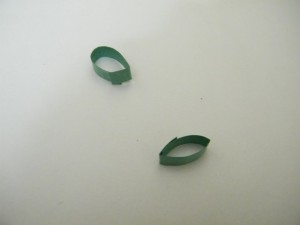 Step 12
Glue it on your card to make a flower as shown below. Write a message for your mom and give it to her.
Technorati Tags: make cards, making cards, how to make cards, make mothers day cards, making mothers day cards, how to make mothers day cards, make greeting cards, make flower card, making flower card, make flowers, making flowers, paper crafts,   crafts for girls, crafts for kids, mothers day gifts, make mothers day gifts, mothers day, mothers day crafts, gifts for mom, make gifts for mom