Pet Rocks became popular in the 1970's.  It would be our equivalent of the virtual pet.  It really doesn't do much.  It sits and keeps you company.  But, one thing is for sure…. they are always super cute.  Today I'm going to show you how to make your very own Pet Rock.  You don't have to follow the craft word-for-word if you don't want to…. feel free to use your own imagination to make your Pet Rock however you see fit.
Laura from Dacian Moon Handmade will show you how to make your Pet Rock.
CRAFT MATERIALS NEEDED:
– stone
– acrylic paints
– paintbrush
– a button
– two plastic antennas (or anything you want to use – you can make ears, horns, hair …)
– craft glue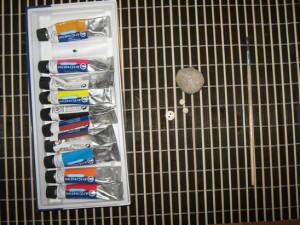 Step 1
Wash the stone and wait for it to dry… That way the paint will adhere better.
Then add glue where you want to place decorations.
Place button in the middle for the snout.
Take the antennas…
… and place them on their place.
Step 2
Let the glue dry.
Step 3
Choose the color you want your pet to be. I went with blue.
Carefully cover all with paint – including the antennas and snout…
… like that.
Step 4
Next, paint its eyes and make him blush.
I use night glow paint for the eyes so I can see him in the dark  too.
There you have it.  Easy Peasy Lemon Squeezy.  How did you decide to make your Pet Rock?  Let me know in the comments below.  Don't forget to add your picture in the comment, so I can see how your Pet Rock turned out.
Technorati Tags: rocks, painting rocks, pet rock, pet rocks, painting, stones, paint rocks, pet rock craft, rock crafts, stone crafts