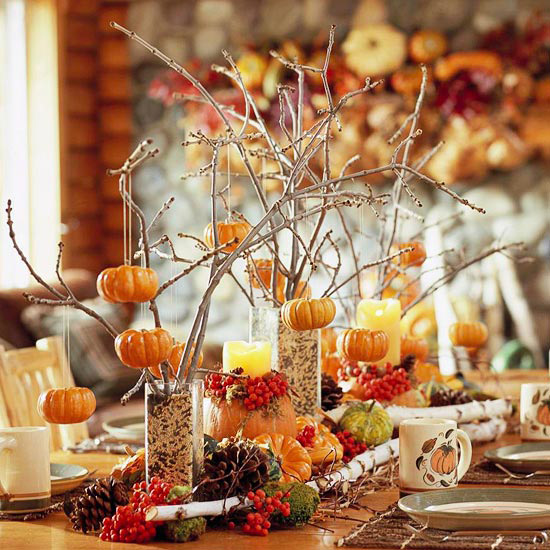 Thanksgiving is coming quickly and every year I'm amazed at the clever ideas people have for decorating their table tops.  I was roaming the internet for interesting ideas and I came across quite a few.   I was intrigued not only by the creativity, but also the fact that many of them were quite inexpensive to do.  I wanted to share a few ideas that I found easy and inexpensive…. so, without further ado…..
Ideas for Easy, Inexpensive & Crafty Table Decorations for Thanksgiving
(1) Gourd Gobblers
Made from pumpkins these turkey's look amazing and festive.  I found this creative table decoration over at the Martha Stewart site and I was more than impressed.  It would look great on any table.
(2)  Pumpkin Vases
Here is a simple and inexpensive Thanksgiving centerpiece idea.  Just gut out a pumpkin and use it as a vase.  I found this idea over at Country Living and it's a good one.  I'm sure you would get a lot of compliments on it during your Thanksgiving feast.
(3) Goofy Gourd Gang
Here is a great centerpiece if you are doing a separate kids' table from the adult table.  The kids won't mind sitting at the kids' table if this is what it looks like.  ShelterPop shows you how to make these Thanksgiving items step by step.  This is a creative and inexpensive way to decorate the table…. gotta love that.

(4) "Thanks" Table Setting
I found this table decor over at Create.Love.Grow and I had to include this table decor.  She writes how she used things from around her house and it cost her $0 to make.  Gotta love that!! This will look great as a Centerpiece for Thanksgiving.
(5)  Pumpkin Tree Tabletop Decoration
Isn't this beautiful?  I love this centerpiece and Better Homes and Gardens explained how easy it is to make this wonderful centerpiece.  My favorite part of this centerpiece are the small pumpkins hanging from the twigs… love it!!
(6) Vase Centerpieces
I love the color in this centerpiece.  They simply filled clear vases with colorful dried legumes.  Epicurious explains that this Thanksgiving centerpiece is so easy that instead of concentrating on the centerpiece you can use that energy to concentrate on making the Thanksgiving feast.
(7)  Fruitfully Fabulous Centerpiece
Here is a simply, but crafty centerpiece.  It's another easy, but goodie Thanksgiving centerpiece.  Good Housekeeping shows us how you can easily make this Thanksgiving centerpiece in no time.  Simply dry some sliced citrus food and hot glue them into a band around candles.   It's just lovely.
(8) Family Tree Centerpiece
What an original idea…. I think it's just awesome!!  Simply, hang family photos from a table top potted plant and you have an amazing centerpiece for Thanksgiving.  Midwest Living came up with this idea and I think it's a great idea.  It will be quite the conversation piece.
(9) The Kid's Table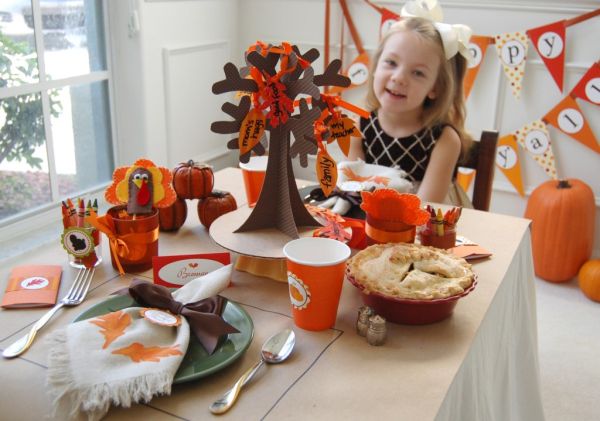 As a kid I always hated sitting at the kids' Table for Thanksgiving.  I felt like I was missing out on all the fun at the adult's table.  But, I wouldn't have been so sad if I had a cool Thanksgiving Kid's Table like this one.  Frog Prince Paperie shows you how to put together this amazing kids' table that all children are sure to love.
(10) Cranberry Carnation Pyramid
I just love the color in this centerpiece…. what a beautiful red.  I found this beauty over at AllYou and I'm so glad I did.  I might have to give this centerpiece a try this Thanksgiving holiday.  It's made from carnations, cranberries and apples…. I imagine this centerpiece must smell delicious.
Technorati Tags: fall decorations, autumn decorations, Thanksgiving decorations, Thanksgiving table decorations, thanksgiving centerpieces, table centerpieces, crafty table decorations, inexpensive table decorations, easy table decorations, crafty centerpieces, inexpensive centerpieces, easy centerpieces