Home > Arts and Crafts Projects for Kids > Octopus Arts & Crafts for Kids
OCTOPUS CRAFTS FOR KIDS : Ideas for Arts & Crafts Activities & Projects for children, teens, and preschoolers
Here are many Octopus Crafts projects, activities, and ideas for you and your kids. Find out about Octopus Arts and Crafts Projects with the following crafts instructions, directions, and activities for children
Other Crafts Pages You Might Be Interested In

Dolphin Crafts
Fish Crafts
Octopus Crafts
Whale Crafts

How to Make Octopus Glove Puppets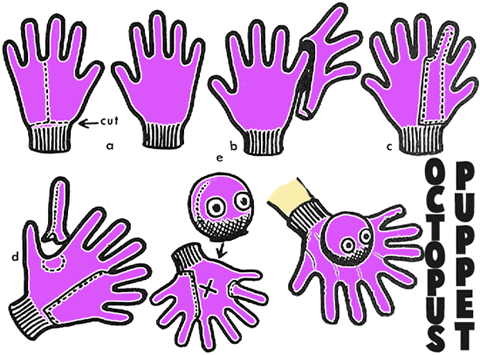 You will need one pair of gloves ... Cut off cuff from left glove. Then cut the thumb and first two fingers from the glove as shown in sketch a. Slip middle finger of left glove over little finger of right glove and sew seams together carefully so that a finger still will fit into opening (see sketch b). Stuff other finger and thumb of left glove with cotton and sew to right glove (see sketch c). Cut another finger from left glove and stuff with cotton. Sew it fast between the thumb and forefinger on the right hand glove (sketch d). Cover a styrofoam ball ( 1 1/4" in diameter) with a portion of the left glove cuff and sew on righf hand glove (see x on sketch e). Now puppet is ready to wear and play with ... have fun.
Even More Octopus Crafts

Yarn Octopus - The craft is an easy one, but it is sure to be a lot of fun. This Octopus toy would make a great gift to give to somebody this Holiday Season. Or, if you like…. keep the toy for yourself.

Amigurumi - Ollivander Octopus - This free Amigurumi crochet pattern shows you how to make a Amigurumi style octopus.

Crochet Octopus - Whether you use this octopus as a decoration or as a toy everyone will love him.

Crochet Toy Octopus - This makes a hanging toy with spiral legs.

If I were an Octopus... Craft - This is a simple paper plate craft. There is also a TP Roll Octopus - on the site, but this octopus has been made especially for the song (it has a banner with "I'd thank-you, Lord, for my fine looks.").

Kids Octopus Craft - This octopus is a fantastic preschool craft. With simple instructions and fun materials he is sure to capture your child's interest. Our toddler daughter loves to play with my bucket of pony beads, and this was the perfect craft to use them in. In fact, placing the beads on the octopus craft is a great way to exercise your child's fine motor skills. It would also be a great time to have them follow a pattern with all the different colors. The end result is an adorable ocean animal craft that your child will love!

No-Sew Easy to Make Yarn Crafts : Octopus Crafts Ideas for Children - This adorable sea creature, the octopus, is an easy to make, no-sew yarn craft. He is great to make for a brownie or girl scout troop, or just to do on a rainy day.

Octopus craft : Octopus Crafts Ideas for Children- Cheyanne and I made this cute Octopus. It was super easy. It would be a great project to go along with an octopus book or under the sea unit.

Octopus Hat Craft : Octopus Crafts Ideas for Children - I love the beach, so any beach inspired craft is totally for me. This is a fun craft that looks cute sitting on a self or you can attach a hanger and hang it from a door knob or on a window.

Octopus : Octopus Crafts Ideas for Children - Enjoy your octopus! And make sure your octopus stays away from boat propellers or it could end up looking like this...

Octopus's Garden - The octopus is cleverly constructed using a glove for his tentacles.

Outrageous Octopus - This craft has a few steps that might be a little more than the average preschooler can manage. I would say this is probably a "grown-up and me" type craft.

Octopus Craft - My first craft is really simple and cute. It is an octopus. You could also make it Henry the Octopus from the Wiggles.

Octopus Craft - Enjoy making this cool craft!

Octopus Sock Crafts - The project requires either sewing or hot glue skills. A child of age 9 or so could do the project with adult supervision. Younger children can help stuff the project and would love to receive it as a Gift from an older sibling, parent or grandparent.

Octopus - This mini-pattern is much shorter than most in the Wunderkammer, but will give you an idea of their format and style.

Octopus Craft - Can you count to 8? Preschoolers will love this simple art project where they cut straight lines, stick stickers and draw a face on their adorable Octopus. Try it today!

Octopus Paper Crafts - For the octopus, you will need a something to color with if using the B&W version, scissors, glue, and paper (I prefer construction paper).

Paper Octopus in a Watercolor Sea - This free art project is a fun activity for preschoolers, especially if an adult can cut out the parts for the octopus before the project begins.

Papier-Mâché Octopus Craft : Octopus Crafts Ideas for Children - This cute papier-mâché octopus is a lot of fun to make, but messy. You can either put the octopus on a table or hang it from the ceiling with fishing line to make a cute ocean-theme decoration.

Paper Bag Octopus Craft - The best part of this cute paper bag octopus craft is watching it all come together. It starts out so simply, by just filling a small paper bag with some newspaper. Then with a little string and some cutting you have an adorable ocean animal craft! This is a fantastic preschool craft as it uses simple materials and steps. Enjoy!

Sock Octopus Tutorial - Find out how to make this easy octopus with the following isntructions. All you need are socks, string, stuffing, felt, glue, scissors, and pipe cleaners.
Other Crafts Pages You Might Be Interested In