Home > Arts and Crafts Projects for Kids > Fish & Underwater Creatures > Dolphin Arts & Crafts for Kids
DOLPHIN CRAFTS FOR KIDS : Make Dolphins with the following Easy Instructions for Arts and Crafts Projects & Activities for children, teens, and preschoolers
Dolphins are marine mammals closely related to whales. Dolphins are beautiful creatures that are fun to watch. Compared to other animals, dolphins are believed to be very intelligent. Dolphins can be found in all of the oceans but the majority of dolphins prefer warm waters near and around the equator.
Children are very fascinated by dolphins and for a good reason, especially toddlers and preschoolers. Kids can make an ocean diorama and include a dolphin which can be easily be made from recycled materials such as a toilet paper roll, newspaper with paint.

How to Make Paper Dolphin Masks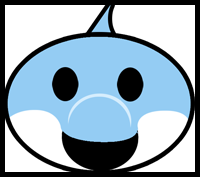 To make the above dolphin mask, just print out the following dolphin mask template and then cut out and follow instructions on that page.
Making Spool Dolphins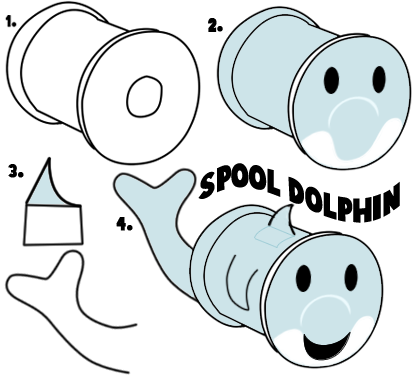 Here is your chance to make a cute little dolphin. Start off with an empty spool thread. Trace the circle part of the spool onto either gray felt, crafts foam, or paper. Do this twice. Cut out the circles and paste it on the front and back of the spool. Either paint the rest of the spool gray or wrap & paste felt / paper / crafts foam around it. Either paint or cut out 2 oval eyes ....a c-shaped snout, and the 2 white hill-shapes on the bottom of the face (as seen in picture #2 above). Cut out a gray upside letter 'V' shape from felt / foam / paper...and leave a rectangle at the bottom (see picture #3). You will use the rectangle to attach it to the spool. Also cut out the tail. Glue the tail & the fin to the dolphin, as in picture #4. Use a marker or paint to draw a smile on the dolphin's face. Also draw side fins on the dolphin, as seen in picture #4. Now your dolphin is finished.
Even More Dolphin Crafts Below

Dolphin Craft Making Instructions - Learn how to make a cool dolphin using recycled materials.

Dolphin (Ocean Mobile) Paper Printable for Children - Print this Dolphin and follow the instructions to make an ocean mobile.

How to Sculpt Dolphins in Clay - This video tutorial will show you how to sculpt a dolphin in clay.

How to Twist a Balloon Dolphin Hat - This video tutorial will show you how you can twist a balloon into a dolphin hat.

Kids Dolphin Craft Activities - This is a great dolphin craft for children to make and also play with.

Ocean Diorama Crafts Activity for Kids - Make a beautiful ocean diorama using a shoe box and a few other supplies.
Other Crafts Pages You Might Be Interested In
Fish Crafts
Koi Fish Crafts
Manatee Crafts
Octopus Crafts
Sharks Crafts
Seals Crafts
Squid Crafts
Whale Crafts