Home > Arts and Crafts Projects for Kids > Whale Arts & Crafts for Kids
WHALE CRAFTS FOR KIDS : Ideas to Make Whales with Easy Arts & Crafts Activities & Projects for Children, Teens, and Preschoolers
Children are fascinated by whales mostly because they are large (the largest is the blue whale, 98 feet and 180 tonnes) and intelligent mammals. They breathe air through their blow holes into lungs and are warm blooded.
There is a variety of whale crafts you can choose from, depending on the age of the child. Toddlers and preschoolers can make whales from their fingerprints by using paint and construction paper. Older kids can make whales from milk jugs, paper bags, or wine corks.
Printable Whale Masks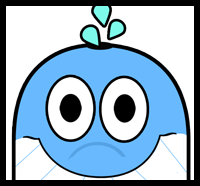 To make the above mask, print out the following printable whale mask.
Printable Orca Whale Masks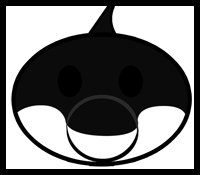 To make the following orca whale mask craft, just print out this orca whale printable mask.
Make a Whale Water Scooper Craft

To make the above whale water scooper craft, just do the following. Get an empty, rinsed out milk or water jug. Add a little bit of Elmer's glue to blue or gray paint to help it stick to plastic. Then Paint the milk jug. Cut out 2 curved lines from the bottom for the mouth. Then Paint an eye (my eye is just a white oval, with a blue oval inside of, with a black oval inside that. Then just paint a white dot for the hightlight). Cut a circle at the top of the handle for the whale hole. Find some plastic, such as from a sturdy plastic bag (heavier than grocery bag plastic). Make a tale from that extra plastic by drawing a sideways heart shape. For the fins...just cut out 2 half circles. Now you can scoop water in the bathtub or pool and have a lot of fun.
Make Fingerprint Whales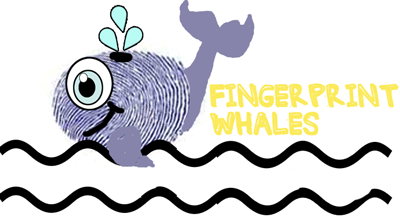 Put your finger is some ink and press it down on some paper. Draw a tale and a fin. The fin can be made with a circle and a triangle shape. The tale is a bitt more difficult. It sort of looks like a letter 'T'. You can use a googly eye for the eye and draw or paint a letter 'J' for the smile. Draw an oval for the top hole. Draw water droplets coming out of it. Draw curvy lines under the whale.
Floating Cork Whales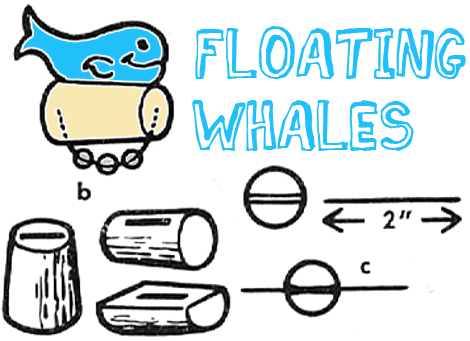 This craft requires parental assistance. Collect the following crafts materials ...Large corks, a sharp knife or razor blade (for the adult to use); 3" x 3" plastic or cardboard, 1/8" or 1/4+ lead fishing weights; pliers; lightweight wire; crayons for cardboard or enamel paint for plastic. To make this craft, the adult should start of by cutting a 1/2" deep cut into the smaller side of the cork... or you could also make a cut into the side a whole or half cork (illustration b above). Here is the whale pattern...you will need to print it out and trace or draw it on to cardboard or plastic. If you are using cardboard, the child should color the whale on both sides with crayon (to make it waterproof). If using plastic, paint may be used. When completely dry, push the tab of the whale into the slice that was made in the cork. Now the adult should use pliers to push 2 weights to wire. Now push ends of wire into the cork on the side opposite of the whale. (see illustrations c and d.) Figure out how many weights to use depending on how it is balancing. Now you can place the toy floating whale in the bathtub to watch him float.
Whale Spindle Paper and Notes Holder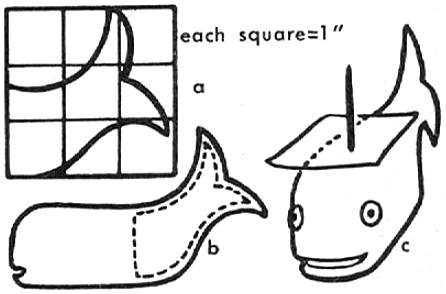 Cut a piece of cardboard the shape of a whale's tail (sketch a). Mix just enough water with 1 1/2 cups of plaster to make a stiff mixture for modeling. Work on wax paper. Begin at once to shape the tail of the whale from the plaster. To help in doing this, build plaster around the cardboard tail. Keep working the plaster and shape the body carefully until you have desired effect (sketch b). Put the nail, head down, into the back of the whale before the plaster becomes too hard. Also insert -jewels or colored glass into plaster for eyes. Let object harden for at least 45 minutes. Then paint any color you wish. Cut a piece of felt to fit bottom of whale and glue on; This will be a useful spindle on any desk, for kitchen lists or family reminders (sketch c).
Step by Step Whale Drawing Tutorials
Learn How to Draw Whales with the above drawing tutorials...pick the one that you would like to try.
Even More Whale Crafts Below

Fingerprint Whale - The picture to the right is a photograph of the finished craft.

Jonah & the Whale Craft Paper Plates Ideas - The story of Jonah and the Whale fascinates children. This colorful tale combines adventure, ocean life, and Biblical concepts such as repentance and obedience. Using craft projects to further illustrate the points of the story is a great way to round out a successful lesson plan.

Kids Whale Craft - This kids whale craft was created for two reasons. The first being that our daughter got frustrated with the paper bag whale craft that we tried with her initially and the second being that she laughs hysterically everytime I decide to craft something out of a sock! The sock actually is the perfect material to make a whale out of because it's easy to form and work with and it gives you a ready-made tail so you don't have to worry about getting it to stay on. This whale craft is a fantastic preschool craft and is good even for older children who could most likely go through the whole craft with minimal help. We love the way this ocean animal craft turned out and we hope you will too!

Ocean Diorama Crafts Activity Create your own ocean scene in a box. Just print out sharks and whales, draw some seaweed, corals, and your favorite fish. Paste, color, cut, hang them in a decorated box, and enjoy the ocean

Origami Whale Making Instructions- A simple-to-make origami whale.

Paper Bag Whale to Make - This paper bag whale craft is our second attempt at a paper bag craft. This ocean craft does take a little bit of effort to get the pieces put together so it may not be the ideal craft for a very young child or for one that gets frustrated easily (we have a great sock whale craft if you need an alternative).

Make Whal Bean Bags and Play a Bean Bag Toss Game - Make bean bags that look like Jonah and toss them into the mouth a whale. Use the pattern and directions provided to make Jonah bean bag dolls. Make a whale out of a plastic milk jug. Let the children take turns throwing their dolls into the whale. Or make a whale for each child and let them try to catch the Jonah bean bag in the mouth of their whale.

Whale Craft - I made this craft and was satisfied with the results very much.

Stuffed Paper Bag Whale - This is a classic craft that we've likely all made when we were young. It continues to be loads of fun for the kids!

Whale Craft - This is a fun an easy whale to make.

Whale Fingerprints Craft for Preschoolers - A whale Fingerprinting craft for preschoolers and Kindergarteners.

Whale Paper Origami to Make - Kaitlyn made this whale paper craft in her ocean themed summer camp this year. I thought it turned our so well that I wanted to share it with our viewers.

Whale and Dolphin Mobile Craft - Make this interesting craft to decorate your room.

"What did the Big Fish / Whale Eat?" Game - This big fish has swallowed many things including Jonah. Your children answer questions and then reach into the fishes mouth and pull out a piece of paper with a picture of something the fish has swallowed. They will be amazed and entertained by all the different things he has eaten. The child who pulls out the picture of Jonah wins.
Other Crafts Pages You Might Be Interested In
Dolphin Crafts
Fish Crafts
Octopus Crafts
Whale Crafts