Home > Arts and Crafts Projects for Kids > Shark Arts & Crafts for Kids
SHARK CRAFTS FOR KIDS : Arts and Crafts Projects with these crafts instructions, directions, and activities for children & preschoolers
Few things captivate the imagination of a child like the thought of a shark's fin piercing the top of otherwise perfectly smooth water. The lone hint of the merciless and powerful creature swimming swiftly and gracefully just below the surface. I can clearly remember swimming just like that in the pool hands perched in that distinct fin like triangle on the back of my head going round and round my parents legs ready to explode out of the water. Most crafts aren't great for the water, but there are plenty to add that extra dollop of sharktastic fun to an otherwise dreary day stuck in the house. So whether you are making a shark mask to run around with or making shark crafts that you can put on the wall or your shelf, you are sure to have as much fun as a great white chasing down a barracuda.
Here are many Shark Crafts projects, activities, and ideas for you and your kids. Find out about Arts and Crafts Projects with Sharks following these crafts instructions, directions, and activities for children.
How to Make Paper Shark Masks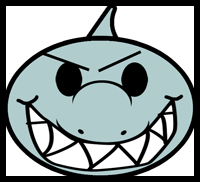 To make the above paper shark mask, just print out the following paper shark mask template and then print out and follow directions.

Shark Pencil Pouches - Find out how to make these shark pencil holders out of denim and vinyl ... however you can use other fabrics if you want to (this is a sewing craft).

How to Draw Cartoon Sharks - Learn how to draw cartoon sharks in easy step by step drawing tutorial
Even More Shark Crafts Below

Clothespin Sharks - Here is a fun craft that includes clothespins, painting, and gluing....the outcome is an adorable shark.

How to Fold Paper Origami Scary Sharks - - Fold an origami shark in about 2 minutes. Take a break and watch jaws. Oh, the paper makes the shard look like it actually has scales or whatever sharks have.

Ocean Diorama Crafts Activity for Kids - Create your own ocean scene in a box. Just print out sharks and whales, draw some seaweed, corals, and your favorite fish. Paste, color, cut, hang them in a decorated box, and enjoy the ocean.

Paper Plate Shark Craft - Use a paper plate, construction paper, scissors, and paste to make this awesome shark eating a fish with his huge, sharp teeth.

Pop-Up Card - Shark - - Make your own shark pop-up card with your face inside.

Shark Can Kozie - Make a shark out of a soda / beer can Kozie, some craft foam, and googley eyes.

Shark Craft - This shark craft doesn't take very long to do- it took a while to draw the shark (Thanks Mom!) but actually doing the project only took a few minutes.

Shark Construction - Let's just say that a shark headline doesn't go unnoticed!

Shark Fuse Bead Pattern - - A frightening shark for kids to make with your hama or perler beads.

Shark Pop-Up Card - - Make a shark Pop-up Card. When you open the card, the toothy mouth opens! This is a very easy project and a lot of fun.

Shark Frenzy - - My son was really hesitant about having to have fin shaped hair, but he loved his shark fin so much, he wore it the whole time at the aquarium.

Tesscar Aluminum Craft Free Shark Plans- (Parental Supervision) This free download will introduce you to the basics of working with aluminum cans.

Toothpick Shark Sculpture Craft for Kids - You need patience and a steady hand to create this toothpick shark sculpture, but your kids' amazement is well worth the effort.

Whale, Shark, and Dolphin Mobile Craft Make this interesting craft to decorate your room.

Wooden Spoon Shark - This wooden spoon shark craft is original and very effective - it's sure to be a huge hit with the kids!
Other Crafts Pages You Might Be Interested In
Dolphin Crafts
Fish Crafts
Octopus Crafts
Whale Crafts